---
In this text you have the list of the best folding camping chairs in 2018, handpicked and also reviewed in detail in separate texts. So please have a look.
---
About terminology
If you go to Wikipedia, you can read that a folding chair folds flat. In my understanding, this would mean that instead of a 3-dimensional object it reduces to only two large dimensions. There are such camping chairs and you will see some of them here, but we use this term in a broader meaning.
The majority of the camping chairs here and on the market fold so that only one dimension remains relatively large. Such a type may be more suitable when you have to pack it in the car trunk. In practical terms, these chairs collapse from all four sides towards the central point, similar to what you would have in an umbrella, and also in some great instant cots which you have here in the site.
They also deploy in a similar manner, from the center in all directions, and this is done in seconds, no assembly is needed. Note that they are also described as foldable camping chairs. The meaning is the same.
So back to the definition in Wikipedia, they describe the term properly, but the meaning of the term 'folding' widely used on the Internet implies at least these two types:
Chairs that pack so that they remain relatively large in two dimensions. See the ALPS Mountaineering Camp Chair as one example. I sometimes describe them as folding like a book.
Chairs that pack so that they remain large in one dimension only. Those I describe as folding like an umbrella.
Note also that these chairs are a sort of collapsible type but without assembly.
On the other hand, here I do not include those collapsible chairs that need assembly. You can see my list of such chairs for backpacking and hiking. Those are much lighter in general and follow a different design principle.
---
What is included
The list of the foldable camping chairs includes the following:
Padded and unpadded folding chairs. Normally, padding is never too thick in these chairs, so do not expect too much from it.
Chairs with solid armrest and those with a soft armrest.
All chairs have a good back support.
All of them are very comfortable. This implies the mentioned features above, and also great dimensions and bonuses like a cooler, cup holder, storage pouch.
All are ready to use in seconds.
All of them are sturdy and with a great capacity.
---
My list of the best folding camp chairs
So here is my list with chairs ordered by the capacity, from lower to higher:
---
1. GCI Outdoor Freestyle Rocker Chair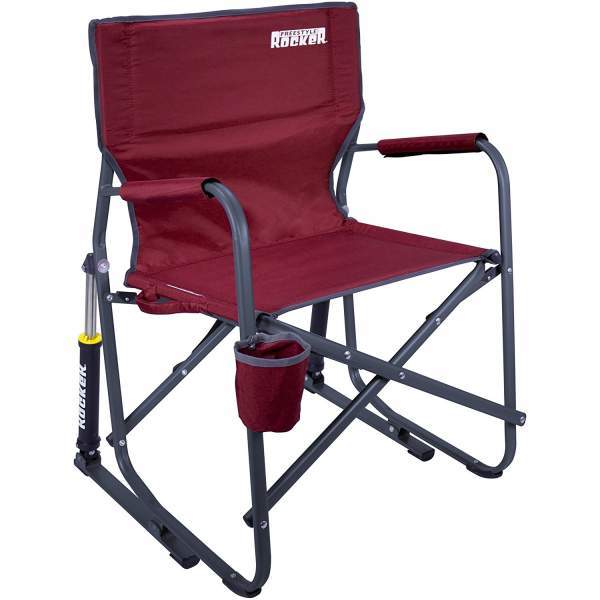 This GCI Outdoor Freestyle Rocker is a unique design with rocking features. In fact, this is a patented design with hydraulic pistons which you can see in the picture. The chair is lifted from the ground and it rests on the two bars, so the rocking feature will work even on a soft ground like a sand.
The seat is padded and the frame is a steel, so the chair is heavy, you have 12.1 lb (5.5 kg). It supports the weight of up to 250 lb (113 kg). This is an incredibly popular item with a very high rating by users, and a very affordable for all the features which it offers. Please read more in my full review.

---
2. ALPS Mountaineering Steel Leisure Chair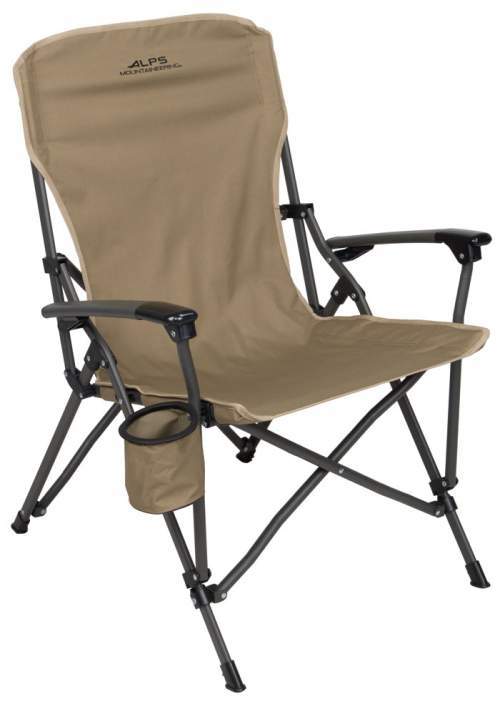 This Leisure chair is with a particular feature which you see in the picture; it has the solid armrests. Its weight is 13 lb (5.9 kg) and it supports up to 300 lb (136 kg) of weight.
This is a steel construction, very easy to use and with a bonus cup holder on the side, see the picture. The packed size is not so great, you have it in the bag which is (L x D) 45 x 7 inches (114 x 18 cm). Please follow the link for more.

---
3. Coleman Oversized Quad Chair With Cooler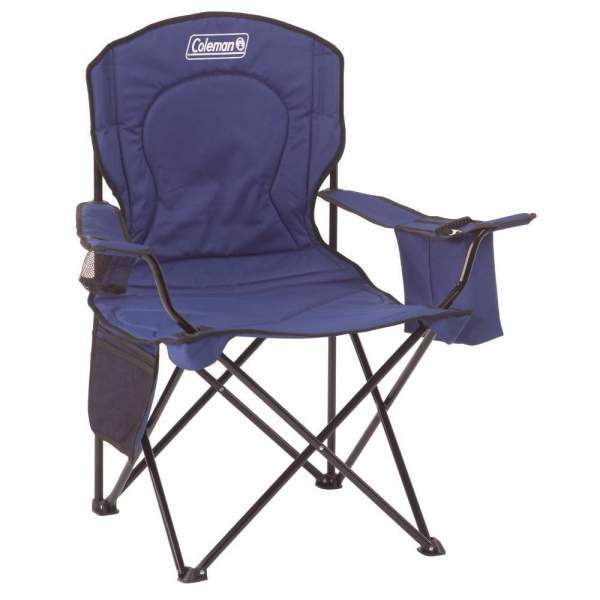 This is one of the largest chairs on the market when you count all three dimensions. At the same time this is the most popular one. This is not a surprise because you can order it for $22 or so.
The chair is padded and it comes with several bonuses. These include a padded cooler for 4 cans, one large storage pouch, and a mesh cup holder.
It is heavy, 9.94 lb (4.5 kg), but it is not the heaviest in the list of course, and its weight capacity is 325 lb (147 kg). Please read more in my full review.

---
4. Kelty Lowdown Camp Chair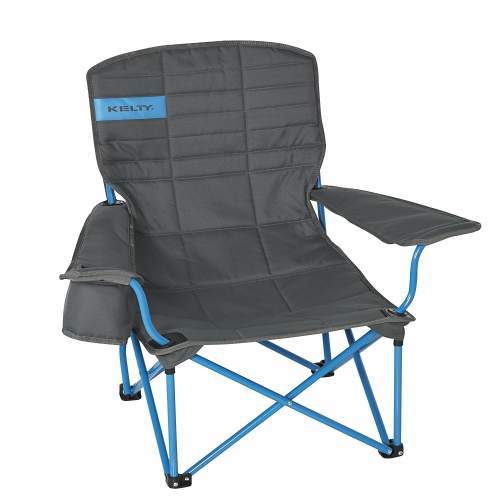 This is a chair with a padded seat and the back area. It may look similar to the other chairs, but you have a very specific feature here. It is with what they call the Roll-Tote storage bag. So this is something unique, not a true carry bag, rather a multi-functional system which allows for carrying a few chairs together, and you can also use it to carry other stuff in it.
The chair is with adjustable armrests, and you have insulated & adjustable cupholders. The structure is with a strong steel frame and durable fabric. It is one of lighter chairs here in the list, the weight is 7 lb 6 oz (3.4 kg), and the weight capacity is 350 lb (158 kg). please read more in my review.

---
5. KingCamp Folding Quad Chair With Lumbar Support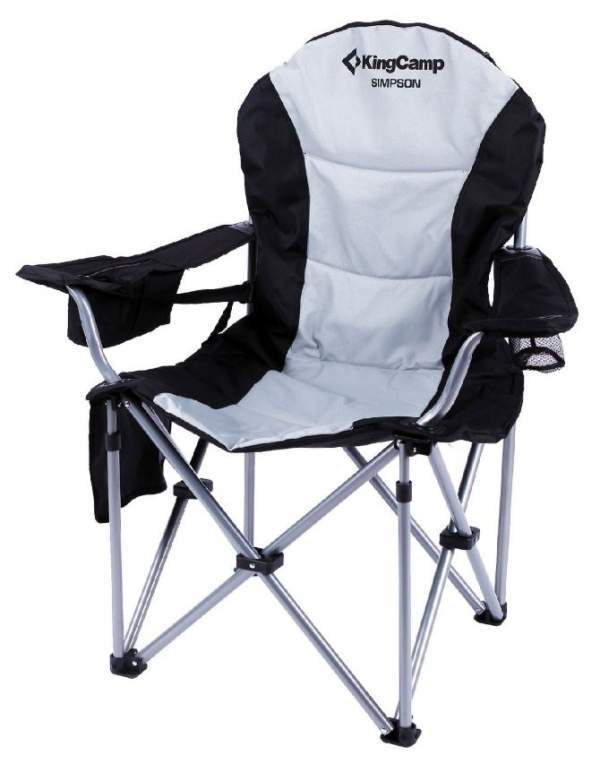 Here you have a great chair with one specific feature – it has an adjustable lumbar support system. This is a strap which you can tighten when sitting and with this you can have the optimal back support.
It comes with a full set of bonuses: there is a cooler on one side, a cup holder and a storage pouch are on the other side, and on the top you have a zipper with a pocket where you can store its own carry bag and with this you have some extra padding for the head. Very impressive as you see.
This chair weighs 11.3 lb (5.1 kg) and its capacity is 353 lb (160 kg). Please read more in my full review.

---
6. Kijaro XXL Dual Lock Oversized Chair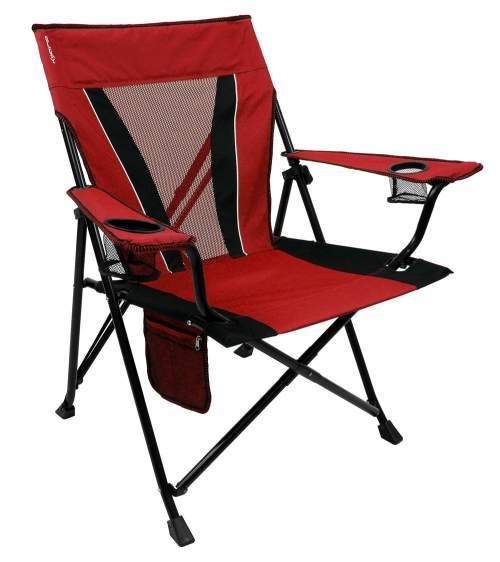 The Kijaro XXL is a chair without padding. But it has many great features. Already the name suggests that this is a very large and comfortable chair. The words Dual Lock describe the fact that it has a locking mechanism, just a press-button, which you use both when it is unfolded and when it is folded.
This is because you can carry it attached to the shoulder even without its carry bag; note that it has an extra strap on the back for exactly this purpose.
You also have a storage pouch and two cup holders. The weight is 12.4 lb (5.62 kg), and its capacity is impressive 400 lb (181 kg).

---
7. ALPS Mountaineering Camp Chair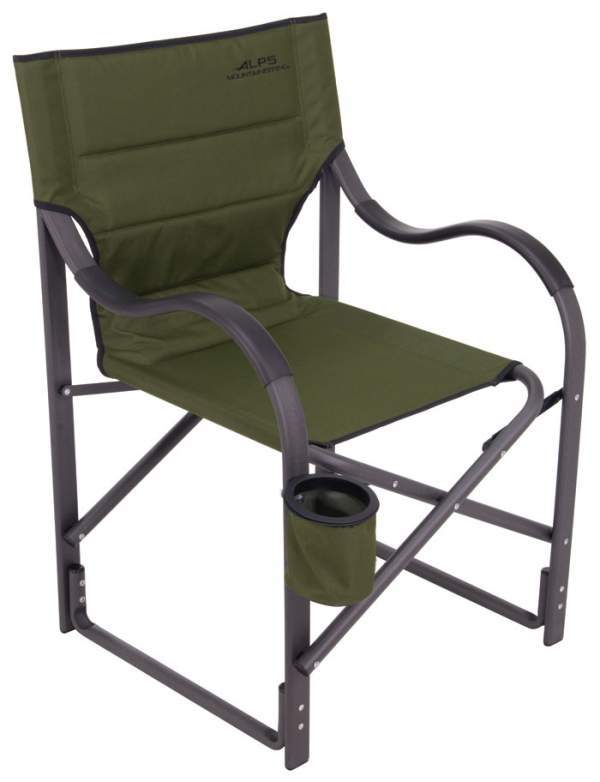 Here you have one of those chairs that just fold like a book, so it remains relatively large in two dimensions. The weight of this Camp Chair is quite typical, 10.5 lb (4.76 kg), but the capacity is impressive 425 lb (193 kg).
Note that the seat is rather low as compared with some other chairs in the list, it is at 17 inches (43 cm) above the ground. You have a padding on the seat and on the back.
The specific feature you have here is also the solid armrests, so this may be useful for elderly people who need such a support to get in and out of the chair. The armrests are padded. The chair comes with a bonus cup holder which you can see in the picture. Please follow the link for more.

---
8. ALPS Mountaineering King Kong Camping Chair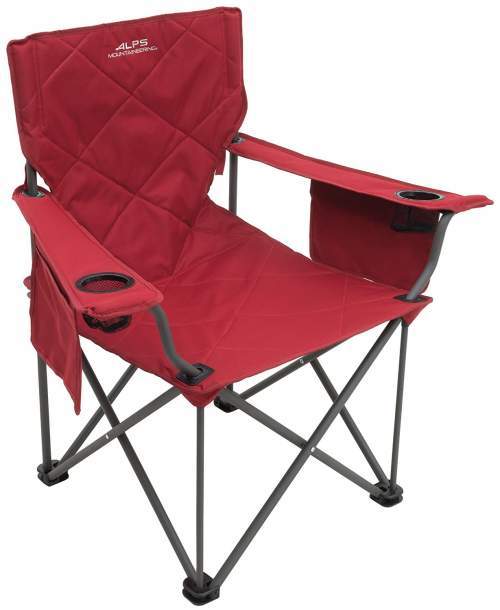 If you want to know why this chair is in the list, just see its capacity. There is nothing stronger currently on the market. This is a capacity-king which can handle 800 pounds (363 kg) of weight easily. So it is strong enough even for sumo wrestlers, and its dimensions are appropriate for such a capacity.
The chair weighs 12.5 lb (5.7 kg), so it is not lightweight, but this is a strong steel structure and you need a car for transportation.
There are several bonuses. It is padded as you realize, the armrests are very pleasant and adjustable, and you have the cup holders and pouches on both sides, and you also have a storage pocket on the back. Please follow the link to read more.

---
Final thoughts
So this was my list with the best folding camping chairs that are available on the market in 2018. As you probably know, there are hundreds of items of this type and it can be overwhelming when you have to choose. This list will be updated regularly, so bookmark this page and visit from time to time for updates.
If you need a chair to carry on the trail, please check this list. Check my list with the best collapsible chairs for camping.
Thank you for reading and please use the comment box below in the case of questions or comments. Have a nice day.
---