---
ALPS OutdoorZ King Kong Chair is a large steel structure with a huge capacity, a great camping tool for heavy and big people.
---
Key features & benefits
Folding camping chair.
Huge capacity.
Huge dimensions.
Armrests.
Cup holders.
Storage pouches on the sides.
Large storage pocket on the back.
Very good price.

---
What type of chair is this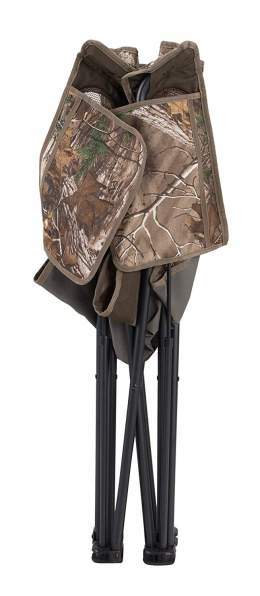 This is a folding type, so you have no assembly here. The chair collapses like an umbrella from all four directions to the center. When you collapse it that way, it can be stored in its carry bag. I have included it in my list of the best folding chairs.
The chair comes with bonuses; so you have cup holders on both sides, plus storage pouches, see them in the picture below.
This is also a chair with adjustable armrests; there are straps on the back for that purpose, so you can change the angle of the armrests. I have seen people asking if it is hard to get in and out; so indeed the chair has some cradling in the center by the design, but with the armrests, it is easy to get out and in.
It looks almost the same as the Alps Mountaineering King Kong chair, just to know; the most important difference is its fabric which is the camo type here, and there is a very small difference in the weight. So if you get a chance to buy one of them at a good price, there is no need to think twice or to feel sorry that you did not buy the other.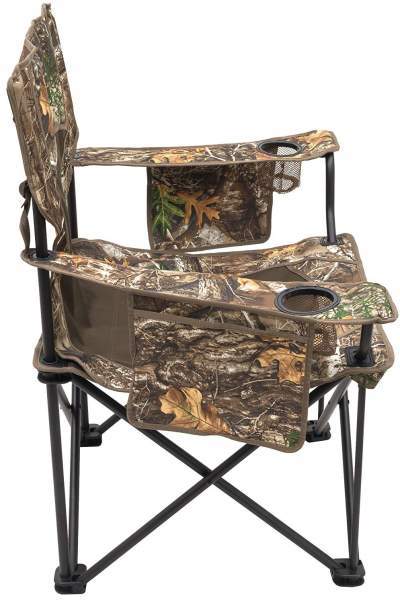 ---
Who is it for
Capacity-wise, from my list of the best folding chairs you will realize that currently there is nothing on the market with a higher capacity. It supports up to 800 lb (363 kg) of weight. So if you are a big and heavy person this is the tool for you.
Size-wise, this is related to the capacity; the dimensions of the ALPS OutdoorZ King Kong Chair are impressive, so you have the seat size (W x D): 24.5 x 20 inches (62 x 51 cm), see more in the specifications below. As I said above, this is for big users.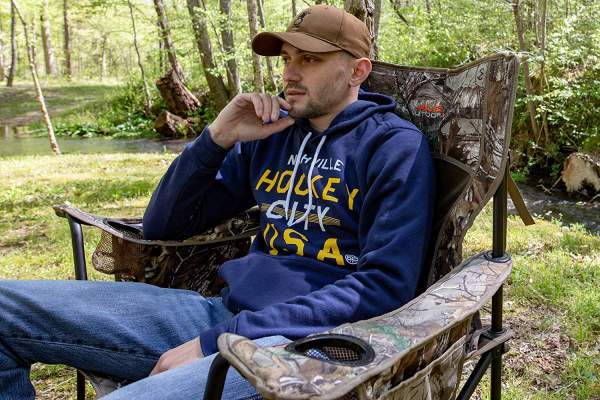 Weight-wise, the chair is quite heavy but the weight is close to other chairs of this type. It weighs 13 lb (5.9 kg), you will see it below compared to its competitors. The packed size is not so great, so all in all, you need a car for transportation.
---
Materials & construction
They describe it as a "pure luxury" and I think they do not exaggerate. The dimensions are (W x D x H) 38 x 20 x 38 inches (96 x 51 x 96 cm), and this is a strong and sturdy powder coated steel structure. The fabric is quite standard for such chairs, a 600D polyester Realtree Edge.
The picture below shows the back view so you can see the diagonal support bars, 8 of them. Also visible is the large back storage pocket on the top.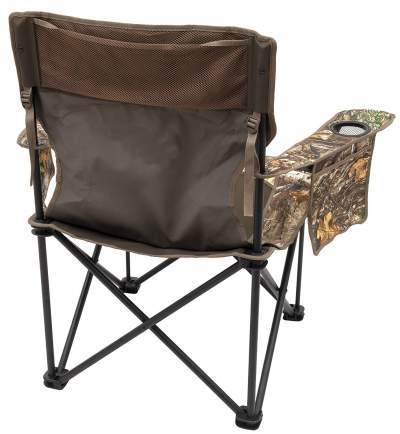 ---
Good and less good features
Here is my short summary:

Very comfortable.
Very stable.
Great armrest design.
Very easy to use.
Bonuses.

Heavy.
Not great packed size.
The price & rating
As of the moment of writing the text, the price for this chair is $50 and $70 depending on the color; so you have two different options on Amazon.
Note that there are more than 250 customers' on this chair reports on Amazon and the average rating is really impressive 4.5/5. My rating is a bit different, but I use several criteria and I use them for all chairs consistently, so this is my result:
My rating breakdown of the ALPS OutdoorZ King Kong Chair
Weight -

5/10

Dimensions -

8.6/10

Packed size -

5.5/10

Capacity -

10/10

Comfort -

9.8/10

Craftsmanship -

9.8/10

Price -

9.6/10
---
Specifications
Type: folding chair.
Capacity: 800 lb (363 kg).
Weight: 13 lb (5.9 kg).
Dimensions (W x D x H): 38 x 20 x 38 in (96 x 51 x 96 cm).
Seat size (W x D): 24.5 x 20 in (62 x 51 cm).
Seat height: 18 in (46 cm).
Packed size (L x D): 41 x 7 in (104 x 18 cm).
---
ALPS OutdoorZ King Kong Chair vs Competitors
In this table I give this King Kong chair together with a couple of giants from other brands, this might help you to better understand its features. It is heavier and its back section is a bit lower but its capacity is beyond comparison.
Dimensions
(W x D x H), in (cm)

38 x 20 x 38
(96 x 51 x 96)

41 x 7 x 7
(104 x 18 x 18)

37 x 24 x 40.5
(94 x 61 x 103)

37.7 x 28.3 x 40
(96 x 72 x 102)

46 x 7 x 4.7
(117 x 18 x 12)

---
Final thoughts
As you see, this ALPS OutdoorZ King Kong Chair is a giant and with a capacity which is hard to match. This is a chair built to last. It is easy to use, though bulky when packed and also heavy. But it is reliable and comfortable, and the price is more than fair for the quality. I have included it in my list with best camping chairs for heavy people.

If you still need more options, just check in the category Camping Chairs here in the site, you will find all possible types. Check for example this Kamp-Rite Padded Chair with Mesh Back which is a bit more affordable and in the same style. Let us know if you have experience with this chair, there is a comment box below. Have a nice day. 

---