---
Coleman Portable Deck Chair With Side Table is a very reliable and lightweight folding camping chair with an aluminum frame and with a great price tag.
---
Key features & benefits
Folding chair.
Folding side table.
Cup holder.
Lightweight.
Reliable, many years on the market.
Very good price.

---
What type of camping chair is this
This Coleman Deck Chair is a folding type, so you have no assembly, all elements are permanently attached to each other and you can make it ready in seconds. But you should be aware of the fact that it remains quite large in two dimensions when you fold it; it measures 31.2 x 21.1 x 8.5 inches (79 x 54 x 22 cm), see the picture below.
So if this packed size is a big issue, check this KingCamp Compact chair which is with a similar design but it folds twice and becomes much smaller when packed.
This is a chair with bonuses – you have a side table and an integrated cup holder. So I have included it in my list of best folding camping chairs with a side table. You also have solid slanted armrests and they are padded for extra comfort. The back is also slanted a bit, but this is not a reclining design.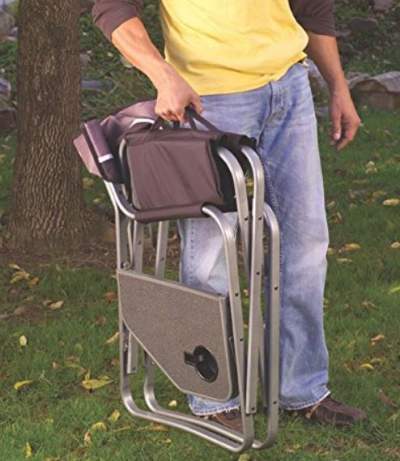 ---
Who is it for
Capacity-wise, the chair is rather modest, it supports the weight of up to 225 lb (102 kg).
Weight-wise, this is a lightweight item. Together with the side table, it weighs only around 7.12 lb (3.22 kg).
Size-wise, the dimensions are quite good, the seat alone is around 20.5 x 20.5 inches (52 x 52 cm). The seat is at 17 inches (43 cm) above the ground, so the chair is relatively low, more suitable for shorter people. Though you have solid armrests and those will help you to get in and out. But the dimensions of the chair are quite different, the side table takes some space, so the total dimensions are (W x L x H) 34.5 x 20.9 x 31.1 inches (88 x 53 x 79 cm).
You realize that this is not a chair with a headrest, the back section is only some 15 inches (38 cm) above the seat; so if you need a chair with a headrest, please check this list.
So all in all, the chair is lightweight and portable, but it is bulky when packed and you need a car for transportation. Therefore you can use it for any outdoor activity at places with a car access.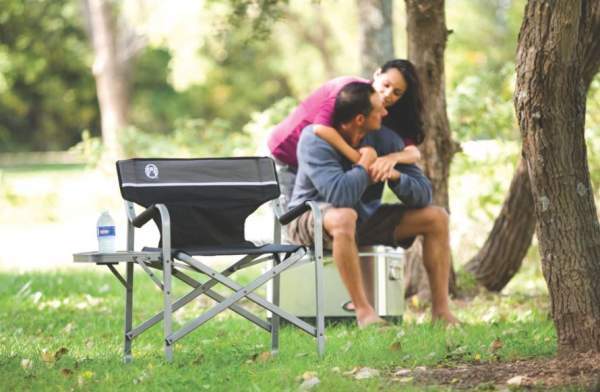 ---
Materials & construction
The frame is aluminum and this explains its great weight. The fabric is a heavy-duty polyester and the back and the seat are padded.
I have seen people asking if the sling is removable, the answer is no, this is all fixed. Note also that you have sewn-in carry straps for transport.
The legs
I wish to mention this separately; the legs are bars, so this is a floor-friendly design. They will not sink significantly even if you use the chair on the sand.
The side table
The side table is roughly 16.5 x 11 inches (42 x 28 cm) but note that it is not rectangular. This is a composite material and you have an integrated cup holder. Note that it is with rivets so it is not movable/removable, have seen people asking about that.
You can fold the side table independently and in this case, the chair needs less width if you use it at a camping table.
Please see how to make this chair ready in this short video:
---
Good and less good features
Here is my short summary:

Very good price.
Lightweight chair.
Floor-friendly legs design.
Padded solid armrests.
Very easy to use.
Bonus side table.

No carry bag.
Bulky when packed.
There is no stuff sack to protect it from dust when you store it at home, pity. But you have a handle to carry it around.
The price & rating
As of the moment of writing this text, the Amazon price for this chair is around $45 and I find this more than affordable.
The chair has been on the market for a number of years already, so all is known about it and there are many reports and reviews. Only on Amazon, you will find more than 900 reports and the average rating is really impressive 4.6/5.
See how I rate it for several parameters, note I use the same criteria and formulas for all the chairs in the site so you can compare rather than focusing on the absolute values of the rating numbers:
My rating breakdown of the Coleman Portable Deck Chair With Side Table
Weight -

7.5/10

Dimensions -

7.4/10

Packed size -

1.5/10

Capacity -

7/10

Comfort -

9.4/10

Craftsmanship -

9.4/10

Price -

9.8/10
---
Specifications
Type: folding chair.
Weight: 7.12 lb (3.22 kg).
Capacity: 225 lb (102 kg).
Dimensions (W x L x H): 34.5 x 20.9 x 31.1 in (88 x 53 x 79 cm).
Seat height: 17 in (43 cm).
Seat size (W x L): 20.5 x 20.5 in (52 x 52 cm).
Packed size: 31.2 x 21.1 x 8.5 in (79 x 54 x 22 cm).
1-year limited warranty.
---
Coleman Portable Deck Chair vs Competitors
It may be useful to see how this chair compares with some chairs of other brands built in the same style. So here I give two of them, this might help in making an informed choice. As you see, the Coleman chair is lighter but its capacity is below the other two. Its packed size is in between the other two chairs. Please follow the links for more.
Dimensions
(W x D x H), in (cm)

Coleman Portable Deck Chair
21 x 21 x 31.1
(53 x 53 x 79)

31.2 x 21.1 x 8.5
(79 x 54 x 22)

17.3 x 23.6 x 36.2
(44 x 60 x 92)

20 x 19 x 6
(51 x 48 x 15)

Timber Ridge Director's Chair
25 x 14 x 35.5
(64 x 36 x 88)

36 x 21 x 7
(91 x 54 x 18)

---
Final thoughts
In the summary, this Coleman Portable Deck Chair With Side Table is very similar to other chairs of that type, and I would point out only the legs that are different from other models. So you have bars here and they are such that you can use this chair even in large family camping tents and you will not damage the floor. It is also rather lightweight for such a type and the price is really great.
But if you need more options, please check my list with folding chairs, you will find a variety of types there. Check this Eureka Directors Chair with Side Table and also the GCI Outdoor Slim-Fold chair built in the similar style. Otherwise, check in the category Camping Chairs, there are many of them described in detail.

Are you familiar with this chair? If so please share your experience here, there is a comment box below; use it also if you have any comment or question. Have a nice day.

---