Here you have my list of the best camping rocking chairs currently available on the market, built in very different styles and with different features for a variety of activities. 
---
What is included
All the models here are handpicked and described in details in my separate reviews, so please follow the links below to read more.
The list includes the following types:
Folding rocking camping chairs. Those are typically the models that need no assembly, you just spread the chair and it is ready in a second. But these chairs remain quite large in two dimensions so bear this in mind when you plan how to organize the space in your car when you prepare for camping. These chairs are relatively heavy and bulky, and they are definitely not backpack-portable.
There are also models that are collapsible camping chairs with removable rocking rails. So this type needs a simple assembly and their packed size and weight are such that they are backpack-portable.
Some of the chairs here are very tall and with a good headrest. These include both types mentioned above.
You will see also that most of them are with solid armrests. This is a useful feature to have as it makes it easy to get in and out of the chair, but this also adds to the weight.
Regarding the frame, some of them are steel and some are aluminum. This is normally reflected in their weight.
---
My list of the best rocking camping chairs
So here is my list of chairs ordered by weight with the lightest on the top.
---
1. Helinox Chair Two Rocker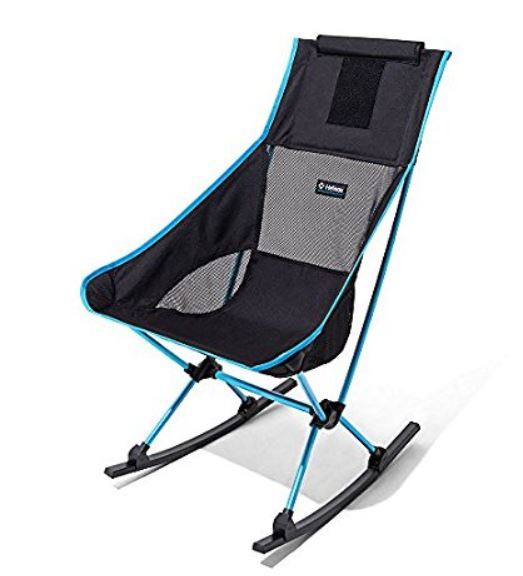 The Helinox Chair Two Rocker is a quite unique design. Obviously, it is here because of its rocking feature; so you have two rails shown in the picture above, which are the reason for having it here in the list. But note that these rails are also removable, and what remains is a very lightweight backpack-portable chair. The total weight is 4.1 lb (1.85 kg), yet the capacity is impressive 320 lb (145 kg).
Note also that it is fully collapsible and with a very good packed size as compared with other chairs in the list; it packs to 24.4 x 6.5 x 6.5 inches (62 x 16.5 x 16.5 cm).
This is not all; the chair is with a high back, so you have a good headrest and this is why I have included it in my list of chairs with headrest. Please read more in my full review.

---
2. Browning Camping Cabin Chair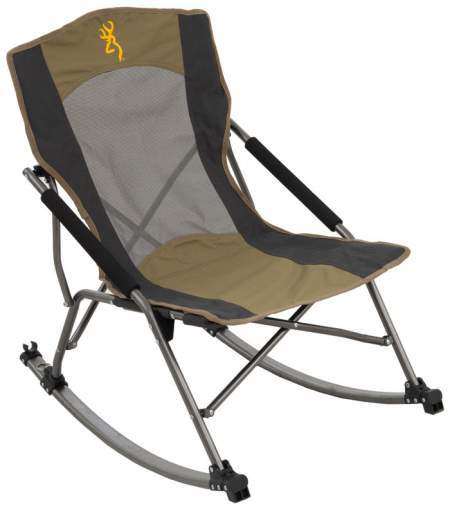 This Cabin Chair is a rocker and this is why it is here in the lits. The design is such that it is partly a folding type and partly a collapsible chair. Namely, all elements remain interconnected all the time, but it folds and closes when you pull two pins that are behind the rear legs. So it needs a very simple assembly.
The packed size is much better than in the most of other chairs below, and this is due to its particular armrests design. So it remains large only in one dimension, it packs to (L x D) 34 x 10 in (86 x 25 cm).
The frame is steel, yet the chair is high in the list here because of its weight which is only 11 lb (5 kg). It is portable, but you need a car for transportation.

---
3. Timber Ridge Catalpa Relax & Rock Chair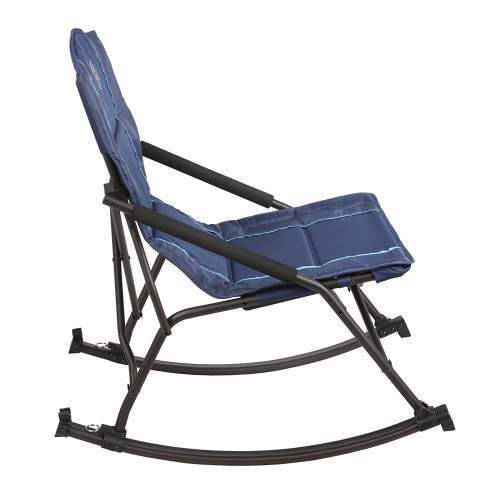 The Catalpa is a folding and rocking chair, one of those that you fold so that it remains relatively large only in one dimension. So the packed size is 32.75 x 9.75 x 6.9 inches (83 x 25 x 18 cm) and transporting it in the car should not be a problem. The weight is quite medium, 11.4 lb (5.17 kg).
The chair is padded, and you see from the picture that it has solid armrests with a foam for padding. To fold the chair you release the two pins which are visible on the rocking rails. It comes with a nice carry bag, and you should know that this is a really affordable chair.

---
4. Kamp-Rite Folding Rocking Chair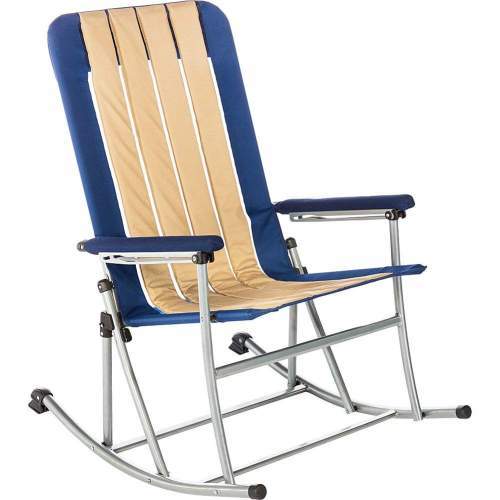 This is a chair without any assembly, just spread it in a second and it is ready. You have padded armrests here and a very high back section which provides a good headrest.
The packed size is not so great, the chair remains large in two dimensions, 37 x 28 x 7 inches (94 x 71 x 18 cm). The frame is aluminum and the weight is moderate for such a type, 12 lb (5.44 kg), but clearly, this is not a lightweight tool. It is built for comfort, so it is heavy and bulky and you need a car for transportation.

---
5. GCI Outdoor FirePit Rocker Chair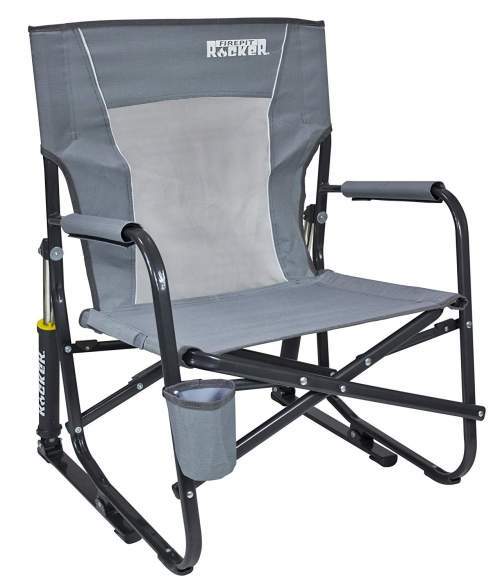 This is a rocking chair with the spring action rocking technology; those two pistons which you see on the back contain the rocking system. As you realize, it sits on the two bars so it will keep rocking on any surface.
This is a folding chair so you can make it ready in seconds and equally fast you fold it away. But it remains quite large and boxy in two dimensions, this is because of its solid armrests that do not fold.
It comes with a cup holder and the armrests are padded. The weight is 11.9 lb (5.4 kg), which is reasonable in view of all the steel that you have there. Note that it is rather low, and this is the main difference between this chair and the other from the same brand below.

---
6. GCI Outdoor Freestyle Rocker Portable Folding Rocking Chair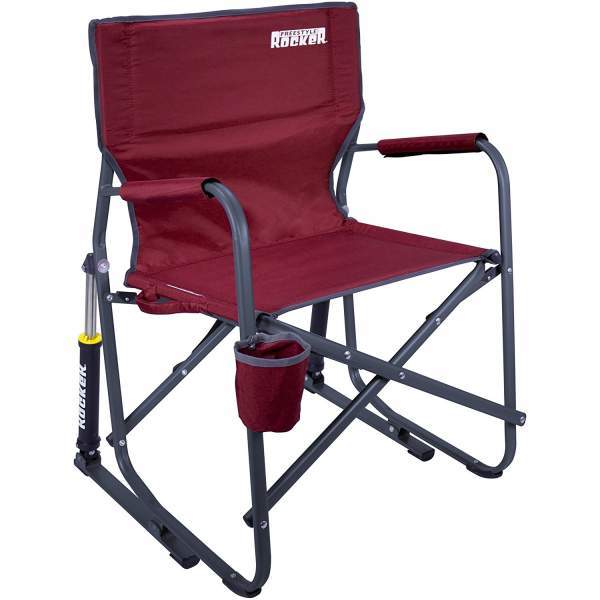 Here you have something really specific – this is a rocking chair with a unique hydraulic rocking system which includes two pistons on the back. So the bars on the ground do not move at all and this is a floor-friendly design.
At the same time, such bars prevent sinking when you use it on a soft ground and sand, so it will preserve its rocking feature on any surface, and this is what makes it completely different from its competitors.
The chair is padded, and you have solid armrests. The back section is not high enough for the headrest, just to know. If you need such a design check some other chairs here in the list.
The weight is moderate for such a construction, 12.1 lb (5.5 kg), and the packed size is large 34.8 x 25 x 4.9 inches (88 x 64 x 12 cm). Please follow the link for more.

---
7. Timber Ridge Rocking Chair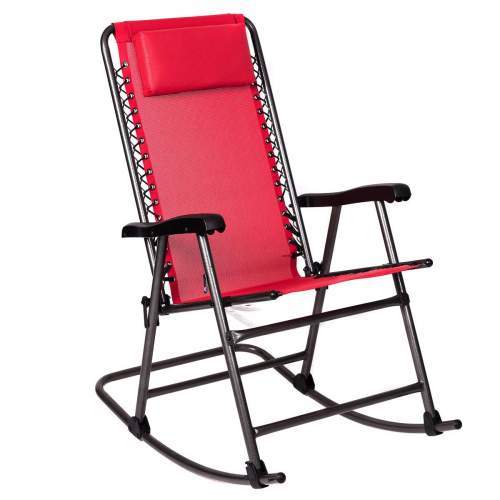 What you see in the picture is one of the two versions of this folding camping rocking chair. In both versions, you have a very high back section and a good headrest. This is why I have included it in my list of chairs with high back and headrest.
Obviously, this is a rocking type, but you also have good and ergonomic armrests. The frame is steel and this is why it is so heavy, no less than 16.53 lb (7.5 kg). It is also bulky when packed, bear this in mind when you choose your camp spot, I would not carry it long distances. Please read more in my full review.

---
8. ALPS Mountaineering Rocking Chair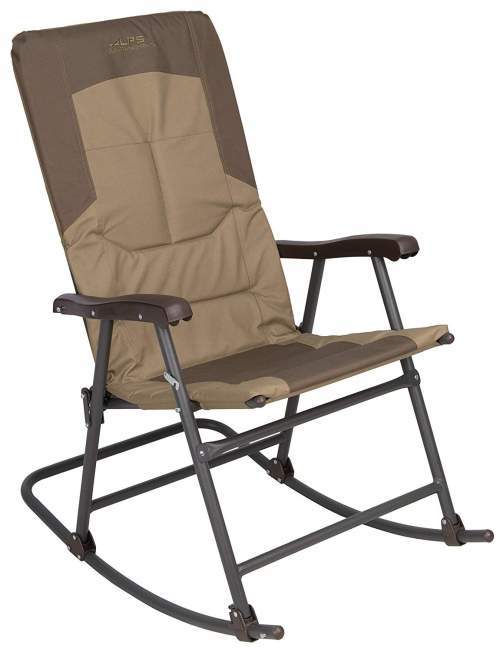 This is one of those chairs that remain large in two dimensions when packed, similar to the Timber Ridge chair above, so the packed size is not so great 47 x 26 x 6 inches (119 x 66 x 15 cm). The chair is also very heavy, you have 17.5 lb (7.9 kg). But this is a very sturdy, stable, and comfortable chair, built to last.
There is padding throughout the chair and the back section is very high, one of the highest on the market with 104 cm from the ground. So you have a great head support. There are also very strong armrests here built from a hard plastic. More in my full review.

---
Final thoughts
So this was my list of the best camping rocking chairs currently on the market. It will be updated regularly as I spot new quality items, so bookmark this page and come back from time to time to check for updates.
Thank you for reading. Do you have any experience with such chairs? If so, please share it here, there is a comment box below. I wish you a nice day.
---