---
The Coleman Living Collection Flat Fold Chair is lightweight and easy to use, with pleasant wood armrests and an aluminum frame.
---
Key features & benefits
Easy to use.
Wood armrests.
Aluminum frame.
Lightweight chair.
---
What is in the name
This is a chair from Coleman Living Collection that includes 5 different products. There is one more chair in the collection. The words Flat Fold are related to its folded size which is 22.24 x 21.26 x 3.35 inches (56 x 54 x 8.5 cm).
It folds like a book and you realize it is very thin when folded and it fits in narrow spaces. But it is quite large in the other two dimensions. The picture below shows how it looks when folded for transportation or for storage.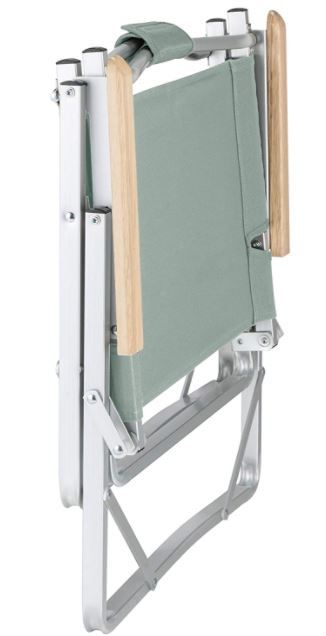 There are several nice features here worth mentioning, see for example the padded section on the top which serves as a carry handle.

You have solid armrests here, and this is natural wood, see how they look:

Materials
The frame is a lightweight aluminum. Particularly interesting are legs which are U-shaped and with support bars on the sides: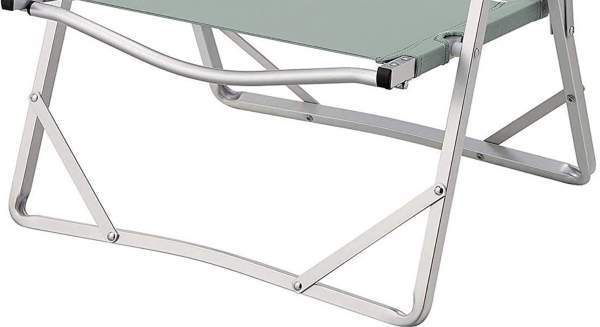 With such a shape, the chair can be used on any surface without sinking. But it is a pity they did not add some plastic feet to avoid potential issues with the floor.
The fabric is a polyester, but they do not provide any extra information about it. The same material is used in several products in this Living Collection.
---
Who is it for
Regarding the capacity, the chair is officially for up to 250 lb (113 kg) so this is quite typical number. If you still need more, check in my list of camping chairs for heavy people.
Regarding the dimensions, the chair is nicely proportioned, its three dimensions are almost the same. The seat is low, but you have wood armrests so it is easy to get in and out of the chair.
Regarding the weight, I would describe it as lightweight with its 4.85 lb (2.2 kg). The packed size you have already seen, so it is thin but quite bulky.
Regarding the price, I would say it is moderate, the other products in this Collection are relatively more pricey.
---
Specifications
Weight: 4.85 lb (2.2 kg).
Capacity: 250 lb (113 kg).
Dimensions (L x W x H): 21.7 x 21.3 x 24 in (55 x 54 x 61 cm).
Folded dimensions: 22.24 x 21.26 x 3.35 in (56 x 54 x 8.5 cm).
Frame: aluminum.
---
Rating, pros & cons
In the table below you have summarized my rating. I use the same criteria for all the chairs for an easy comparison. You can rate the chair from your side, there is a rating bar for this.
Wood armrests & aluminum frame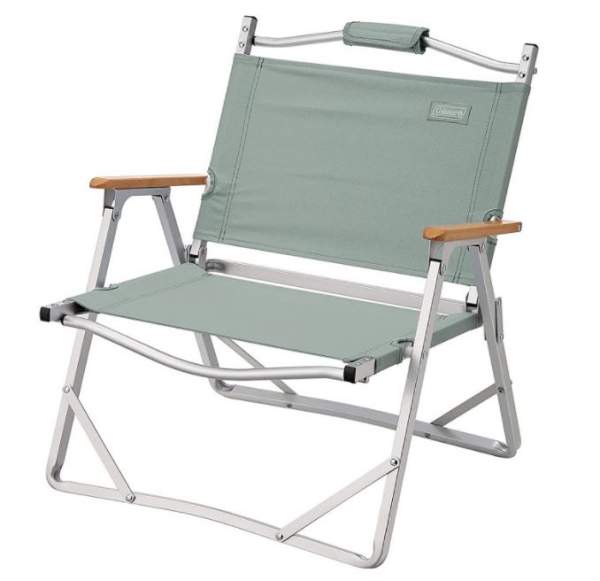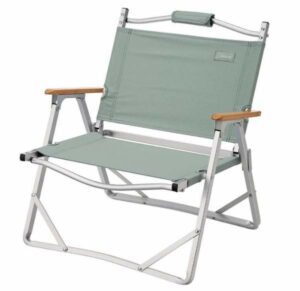 Product Name: Coleman Living Collection Flat Fold Chair
Product Description: The Coleman Living Collection Flat Fold Chair Is Lightweight and Easy to Use, with Pleasant Wood Armrests and an Aluminum Frame
Brand: Coleman
SKU: B08YKG9TPL
MPN: 2149983
Weight -

8.2/10

Dimensions -

7.1/10

Packed size -

6/10

Capacity -

7/10

Comfort -

9.2/10

Craftsmanship -

9.4/10
Summary
The chair is a bit bulky when folded but the overall rating is still Good.
Pros
Lightweight.
Easy to use.
Wood armrests.
---
Final thoughts
So this Coleman Living Collection Flat-Fold Chair is very easy to use and it really becomes thin when folded. Natural wood armrests and its aluminum frame look really cool. The chair is a part of a larger collection so you can combine it with several other products for a nice outdoor or backyard set.
Best places to buy:
For more options from this brand, please check my separate text with best Coleman Camping Chairs.
Bookmark this site and visit it when you find time, this will keep you informed, you have new texts added here on a regular basis. Let me know if you have questions, there is a comment box below. Thank you for reading and have a nice day.