---
KingCamp Folding Quad Chair With Lumbar Support and Armrests is an instant setup camping chair that comes with several bonuses like a cooler, a cup holder, an adjustable lumbar support, and a storage pouch.
---
Key features & benefits
Adjustable lumbar support.
Cooler on the side.
Armrests.
Cup holder.
Storage pouch.
Instant setup.

---
What type of chair is this
The KingCamp Folding Quad Chair is what its name says, a folding chair that you set up in seconds. You will see this in the video below. You can close it up equally fast.
It comes with a carry bag equipped with a strap, so you can carry it on the shoulder. Note that packing it in the bag is far from easy and I have seen some people complaining about this.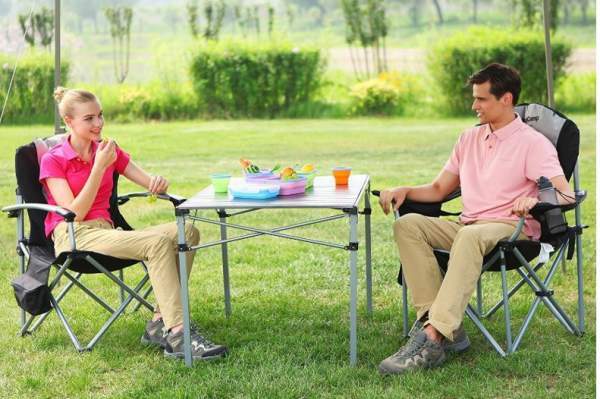 ---
Who is it for
Capacity-wise, this chair is strong enough to support a weight of up to 160 kg. So this should be good enough for most of the users. The seat height is lower than in some of its competitors like the Kijaro XXL, here it is at 18.5 inches (47 cm) above the ground.
Weight-wise, they describe it as "lightweight and portable". So one could argue about this, but I guess it depends on what you compare it with. In any case, its 11.3 lb (5.1 kg) weight is such that you would not want to carry it long distances.
Size-wise, the dimensions of this chair are very good. You will be able to compare it with some of the top chairs on the market, there is a comparison table below. But its packed size is far from great, it is a bundle of 38 x 9 x 8 inches (96 x 23 x 20 cm).
Clearly, in view of its weight and packed size, this is a tool to use at places with a car access, so this may include plenty of activities. The chair is all but lightweight and portable.
---
Materials & construction
This is a steel structure, and this explains its weight. So the weight is not necessarily a bad thing, the construction is very stable and sturdy. The armrests are a direct extension of the diagonal support bars, similar to what you have in the King Kong chair.
The fabric is 600 x 300D oxford polyester, so again a very durable material. The chair is with padding and this makes it different from the Kijaro XXL and similar to the King King chair. The back is high enough to provide a support for the head unless you are a very tall person. You will see in the video that there is a zippered pocket on the top where you store the carry bag and this gives you more padding for the head.
The feet are with quite wide caps for protection, but you should expect them to sink in a soft ground. This is far more suited for a hard surface, and the design is floor friendly.
Bonuses
You have an adjustable lumbar structure and you can easily regulate the profile on the back for your body shape, see the picture below. This is a nice feature which you do not have in the mentioned competitors. Note that you have something similar also in this Kamp-Rite Padded Folding Chair with Lumbar Support.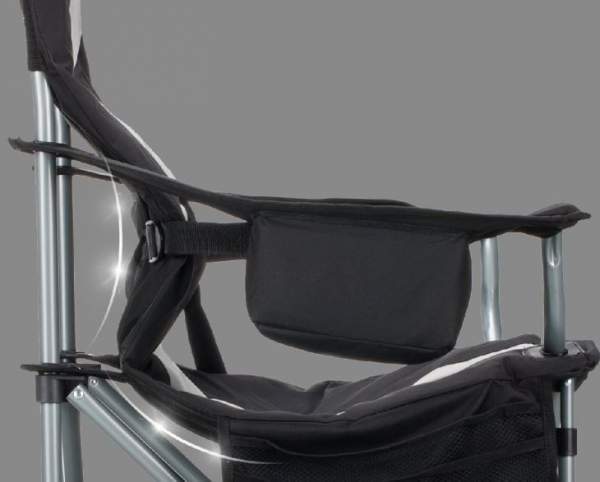 On the right armrest, you have a padded cooler with enough space for several beer cans, see it in the pictures above and below. On the other side there is a cup holder.
There is also a storage pouch on the right side for books or a tablet and similar stuff, see below.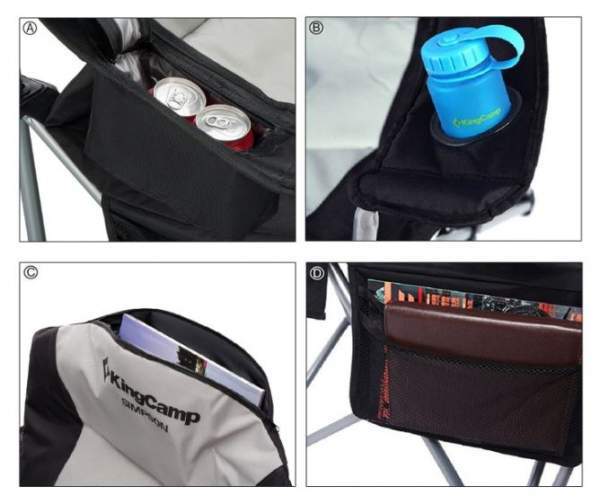 How it works
I think it is best that you see this very short video:
---
The price & rating
The daily updated Amazon price for this chair is given in the link below, so you realize this is a great price for such a chair. Observe also that this is an Amazon Prime product.
The rating by Amazon customers is for every respect, it has received many reports. See how I rate it for various parameters:
My rating breakdown of the KingCamp Folding Quad Chair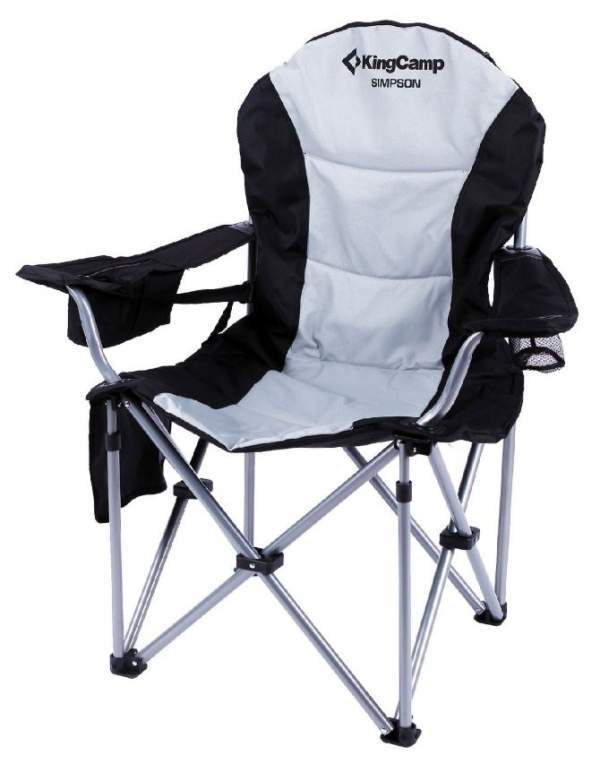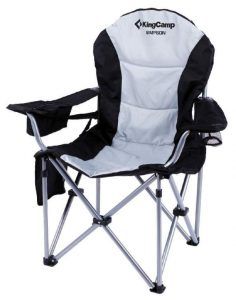 Product Name: KingCamp Folding Quad Chair With Lumbar Support and Armrests
Product Description: KingCamp Folding Quad Chair With Lumbar Support and Armrests is an instant setup camping chair which comes with several bonuses like a cooler, a cup holder, an adjustable lumbar support, and a storage pouch.
Brand: KingCamp
Weight -

5.5/10

Dimensions -

9.3/10

Packed size -

4.5/10

Capacity -

8.5/10

Comfort -

9.7/10

Craftsmanship -

8.5/10
Summary
My overall rating for this chair is very good:
Pros
Very easy to use.
Comfortable.
Very stable.
Great armrest design.
Headrest.
Adjustable lumbar support.
---
Specifications
Type: folding camping chair.
Weight: 11.3 lb (5.1 kg)
Capacity: 353 lb (160 kg).
Dimensions (W x D x H): 38.2 x 23.5 x 41.3 in (97 x 60 x 105 cm)
Seat dimensions: 23.5 x 23.5 in (60 x 60 cm).
Seat height: 18.5 in (47 cm).
Packed size: 38 x 9 x 8 in (96 x 23 x 20 cm).
---
KingCamp Folding Quad Chair vs Competitors
Please see how this chair stands when compared with some other items built in the same style. This may help in making an informed choice:
Dimensions
(W x D x H), in (cm)

38.2 x 23.5 x 41.3
(97 x 60 x 105)

38 x 9 x 8
(96 x 23 x 20)

ALPS Mountaineering King Kong
38 x 20 x 38
(96 x 51 x 96)

41 x 7 x 7
(104 x 18 x 18)

21.5 x 20 x 29 (55 x 51 x 74)

32.5 x 8 x 8
(83 x 20 x 20)

---
Final thoughts
In the summary of this KingCamp Folding Quad Chair review, they have built a very functional chair with numerous bonuses. The adjustable lumbar support which you have here is not so frequent on the chairs of this type. I have included it in my list of the best folding camping chairs and also in my list of high back camping chairs with headrest.
You might want to compare it with yet another chair from the same brand, the KingCamp Low Sling chair. Check also this STRONGBACK Elite Chair with a great lumbar support.
My relatively low average rating is obviously affected by its weight and the packed size. But I use the same criteria for all chairs presented in the site, and use the same formula for all chairs so the numbers are consistent for all of them. So the best way to understand them is to compare the chairs.
You might want to check also this ALPS Mountaineering Steel Leisure Chair with solid armrests. But see also this Coleman Oversized Quad Chair With Cooler and the price without a match. If you want a chair with a solid armrest, check this ALPS Mountaineering Camp Chair.

Note that there are several other products from this brand presented here in the site; check this nice folding camping bed or this double camping cot, and also this military style cot.
Thank you for reading. Please use the comment box below in case of questions or comments. Have a nice day.

---