---
STRONGBACK Elite Folding Camping Chair with Lumbar Support is an award-winning and patented design with an ergonomic seat for an improved posture and optimal comfort.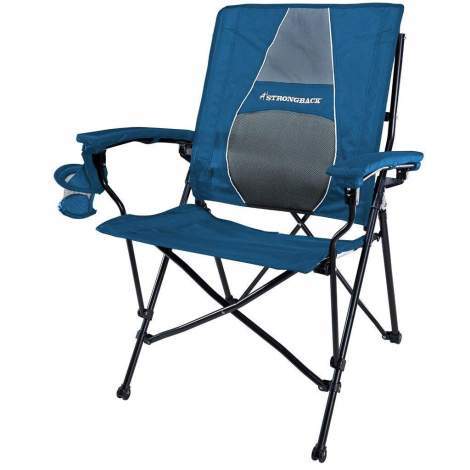 ---
Key features & benefits
Unique frame-integrated lumbar support.
Carry bag with dual shoulder straps.
Solid and padded armrests.
Cup holder.
Steel frame.
Top level craftsmanship.

---
What this is about
This Strongback Elite folding chair is what its name says, a folding type which remains relatively long in one dimension only when packed. In such a folded state it is a bit curved but it fits nicely in its carry bag.
The lumbar support
No doubt the most important feature here is the lumbar support. So this is a unique and patented supportive design which aligns your body so that you have an optimal posture which eases tension in the back and in the neck and helps in relaxing muscles. This lumbar section is with an added cushion.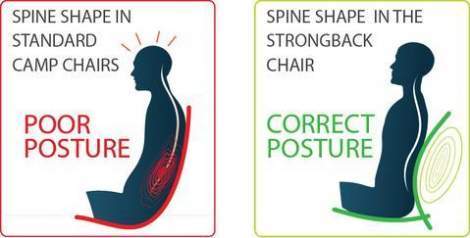 The carry bag
The carry bag is quite long, the dimensions are 44 x 11 x 6 inches (112 x 28 x 15 cm). But it is equipped with dual straps which you can use to carry the chair backpack style, see the picture below. Because of the curved folded shape, you have to position the chair in the bag properly to carry it like a backpack. Note that the carry bag is made of a durable 600D fabric.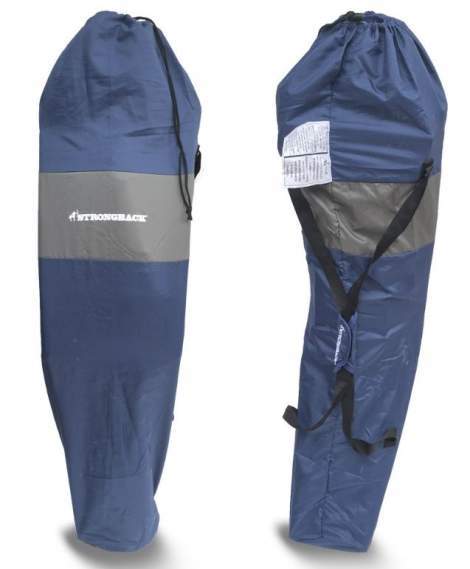 ---
Who is it for
Capacity-wise the chair supports the weight of up to 300 lb (136 kg). This is not much but this is quite typical and you realize this when you check my text with folding camping chairs, but there are indeed chairs with a much higher capacity.
Size-wise, this is a really nicely done item, the dimensions are great (W x D x H) 28.5 x 27 x 36.5 inches (72 x 69 x 93 cm), and the seat is 23 inches (58 cm) wide. So it provides lots of space and support for up to the shoulders level, but this is not a chair with a headrest; such chairs you will find in my separate list of high back chairs with headrest.
The seat height is moderate, it is 18 inches (46 cm) above the ground and the back section is lower so the body leans comfortably backward when you seat. But you have solid and well-padded armrests which help in getting into and out of the chair.
Weight-wise, with 11.9 lb (5.4 kg), this is not something to carry long distances. Such a weight together with the mentioned packed size tells you that you need a car for such a chair.
So this is for camping places with a car access. But this chair is more than that, if you are attending any place where you expect to spend lots of time sitting in an uncomfortable chair, like sports events or seminars, then take this chair with you and avoid back pain.
---
Materials & construction
This is a powder-coated durable steel construction and some of its features you have already seen above. The fabric is a heavy-duty polyester 600D, tear-resistant and breathable in its bigger part. You have double reinforced stitching and all this together results in a decent weight capacity mentioned above. So the craftsmanship is at the top level.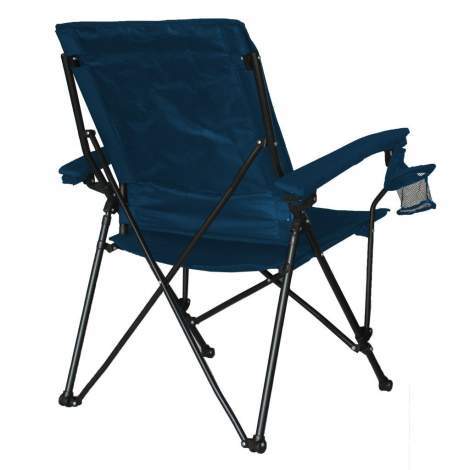 The chair comes with a cup holder on the side but I must say it does not look so great, it is a bit flimsy mesh structure. The four feet are such that they will work well only on a hard surface, I am not particularly impressed with the design of their caps.
The solid armrests are with a good padding, long and comfortable and slanted backward.
The chair unfolds in one simple move and you close it equally easy. But the unique frame provides a lumbar support, unlike any other camp chair. You do not have the usual sagging and slumping. Please see a bit more in this promotion video by the brand:
---
My rating, pros & cons
The reports by Amazon customers are very positive and, as of the moment of writing this text, the average rating is a respectable 4.3/5.
My own rating is different as I use several criteria and apply them consistently to all the chairs here in the site, so just compare with other chairs of interest:
My rating breakdown of the Strongback Elite folding chair: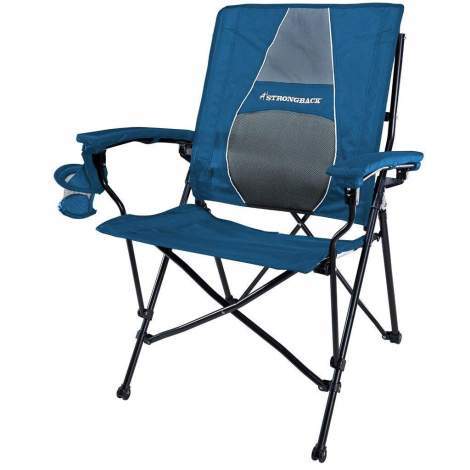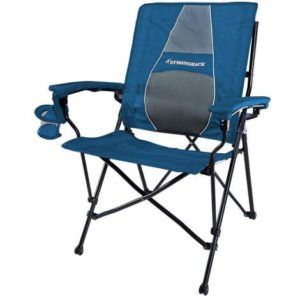 Product Name: STRONGBACK Elite Folding Camping Chair with Lumbar Support
Product Description: STRONGBACK Elite Folding Camping Chair with Lumbar Support is an award-winning and patented design with an ergonomic seat for an improved posture and optimal comfort.
Brand: STRONGBACK
Weight -

5.5/10

Dimensions -

8.5/10

Packed size -

4/10

Capacity -

7.5/10

Comfort -

9.7/10

Cratfsmanship -

9.6/10
Summary
My overall rating for this quality chair is Very Good:
Pros
Ergonomic design.
Great support.
Very easy to use.
Carry bag included.
Great size.
Quality workmanship.
Cons
Long when packed.
Expensive.
Not for soft ground.
---
Specifications
Weight: 11.9 lb (5.4 kg).
Capacity: 300 lb (136 kg).
Dimensions (W x D x H): 28.5 x 27 x 36.5 in (72 x 69 x 93 cm).
Seat width: 23 in (58 cm).
Seat height: 18 in (46 cm).
Packed size: 44 x 11 x 6 in (112 x 28 x 15 cm).
Steel frame.
---
STRONGBACK Elite folding camp chair vs Competitors
It may be useful to see how this chair compares with some other similar chairs available on the market. So I give the KingCamp chair which is also with a lumbar support and the Core Tension chair with a similar folding design. When you see the basic parameters side by side, you can better realize the features of such items.
Observe that the KingCamp chair offers also a headrest, and it is bigger but without solid armrests. The Core chair is without lumbar support.
Dimensions
(W x D x H), in (cm)

28.5 x 27 x 36.5
(72 x 69 x 93)

44 x 11 x 6
(112 x 28 x 15)

38.2 x 23.5 x 41.3
(97 x 60 x 105)

37 x 25 x 37
(94 x 64 x 94)

39 x 6.1 x 6.1
(99 x 16 x 16)

---
Final thoughts

If you need more options to see, please check in the category Camping Chairs here in the site. Check also my list with best folding camping chairs. Please use the comment box below in the case of questions or comments. have a nice day.