---
ONIVA Picnic Time Brand Portable Reclining Camp Chair is a steel construction with several bonuses which include headrest, armrests, storage elements, a carry bag, and a reasonable price.
---
Key features & benefits
Folding chair.
Reclining design.
Great dimensions.
Steel frame.
Adjustable armrests.
Headrest.
Storage pouch.
Cup/bottle holder.
Carry bag included.
Padding.
Reasonable price.
---
Where to buy
This Oniva Reclining Chair is available on Amazon. Please follow the link and check the price and shipping conditions for your location. As you know they operate globally, and I have seen the chair on several of their global stores.
You can find it also at Walmart.
---
So what this chair is about
Here you have a folding chair, one of those that fold like an umbrella remaining relatively large in one dimension only. So the packed size is 37 x 8.5 x 8.5 inches (94 x 22 x 22 cm).
It comes with a very useful carry bag equipped with a shoulder strap shown below, so you can carry it attached to the shoulder. It is good to have it and to keep the chair clean from dust when stored for a long time at home.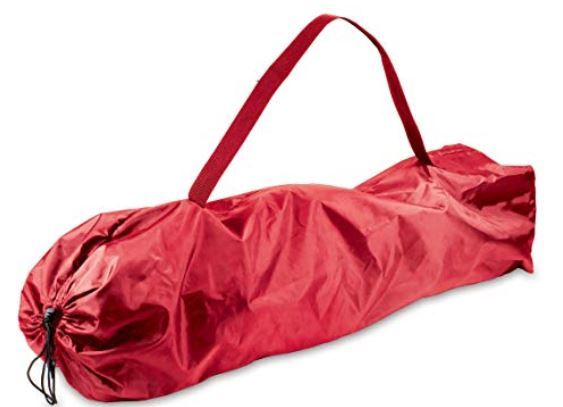 Such a folding design implies also that there is no particular assembly, you simply unfold it in seconds and it is ready.
The chair is tall and it offers a headrest, and you also have soft and adjustable armrests. One of the armrests is with am integrated bottle holder. Note also that it is fully padded, some will love this feature, but if you need something for a warm-weather perhaps check this Browning Camping Fireside Chair which is all in mesh.
Reclining design: So this is an extra bonus with this chair, you have 3 reclining positions where the slider shown in the picture below locks. I have included it in my list of best reclining camping chairs.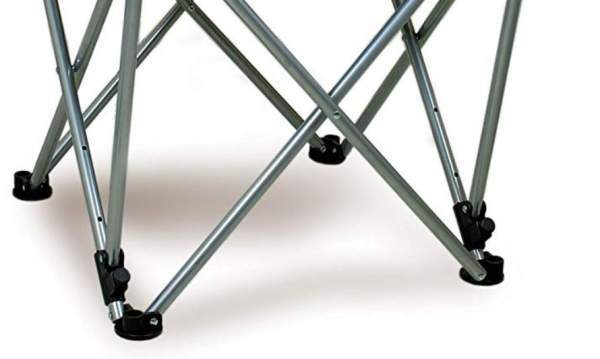 The chair comes with a large zippered storage pocket on the back shown in the picture: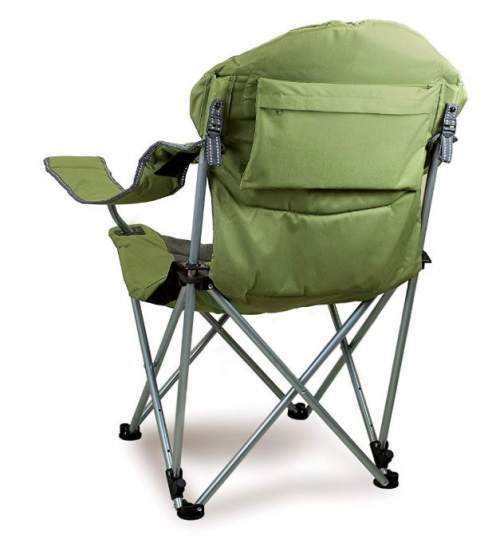 The frame which you see in the picture above is a sturdy steel, those X-shaped support bars add a lot to the stability of the structure. The fabric is a durable 600D polyester. There is some padding inside, most likely a foam.
The feet are plastic, they are wide and will not sink easily in the case of a soft ground. If you use the chair in a floored family camping tent, it is best to add some carpet underneath the feet.
---
Who is it for
Size-wise, this is an exceptionally  big chair with its dimensions (H x W x D) 42 x 36 x 33 inches (107 x 91 x 84 cm). The backrest is tall and if you are not a very tall person you will have a headrest here as well. Note that the width given above is the total width with the armrests; but the seat alone is more than 22 inches wide.
Weight-wise, they use the word 'portable' in the name. So it is indeed portable, but with the weight of 10.2 lb (4.6 kg) this is not an item to carry long distances.
You will see how this weight compares with some other chairs built in the same style, there is a comparison table below. But if you need a chair for the trail, please check these ultralight backpacking chairs.
Capacity-wise, the chair is quite typical. The declared weight capacity of 300 lb (136 kg) will be good enough for the majority of users. But if you need something much stronger, better check one of these camping chairs for heavy people.
Please see more in this short video:
---
My rating, pros & cons
This Oniva reclining chair is on the market with the price of around $61 and I find this a reasonable price for a chair with so many features. But on the EU market, this chair is 3 times more expensive, quite incredible.
There are negative reports by customers, as usual, so inspect and test the chair when it arrives, they have good warranty conditions.
Please see how I rate this chair against my standard set of criteria used consistently for all the chairs in the site. This allows for easy comparison.
My rating of the ONIVA Reclining Camp Chair: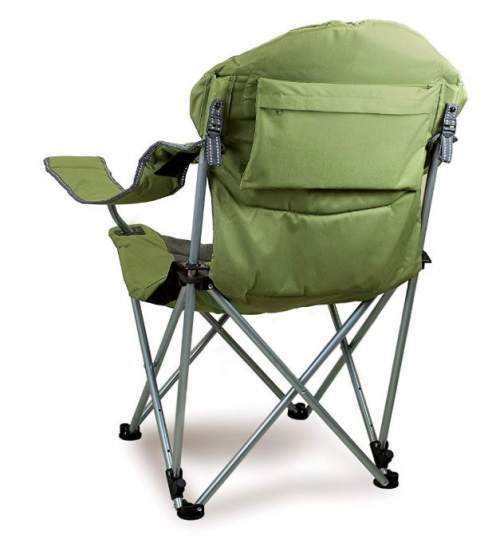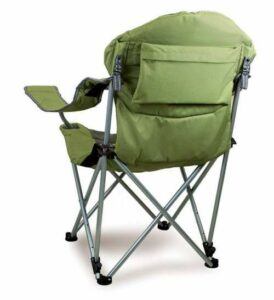 Product Name: ONIVA Picnic Time Brand Portable Reclining Camp Chair
Product Description: ONIVA Picnic Time Brand Portable Reclining Camp Chair is a steel construction with several bonuses which include headrest, armrests, storage elements, a carry bag, and a reasonable price.
Brand: ONIVA
Weight -

6/10

Dimensions -

10/10

Packed size -

4/10

Capacity -

7.5/10

Comfort -

9.7/10

Craftsmanship -

8/10
Summary
My overall rating is – Very Good:
Pros
Very easy to use.
Comfortable.
Reclining.
Headrest & armrests.
Great warranty.
Fair price.
Cons
A bit heavy.
Complaints about craftsmanship.
---
Specifications
Weight: 10.2 lb (4.6 kg).
Weight capacity: 300 lb (136 kg).
Dimensions (H x W x D): 42 x 36 x 33 in (107 x 91 x 84 cm).
Dimensions: 37 x 8.5 x 8.5 in (94 x 22 x 22 cm).
Frame: steel.
Colors: 3.
Warranty: lifetime.
---
ONIVA Reclining Camp Chair vs Competitors
There are chairs that appear similar on the first look, but their features may be quite different. One example is this KingCamp Chair which is in the style of the Oniva Chair but it has no reclining frame; it has a lumbar support instead.
On the other hand, the Alps Mountaineering King Kong Chair is padded similar to the Oniva Chair, and also it has soft and adjustable armrest. But its weight capacity is drastically different.
As you see, the Oniva Chair is the lightest here although it is the biggest. Please follow the links to read more, this might help in making an informed decision.
Dimensions
(W x D x H), in (cm)

36 x 33 x 42
(91 x 84 x 107)

37 x 8.5 x 8.5
(94 x 22 x 22)

38 x 20 x 38
(96 x 51 x 96)

41 x 7 x 7
(104 x 18 x 18)

38.2 x 23.5 x 41.3
(97 x 60 x 105)

---
Final thoughts
So to summarize this ONIVA Picnic Time Brand Portable Reclining Camp Chair review, this is a very functional chair with many useful features. Those storage elements are great to have as well as such a carry bag.
Such a chair you can use for a variety of outdoor activities like sporting events, festivals, camping, you can take it to the beach or to your favorite fishing spot. The US market price is really great but this is quite different on the EU market.
Check on Amazon
Check at Walmart
If you need more options to see, please check under the category Camping Chairs here in the site, you will find them in hundreds.
Note that this is not a sponsored text, and I am not paid by the manufacturer.

---