---
STRONGBACK Low Gravity Beach Chair with Lumbar Support is a very low chair with a patented ergonomic design, solid armrests, and a reasonable price.
---
Key features & benefits
Folding chair.
Ergonomic lumbar support.
Solid & padded armrests.
Cup holder.
Reasonable price.
---
What type of camping chair is this
This Low Gravity chair is what its name says, a rather low chair for the beach, camping, events, etc., and it is a folding type that needs no assembly. So its weight center is very low, the feet are 20.5 inches (52 cm) apart from each other and this makes it stable, hence the words 'low gravity' in the name. It is also ready in seconds.
The most important feature mentioned already in the title already is its ergonomic design with unparalleled lumbar support. Something similar you can find only in some other chairs of this same brand, like in their Elite and Guru chairs.
They are specialized in this ergonomic design and currently, no other brand is even close to their design, but see also this PORTAL Folding Camping Chair with Lumbar Back Support which has something similar. You have some padding in the lumbar zone while the upper section is with mesh, see the picture.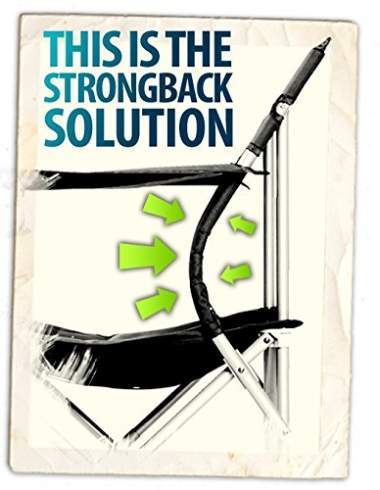 This is also one of the chairs with solid armrests, and you have padding there as well. The cup holder on the right side is an extra bonus.
I have seen people asking about the height of the back, so this section is around 21 inches (53 cm) and you have no headrest here. Check my list of chairs with headrest if you need such a chair. The back is fixed, there is no reclining mechanism but it is angled backward, so this together with the integrated curved lumbar zone helps you having the best posture and relaxing the body.
---
Who is it for
Capacity-wise, the chair supports the weight of up to 300 lb (136 kg). This is a typical but modest value, there are much stronger chairs in my list of folding camping chairs.
Weight-wise, with its 8.5 lb (3.86 kg), the chair is reasonably lightweight for such a type. You will see how it compares with some of its competitors. But this is not something to carry in the pack; if you need such a chair better check my list with backpacking chairs.
Size-wise, this chair is not particularly big. The dimensions are (W x D x H) 21.5 x 23.5 x 24 inches (55 x 60 x 61 cm). More importantly to know is that the seat is low, it is 7.5 inches (19 cm) above the ground on the front and 4.5 inches (11.4 cm) on the back.
The packed size is also not bad, though quite typical (see the comparison table below), 30 x 8 x 8 inches (76 x 20 x 20 cm).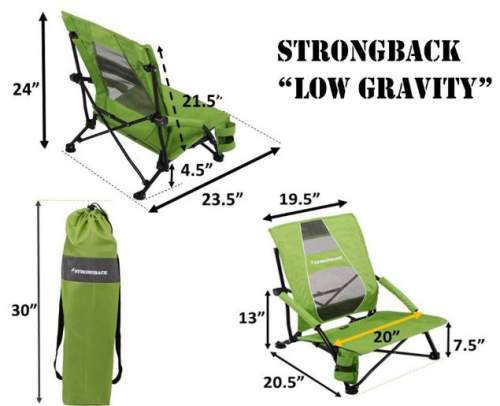 So all in all, this is a rather low chair, suitable also for children, but probably less suitable for elderly people who might find it difficult to get in and out of the chair. It will not take much space in the car trunk or when you store it at home.
Note also that it comes with a nice carry bag that has two straps so that you can carry it in hand, attached to the shoulder, or backpack-style.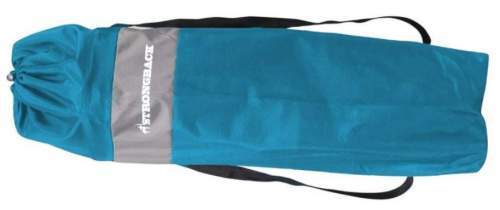 ---
Materials & construction
The frame is black-powder-coated durable steel and the X-configuration on the back together with such a low height creates a very strong and stable structure. There is a locking element on the back, shown in the picture below.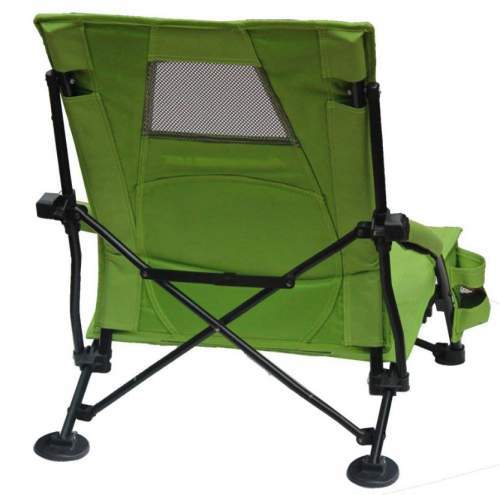 The feet design which you see in the picture is such that it works fine on the beach or any other soft ground. Note that the fabric is taut, quite firm and flat. This is a heavy-duty polyester 600D. The structure is also quiet, without any creaking sounds. Overall craftsmanship looks quite good.
---
My rating, pros & cons
The name of the chair suggests using it on the beach but I have seen some people complaining that sand gets into joints and some experienced difficulties in closing it. But most Amazon users appear to be very happy with it, the chair has scored 4.2/5 average rating based on around 190 reports (as of the moment of writing this text). See how I rate it:
My rating breakdown of the STRONGBACK Low Gravity Beach Chair with Lumbar Support: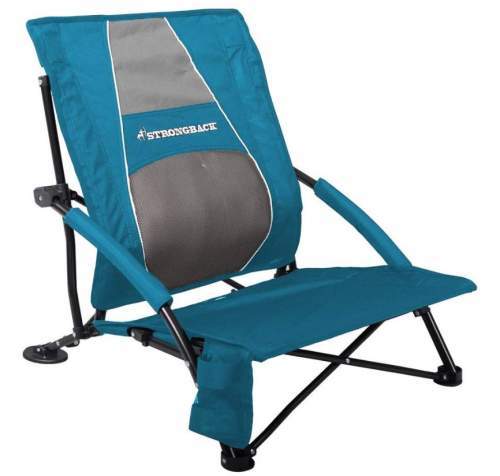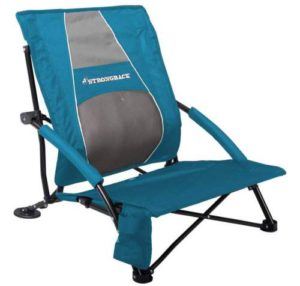 Product Name: STRONGBACK Low Gravity Beach Chair with Lumbar Support
Product Description: STRONGBACK Low Gravity Beach Chair with Lumbar Support is a very low chair with a patented ergonomic design, solid armrests, and a reasonable price.
Brand: STRONGBACK
Weight -

7/10

Dimensions -

7.2/10

Packed size -

5.5/10

Capacity -

7.5/10

Comfort -

9.4/10

Craftsmanship -

9.4/10
Summary
My overall rating for this great chair is Very Good:
Pros
Ergonomic design.
Very stable.
Very easy to use.
Low gravity center.
Good armrest design.
Reasonable price.
---
Specifications
Type: folding chair.
Weight: 8.5 lb (3.86 kg).
Capacity: 300 lb (136 kg).
Dimensions (W x D x H): 21.5 x 23.5 x 24 in (55 x 60 x 61 cm).
Seat height:
– Front: 7.5 in (19 cm).
– Back: 4.5 in (11.4 cm).
Packed size: 30 x 8 x 8 in (76 x 20 x 20 cm).
Frame: steel.
Colors: 4.
---
STRONGBACK Low Gravity vs Competitors
In the table you can see two low chairs from other brands, just to compare some basic parameters and to understand what you can expect from such items. This will help in making an informed choice. As you see the numbers are pretty similar, but the Strongback chair's lumbar support is a big bonus.
Dimensions
(W x D x H), in (cm)

Strongback Low Gravity Chair
21.5 x 23.5 x 24
(55 x 60 x 61)

30 x 8 x 8
(76 x 20 x 20)

21.5 x 20 x 29
(55 x 51 x 74)

32.5 x 8 x 8
(83 x 20 x 20)

22.8 x 23.2 x 26.4
(58 x 59 x 67)

30.7 x 7.9 x 5.1
(78 x 20 x 13)

---
Final thoughts
So the most important feature of this STRONGBACK Low Gravity Beach Chair with Lumbar Support is indeed its ergonomic lumbar design, plus the feet design with such huge caps. The solid armrests are also an essential element in view of its height. It is included in my list of best lightweight beach chairs.
But if it is too low, check their Guru chair with the same lumbar support, which is a bit bigger and higher, or their Elite chair which is really tall and very big.
Check on Amazon
Check at Walmart
Thank you for reading. If you need more options just check in the category Camping Chairs here in the site and also in my list of best camping chairs with lumbar support. Please use the comment box below in case of questions or comments. Have a nice day.