---
This Best Choice Products Oversized Zero Gravity Reclining Lounge Patio Chair is incredibly comfortable and packed with great features. Keep reading.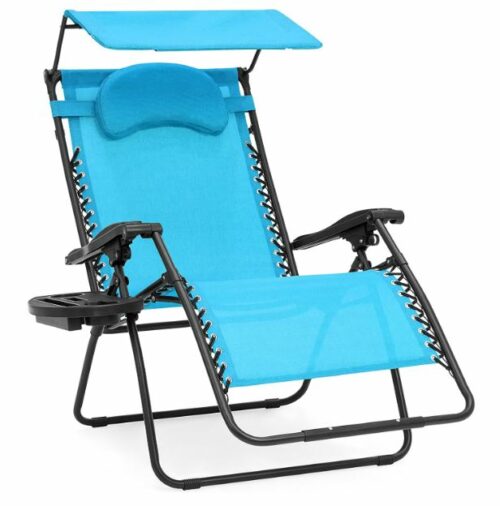 ---
Key features & benefits
Folding chair.
Reclining design.
Footrest.
Sunshade.
Headrest.
Solid armrests.
Unique cup holder & side table.
Great price.
---
What is in the name
I guess the most important feature here is what is described as the 'Zero Gravity" words in the name. This implies a couple of things. First, the chair is one of the reclining chairs by the design, and second, this is one of the chairs with footrest. But this chair should not be mixed with yet another chair of this brand with a similar name Best Choice Products Foldable Zero Gravity Rocking Patio Recliner Chair.
So when you change the position of the backrest and move it down, the footrest simultaneously raises up. As a result, you get a chair in a configuration shown in the picture below that allows for maximum relaxation as if you would not feel the gravity.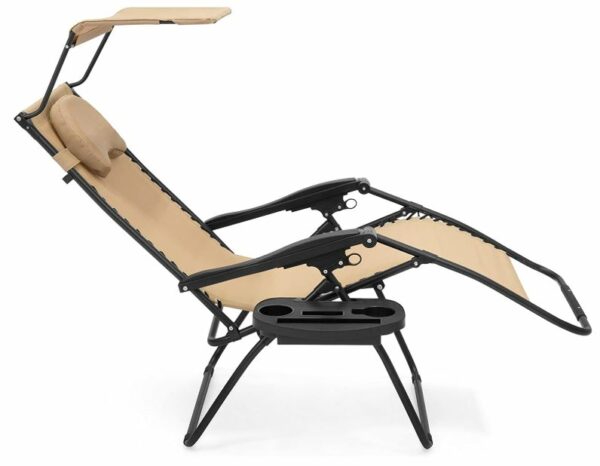 All that you see in the picture is practically one single piece, so this is a folding chair that requires no assembly. This is both good and bad. The good is that it is very easy to use, but the bad is that when folded it is large in two dimensions, although it becomes thin and it can easily fit in narrow spaces, see the picture: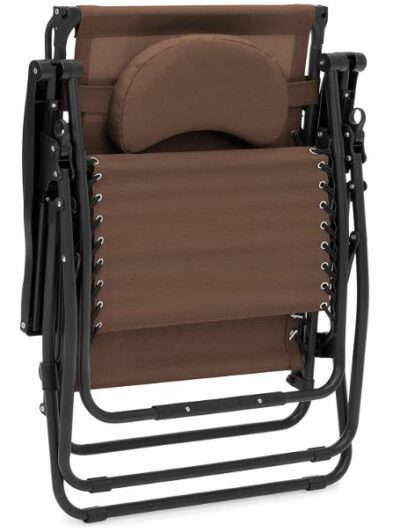 So although it has the words Lounge Patio in the name, this chair can be used anywhere at places with a car access.
Sunshade and headrest: You have seen these features in the pictures, but here is a zoomed view: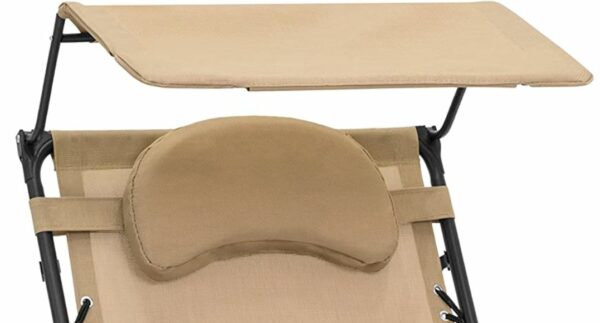 The sunshade shown above is permanently attached to the chair. It folds on the back when you close the chair. It is adjustable and you can move it backward and forward.
The dimensions of the canopy are (L x W) 24.5 x 15.25 inches (62 x 39 cm). This is why I have included it to my list of chairs with sunshade & canopy.
The backrest is high, around 29.25 inches (74 cm) from the seat, and you have the adjustable pillow shown above. Its dimensions are (L x W x D) 15 x 9.25 x 2 inches (38 x 23 x 5 cm), so the chair is in the group of chairs with a headrest.
The chair offers anatomic solid armrests and you see how they are designed in the picture, the locking mechanisms are underneath the armrests: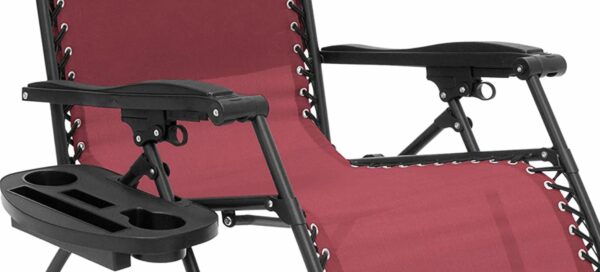 Storage elements: The picture shows also its side storage tray where you can put bottles and cups, but it also has slots for a smartphone and for a tablet or a book. You can see more in this picture: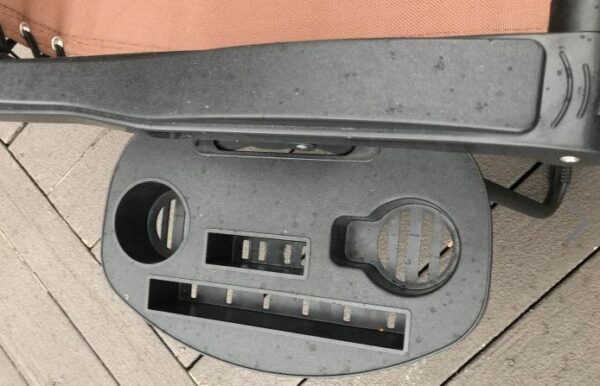 The dimensions of the tray shown above are 15 x 9.25 inches (38 x 23 cm), and the cup holder diameter is 3.25 inches (8.2 cm).

Materials
The frame is steel, and from the pictures you realize that the chair is with bars on the ground. So this is good because it will not sink easily no matter where you use. This is also a floor-friendly design and you can use it even in a floored family camping tent.
The fabric attaches to the frame with a cool-looking bungee cord shown in the picture below. It is elastic and it allows for the fabric to immediately adjust to your body.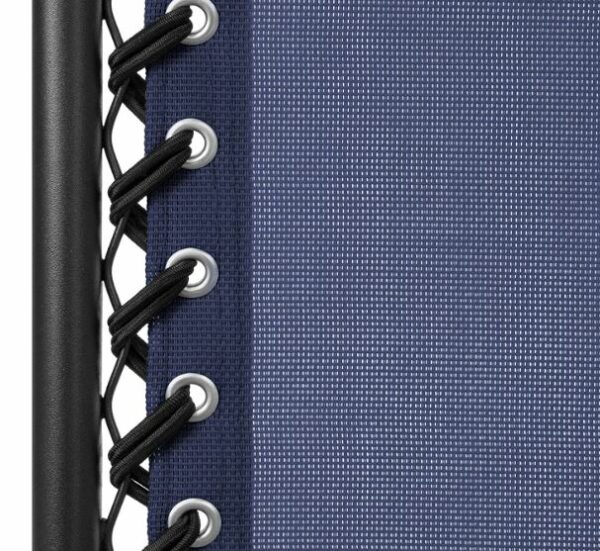 Note that they have many colors, you have realized this from the pictures shown here in the text.
---
Who is it for
Regarding the weight, the chair is heavy with its 21 lb (9.5 kg). So you would not want to carry it long distances.
But there are good reasons for this weight. You have seen that the footrest has its own separate frame, and the bungee attaches to the frame because of an extra metal wire added to the frame. There is the sunshade with its own frame.
Regarding the capacity, although it has the word Oversized in the name, the weight capacity is quite moderate for its side, it is 250 lb (113 kg).
Regarding the overall dimensions, you will see them all in the specifications below. The height is dependent on the reclining position, and it depends also on the position of the sunshade. But note that it extends to 62.25 inches (158 cm).
The chair also needs a wide space because of its side tray, you realize this from its back view: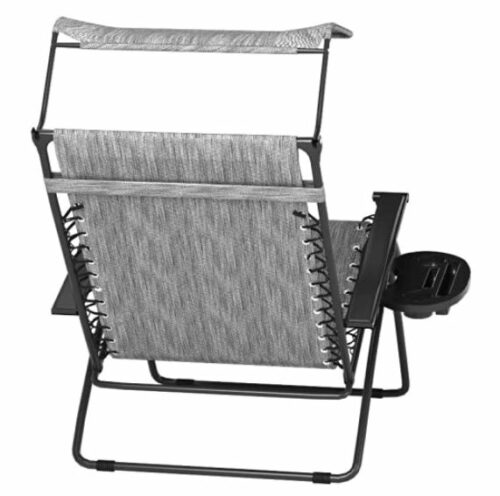 The seat is 19 inches (48 cm) above the ground, so it is moderately high, but in any case, the solid armrests will help to get in and out.
---
Specifications
Weight: 21 lb (9.5 kg).
Capacity: 250 lb (113 kg).
Dimensions (L x W x H): 36 x 32 x 47.5 in (91 x 81 x 121 cm).
Height without canopy: 44 in (112 cm).
Reclined dimensions (L x W x H): 62.25 x 36 x 33.75 in (158 x 91 x 86 cm).
Seat (L x W): 24.5 x 18.5 in (62 x 47 cm).
Backrest height: 29.25 in (74 cm).
Seat height: 19 in (48 cm).
---
Rating, pros & cons
I use the same rating formulas for all the chairs, and there are several criteria used to give an average rating. So here some of them affect the overall rating negatively, have a look:
Incredibly comfortable.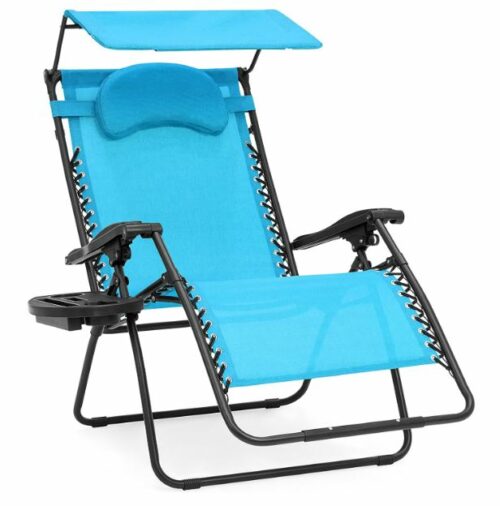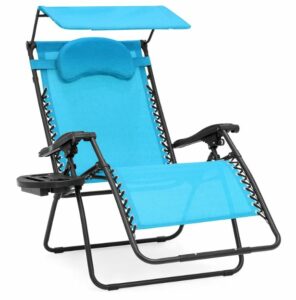 Product Name: Best Choice Products Oversized Zero Gravity Chair
Product Description: This Best Choice Products Oversized Zero Gravity Reclining Lounge Patio Chair is incredibly comfortable and packed with great features.
Brand: Best Choice Products
SKU: B07933ZPHQ
MPN: SKY4505
Weight -

2/10

Dimensions -

9.5/10

Packed size -

0.5/10

Capacity -

7/10

Comfort -

9.9/10

Craftsmanship -

9.6/10
Summary
The overall rating is negatively affected by the weight and packed size but it is still Good.
Pros
Incredibly comfortable.
Sunshade.
Great price.
Cons
Heavy.
Bulky when packed.
---
Final thoughts
In the summary of this Best Choice Products Oversized Zero Gravity Reclining Lounge Patio Chair review, after seeing this all you realize that this chair is packed with some really useful features. It is portable and it packs thin, this is what makes it suitable also for family camping. The price is more than appropriate, fully recommended. It is included in my list of best quality zero gravity chairs for camping.
If you need more options, please check under the category Camping Chairs here in the site. You might want to compare this chair with the ALPHA CAMP Heavy Duty Canopy Lounge Chair with Sunshade or with the GCI SunShade Comfort Pro Chair.
Bookmark this site and visit again, we add texts here on a regular basis. Thank you for reading and have a nice day.