---
RIO Beach 4-Position Lace-Up Backpack Folding Beach Chair with its aluminum body is easy to use, with a great headrest, a large storage bag, and a great price.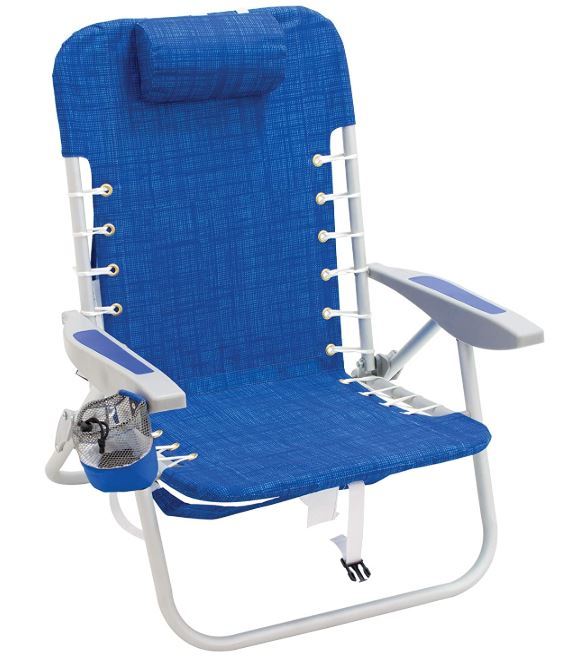 ---
Key features & benefits
Folding design.
Recliner.
Solid armrests.
Headrest.
Large storage bag on the back.
Bottle holder.
7 Different colors.
Great price.
---
So what this is about – what is in the name
As the name suggests, this is a chair with a lacing system on the bottom and on the sides, see the picture below. This looks cool and sets the chair apart from the crowd.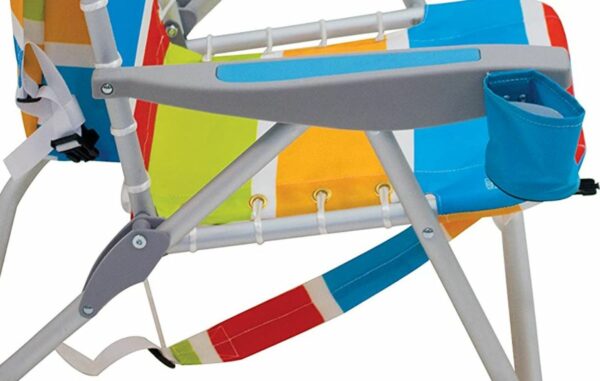 This is a folding chair so there is no assembly, you open it in a couple of seconds. Note also that it comes assembled and ready to use. The chair is equipped with a buckle; see the top picture above, it is hanging under the chair, it pairs with another one on the back. This keeps the chair folded for transportation, so all you have to do is to undo the buckle and just open the chair.
The word 'backpack' in the name describes the fact that the chair is equipped with two straps (one is visible in the picture above). The picture below shows how it is carried on the back: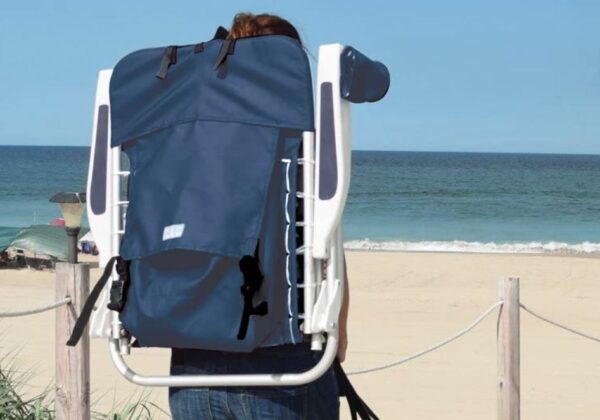 You have solid armrests and the backrest is very high and equipped with an adjustable pillow for the head. In view of these features, I have included it in my list of chairs with headrest.
They build this chair in 7 colors, some are demonstrated in the pictures here. Note that there is a short handle-strap on the back top so you can carry it short distances, see the picture: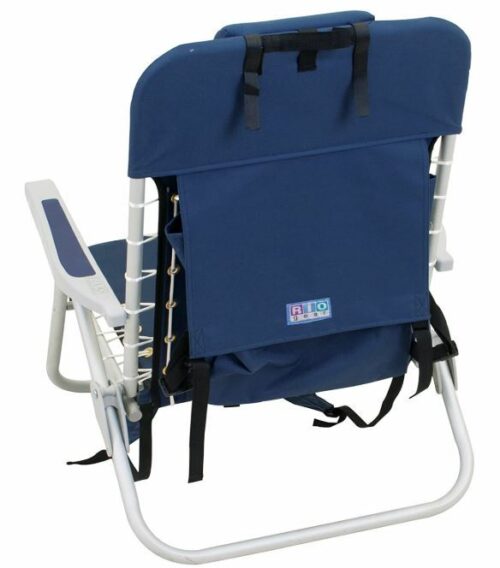 Reclining design: This is one of its important features, it allows for 4 different backrest positions. Note that it cannot become flat, I have seen people asking about this. If this is what you need, please check this Ostrich On Your Back Chair. In any case, it deserves to be included in my list of best reclining camping chairs.
Storage elements
There is a cup holder on the right side, and I have seen it in two different versions. One is all taffeta (it is visible in one of the pictures above), and one is a mesh-taffeta combination as in the chair shown below.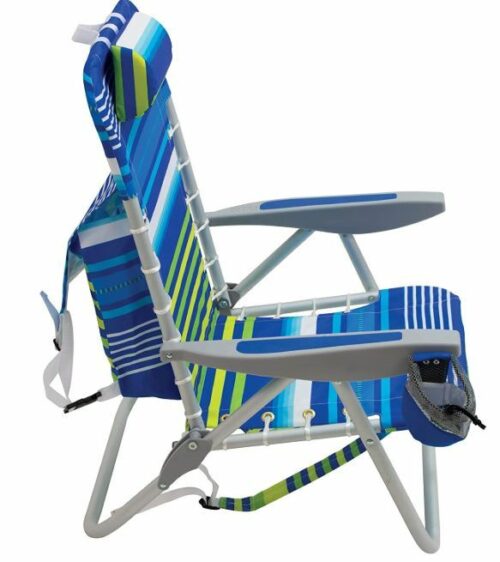 There is also a very substantial storage bag on the back, it is visible in the side view above. This is a space where you can carry all the stuff for the beach. There is even an interior pocket with a Velcro closure, for your smaller items. So when you carry the chair on the back, it looks a bit like a backpack with an external frame.
---
Materials
The frame is aluminum so it is surprising that it is not lighter. But there are several joints that are some heavy plastic, plus the plastic on the armrests. Then there are straps, and the storage bag, so this all adds weight. The fabric is polyester with 600D.
Note that the feet are two long bars, so this chair will not sink easily. This is suitable for the sand and for any other soft ground, and it will not damage the floor if you use it in a floored family camping tent.
---
Who is it for
Weight-wise, the chair is in the group of moderately heavy chairs of this type. But if you follow the links you will see a mess with numbers, three different values are on Amazon. It should be around 9 lb (4.1 kg).
Size-wise, the same mess with numbers but the dimensions should be around 44.7 x 25.5 x 26.5 inches (114 x 65 x 67 cm). So it is with a high backrest but note it is with a low seat as expected from a beach chair, the seat is 11 inches (28 cm) above the ground. The solid armrests will help to get in and out.
Capacity-wise, with its 250 lb (113 kg) declared capacity this chair is quite typical. So if you are exceptionally heavy you might want to check some of these chairs for heavy people.
Regarding the packed size, this is one of those that remain large in two dimensions, you have seen the pictures above. So it is bulky, and here too there are several numbers for its packed size, see one version below in the specifications.
---
Specifications
Weight: 9 lb (4.1 kg).
Capacity: 250 lb (113 kg).
Dimensions: 44.7 x 25.5 x 26.5 in (114 x 65 x 67 cm).
Closed size: 42.8 x 25.5 x 5.1 in (109 x 65 x 13 cm).
Seat height: 11 in (28 cm).
---
My rating, pros & cons
This chair is currently very highly rated by Amazon customers. Please see how I rate it against my standard set of criteria:
Nicely designed reclining folding chair with a useful storage bag.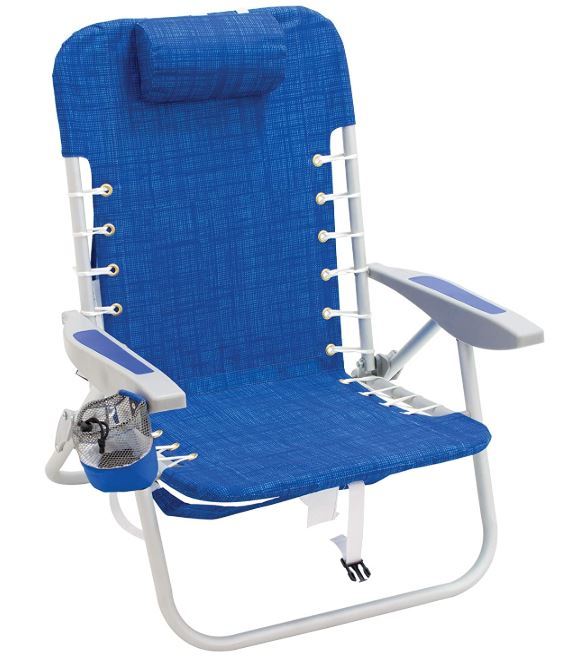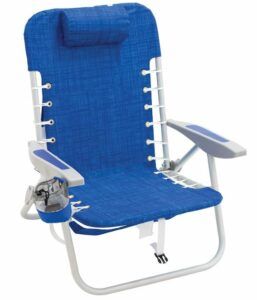 Product Name: RIO Beach 4-Position Lace-Up Backpack Folding Beach Chair
Product Description: RIO Beach 4-Position Lace-Up Backpack Folding Beach Chair with its aluminum body is easy to use, with great headrest, a large storage bag, and a great price.
Brand: Rio Gear
SKU: B07Q7D1G54
MPN: ASC529-1911-1
Weight -

6.5/10

Dimensions -

8.7/10

Packed size -

1.5/10

Capacity -

7/10

Comfort -

9.5/10

Craftsmanship -

9.4/10
Summary
The folded size negatively affects the average rating value, but it is still Good.
Pros
Recliner.
Good headrest.
Storage bag.
Great price.
Cons
Complete mess in the description.
Large when packed.
---
Final thoughts
In the summary of this RIO Beach 4-Position Lace-Up Backpack Folding Beach Chair review, I would stress that this is a chair suitable for the beach, camping, outdoor concerts, picnics. It is easy to use, you can carry it on the back, and the price is more than appropriate. Fully recommended. It is included in my list of best lightweight beach chairs.
You might want to know that Rio Gear, the brand behind this chair has been around for more than half a century, more precisely from 1947. So you know what you are buying when you go for such a product.
If you need more options, please check under the category Camping Chairs here in the site. Bookmark this site and stay informed, we add texts here on a regular basis. Thank you for reading and have a nice day.