---
Ostrich On Your Back Chair is a reclining folding structure with solid armrests, great headrest and backrest, designed to be carried as a pack.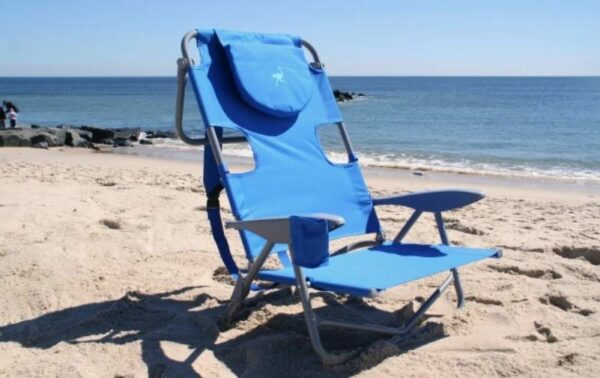 ---
Key features & benefits
Reclining.
Solid armrests.
Unique headrest.
Cut-out openings for hands.
Backpack style carry straps.
5 Possible colors.
---
What this On Your Back Chair is about
This chair has been on the market for many years already. This is a folding chair and as such, it needs no assembly. You simply open in seconds. The words 'on your back' in the name of this chair describe what you see in the picture below. So you realize it is designed to be carried on the back, and for this you have shoulder straps to carry it like a backpack.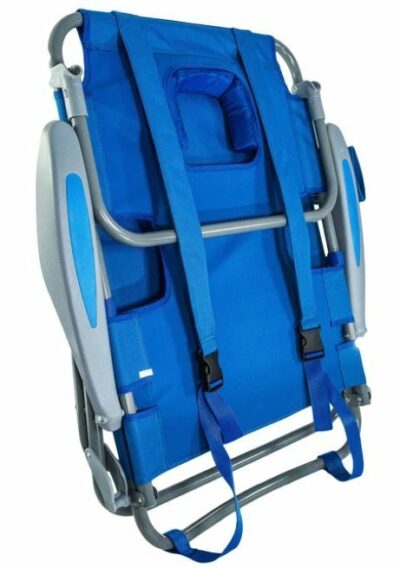 Reclining design: This is also a recliner with 5 different positions for its backrest. The lowest position is shown in the picture below so you realize it is almost completely flat. This is why I have included it in my list of best reclining camping chairs.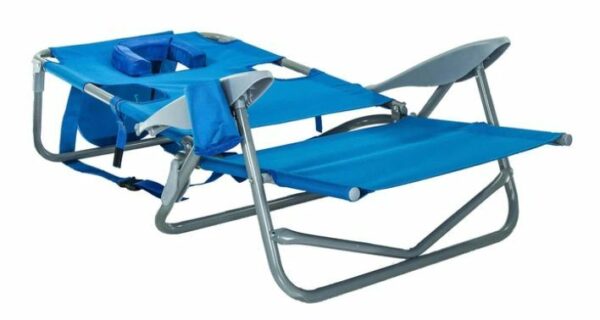 Great and unique headrest: The backrest is very high and you have a unique headrest padding in place. There are two ways to use it:
i) With the headrest pillow shown in the picture: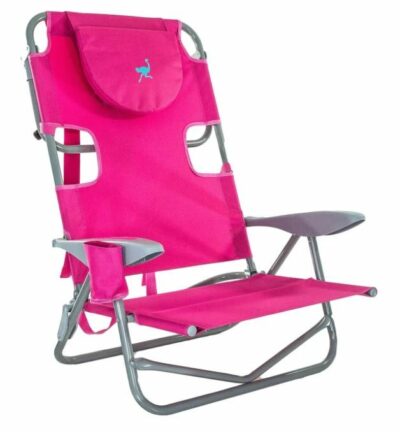 ii) With the padded opening in place, see the picture below. For this you simply push the padded flap over the chair and it will hand behind the headrest: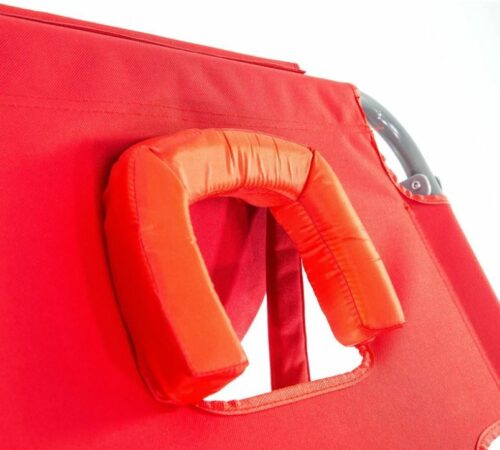 In this configuration, you still have padding for the head but you also have neck ventilation. This is convenient also when you are in the flat position, the padding offers the rest for the face and the opening allows you to breathe normally: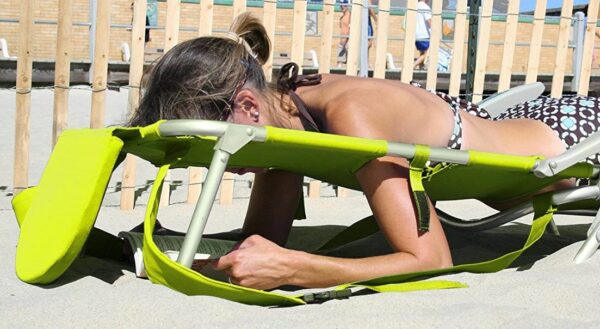 As you realize, in this position you can still read a book kept under the chair. Did you notice? There are two cut-outs on the sides, so you can use the hands to keep the book. I think this is an ingenious design. This closable face cavity and arm slots is their patented design (US Patent 6,854,807 B2).
This is not all, you also have a useful bottle holder shown in the picture below. The picture also shows its another color option.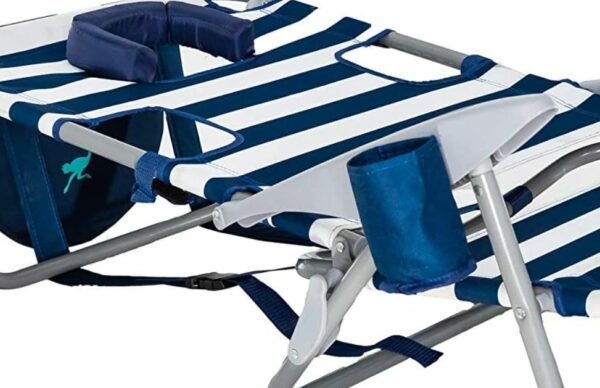 You have seen already, there are 5 different colors for the fabric used here. Note that the fabric cannot be removed, I have seen people asking about this.

---
Who is it for
Design-wise, when you see its low seat, bars on the ground instead of feet, etc, you realize this is a chair designed for the beach. With such feet, it will not sink no matter where you use it.
But you can use it as a camping chair too, there is no reason why you would not enjoy such an item in the camp.
Weight-wise, with its 9.6 lb (4.35 kg) this is a bit heavy chair, but you have seen how it can be carried. So for shorter distances, the weight is not a big deal. After all, this is a steel chair, so the weight is no surprise.
Size-wise, I guess the most important is to stress its backrest which is very high so the chair will offer a great back support and headrest even for very tall people. This is why I have added it to my list of camping chairs with headrest.
But note that the seat is very low, it is only 9 inches (23 cm) above ground, see the picture. This is normal for such a chair, just to know if you are an elderly user. Though the solid armrests will help when you want to get in and out.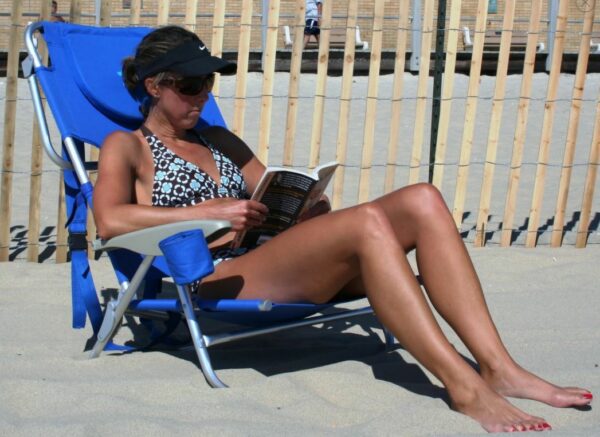 Capacity-wise, the chair is strong enough to support the weight of up to 325 lb (147 kg). Not good enough? Then check this list with chairs for very heavy people.
The packed size is far from impressive, but the chair becomes very thin when packed (only 9 cm) so it will fit in narrow spaces.
Please see some of these features in this short video:
---
Rating, pros & cons
I use the same criteria for all the chairs here in the site. So this chair does not score well in some criteria but the overall rating is as you see below:
Excellent reclining design & great headrest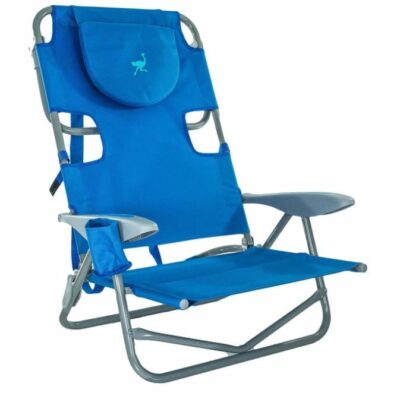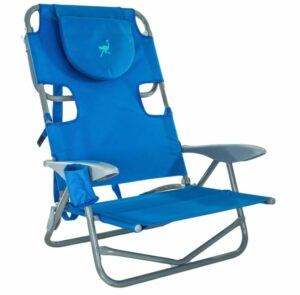 Product Name: Ostrich On Your Back Chair
Product Description: Ostrich On Your Back Chair is a reclining folding structure with solid armrests, great headrest and backrest, designed to be carried as a pack.
Brand: Ostrich
SKU: B00I51YJ8A
MPN: OYB-1003R
Weight -

6.5/10

Dimensions -

8.2/10

Packed size -

3.5/10

Capacity -

8/10

Comfort -

9.9/10

Craftsmanship -

9.5/10
Summary
My overall rating is negatively affected by the folded size but it is still Good.
Pros
Great headrest.
Great reclining design.
Comfortable.
Easy to use.
Nice 5 colors to choose from.
Unique patented design.
Cons
Bulky when packed.
A bit heavy.
A bit expensive.
---
Specifications
Weight: 9.6 lb (4.35 kg).
Capacity: 325 lb (147 kg).
Dimensions:
– L: 46 in (117 cm) when flat.
– W: 27 in (69 cm).
– H: 33 in (84 cm) when up.
Seat height: 9 in (23 cm).
Packed size: 33 x 26.5 x 3.5 in (84 x 67 x 9 cm).
Colors: 5.
Frame: steel.
Fabric: 600D PVC polyester.
90 Day limited warranty.
---
Final thoughts
In the summary of this Ostrich On Your Back Chair Review to stress again that this is a unique and patented design with some excellent features. The chair is easy to use, a bit bulky when closed but this is normal for such a type, the carry features are great. I have included it in my list of best folding camping chairs. Fully recommended.
If you need more options, just search under the category Camping Chairs here in the site. Check their another chair with a unique design, the Ostrich Deluxe Chair.
We add texts here regularly, this is why you might want to bookmark this site and check occasionally. Thank you for reading and have a nice day.