---
The Pacific Pass Easy Carried Tripod Chair is a lightweight folding and easy-to-use construction with a backrest and a carry bag included.
---
Key features & benefits
Folding outdoor chair.
Very light.
Backrest.
Easy to use.
Carry bag.
Incredible price.
---
What this is about
This Pacific Pass Easy Carried Tripod Chair is what its name says, an outdoor chair with three legs. But what sets it apart is the fact that it comes with a quite good backrest.
So this is a structure that is a hybrid between a stool and a chair. You have something similar in the ALPS Mountaineering Grand Rapids Chair. This backrest adds really a lot to its overall comfort.
With such a backrest, it is still purely folding, so there is no assembly of any kind, you open it or close literally in seconds. You will see below its incredible price, and bear in mind that this includes a carry bag that comes with this chair. You have a shoulder strap so you can carry it for shorter distances, see the picture.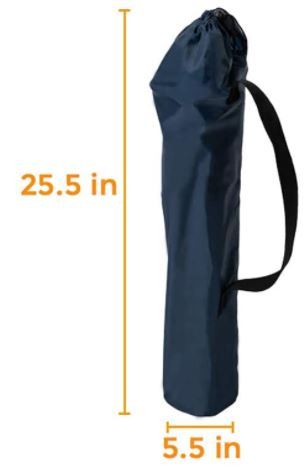 Materials & construction
The frame is powder-coated steel and you have 16 mm tubing. In such chairs with three legs, it is important that the feet are large so that it does not sink in the ground. This is nicely done here as you realize from the picture below. You also have those X-shaped structures on the three sides for lateral stability.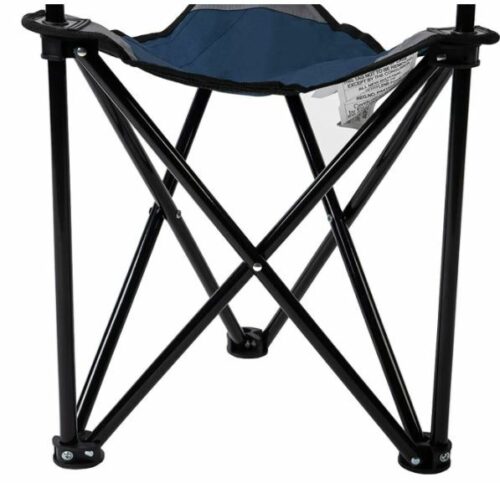 You have fabric on its triangular seat and the backrest, and this is polyester. The wide feet are some plastic. Note that the backrest cannot be removed, I have seen people asking about this.
---
Who is it for
Regarding the capacity, the chair is officially for users up to 200 lb (91 kg). This is quite a modest value and I am surprised that it is not more because the chair looks so strong and stable.
So if you need more, the mentioned ALPS Mountaineering Grand Rapids Chair will indeed provide this for you.
Regarding the weight, in view of its 3.3 lb (1.5 kg), this is a very light chair. It is much lighter than the Alps Mountaineering chair.
The packed size shown above is such that you can transport it even on a bicycle.
Regarding the dimensions of this chair, they are normal for such a type, it measures (H x W x D) 25.2 x 16.1 x 15.2 inches (64 x 41 x 39 cm). Note that the seat is moderately high.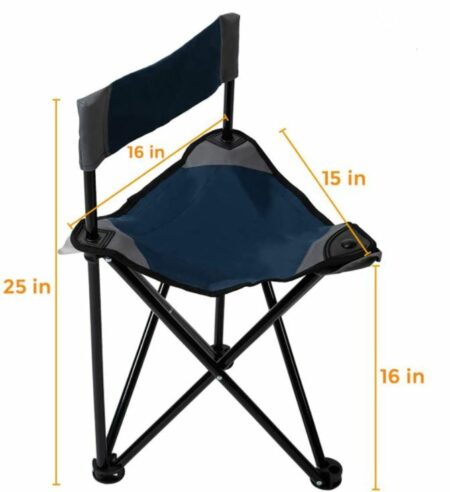 Regarding the price, this is simply incredible, I wonder how they make such a chair at such a price.

Specifications
Weight: 3.3 lb (1.5 kg).
Capacity: 200 lb (91 kg).
Dimensions (H x W x D): 25.2 x 16.1 x 15.2 in (64 x 41 x 39 cm).
Seat height: 15.7 in (40 cm).
Packed size (L x D): 25.5 x 5.5 in (65 x 14 cm).
Frame: steel.
---
Rating, pros & cons
I use the same rating criteria for all the chairs here in the site and I apply them consistently, so you can easily compare. See how this chair stands: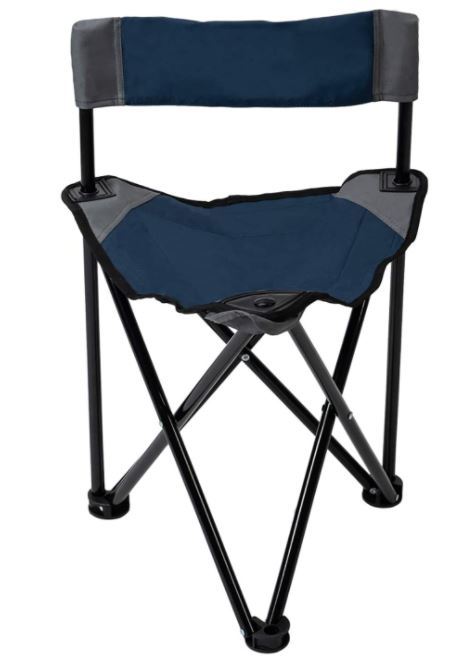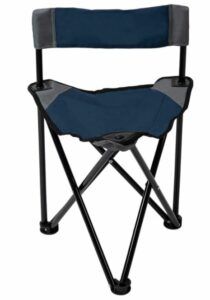 Product Name: Pacific Pass Easy Carried Tripod Chair
Product Description: The Pacific Pass Easy Carried Tripod Chair Is an Incredibly Affordable Lightweight Folding and Easy-to-Use Structure with a Backrest & a Carry Bag Included.
Brand: Pacific Pass
SKU: B084TJTCW4
Weight -

8.6/10

Dimensions -

6.8/10

Packed size -

7.2/10

Capacity -

6.5/10

Comfort -

9.4/10

Craftsmanship -

9.5/10
Summary
The overall rating of this chair is well-deserved Very Good.
Pros
Backrest.
Carry bag.
Ease of use.
Great price.
---
Final thoughts
So this Pacific Pass Easy Carried Tripod Chair is incredibly affordable but it also comes with some really great features. It is both a tripod stool and a chair, easy to use and folding, and this all makes it very versatile. Fully recommended. I have included it in the list of best portable lightweight folding camping stools and tripods.

For more outdoor and camping chair options please check in the group Camping Chairs here in the site. You might want to compare this tripod with yet another built in the same style, the GCI Outdoor Quick-E-Seat Folding Tripod Field Chair with Backrest.
Thank you for reading. Let me know if you have questions, there is a comment box below.