---
This Rio Beach Portable Folding Backpack Beach Lounge Chair is a versatile outdoor product that can be used also a cot, easy to use, and very affordable.
---
Key features & benefits
Reclining feature.
Backpack-style carry system.
Easy to use.
Footrest.
Can be used as a cot.
---
What is in the name
I would start with the word Folding, so this is an easy-to-use product without assembly. You open it and close it in seconds. It folds two times, roughly to the third of its length.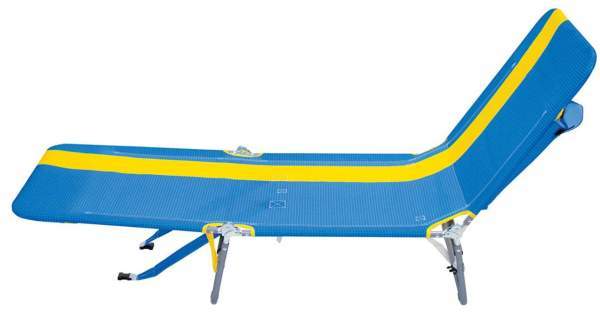 The word Backpack means that it is equipped with adjustable shoulder straps so you can carry it backpack style. This is convenient if you go to the beach on a bicycle or when you walk.
As a folding chair, it packs so that it becomes very thin, but it remains large in two dimensions. The folded size is 26 x 21.75 x 3.5 inches (66 x 55 x 9 cm).
The picture above shows that you have a long front area to place your feet, this is why they describe it as a Lounge chair.
Storage feature
The picture below shows the large storage pouch on the back. It remains functional when you carry this chair on your back, so you can carry your stuff in the chair, and you do not need an extra backpack.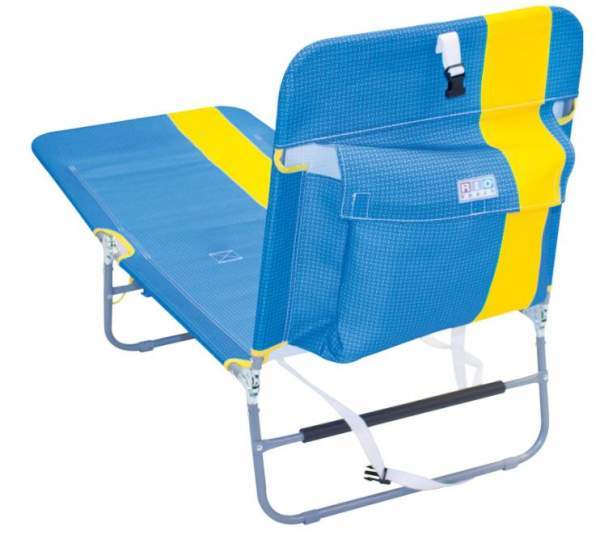 Chair or a cot?
This is a recliner chair, so you can use it as shown in the top picture above, and this can be described as a beach chair or lounge chair as its name suggests.
But you can indeed make it completely flat as the picture below shows. So this can be used as a cot as well. Note that the stabilizing bars are well below the bed so you will not have pressure spots. In my view, it is both a reclining cot and a reclining chair. It is included in my list of best lightweight beach chairs.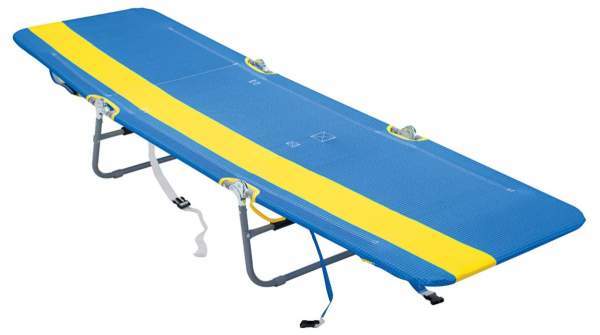 Materials
This chair is made of rust-proof steel but this is not stainless steel of course. The fabric is polyester, quick-drying and breathable.
The legs are bars, you have them two so the chair will not easily sink in the ground. When used in a completely flat position, it is important to be careful where you sit. The legs are far from the ends, and if you sit anywhere outside of the legs area, the chair will swing and you will end up on the ground.
---
Who is it for
Regarding the capacity, the chair is officially for the weight of up to 250 lb (113 kg). This should work for most of the users but the value is indeed modest.
Regarding the dimensions, if used as a chair, this is a great item. Note that it is very low, you have only 10 inches (25 cm) from the ground. This is normal for a beach chair. But note that there are no armrests so for elderly users it may be difficult to get in and out.
If used as a cot, the dimensions are 72 x 22 inches (183 x 56 cm), so it is both short and narrow.
Regarding the weight, it is moderately heavy with its 9 lb (4.1 kg). You can carry it as a backpack so this is OK.
I already mentioned its packed size, so for longer distances, you will need a car.
Regarding the price, this is an incredibly affordable item, so it is not surprising that it is so popular.

---
Specifications
Weight: 9 lb (4.1 kg).
Capacity: 250 lb (113 kg).
Dimensions when flat: 72 x 22 x 10 in (183 x 56 x 25 cm).
Height when used as a chair: 35 in (89 cm).
Height: 10 in (25 cm).
Packed size: 26 x 21.75 x 3.5 in (66 x 55 x 9 cm).
---
Rating, pros & cons
Here is how I rate this chair/cot. It may be a bit difficult to rate it properly because it can be described both as a chair and as a cot.
Very affordable & easy to use chair/cot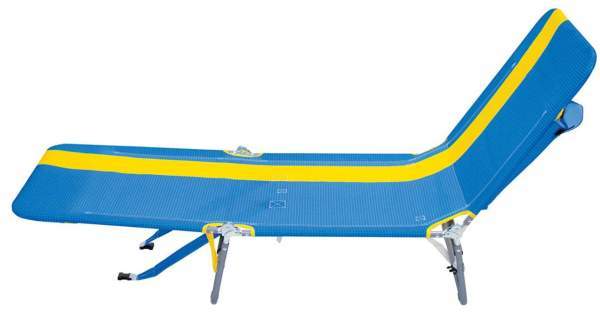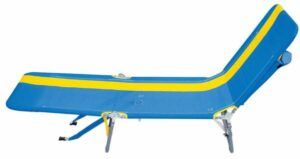 Product Name: Rio Beach Portable Folding Backpack Beach Lounge Chair
Product Description: This Rio Beach Portable Folding Backpack Beach Lounge Chair Is an Easy to Use and Very Affordable Versatile Outdoor Product that Can be Used Also a Cot.
Brand: Rio Beach
SKU: B0757SHXG1
MPN: ABPL-1812-1
Weight -

6.5/10

Dimensions -

8/10

Packed size -

5.5/10

Capacity -

7/10

Comfort -

9.5/10

Craftsmanship -

9.4/10
Summary
It is a bit tricky to properly rate this item because I have chairs and cots separately, and here you have this item that can be put in both groups. So I rate it as a chair.
Pros
Versatile.
Easy to use.
Great price.
---
Final thoughts
To summarize this Rio Beach Portable Folding Backpack Beach Lounge Chair review, here you have a chair that has been around for several years already and it has been incredibly popular. This popularity is partly due to its great price and also due to its versatility and features.
Fully recommended. I have included it in my list of best reclining camping chairs and also in best reclining cots for camping.
This brand is specialized in beach items, so see their Rio Beach Big Boy Chair and also this RIO Beach 4-Position Lace-Up Chair.
Please let me know if you have questions or comments, there is a comment box below. Thank you for reading and have a nice day.