---
GCI Outdoor Wilderness Reclining Portable Backpack Chair is full of features, with wooden armrests, padded adjustable headrest, and storage elements.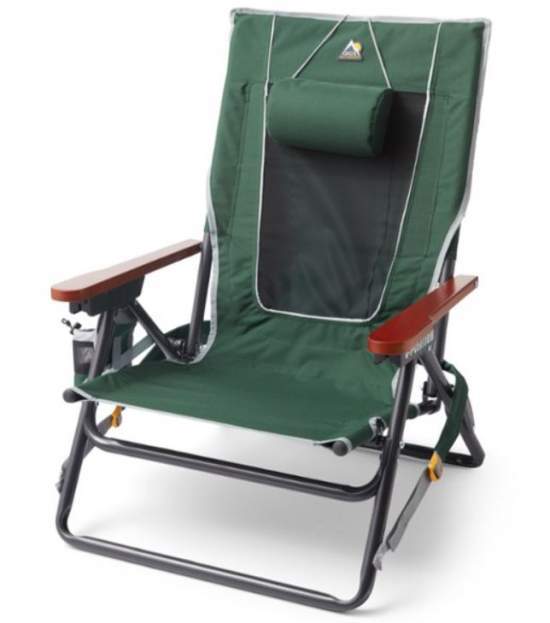 ---
Key features & benefits
Folding chair.
Solid wooden armrests.
Recliner.
Headrest.
Large back pouch.
Bottle holder.
---
What is in the name
This chair has been on the market for at least a decade already, and from what I have seen, some of its details have been modified in the past.
You will see the chair on Amazon with the name as given in the title above, but at REI it is under the name GCI Outdoor Wilderness Backpacker Chair. You will realize from the text below that this cannot possibly be a backpacker chair, but it is indeed designed to be carried backpack style, the picture below shows how it looks when folded: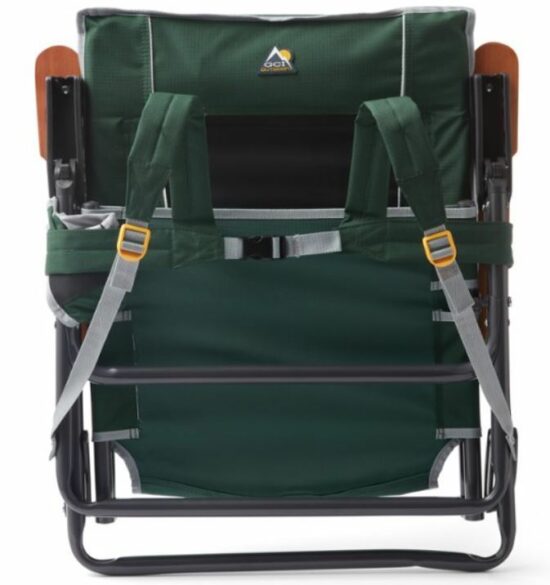 This design is very similar to the REI Co-op Outward Low padded lawn chair.
So the chair is equipped with nice shoulder straps, it reminds me of external frame backpacks. When folded, its dimensions are 28.1 x 24.4 x 3.5 inches (71 x 62 x 9 cm). It is a bit bulky but also thin when folded.
This is a recliner chair, and here you have the modifications mentioned above. In the past, the chair was with straps on the sides so you could position it at any angle in some given range. This is the version shown in the video below. But the chair is now on the market with 4 specific reclining positions, and this is even indicated on the side: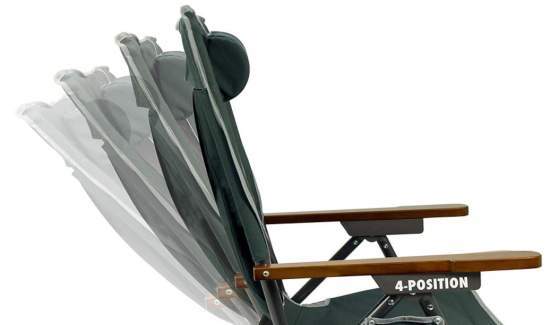 The lowest position is at around 45 degrees, and the locking mechanism is now plastic underneath its solid armrests. I have included it in my list of best reclining camping chairs.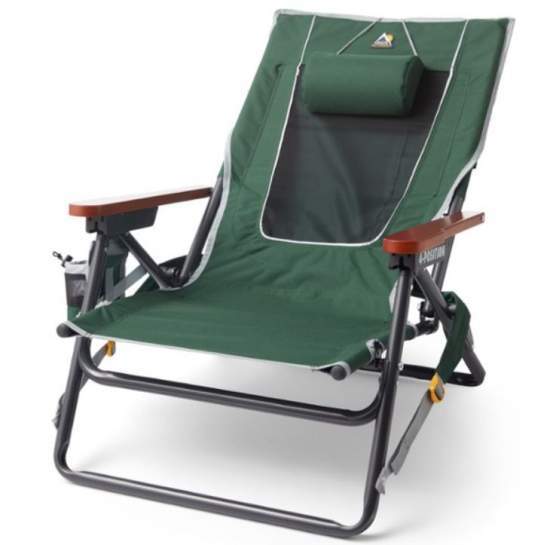 Materials and remaining features
The frame is a powder-coated aluminum/steel combination, and the armrests are particularly interesting long wooden pieces. This is useful to have in view of its low seat which is 11 inches (28 cm) above the ground. Note that similar wooden armrests are also in the REI Co-op Outward Low padded lawn chair.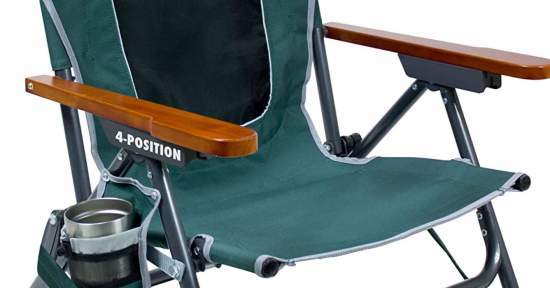 The fabric is a PVC-backed polyester, and there is also a mesh section on the backrest. The chair comes with a padded headrest shown in the picture: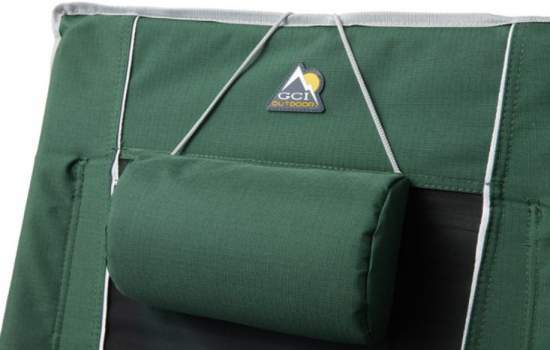 Note that this headrest is adjustable and removable, see below how it is regulated from the back: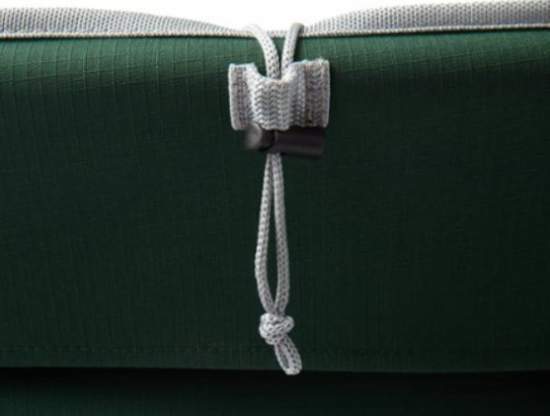 There is also a storage pouch on the back, see how it looks, it is functional when you carry the chair like a backpack: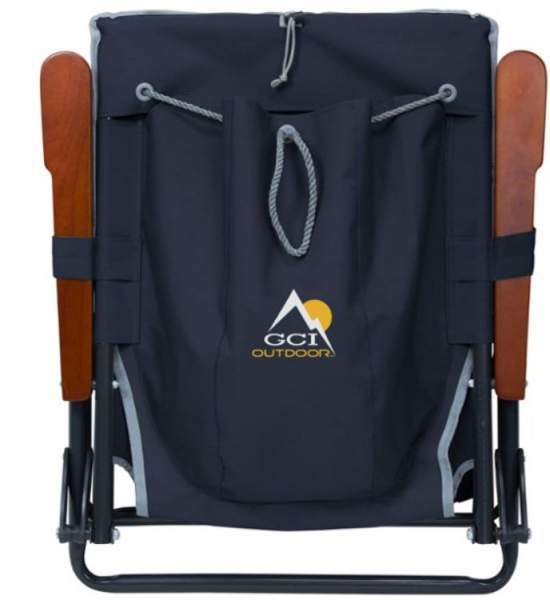 Please see a bit more in this video:
---
Who is it for
Regarding the capacity, officially the chair is for users of up to 250 lb (113 kg). I have seen some users complaining about the durability of the fabric.
Regarding dimensions, the seat is low, you might want to know this if you are very tall. You have 11 inches (28 cm) clearance. The width of the seat alone is around 19.1 in (49 cm) so this should be fine for most of the users.
The backrest is not particularly long, so the headrest may work well only if you are not very tall. You have around 20 inches (51 cm) in total from the seat.
Regarding the weight, the chair is portable with its 8.6 lb (3.9 kg) of weight. But this is not an item for backpackers, check this list if you need something for the trail.
You have already seen its packed size, so if you carry it backpack-style, there is no way to carry a pack. So this is a chair for places with a car access.

---
Specifications
Weight: 8.6 lb (3.9 kg).
Capacity: 250 lb (113 kg).
Dimensions: 25.8 x 24.4 x 31.5 in (65.5 x 62 x 80 cm).
Folded size: 28.1 x 24.4 x 3.5 in (71 x 62 x 9 cm).
Seat height: 11 in (28 cm).
Seat width: 19.1 in (49 cm).
Frame: aluminum.
Warranty: manufacturer's limited lifetime warranty.
---
Rating, pros & cons
Here is a summary of my rating and pros & cons, so you can easily compare it with some other chairs here in the site:
Recliner with wooden armrests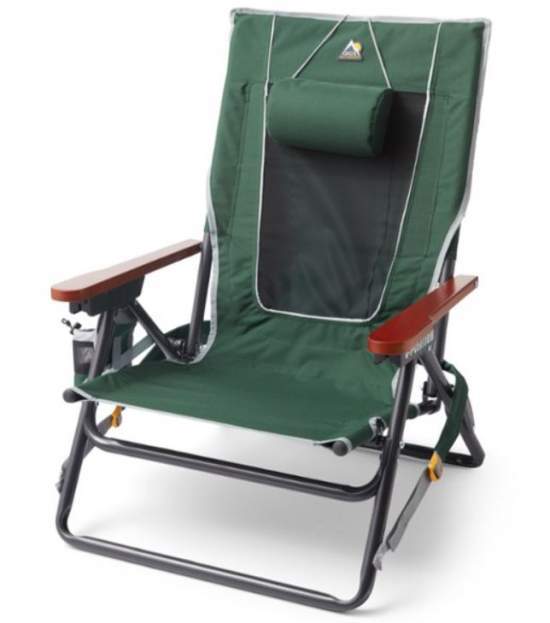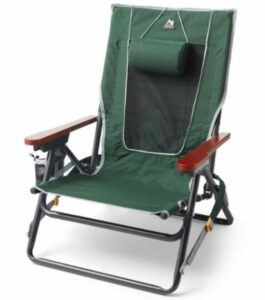 Product Name: GCI Outdoor Wilderness Backpacker Chair
Product Description: GCI Outdoor Wilderness Reclining Portable Backpack Chair Is Full of Features, with Wooden Armrests, Padded Adjustable Headrest, and Storage Elements.
Brand: GCI
SKU: B07PK1R165
MPN: 130269
Weight -

7/10

Dimensions -

7.8/10

Packed size -

5/10

Capacity -

7/10

Comfort -

9.4/10

Craftsmanship -

9.4/10
Summary
The chair remains large when folded and it is not very light, but its overall rating is still Good.
Pros
Pleasant wooden armrests.
Padded headrest.
Large storage pouch.
Easy to use.
Cons
Large when packed.
Complaints about durability.
---
Final thoughts
So as mentioned above, this GCI Outdoor Wilderness Backpacker Chair is not really a backpacker chair as its name suggests, but it is nicely designed and with several useful features. The packed size is typical for such a folding type of chair, it is indeed bulky when folded but it is very thin and so easy to use.
Above all, this is a chair that has been around for many years, and this is a product from an established brand so you know what you are buying.
If you want more options, no worry, check under the category Camping Chairs here in the site, you will definitely find what you need. Thank you for reading and have a nice day.