---
VINGLI Folding Fishing Chair Plus Foot Rest includes a variety of features like padding, headrest, armrests, reclining design, adjustable legs and much more. Keep reading.
---
Key features
Padded chair.
Headrest.
Armrests.
Footrest.
Adjustable legs length.
Adjustable feet.
Reclining chair.
Carry bag included.
---
Where to buy
This VINGLI Folding Chair is available on Amazon. So follow the link and benefit from their efficient global shipping service.
---
So what this is about
You have seen above the list of the most important features, so this is indeed an incredibly feature-rich chair. This is a folding type, so you fold it like a book and it packs nicely to its included carry bag (shown below) which is of the size 28 x 25 x 10 inches (71 x 64 x 25 cm), see the picture: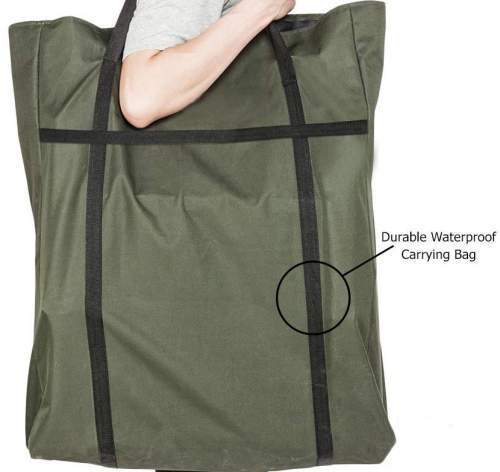 It is padded throughout its seat and the backrest, and the padding is also on the footrest. You have one inch of open-cell foam of padding. So I have added it to my list of best padded camping chairs.
The footrest
The footrest itself is very large, 26 x 26 inches (66 x 66 cm), see the picture below with its main features. It extends the seat to a total length of 58 inches (147 cm). Now, because of this large and comfortable footrest, I have added it to my list of best camping chairs with footrest. Note that they have yet another version without the footrest, see it here.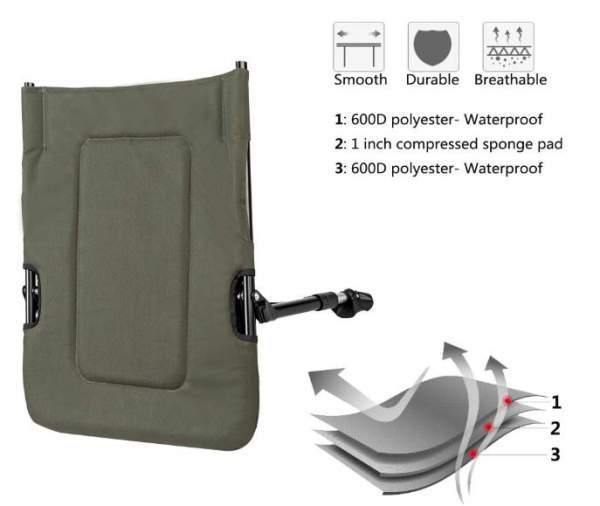 Armrests & headrest
You have solid armrests here and the backrest is high so the chair provides a very good headrest as well. You have a pleasant padding for the head. So I have added it to my list of best chairs with headrest.
Reclining design
This is also a reclining design and you might also use it as a cot if necessary, the backrest goes completely flat. It has up to 6 different reclining angles as illustrated in the picture below. So I have added it to my list of best reclining camping chairs.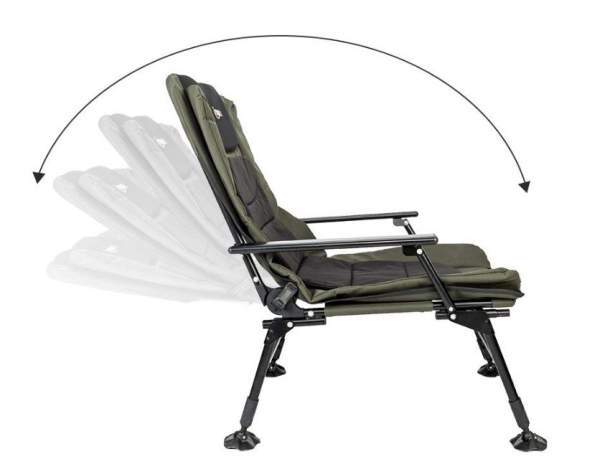 Other features
The chair has independently adjustable legs, so this is a great feature which you might need in the camp or at the beach, you can always expect an uneven terrain at such places.
In addition to this, the wide feet are also rotating and adjustable. They are designed wide so the sinking in the ground should be minimal, see the picture.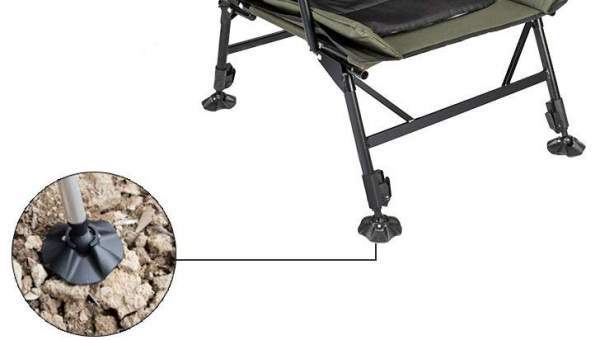 ---
Who is it for
Size-wise, the dimensions of this chair are impressive as you can realize from the picture below. As mentioned above, the backrest can also go to various angles and it becomes even longer: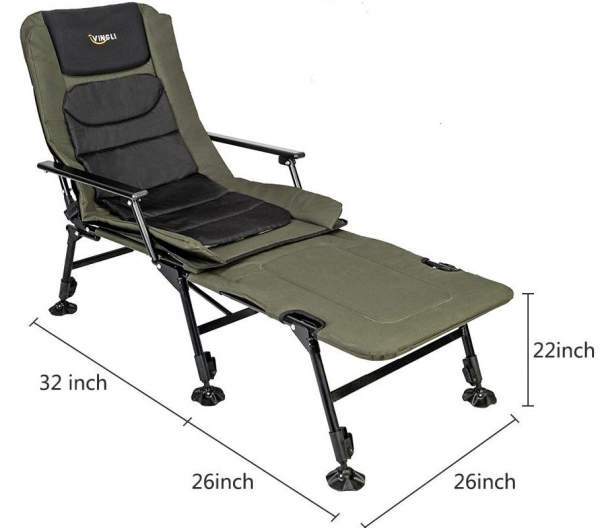 So the chair is suitable even for very tall people. Note that the seat is around 22 in (56 cm) above the ground, and you also have those solid armrests so getting in and out should be easy even for elderly users.
Weight-wise, with its 27 lb (12.2 kg), this is a heavy item and you have already seen its packed size. So you need a car for transportation. One can only laugh after seeing the statement on Amazon that it is "lightweight and easy to storage".
It is indeed relatively thin when packed, but the earlier mentioned carry bag is more suitable to keep it clean from dust when not in use, than for carrying it around.
Capacity-wise, the declared capacity for this chair is "only" 350 lb (159 kg). Frankly speaking, it looks capable of supporting much more.
So if you are using this chair outdoors, it is great for fishing, camping, for the beach, etc. But it is also a nice item to have in the garden and on the porch at home.
---
My rating, pros & cons
This chair is on the market with the price shown in the link, so this is an incredible price for such a versatile and quality item.

This chair has received high ratings by Amazon customers, no doubt it deserves it.
But my own rating is quite different because I use a set of parameters and apply them consistently to all chairs presented in the site, for easy comparison. It shines where it matters most, have a look:
My rating of the VINGLI Folding Fishing Chair Plus Foot Rest:
Weight -

1.5/10

Dimensions -

9.8/10

Packed size -

1/10

Capacity -

8/10

Comfort -

9.9/10

Craftsmanship -

9.7/10

Price -

10/10
Summary
This is a great chair, but my overall rating is very affected by its packed size.
Pros
So many great features.
Easy to use.
High-level craftsmanship.
Versatile.
Great dimensions.
Very good price.
Cons
Heavy.
Large when packed.
---
Specifications
Weight: 27 lb (12.2 kg).
Capacity: 350 lb (159 kg).
Dimensions (W x L): 26 x 48 in (66 x 122 cm).
Total seat length with footrest: 58 in (147 cm).
Footrest dimensions: 26 x 26 in (66 x 66 cm).
Seat height: 22 in (56 cm).
Packed size: 28 x 25 x 10 in (71 x 64 x 25 cm).
---
Final thoughts
You have seen how many great features this VINGLI Folding Fishing Chair Plus Foot Rest has, and I pointed out various "best" lists where I have included it. It is indeed heavy and large when packed, but this is why it is so comfortable and has so many features, so these are hardly objections to this chair. Oh yes, I have included it also in my list of best folding camping chairs.
This chair is Amazon Choice item, which means highly rated, well priced, and ready to ship immediately.

You might want to know that they sell the chair without the footrest as well, with the same basic features.
Note that this is not a sponsored text and I am not paid by the brand. What do you think about this chair? There is a comment box below so please share your thoughts.

---