---
This Browning Camping Fireside Chair review is about a very affordable folding chair from the top brand, easy to use and with a carry bag included.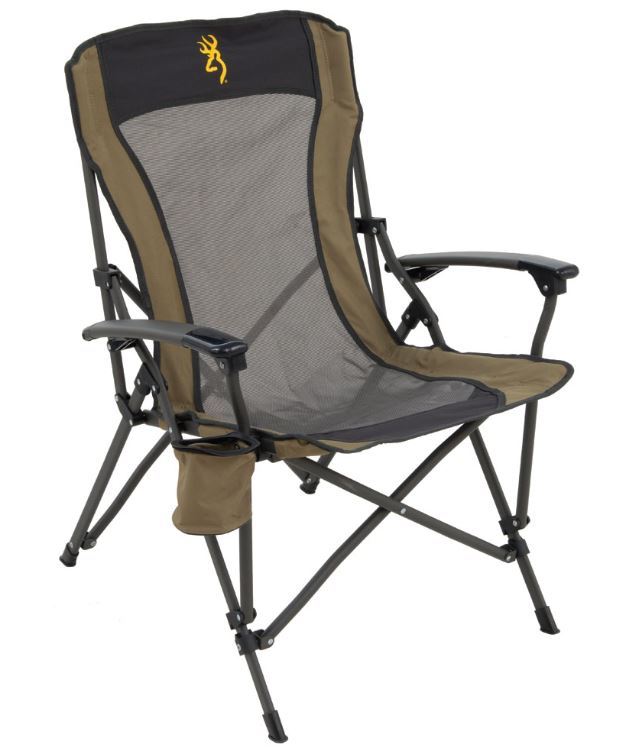 ---
Key features
Very reliable
Folding design.
Express setup.
Very good price.
Carry bag included.
Top brand's product.
---
What type of chair is this
Here you have a typical folding chair which needs no assembly, you open it in seconds. When folded and packed in its carry bag the dimensions are (L x D) 45 x 7 in (114 x 18 cm), see the pictures:
The chair comes with solid armrests, a sort of hard plastic. The backrest is high but this is not high enough to offer a headrest unless you are a short person. The backrest is around 26 inches (66 cm) long from the seat to the top. If you need a chair with a headrest please check in my list of best chairs with headrest.
It comes with a cup holder on the right side. Have seen people asking if it is removable and the answer is no, it is fixed.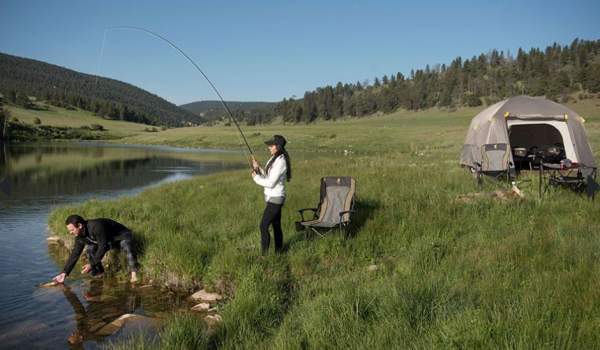 ---
Who is it for
Capacity-wise, the declared capacity is 300 lb (136 kg) so this is very typical for the chairs of this type. If you need much more, I would suggest checking my separate text with chairs for heavy people.
Size-wise, the dimensions of this chair are reasonable. The seat is angled to the back and it is (front/back) 17.5/13.5 in (44/34 cm) above the ground. The armrests help to get in and out so the chair is very much suitable for elderly users.
The width is 27 inches (69 cm) so this should be good for most people. The backrest is slightly angled but it is good enough to use the chair as a table chair in the camp.
Weight-wise, for such a type the weight is normal, the chair weighs 11.38 lb (5.16 kg). You will see how it compares with some other similar chairs, there is a comparison table below.
You have already seen its packed size, so you realize it is long when packed although it is a thin tube when it is in its carry bag. There is a shoulder strap to carry it short distances, but this is a car camping item.
---
Materials
The frame is powder-coated steel and the bigger part of the seat and the backrest is a breathable mesh. So this is suitable for warm weather camping. You can see this from the back view shown in the picture: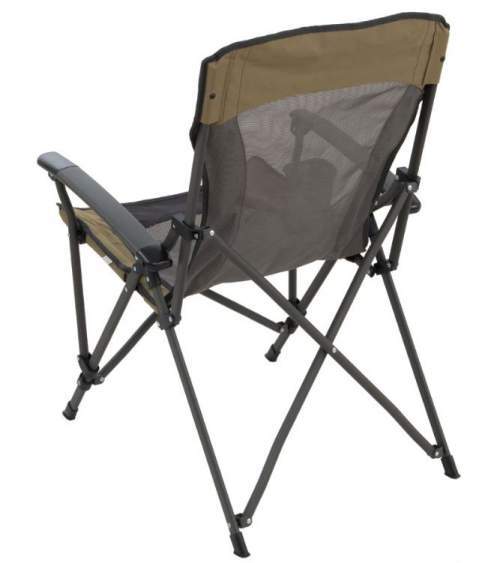 As you realize from the picture, the feet are with plastic caps, but those are narrow, so the chair is not for soft ground or sand, it will sink easily. The same holds for using it in a large family camping floored tent, put something underneath the feet to avoid damages on the floor.
This is a stable and supportive structure with those X-shaped bars and such a great backrest. There are no bars close underneath the seat or on the backrest, so you will be safe from any pressure spots.
---
My rating, pros & cons
There are many reports on Amazon at the moment of writing this text, and the average rating is impressive 4.4/5. My own rating is a bit different, I use a set of criteria and apply them to all the chairs in the site so you can easily compare chair to chair. See how I rate it:
My rating breakdown of the Browning Camping Fireside Chair: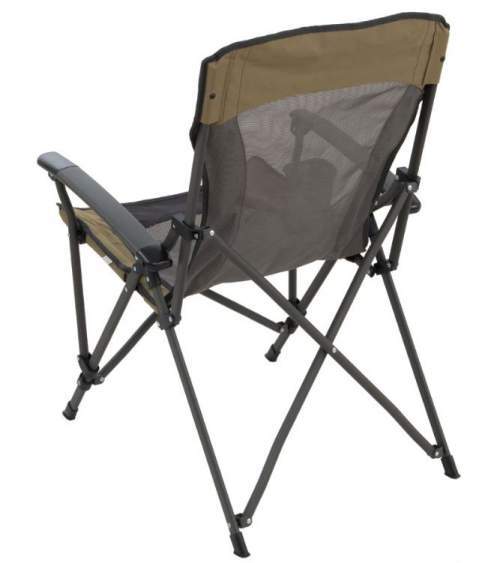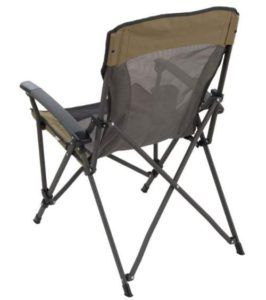 Product Name: Browning Camping Fireside Chair
Product Description: This Browning Camping Fireside Chair review is about a very affordable folding chair from the top brand, easy to use and with a carry bag included.
Brand: Browning Camping
SKU: B007PIR3BY
MPN: 8517114
Weight -

5.5/10

Dimensions -

7.6/10

Packed size -

5/10

Capacity -

7.5/10

Comfort -

9.6/10

Craftsmanship -

9.5/10
Overall
This is an excellent chair, but a bit heavy and large when packed. My overall rating is Very Good:
Pros
Reasonable dimensions.
Great price.
Carry bag.
Quality craftsmanship.
---
Specifications
Weight: 11 lb 6 oz (11.38 lb; 5.16 kg).
Weight capacity: 300 lb (136 kg).
Dimensions (W x D x H): 27 x 16 x 38 in (69 x 41 x 97 cm).
Packed size (L x D): 45 x 7 in (114 x 18 cm).
Seat height (front/back): 17.5/13.5 in (44/34 cm).
---
Browning Camping Fireside Chair vs Competitors
A good way to understand the features of such a chair is to compare it with some other similar chairs. I have them many here in the site and I have chosen two that are built in the same style and with very similar features. So here it is side by side with Timber Ridge Chair and Core Chair.
As you see, it is longer when packed, but it is wider when deployed. All three are very affordable chairs but the Browning Fireside is still less expensive than the other two. Please follow the links for more.
Dimensions
(W x D x H), in (cm)

27 x 16 x 38
(69 x 41 x 97)

45 x 7 x 7
(114 x 18 x 18)

22.5 x 23 x 38.5
(57 x 58 x 98)

39 x 9.4 x 6.5
(99 x 24 x 17)

25.5 x 25 x 37.5
(65 x 64 x 95)

---
Final thoughts
In the conclusion of this Browning Camping Fireside Chair review
I would stress again that this is a nicely built chair from a globally renown brand, and it is incredibly affordable. Fully recommended. It is included in my list of
best folding camping chairs
.
Best places to buy:
If you need more options, just check in the category Camping Chairs, you have them in hundreds here in the site. Check this PORTAL Folding Camping Chair with Lumbar Back Support if you want a model with integrated lumbar support.
Note that this is not a sponsored text and I have not been paid by the brand. Please let us know what you think, there is a comment box below.

---