---
This STRONGBACK Prodigy Kids Folding Heavy Duty Camping Chair with Lumbar Support is an award-winning ergonomic easy to use chair with a nice carry bag and a fair price.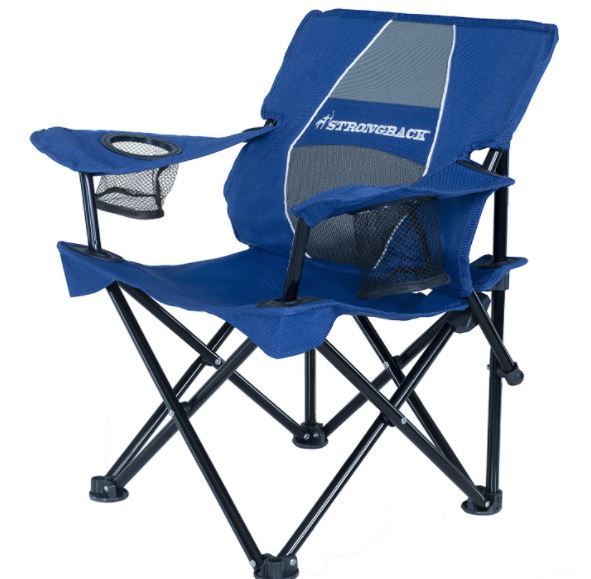 ---
Key features & benefits
Folding chair.
Anatomic & patented design.
Very stable & strong.
Easy to use.

2-Year warranty.

Large mesh pouch on the back.
---
So what this Strongback Prodigy Kids Folding Chair is about
We have many camping chairs for adults presented here in the site. But your kids also need a chair when you are on your camping adventures. So here you have one of the best examples of it.
This is a chair from a brand that specializes in building anatomic camping chairs, you can see this Strongback Elite Chair as one example for adults. This Prodigy is built in a similar style for a great posture of your kid. So the chair has integrated lumbar support and pleasant lumbar padding shown in the pictures:

This is an award-winning design and it should help your kid get used to a good posture and have healthy habits in this respect. This is the feature that sets the chair apart and I have included it in my list of best camping chairs with lumbar support.
The chair is folding, so there is no assembly. There is a pin under the seat on the right back leg, so push it and the chair will collapse.
The chair comes with soft armrests where the kid has two mesh cup/bottle holders. All these elements are one single piece there is nothing to assemble and the chair is ready in seconds after you take it out from its included carry bag that is built in the backpack style with a pair of shoulder straps, see the picture: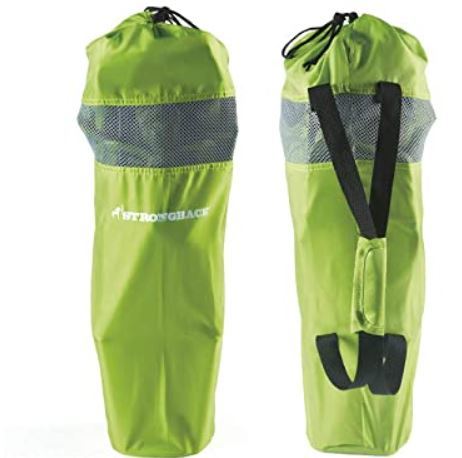 The size of the carry bag and the chair in it is around 24 x 5.5 x 5.5 in (61 x 14 x 14 cm). Note that there is also a storage mesh pouch on the back, see how it looks: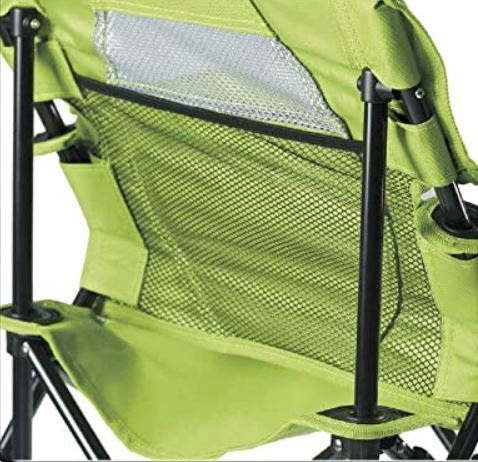 The principle of how these chairs work is explained in this short video that shows their Strongback Elite Chair for adults:
Materials
The frame is relatively small as appropriate for kids and it looks very strong and stable. This is all a black-powder coated steel. The fabric is all 600D strong polyester. The same denier value you have in chairs for adults, so this is more than enough for kids.
Observe the feet that are with wide plastic caps so you can use this chair even in a floored family camping tent. They will not damage the floor, and they will not easily sink in the ground when you use it outside the tent.
---
Who is it for
Regarding capacity, the chair is officially built to support the weight of up to 200 lb (91 kg). So this should work fine for any kid. I have included it in my list of best little kids camping chairs but clearly, it can support lots of weight.
Regarding dimensions, it is best to see the numbers in the picture below. As you realize, the chair's total height is clearly for a kid's body size, while the seat width is good enough even for smaller adults. Observe how curved the backrest is.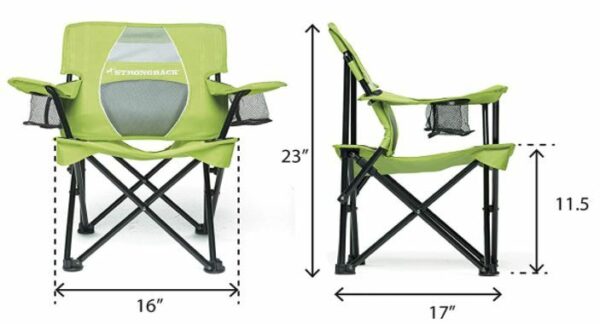 Regarding weight, the chair can be described as very light with its 4.5 lb (2 kg) of weight, but this is a lot if a kid has to carry it. The packed size you have already seen, so this is not an item that will take lots of space. It can be transported even on a bicycle.
Regarding the price, this is an anatomic, awarded, and patented design, and the chair is nicely built and reliable. In view of all this, the price is more than fair.
---
Specifications
Weight: 4.5 lb (2 kg).
Capacity: 200 lb (91 kg).
Seat width: 16 in (41 cm).
Seat height: 11.5 in (29 cm).
Chair total height: 23 in (58 cm).
Folded size: 24 x 5.5 x 5.5 in (61 x 14 x 14 cm).
Warranty: 2 years.
---
Rating, pros & cons
Below you see the summary of my rating and some pros & cons. The chair scores well in all the criteria:
Ergonomic & Unique Design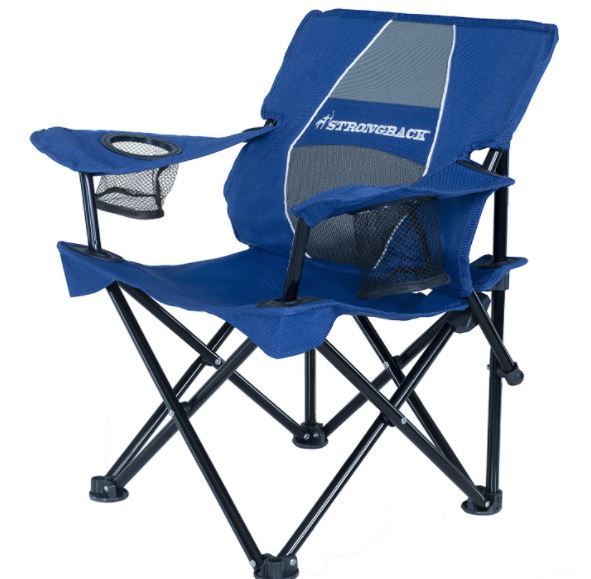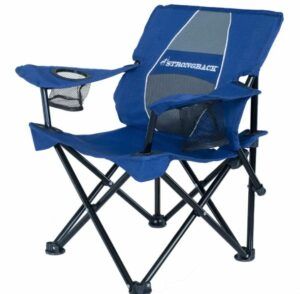 Product Name: Strongback Prodigy Kids Folding Chair
Product Description: STRONGBACK Prodigy Kids Folding Heavy Duty Camping Chair with Lumbar Support is Award-Winning, Ergonomic, Easy to Use, Affordable & With a Nice Carry Bag.
Brand: STRONGBACK
SKU: B07V3G8QST
Weight -

7.3/10

Dimensions -

7.8/10

Packed size -

7.2/10

Capacity -

9/10

Comfort -

9.4/10

Craftsmanship -

9.4/10
Summary
The chair is a bit heavy and bulky for a kid to carry but its overall rating is well-deserved Very Good.
Pros
Great design.
Great carry bag.
Easy to use.
Fair price.
Cons
A bit heavy for a kid to carry.
---
Final thoughts
In summary, this Strongback Prodigy Kids Folding Chair with lumbar support is really nicely built and ergonomic. This is a unique and patented design. It looks cool and it helps the kid to keep a correct body position and to get healthy habits. The price is fair, fully recommended.

You might want to compare this chair with some other camping chairs for kids, like the Coleman Kids Quad Chair and Uquip Kids Camping Chair Kirby. Please check also this Disc-o-Bed bunk cot for kids, you will need it in the camp and kids will love it. It saves space in the tent and you can still store some stuff underneath it.
Thank you for reading. Let me know if you have questions, there is a comment box below. Have a nice day.