---
Kamp-Rite Padded Folding Chair with Lumbar Support is a clever design with an adjustable lumbar curvature, a collapsible structure, and a useful carry bag.
---
Key features & benefits
Lumbar support.
Armrests.
Cup holders.
Collapsible design.
Carry bag included.

---
What type of camping chair is this
This Kamp Rite chair is one of those that collapse like an umbrella and in the packed state it is a bit large only in one dimension, the packed size is 38 x 9 x 8 inches (97 x 23 x 20 cm).
But its lumbar support is probably the most important feature. So here you have a strap that goes behind the back of the chair, and a pad which is around 8 x 3 inches (20 x 8 cm). So this construction is very different from what you can see in the Strongback Elite and in other chairs of the Strongback brand, see also the Guru and the Low Gravity chairs.
Such a Kamp Rite design has a simple advantage – the lumbar curvature is adjustable, so you can easily tighten the strap or make it lose and adjust the back support as it suits you best. See it in the picture here: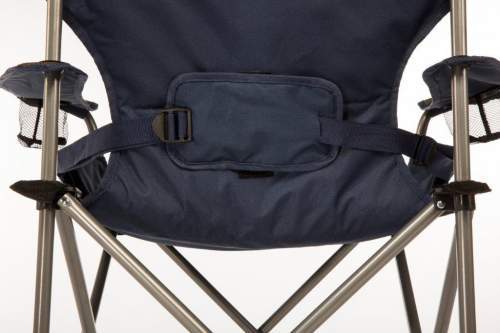 As you realize from the name, this is also a padded chair. The armrests are soft, this is just a fabric but they are wide and pleasant; you have mesh cup holders integrated into their structure.
---
Who is it for
Size-wise, I have seen some people complaining that the seat is too high. But the seat is at some 18 inches (46 cm) above the ground, so it does not look so high when you compare it with other chairs on the market, you will see some examples below. If the height is proper for you, and after adjusting the lumbar curve to your body shape, you will be able to sit in it comfortably for hours.
The back is moderately high but you do not have a headrest here. If this is what you need, check this list with some great examples. One of them is a chair from this same brand, the Kamp Rite Folding Rocking Chair.
Capacity-wise, the chair is quite typical, it supports the weight of up to 300 lb (136 kg). But there are chairs with a much bigger limit and you can see some in my list of folding chairs.
Weight-wise, with its 9 lb (4.08 kg) this chair is again very typical, you will realize this from the comparison table below.
The packed size is already given above and clearly you need a car for transportation. So this is an item for camp places with a car access.
---
Materials & Construction
The frame appears to be steel but you cannot find anything about the materials, disappointing indeed. But the fabric looks rather strong and rugged, this appears to be 600D polyester.
The feet are in fact joints for the X-shaped bars which make legs, see the picture below, and their size and profile is such that the chair is best suited for a hard surface otherwise it may sink in the ground.
Note that you have a rather durable carry bag with a draw-string closure and a carry strap on its side.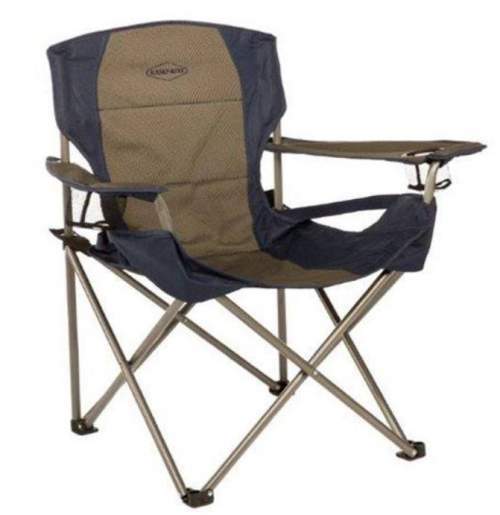 ---
My rating, pros & cons
There is almost nothing in the description when you check this chair on Amazon. My guess is this is why you are here and reading this review. This is a bit surprising for a brand like Kamp-Rite.
The price for this chair as of the moment of writing this text is around $35 – 40. I have been told by Kamp Rite that they are expecting a new shipment and it is not clear if this will affect the price, so for updates please check the links given here in the text.
The reports by Amazon customers are very positive and the average value based on some 30 reports is 4.0/5. See how I rate it:
My rating breakdown of the Kamp-Rite Chair with Lumbar Support: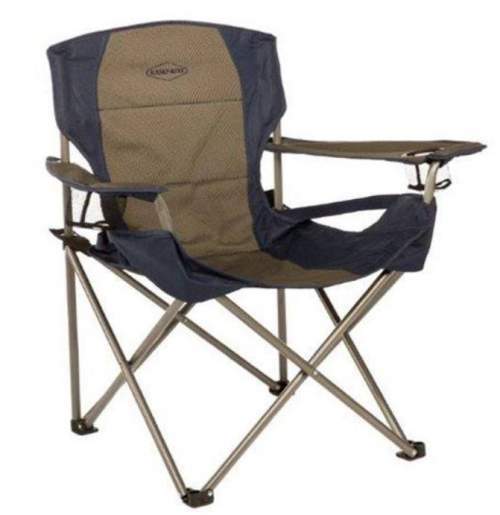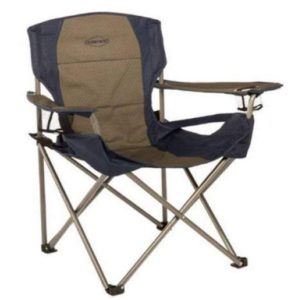 Product Name: Kamp-Rite Padded Folding Chair with Lumbar Support
Product Description: Kamp-Rite Padded Folding Chair with Lumbar Support is a clever design with an adjustable lumbar curvature, a collapsible structure, and a useful carry bag.
Brand: Kamp-Rite
Weight -

6.5/10

Dimensions -

8.4/10

Packed size -

4.5/10

Capacity -

7.5/10

Comfort -

9.5/10

Craftsmanship -

9.4/10
Overall
My final rating for this chair is Very Good:
Pros
Quality craftsmanship.
Padding.
Lumbar support.
Arms support.
Very good price.
Two cup holders.
Carry bag.
---
Specifications
Type: folding camping chair with lumbar.
Weight: 9 lb (4.08 kg).
Capacity: 300 lb (136 kg).
Dimensions (W x D x H): 34 x 20 x 38 in (86 x 51 x 97 cm).
Packed size: 38 x 9 x 8 in (97 x 23 x 20 cm).
Seat height: 18 in (46 cm).
Seat width: 22 in (56 cm).
---
Kamp-Rite Chair with Lumbar Support vs Competitors
I have decided to show you two Strongback chairs side by side with this Kamp Rite chair; those have a frame-integrated curved lumbar profile so the construction is different. As you see, the KR chair is lighter and its packed size is better. Please follow the links for more details.
Dimensions
(W x D x H), in (cm)

Kamp Rite  with Lumbar Support
34 x 20 x 38
(86 x 51 x 97)

38 x 9 x 8
(97 x 23 x 20)

28.5 x 27 x 36.5
(72 x 69 x 93)

44 x 11 x 6
(112 x 28 x 15)

32 x 27 x 34
(81 x 69 x 86)

40 x 6.5 x 6
(102 x 17 x 15)

---
Final thoughts

Note that there are many items from the Kamp-Rite brand described here in the size. There are several chairs like this rocking chair and yet another director's chair with a side table. But there are also cots like this Oversize Kwik Cot and many others, just search in the search bar above. Did you know that they also have a Kwik Set self-supporting hammock?
Thank you for reading. Please use the comment box below in the case of questions or comments. I wish you a nice day.

---