---
This GCI Outdoor Pico Compact Folding Camp Chair with Carry Bag is an ingenious construction, easy to use, nicely packable, and lightweight. Keep reading.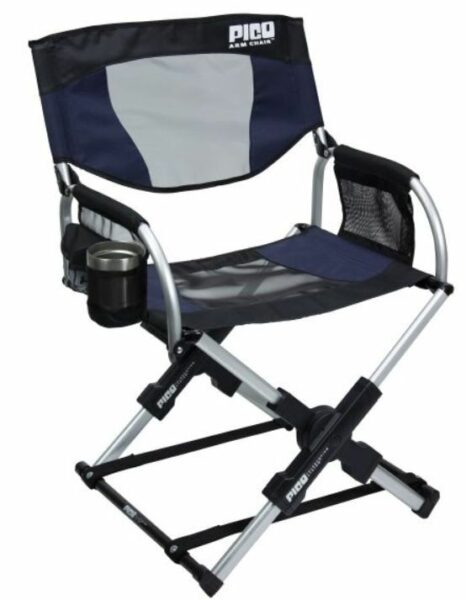 ---
Key features & benefits
Folding chair.
Telescopic tubes.
Patented design.
Solid & padded armrests.
Several large storage elements.
Aluminum & steel frame.
Carry bag included.
---
What this GCI Outdoor Pico chair is about
Perhaps you did not know but the letters GCI in the name of the brand mean 'great chair innovations'. So these words fit perfectly with the chair you have here.
This is an ingenious design, unlike anything you will see on the market. So here you have a folding chair that needs no particular assembly. The only chair known to me with a somewhat similar to this design is the KingCamp Heavy Duty Compact Camping Folding Mesh Chair, but it is still not a close match.
You will see in the video below how it is used. Here to stress only that you have both folding features and telescopic expanding tubes. This implies the following:
The backrest folds.
The solid armrests fold.
The vertical poles (legs) are telescopic so they expand when you use the chair, or they contract when you pack the chair.
So this is a patented PICO Telescoping System, and this is why it packs to a relatively small size of 19.7 x 3.9 x 12.4 inches (50 x 10 x 31.5 cm), and they claim this is 1/16 of its expanded size. This is indeed so, and you can realize this if you formally multiply the three dimensions in the packed size, and in the expanded size, the ratio of the resulting volumes becomes 1/16.
I have included it in my list of best folding camping chairs. and for all the good reasons. The picture below shows its carry bag with chair inside, beautifully designed and multi-functional (more below)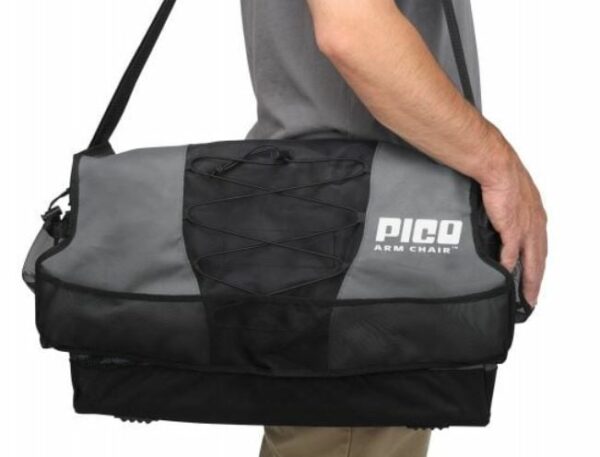 I already mentioned its armrests, so they are solid but padded and you do not touch metal, see the picture below. They allow you to get in and out of the chair easily.
Storage elements & carry bag
This is yet another great feature here, you have plenty of storage elements, not many chairs on the market can match this. So on the side, you have a mesh storage pouch and a bottle holder shown in the picture: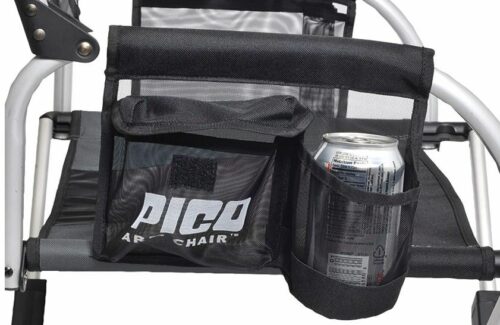 But this is not all, the main storage is on the back where you have what is shown below. This is the previously mentioned carry bag that attaches on the back and it doubles as a great storage space: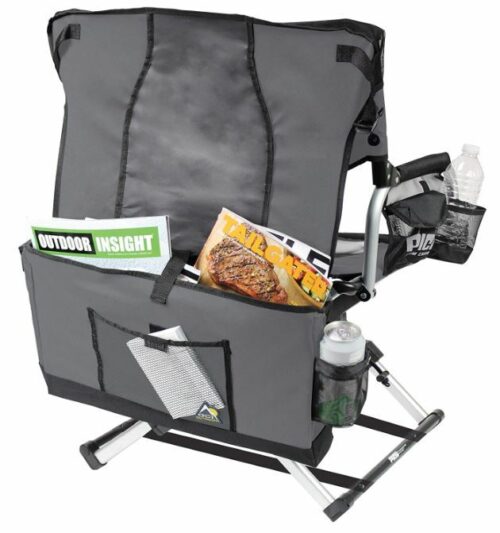 They call this the Chair Back Storage Caddy. The picture shows you also a few details from the carry bag itself, as you see you have an additional bottle holder, plus a mesh pocket. But note also the storage bungee mesh on the bag's flap from outside, here you can store your jacket on the go: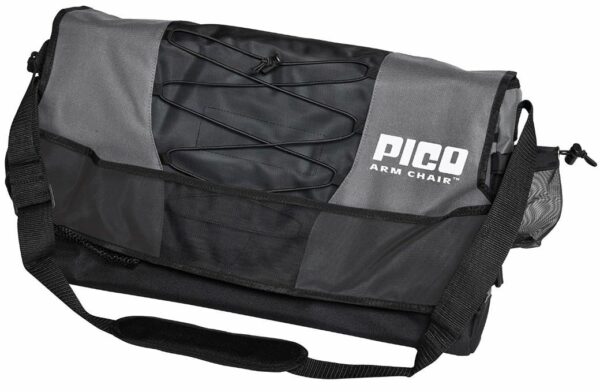 Please see more in this short video:
The frame is a lightweight and sturdy anodized aluminum combined with powder-coated steel. The soft parts are a breathable nylon mesh and polyester fabric, and the feet are scratch-free nylon.
There are straps that keep the feet from spreading, and two horizontal bars connect the front and back feet. This all together will prevent the chair from sinking so you can use it on any surface.
But if you look closely you will note that the feet are not very floor-friendly, pity they did not design them differently. You should not use the chair in a floored tent before adding something for the floor protection.
---
Who is it for
Capacity-wise, the chair is modest with its declared 250 lb (113.6 kg). This should work for most of the users, but if you need something for a very heavy person, it is best to check this list of chairs for heavy people.
Weight-wise, the chair is lightweight for such a type, it weighs only 9.7 lb (4.4 kg). So this is a great number for a camping chair and it is portable to shorter distances. But if you need something for the trail it is best to check my list of best backpacking chairs.
The mentioned packed size is also very good for such a type, you have seen its carry bag. But you will see below that my rating is not very high, this is because I use the same formulas for all the chairs so you can easily compare.
Size-wise, the chair measures 20.9 x 21.7 x 33.9 inches (53 x 55 x 86 cm). The seat is at 16.9 inches (43 cm) above ground so it is not very high, suitable for shorter people. The solid armrests will help a lot if you are an elderly user.
---
Specifications
Weight: 9.7 lb (4.4 kg).
Capacity: 250 lb (113.6 kg).
Dimensions when open: 20.9 x 21.7 x 33.9 in (53 x 55 x 86 cm).
Folded size: 19.7 x 3.9 x 12.4 in (50 x 10 x 31.5 cm).
Seat height: 16.9 in (43 cm).
Warranty: limited lifetime warranty.
---
Rating, pros & cons
Please see how I rate this chair, and feel free also to add your own rating, there is an option for this.
Ingenious design & easy to use chair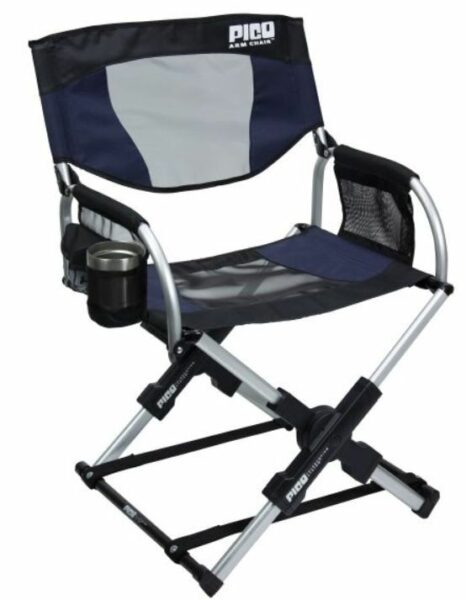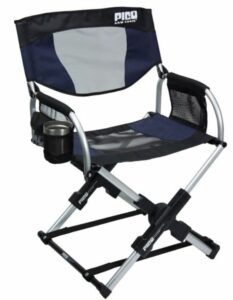 Product Name: GCI Outdoor Pico Compact Folding Camp Chair with Carry Bag
Product Description: GCI Outdoor Pico Compact Folding Camp Chair with Carry Bag is an Ingenious Construction, Easy to Use, Nicely Packable, and Lightweight.
Brand: GCI Outdoor
SKU: B07N71DDXW
MPN: 18065
Weight -

6.5/10

Dimensions -

7.5/10

Packed size -

7/10

Capacity -

7/10

Comfort -

9.1/10

Craftsmanship -

9.7/10
Summary
I use the same criteria for all the chairs and this is why this chair does not score high in some of them. But the overall rating is still Good.
Pros
Unique design.
Huge storage options.
Great carry bag.
Top-level craftsmanship.
Very easy to use.
Quality materials.
Cons
Not floor-friendly feet design.
A bit large in two dimensions when packed.
---
Final thoughts
So you have seen it, this GCI Outdoor Pico Compact Folding Camp Chair with Carry Bag is a great piece of engineering, very functional, easy to use, and with plenty of storage options. It is ideal for camping, RV'ing, fishing, and watching sports. Fully recommended.
Please check under the category Camping Chairs if you need more options, there are many of them presented here in the site. You might want to compare it with this Coleman Kickback Breeze Chair.
Bookmark this site and visit from time to time, stay informed of what is happening on the outdoor market. Thank you for reading and have a nice day.