---
VINGLI Professional Fishing Chair is a very large, comfortable, and affordable padded chair with headrest, solid armrests, reclining backrest, and adjustable legs.
---
Key features
Recliner chair.
Headrest.
Solid armrests.
Padded chair.
Very large.
Folding design.
Adjustable legs.
Pivoting feet.
Carry bag included.
Reasonable price.
---
Where to buy
This chair is available on Amazon, so follow the link and benefit from their global shipping service.
Note that this is an Amazon Choice item, and this means Amazon recommends it as a highly rated and well-priced product, and available to ship immediately.
---
What type of chair is this
This VINGLI Chair is a new item on the market but it is becoming incredibly popular. This is not surprising when you see how loaded with features it is.
So this is a folding type chair that folds and becomes thin when packed, but it remains large in two dimensions. The packed size is 28 x 25 x 10 inches (72 x 65 x 26 cm), see the picture: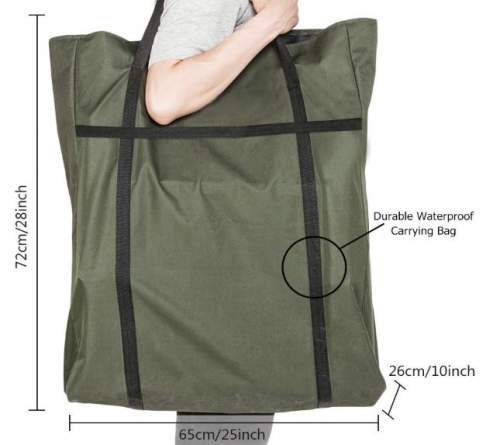 It is also padded all over the seat and the backrest, and the backrest is high enough to offer a pleasant head support. You also have solid armrest here, and this makes it easy to get in and out of the chair.
Adjustable legs
When you use such a chair outdoor, the terrain can be uneven, and this is why you can adjust the length of all 4 legs independently. You have up to 12 cm extension length as you see from the picture. This is done very easily.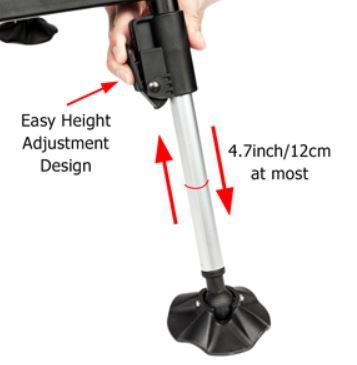 In addition to the adjustable legs, the foot which you see in the picture above is pivoting, so it easily adapts to any surface. As you realize, it is very large so it will not sink easily in a soft ground or sand.
Reclining design
This chair has several reclining positions and it can be set with a completely flat backrest (180 degrees recline). This is illustrated in the picture: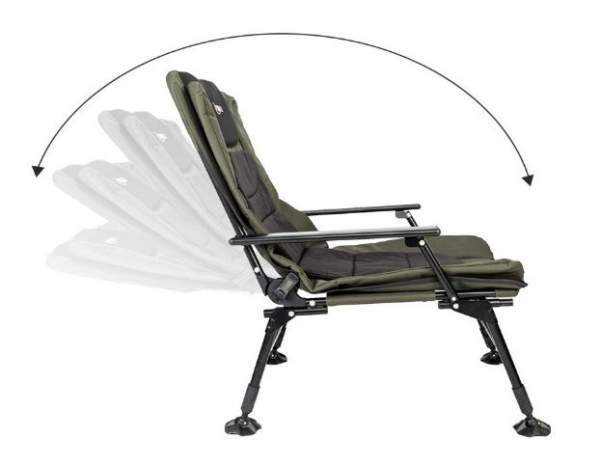 So when you are in a situation (on an angled terrain) to extend either front or rear legs, you can always adjust the backrest to an optimal position for you.
Note also that the cover of this chair is removable and washable. The frame is a high-quality corrosion-resistant steel. The fabric is 600D waterproof Oxford, comfortable and easy to clean.
---
Who is it for
Capacity-wise, the declared capacity is 300 lb (136 kg) and I am surprised it is not bigger. The chair looks very strong and robust. So this is quite a typical value and good enough for most of the potential users.
Size-wise, the chair is big, its seat dimensions are 26 x 32 inches (66 x 81 cm) so this is quite a space, good enough even for very big people. This is why I have added it to my list of extra-wide camping chairs.
Because of the adjustable legs length, the seat can be anywhere between 14-20 inches (36 – 51 cm) from the ground. So this chair can fit people of various heights and body sizes.
Weight-wise, with 15 lb (6.8 kg) this chair is on the heavy side, but with all its features such a weight is expected.
---
The price & rating
This chair is on Amazon with the price available in the link, and you realize this is an incredible price for such an item.
It has collected a number of customers' reports on Amazon, with the average rating 4.0/5. Please see how I rate this chair, I use my standard set of criteria applied to all the chairs here in the site, so you can compare easily.
My rating of the VINGLI Professional Fishing Chair: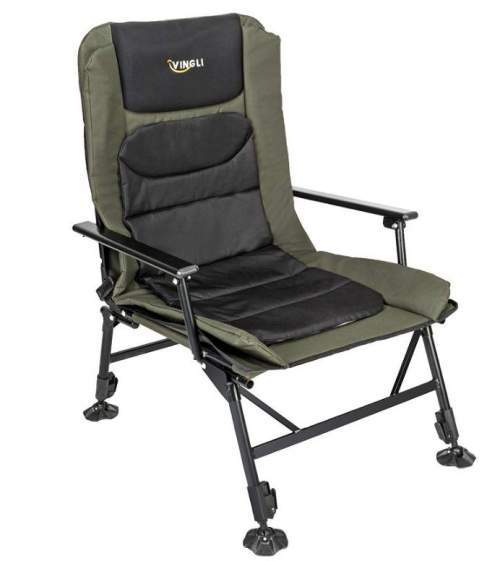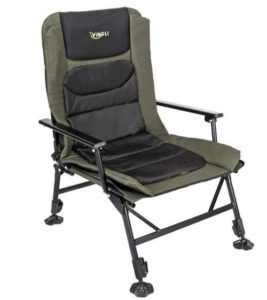 Product Name: VINGLI Professional Fishing Chair
Product Description: VINGLI Professional Fishing Chair is a very large, comfortable, and affordable padded chair with headrest, solid armrests, reclining backrest, and adjustable legs.
Brand: VINGLI
Weight -

4/10

Dimensions -

9.5/10

Packed size -

0.5/10

Capacity -

7.5/10

Comfort -

9.7/10

Craftsmanship -

9.7/10
Summary
The overall rating is very affected by the packed size, but it is still Good:
Pros
Many great features.
High-level craftsmanship.
Versatile.
Great dimensions.
Very good price.
Cons
Heavy.
Large when packed.
Some find it noisy for fishing and hunting.
---
Specifications
Weight: 15 lb (6.8 kg).
Capacity: 300 lb (136 kg).
Dimensions (W x D): 26 x 32 in (66 x 81 cm).
Packed size: 28 x 25 x 10 in (72 x 65 x 26 cm).
Seat height: 14-20 in (36 – 51 cm).
Packed size: 28 x 25 x 10 in (72 x 65 x 26 cm)
Frame: steel.
---
VINGLI Professional Fishing Chair vs Competitors
Features of such a chair can best be understood when you compare it with some other chairs built in a similar style, the Earth Ultimate Recliner, and Eureka Highback Recliner chairs. So here are two of them, top-notch chair from reliable brands.
Clearly, the Vingli chair has more features than the other two and this is why it is heavier, but it is also more affordable. Please follow the links in the table to read more about the other two chairs.
Dimensions
(W x D x H), in (cm)
26 x 32 x 44
(66 x 81 x 112)
28 x 25 x 10
(72 x 65 x 26)
25 x 16 x 47
(64 x 41 x 119)

37 x 23 x 5
(94 x 58 x 13)

34 x 24 x 46.5
(86 x 61 x 118)

39.5 x 7.5 x 6.5
(100 x 19 x 17)

---
Final thoughts
In the summary of this VINGLI Professional Fishing Chair review, I would stress again the plethora of features that this chair includes. So this is a price-value combination that is hard to match. You might want to know that they also build a version with a footrest included, and you can see it here.

Note that this is not a sponsored text and I am not paid by the brand. Please let us know if you have any experience with this chair, there is a comment box below.

---