---
This Ostrich Deluxe Chair review is about a unique and patented chair with 15 possible configurations, reclining, with headrest, armrests, footrest, and much more.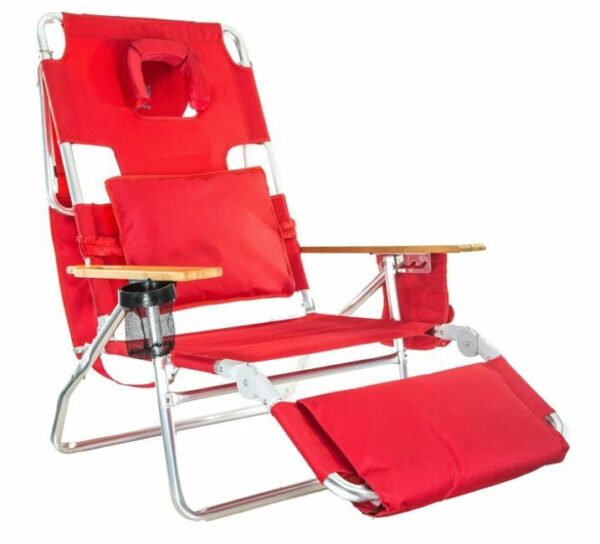 ---
Key features & benefits
Patented design.
Folding chair.
Padded headrest.
Wood armrests.
Padded footrest.
Recliner.
Adjustable lumbar pillow.
Storage elements.
5 Colors.
---
So what this Ostrich Deluxe Chair is about
This chair is so packed with unique and great features that it is difficult to choose where to start from. So I shall try to follow the key features listed above.
Quite generally, this is a folding chair but of a particular type. As you realize from the picture below, it looks like a cot when you make it flat. So I have included it in my list of best folding camping chairs.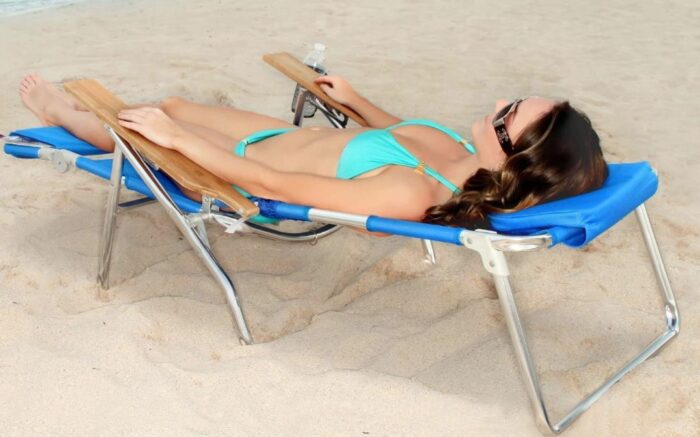 Padded headrest
When used in an upright position, the chair offers a great padded headrest shown in the picture. You have a pillow that is removable, you can simply move it to hang behind the backrest. The picture below shows how it looks in position: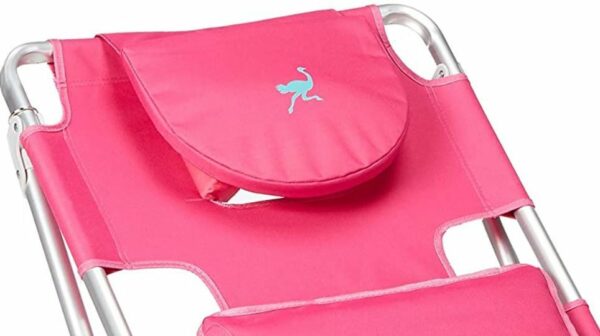 When you move it behind the backrest, you have the unique padded face cavity shown in the picture below.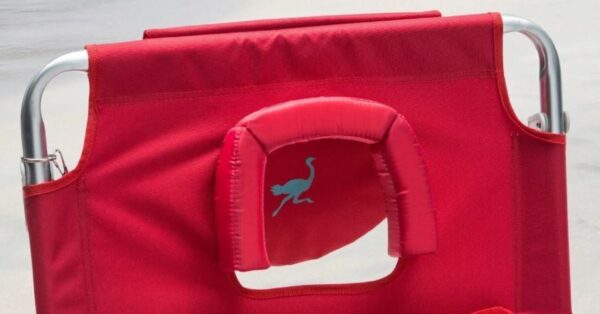 This can be used as a headrest as well, and you have ventilation. But its main purpose is to serve as a face cavity and face-rest when the chair is in the flat position. In this way you can breathe normally, and you can read a book underneath the chair as the picture shows: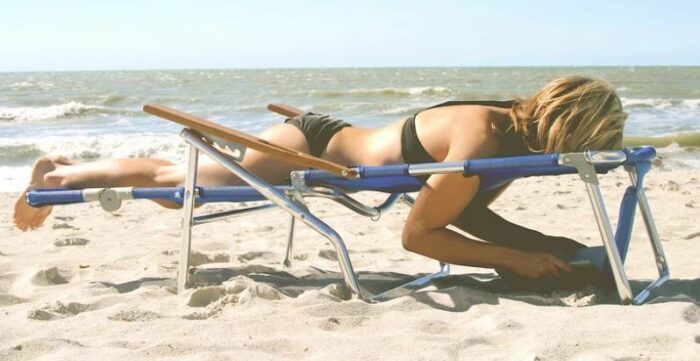 To be able to read, they have added these two cut-outs in the backrest fabric so that you can pass your arms through them (see also the picture above), and they come useful for ventilation as well:

Because of these great features, I have added this chair in my list of chairs with headrest.
Wood armrests
So this is again something exceptional, you have pleasant solid armrests made of wood, with a cut-out so that you can use it as a handle to carry the chair: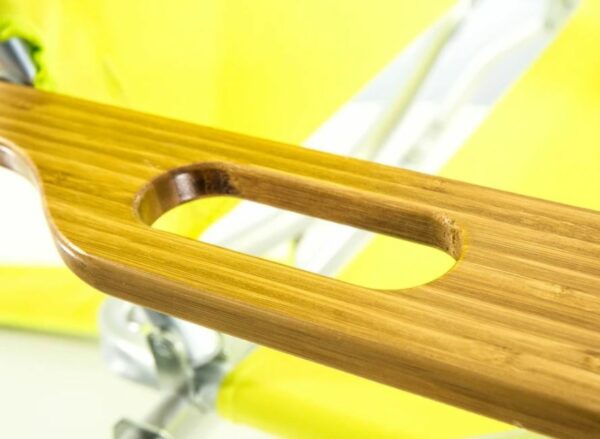 Padded footrest
The chair comes with an excellent padded footrest shown in the picture below. It has 3 adjustable positions.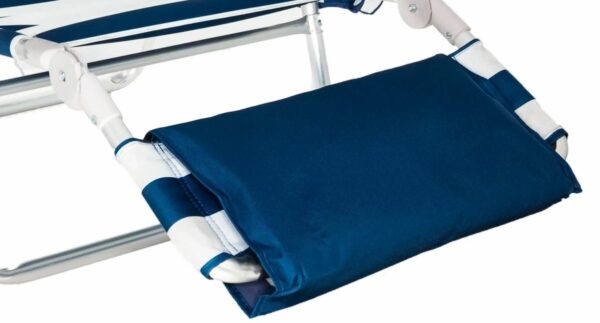 You can make it completely flat as you have realized from the pictures above so that the chair becomes like a bed.
But you can also fold it completely so it is not on your way when you use the chair in an upright position. Simply pull the footrest out to disengage the locking mechanism and you can lower it down as in the picture. This is why I have added it to my list of best chairs with footrest.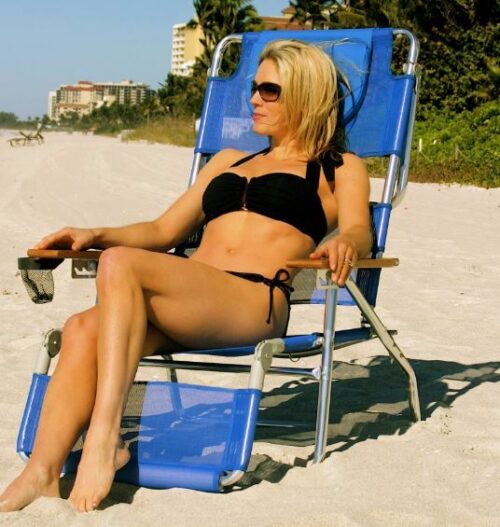 Recliner
So this is what you might have expected in view of the features described above. This chair offers 5 different reclining positions, and you have already seen some in the pictures above, from completely upright to completely flat. I have all the good reasons to include it in my list of best reclining camping chairs.

Removable lumbar pillow
So this is yet another bonus here, the pillow serves as a lumbar support and it is adjustable and removable. There is a strap visible in the picture that keeps it in place. And, yes, I have added it to my list of chairs with lumbar support, it deserves to be there.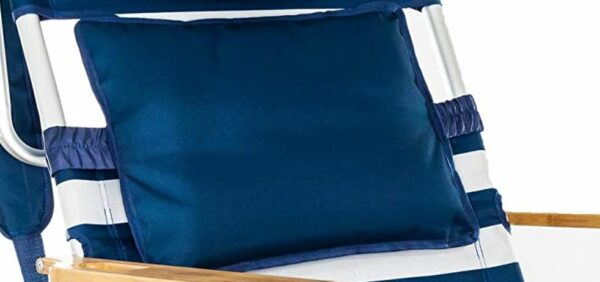 Storage elements
There is a bottle holder on one side, and some storage elements on the other side for small items and also with a zippered pocket, see the pictures.
---
The materials
The frame is aluminum and the fabric is obviously polyester which they describe only as 'heavy-duty', but the manufacturer did not provide any additional information. I could not find it on their site.
This is an ingenious design, but many people have complained about the durability of this chair. This is a pity because it is so full of useful features and it is expensive. So perhaps it is not the best option for heavy users.
---
Who is it for
Capacity-wise, the chair is quite typical with its 275 lb (125 kg) weight capacity. I guess this is good enough for most of the users, for me definitely as I am almost half of this weight.
Size-wise, the chair's dimensions are not so easy to determine in the sense that it is so adjustable. So it depends on how it is used, in what position, etc. But official numbers are impressive (L x W x H) 60.76 x 28.93 x 39.73 inches (154 x 73 x 101 cm).
The seat is 22 inches (56 cm) wide, and this is the width also if you use this structure as a bed. Note that the seat is low, it is at 12 inches (30 cm) above the ground, but you have the mentioned wood armrests that will help get in and out.
Weight-wise, the chair is in the group those that could be described as moderately heavy with its 10.19 lb (4.6 kg). But it is built for comfort and with many features, so this weight is fully justified.
But it is very large when packed, it measures 36 x 29.5 x 5.5 inches (91 x 75 x 14 cm). As you see it is thin when packed so at least it will fit in narrow spaces when you transport it or store at home. There is a strap to carry it on the back, see how it looks: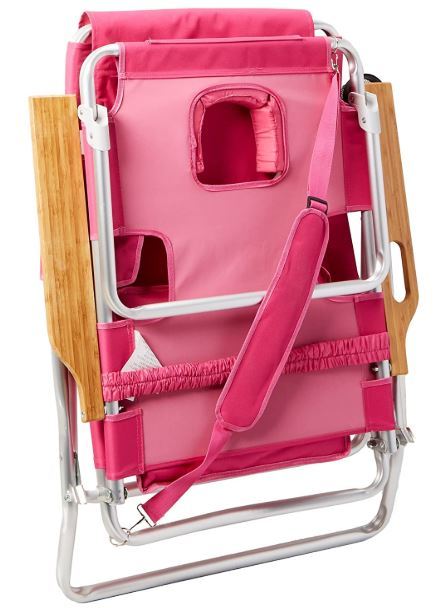 Design-wise, obviously this is a chair designed for the beach and this is why it is so low and with such feet that will not sink in the sand, and it packs thin.
But all these features make it great as a camping chair as well. The bars will prevent it to sink no matter where you use it, and this is also a great design that will not damage tent's floor. You can use it together with any of the camping side tables presented here in the site.
---
Rating, pros & cons
Please see the summary of my rating and pros & cons. I use the same criteria for all the chairs here in the site so you can easily compare.
Completely unique multi-functional chair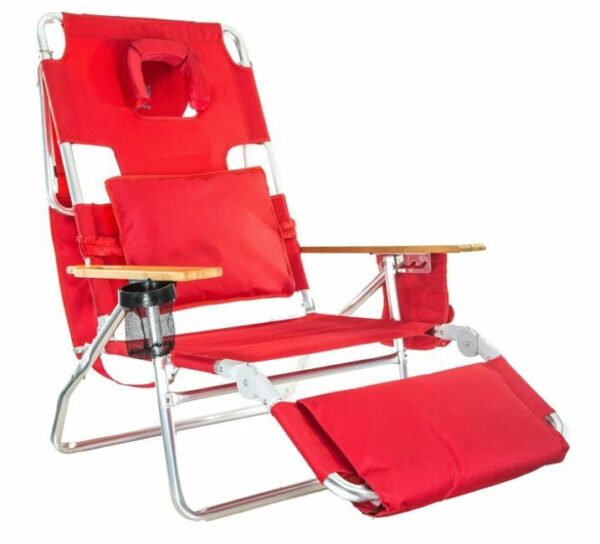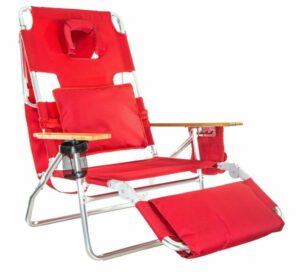 Product Name: Ostrich Deluxe Chair
Product Description: This Ostrich Deluxe Chair review is about a unique and patented chair with 15 possible configurations, reclining, with headrest, armrests, footrest, and much more. 
Brand: Ostrich
SKU: B00A89KOL8
MPN: D3N1-1001B
Weight -

6/10

Dimensions -

10/10

Packed size -

1.5/10

Capacity -

7.5/10

Comfort -

10/10

Craftsmanship -

8/10
Summary
The packed size is not the best feature of this chair and it affects its overall rating, but it is still Good.
Pros
Unique features.
Versatile.
Multi-functional.
15 Configurations.
Easy to use.
Great colors to choose from.
Cons
Very expensive.
Bulky when packed.
Complaints about durability.
---
Specifications
Weight: 10.19 lb (4.6 kg).
Capacity: 275 lb (125 kg).
Dimensions (L x W x H): 60.76 x 28.93 x 39.73 in (154 x 73 x 101 cm).
Seat height: 12 in (30 cm).
Seat width: 22 in (56 cm).
Packed size: 36 x 29.5 x 5.5 in (91 x 75 x 14 cm).
Frame: aluminum.
---
Final thoughts
In the summary of this Ostrich Deluxe Chair review, I wish to stress that I am impressed with all its features. It is so versatile and multi-functional, easy to use, and pleasant. But this all comes at a price. Please follow the link below to read some reports by users. It is included in my list of best lightweight beach chairs.
If you need more options, just check under the category Camping Chairs here in the site, you will fund them in all shapes. They have yet another great chair with a similar design, the Ostrich On Your Back Chair.
Bookmark this site and stay informed about new outdoor equipment, we add texts here regularly. Thank you for reading and have a nice day.