---
This REI Co-op Skyward Chair is a folding type, very easy to use, nicely ventilated, and with interesting bottle holders on both sides.

Key features & benefits
Folding chair.
No assembly.
Bottle and items holders on both sides.
Carry bag included.
Great price.
---
What this is about
Well, thank you for asking but I am not really sure, and here is why. If you follow REI, you might be familiar with their REI Co-op Camp X Chair which looks exactly the same.
So I am not sure what they are doing with this new name of the chair, they have them both available.
In any case, this is a nicely designed folding chair, and this means there is no assembly. You open it or close it in seconds.
The chair folds like an umbrella, so when folded, it becomes a bit long but thin tube.
When not in use, you can keep it stored in its included carry bag shown in the picture. Its dimensions are (L x D) 33 x 7 inches (84 x 18 cm).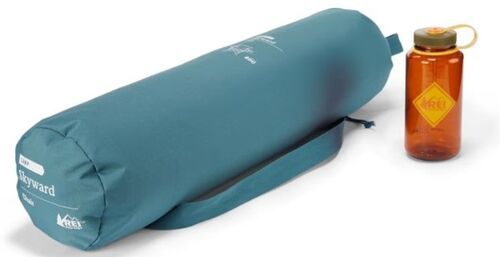 Interesting cupholders
On the right side, the cupholder is designed for a variety of beverage containers. This is why you see it is a bit elongated and its diameter changes: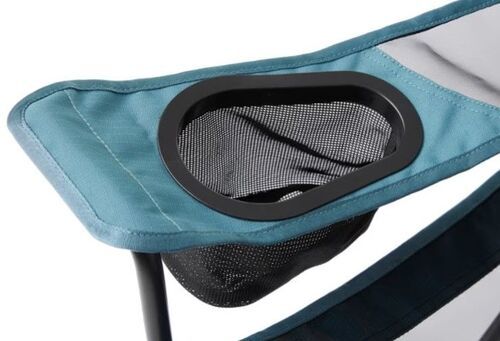 Note that the same design is also in their REI Co-op Camp Xtra Chair.
On the left side you have a unique detail. The holder is a drop-down folding type. When not in use, you can push it back and it attaches to the Velcro pad on the underside of the left armrest, see the picture.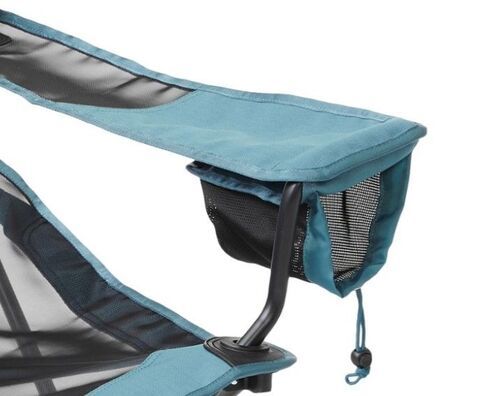 But when you need it to keep you phone or something similar, just pull it forward: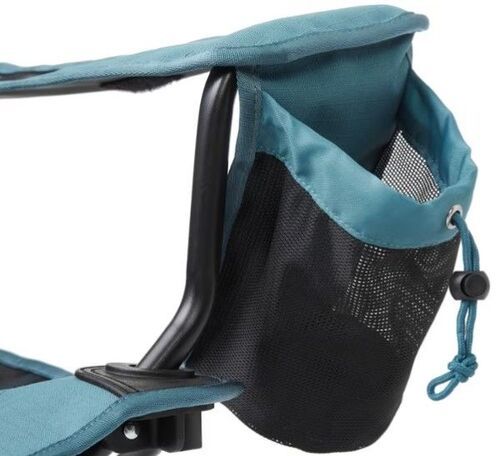 Materials
The frame is constructed of heavy-duty and powder coated thick-walled steel tubing. The front legs are V-shaped tubes, so they create X-crossed structures on all sides.
On the back you have the usual vertical legs, see the picture below, but with those X-crossed tubes for stability. This makes the chair very stable to lateral movement.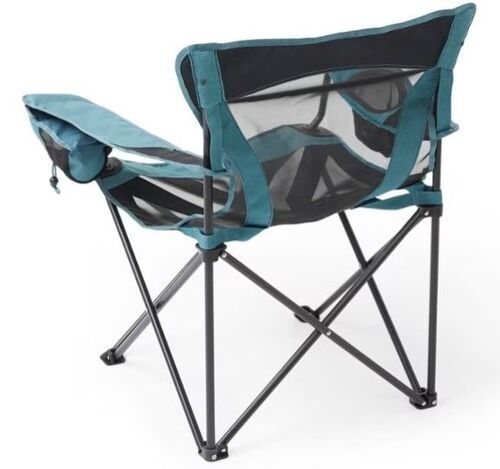 As you see the feet are wide, so this chair will not easily sink if you use it on a soft ground.
The fabric is a recycled polyester bluesign approved, combined with a nylon mesh which is also bluesign approved. From the picture below you realize that you have an excellent ventilation here, so the chair is a great option for a warm weather use: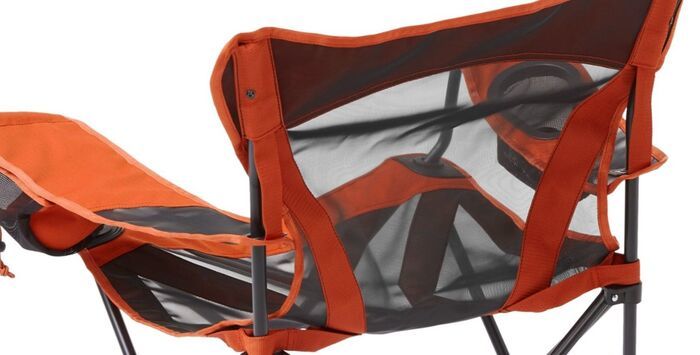 This is what they call the X-Web technology, it uses X-shape webbing to tension the seat and back panel.
---
Who is it for
Regarding the capacity, the chair is quite typical with its official capacity of 300 lb (136 kg). This should be good enough for most of potential users, and this looks incredible in view of its fine backrest mesh.
Regarding the dimensions, I would start from the seat which is quite low, it is 10.5 inches (27 cm) above the ground. So this might be a bit too low for elderly users, but you have armrests to help you getting in and out.
Note that the backrest is not very high, it measures 14.25 inches (36 cm) from the seat. But they have chairs with a much higher backrest, you might want to check their REI Co-op Flexlite Camp Dreamer Chair.
Regarding the weight, the chair is not particularly light, it weighs 7 lb 3 oz (3.3 kg). So this is not something to carry long distances. If this is what you want, check my list of best backpacking chairs.
You have already seen its packed size, so it is a bit long, but you can transport it even on a bicycle.
Regarding the price, it is more than fair, this is a very affordable chair and a great value for the money.
---
Specifications
Weight: 7 lb 3 oz (3.3 kg).
Capacity: 300 lb (136 kg).
Dimensions (H x W x D): 31 x 31.25 x 20 in (78.7 x 79 x 51 cm).
Folded dimensions (L x D): 33 x 7 in (84 x 18 cm).
Seat height: 10.5 in (27 cm).
Frame: steel.
---
Rating, pros & cons
Below you can see how I rate this chair, the same rating criteria are used for all of them so you can easily compare: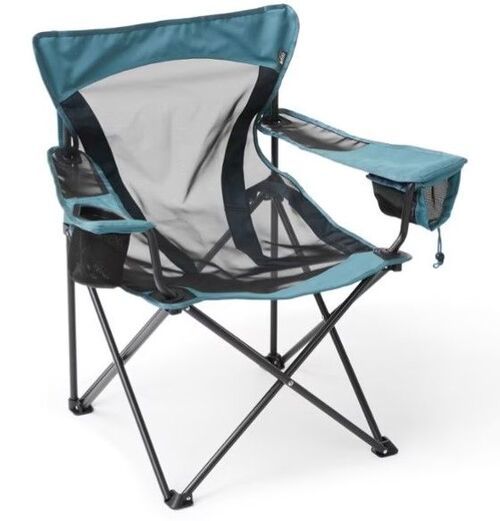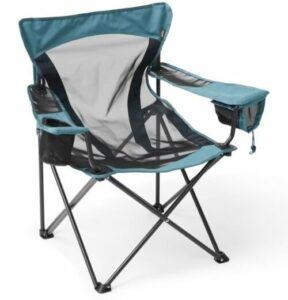 Product Name: REI Co-op Skyward Chair
Product Description: This REI Co-op Skyward Chair Is a Folding Type, Very Easy to Use, Nicely Ventilated, with Interesting Bottle Holders on Both Sides & Very Affordable.
Brand: REI
SKU: 217994
Weight -

7.5/10

Dimensions -

7.8/10

Packed size -

6/10

Capacity -

7.5/10

Comfort -

8.8/10

Craftsmanship -

9.6/10
Summary
The weight and packed size are not the best features of this chair, but this is a reliable and quality product.
Pros
Quality craftsmanship.
Excellent ventilation.
Unique features.
Very good price.
Carry bag included.
Final thoughts
So you have seen it, if you need a chair for a warm weather outdoor activities, this REI Co-op Skyward Chair is the right choice. Its backrest is built from an incredibly fine and strong nylon mesh.
The chair is very easy to use and also affordable. Fully recommended.
Best places to buy:
For more options, please check under the category Camping Chairs, you will find them many here in the site, and in all sizes and shapes. In particular, if you want a chair with solid armrests, check the Wonderland Chair from the same brand. It comes with pleasant wooden armrests.
Bookmark this site and visit it when you find time, this will keep you informed, you have new texts added here on a regular basis. Let me know if you have questions, there is a comment box below. Thank you for reading and have a nice day.