---
ALPS Mountaineering King Kong Camping Chair is an incredibly strong 800 lb (363 kg) capacity steel construction suitable for heavy and big people. It comes with several bonuses and a great price.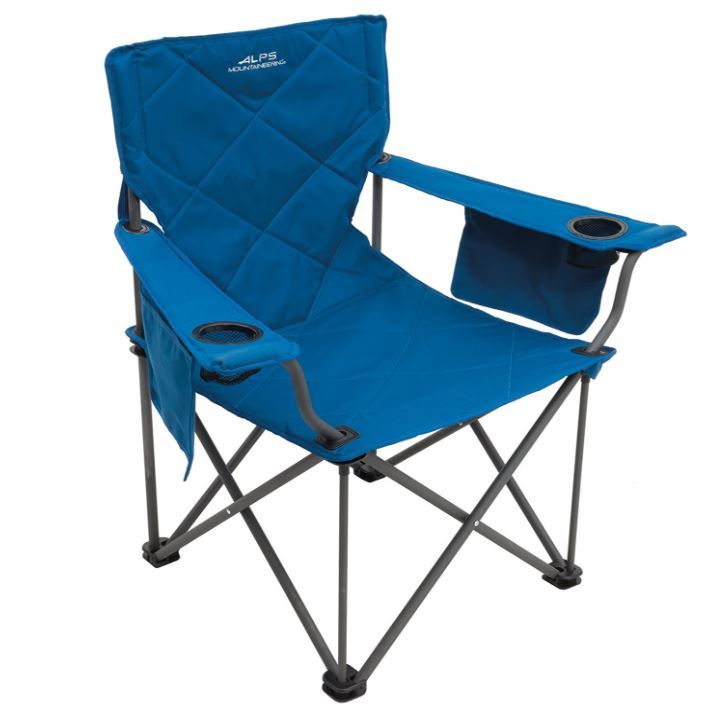 ---
Key features
Huge capacity.
Incredibly comfortable.
Sturdy steel construction.
Instant setup – no assembly.
Folding type.
Great price.
Several bonuses.
Padded seat and the back.
Adjustable armrest.
---
What type of chair is this
King Kong is a folding chair in the best possible sense. This implies that there is no assembly, you simply spread it and it is ready in seconds.
This is a design with 8 support bars which you can see in the pictures, you will see how it works in the video below. The support bars converge into the feet where you have quite large protection caps. With this, it will less sink in the soft ground, but in general, it is better suited for a hard surface.
Note that it is built in three really nice colors. It is best that you see it in this video by ALPS Mountaineering:
---
Who is it for
Well, this is a chair for everybody, in particular for big and very heavy people. Just see its dimensions and the capacity which is 800 lb (363 kg).
This chair is also very convenient for elderly people because of the seat height which is 18 inches (46 cm) above the ground and the strong armrests. With such armrests, it is easy to get up from such a chair.
But bear in mind also its weight, it is a bit heavy, you have 12.5 lb (5.7 kg). I think this is not so much if you bear in mind its incredible capacity and the steel frame with so many support bars.
---
Overview of features
This chair has so many great features that it is hard to choose where to start. You have already seen some above.
Regarding the size and comfort, you will hardly find anything comparable to this chair. The seat's size is 24.5 x 20 inches (62 x 51 cm) and this should be wide and deep enough even for really big people. This is why I have added it to my list of extra-wide camping chairs.
There can be no real comfort without a good armrest, and here you have this in its best. Note that the height of the armrest is adjustable, you have straps on the back for this purpose so you can put it in the position which suits you best. There is also a light padding on the seat and on the back.
Regarding the durability and stability, everything here looks built to last. The frame is steel, hence such a weight, the fabric is 600 D, and the same material is also in the storage pouches. You have 4 points on the ground, but the feet are at large distances so the balance is exceptionally good. This and the support bars make it incredibly stable to lateral movement.
As for the ease of use, I already mentioned above, there is no assembly so easier it can not possibly be for a folding chair. But again, bear in mind its weight.
Bonuses
You have two cup holders on the armrests, see the picture, so here you can keep various items at hand.

A cup holder and a side storage pouch.

You also have large pouches on the sides where you can keep larger items like books etc.
One large mesh pocket is on the back and here you can store pieces of clothing and any larger item, see it in the picture below.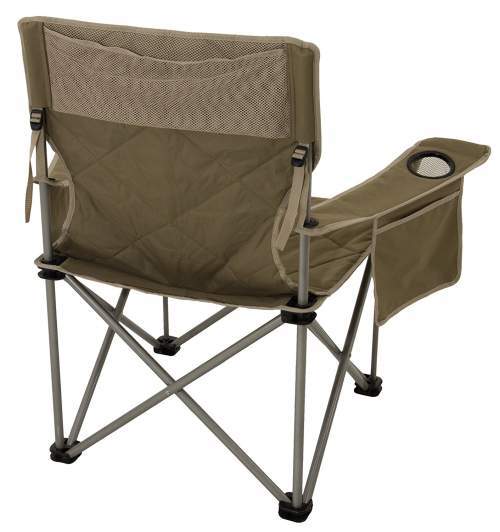 The carry bag
The bag is nicely designed, you have a top drawstring and also two straps on the side, so you can carry it on the back like a backpack.
---
The price & rating
The weight of this chair should not be a big issue, this is a camping tool so you would not carry it long distances in any case.
The fabric is very comfortable and you have some light padding, you have seen the stitches on it. But this structure absorbs water, so keep it protected from the rain. It will dry if it gets wet, no worry, this is synthetic.
The Amazon price for this chair is shown in the link below. No doubt this is a real bargain for such a quality item.

The rating for this chair is great wherever you search. On Amazon alone, you have well over 1400 reports by customers and the average rating is as impressive. See how I rate it:
My rating breakdown of the Alps Mountaineering King Kong Chair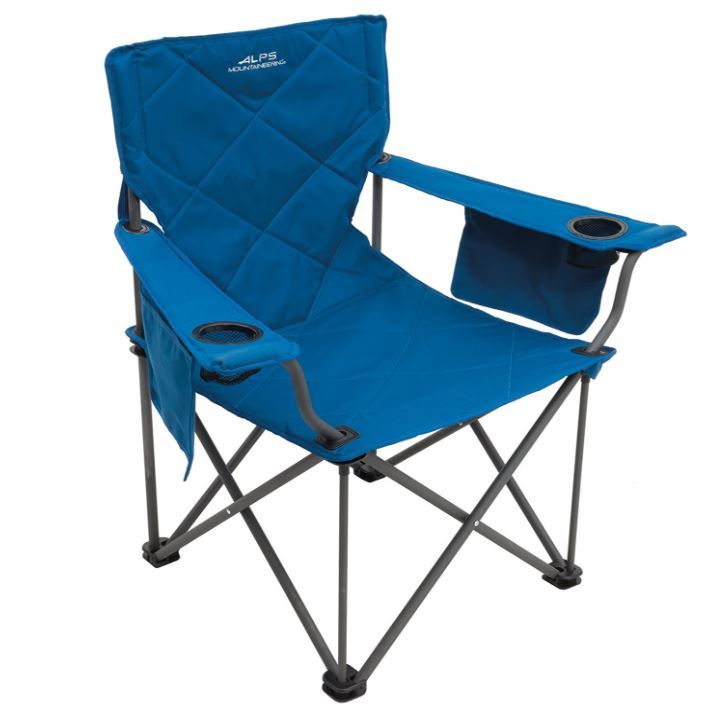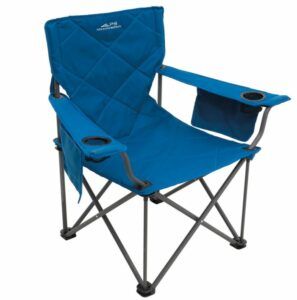 Product Name: ALPS Mountaineering King Kong Camping Chair
Product Description: ALPS Mountaineering King Kong Camping Chair is an incredibly strong 800 lb (363 kg) capacity steel construction suitable for heavy and big people. It comes with several bonuses and a great price.
Brand: ALPS Mountaineering
Weight -

5/10

Dimensions -

8.6/10

Packed size -

5.5/10

Capacity -

10/10

Comfort -

9.8/10

Craftsmanship -

9.8/10
Overall rating
My final rating for this great chair is Very Good:
Pros
Very comfortable.
Great quality.
Great armrest design.
Very easy to use.
Storage elements.
Great price.
Cons
A bit heavy.
The fabric is not water-resistant.
---
Specifications
Weight: 12.5 lb (5.7 kg).
Capacity: 800 lb (363 kg).
Dimensions (W x D x H): 38 x 20 x 38 in (96 x 51 x 96 cm).
Seat height: 18 in (46 cm).
Seat size (W x D): 24.5 x 20 in (62 x 51 cm).
Carry bag size (L x D): 41 x 7 in (104 x 18 cm).
Fabric: 600D polyester.
Frame: sturdy powder-coated steel.
---
Alps Mountaineering King Kong Camp Chair vs Competitors
It is always good to compare when you are about to choose an item of this type. So here I give you two top models from other brands. One of them is built in the same style, so you have armrests etc., but the other is quite different. This is on purpose, to see a bit of the variety of chairs that are available on the market. Please follow the links to see more:
Dimensions
(W x D x H), in (cm)

ALPS Mountaineering
King Kong
38 x 20 x 38
(96 x 51 x 96)

41 x 7 x 7
(104 x 18 x 18)

21.7 x 25.6 x 34.3 (55 x 65 x 87)

24.4 x 6.5 x 6.5
(62 x 17 x 17)

21.5 x 20 x 29 (55 x 51 x 74)

32.5 x 8 x 8
(83 x 20 x 20)

---
Final thoughts
Alps Mountaineering King Kong Camping Chair is probably the last chair you will ever need if you buy it once. It is hard to imagine some other camping chair that would combine such a strength, capacity, durability, comfort, and ease of use, and this all for the price which is far more than fair. I have included it in my list with best camping chairs for heavy people.
Note that this Coleman Oversized Quad Chair With Cooler is even bigger and Coleman Big-N-Tall Quad Chair is also with a huge capacity.
But if you really don't need such a size and comfort, check again the models I gave in the comparison table, and also search the site if you need something different. Check this folding ALPS Mountaineering Steel Leisure Chair with solid armrests. Need a chair with an adjustable lumbar support? Then check this KingCamp Folding Quad Chair which is also a padded model. Much more you can find in the category Camping Chairs.
Thank you for reading. Please use the comment box below in case of questions or comments. I wish you a nice day.