---
This Stylish Camping Full Back Folding Director's Chair review is about a very lightweight camping chair with bonuses and with a great price. Read more here.
---
Key features & benefits
Folding side table & cup holder.
Storage system on the left side.
Solid armrests.
Very good price.
---
What type of chair is this
This is a folding chair, one of those that remain relatively large in two dimensions when packed. The packed size is 32.6 x 18.5 x 6 inches (83 x 47 x 15 cm) and the picture below shows how it looks form two sides; as you realize it is rather thin and flat when folded so it will fit into narrow spaces.
The chair comes ready to use, no assembly is needed. There are no locking mechanisms, so to fold it completely, just fold the side table and then pull the seat up. Note that you have solid and padded armrests.
---
Who is it for
Capacity-wise, the chair is rather moderate and it supports the weight of up to 350 lb (159 kg). But you will see from the comparison table below that this is similar to other chairs of this type.
Size-wise, the seat is around (W x D) 20 x 19.5 inches (51 x 50 cm) so this is a good size. The seat height is 18 inches (46 cm) which is a bit low for tall people, but this is typical. The solid armrests help when you get up or when you want to sit.
Weight-wise, this is a surprisingly lightweight chair, it weighs only 6.13 lb (2.78 kg) and I find this really extraordinary.
---
The construction & materials
As you might expect from such a weight, this is an aluminum structure and the fabric is 600D polyester.
The legs' system is very similar to the Kamp-Rite Director's Chair and the Timber Ridge Director's Chair. On a hard surface, you have the stability just like any other 4-leg chair and you have some protective cups. But on a sand and on a soft grass, such legs will partly sink until the bars come in contact with the ground. At this moment the chair becomes very stable and the sunk feet just anchor it even more and make stable while the bars prevent further sinking.
The width of the chair with the open side table is around 35 inches (89 cm), just to know if you plan to use it in narrow spaces. But you can also use this chair with the side table folded, this you might do when you use it at a camping table like any other ordinary chair.
People have been asking about the back design, so it is 15 inches (38 cm) from the seat to the top, not particularly high but quite similar to other chairs of this type. This is a full-back type, the fabric continues to the seat area. It is also straight but because this is a fabric, it gives some flex but this is not the type which would allow you to lean back a lot.
A frequent question is if the fabric can be removed, so the answer is no, it is fixed.
To carry the chair around, there are two carry handles on the sides, they are under the seat when the chair is open. You do not have a carry bag or a shoulder strap.
The side table & storage elements
This is a retractable design, and the table is built from aluminum. The dimensions are roughly (L x W) 15.5 x 10.5 inches (40 x 27 cm), see the picture. I have seen people asking if it can be moved to the other side, and the answer is no, it is riveted.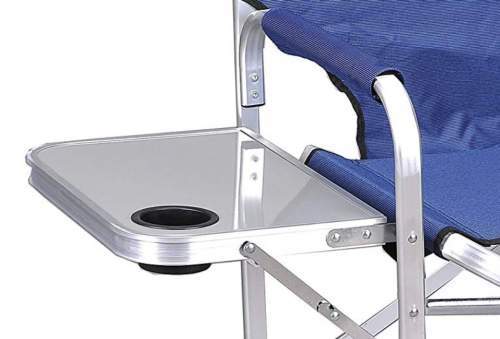 On the opposite side, you have a storage system with several accessory pockets, see the picture below, and this is an obvious bonus here.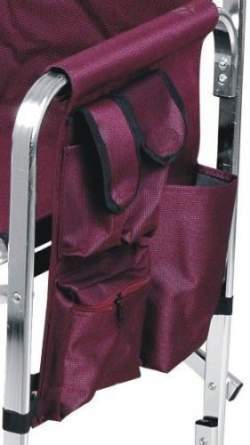 ---
My rating, pros & cons
They did not give enough information about this chair and it is surprising in view of its popularity, and some numbers they provide are also contradictory.
The current price on Amazon is in the link below so you can see this is a very affordable chair.

There are hundreds of reports by customers and this tells you about the popularity of the chair. Though it has been around for years already. The average rating is very high. See how I rate it:
My rating of the Stylish Camping Folding Director's Chair:
Weight -

8/10

Dimensions -

7.5/10

Packed size -

3.5/10

Capacity -

8/10

Comfort -

9.6/10

Craftsmanship -

9.5/10

Price -

9.5/10
Summary
The packed size affects my overall rating, but it is still Very High:
Pros
Very lightweight.
Stable on any terrain.
Padded solid armrests.
Very easy to use.
Bonus side table.
Bonus storage elements.
Great price.
Cons
Not great packed size.
Poor description.
Contradictory information.
---
Specifications
Type: folding camping chair.
Weight: 6.13 lb (2.78 kg).
Capacity: 350 lb (159 kg).
Dimensions (W x D x H): 23.6 x 19.5 x 32.7 in (60 x 50 x 83 cm).
Seat size (W x D): 20 x 19.5 in (51 x 50 cm).
Seat height: 18 in (46 cm).
Packed size: 32.6 x 18.5 x 6 in (83 x 47 x 15 cm).
Height from seat to the top: 15 in (38 cm).
Total width with the table: around 35 in (89 cm).
---
Stylish Camping Full Back Folding Director's Chair vs Competitors
In the table below you have two more chairs built in the same style, so all are with side tables and folding. The weight of the Stylish Camping Chair is beyond comparison. If you check the prices you will notice that it is the most affordable, and the other two have no storage elements at all. Please follow the links for details.
Dimensions
(W x D x H), in (cm)

Stylish Camping
Director's Chair
23.6 x 15.7 x 32.7
(60 x 40 x 83)

32.6 x 18.5 x 6
(83 x 47 x 15)

Kamp Rite Director's Chair
24 x 20 x 38
(61 x 51 x 96)

37 x 22 x 7
(94 x 56 x 18)

Timber Ridge Director's Chair
25 x 14 x 35.5
(64 x 36 x 88)

36 x 21 x 7
(91 x 54 x 18)

---
Final thoughts
So the Stylish Camping Full Back Folding Director's Chair is indeed built appropriately to its name, it is stylish and with very useful storage elements and the side table. It is surprisingly lightweight and this also sets it apart from the competitors. This is a great value for the money.
If you need more options of the same type, please check my list of folding camping chairs. Check the KingCamp Heavy Duty Compact Chair built in the same style. See also this Coleman Portable Deck Chair With Side Table which has a different legs design.
But if you want something different, check these rocking camping chairs, or these ultra-lightweight backpacking chairs. If you need something with headrest, check these high-back camping chairs.
Thank you for reading and please let me know if you have any question or comment, there is a comment box below. Have a nice day.

---