---
In this text you have the list with the Best Folding Camping Chairs With Footrest and some other great features like a headrest, armrests, a sunshade, etc. So please keep reading.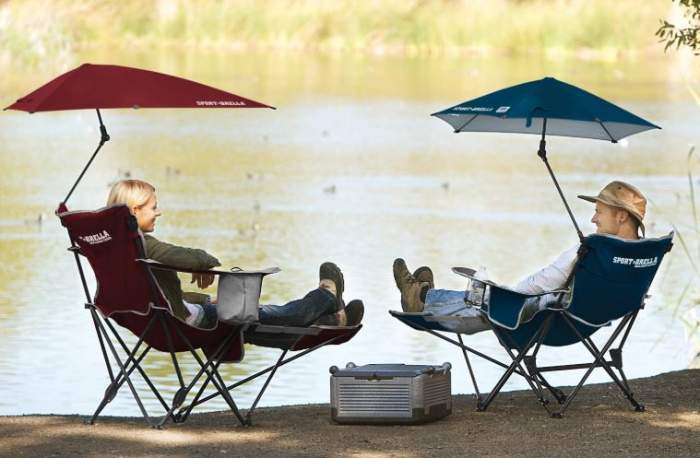 ---
The list includes the following chairs given in alphabetical order:
The chairs in the list combine at least some of the following features:
Footrest, all of them have it of course.
All of them are folding type.
Headrest.
Armrests.
Cup holder(s).
Storage pockets.
Coolers.
Sunshade (umbrella).
---
1. ALPS Mountaineering Escape Chair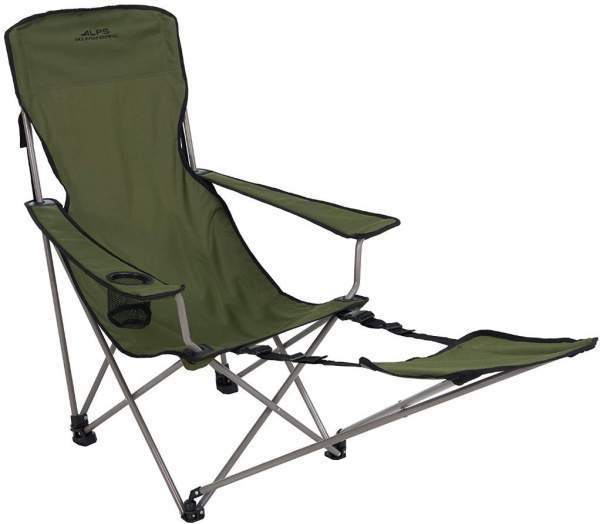 The footrest which you have in this chair is an adjustable and removable platform supported with two bars and suspended with two adjustable straps. You also have a high back with a headrest and two armrests where one cup holder is added.
The chair is moderately heavy with its 10 lb (4.5 kg) steel frame, and the weight capacity is 225 lb (102 kg). It is designed for relaxing so the seat is low, 14 inches (36 cm) above the ground. The packed size is (L x D) 41 x 8 inches (104 x 20 cm).

---
2. GCI Outdoor 3-Position Reclining Director's Chair with Ottoman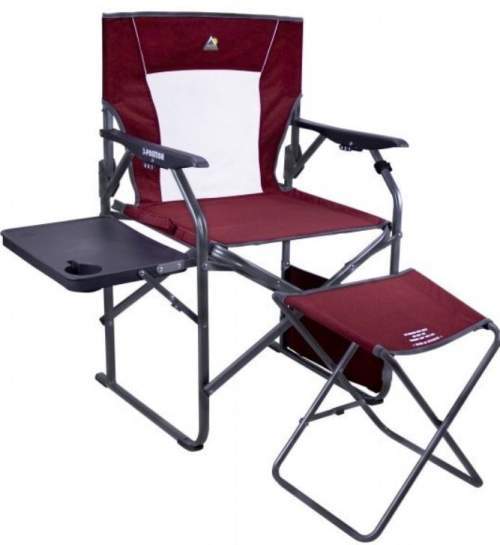 This GCI chair has the footrest of a particular type. This is a fully detached ottoman where you can put your legs. When you transport it or when it is not in use, you can store it in a side pocket on the chair.
This is a folding reclining camping chair, a patent-pending design. It comes with a folding table on the side. So I have added it to my list of directors' chairs with side table.

You have a three-position backrest for ultimate comfort. It is a bit heavy, it weighs 16.3 lb (7.4 kg) with ottoman included. Please see more in this short video:
---
3. GigaTent Outdoor Quad Camping Chair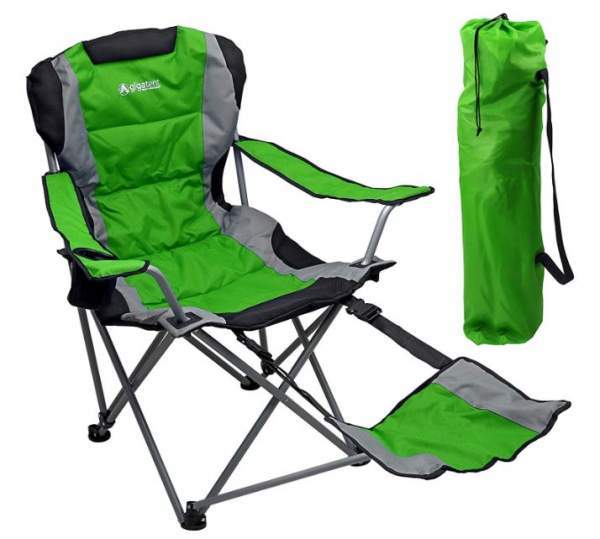 This GigaTent chair is here because of its footrest which you see in the picture. So it is adjustable and you have a platform to put your feet and enjoy in the camp or at the beach.
But it has quite a number of other useful features like the headrest, and this is why I have added it to my list of chairs with headrest, and also the armrests. Note also that it is fully padded and you have a cup holder in the right armrests. It comes with a nice carry bag so you can carry it around attached to your shoulder.
The weight is 9.25 lb (4.2) and the declared capacity is 250 lb (113 kg). Please follow the link for more.

---
4. Happybuy Folding Camp Chair with Footrest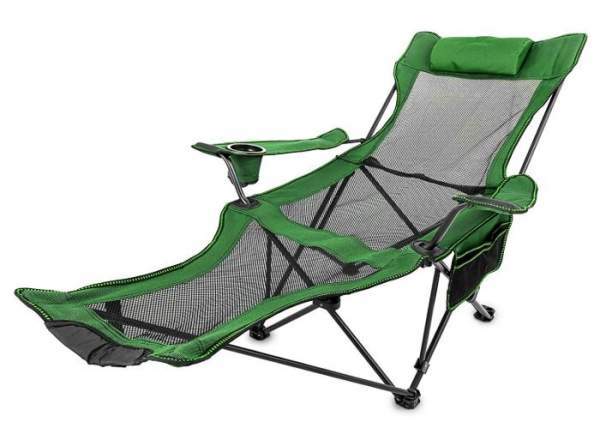 Here is a chair with a large footrest platform that offers a continuous support for the legs as you realize from the picture. The bigger part of the fabric is a mesh so this is a great option for a summer vacation and for a warm environment in general. This makes it very different from the Kamp Rite chair which you will see below.
The chair comes with a padded headrest and one of the two armrests is with a cup holder. On the other side you have a storage pouch.
This chair is quite light for such a type, with 10.19 lb (4.42 kg) of weight and the capacity is good, it supports up to 330 lb (150 kg). The seat is low, around 16 inches above the ground, and the packed size is also very good, 35 x 7.1 x 7.1 inches (89 x 18 x 18 cm).

---
5. Kamp-Rite Chair with Detachable Footrest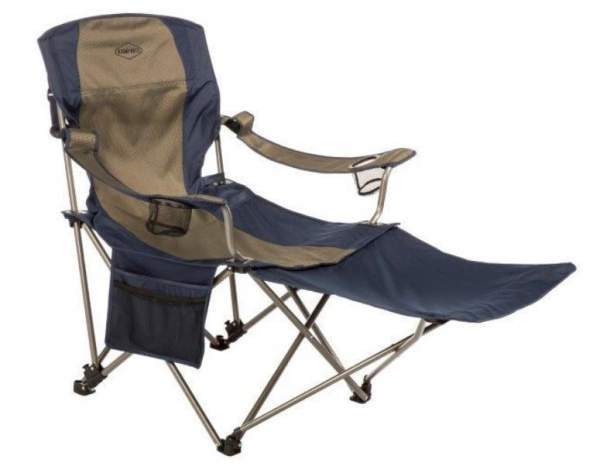 This Kamp-Rite Chair is a reclining design, its back can be moved down to some 130 degrees or so. But it is here because of its footrest which is zipped to the chair and also supported by two poles. You can remove it and use the chair as an ordinary camping chair when you sit at a table.
The chair is with soft armrests and with a pair of cup holders plus a storage pouch on the side. If you want to see some numbers, the packed size is 38 x 7 x 7 inches (96 x 18 x 18 cm), the weight is 11 lb (5 kg), and the capacity is 300 lb (136 kg).

---
6. Sport-Brella Recliner Chair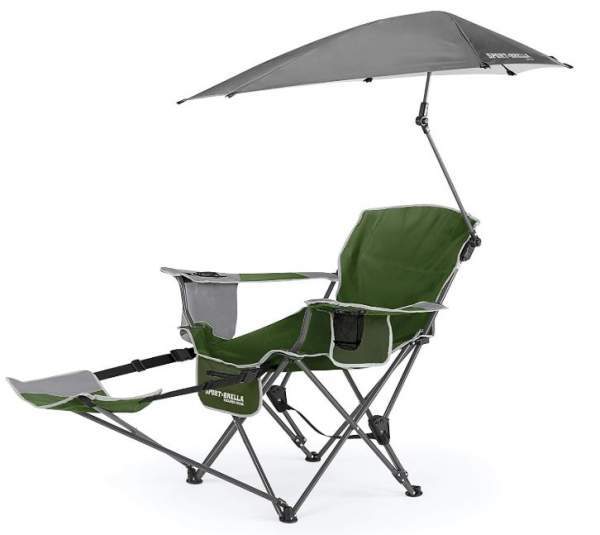 This Sport-Brella Recliner Chair is an incredibly popular item, if you check the link below you will realize that there are more than 1380 reports by customers on Amazon. This is not surprising when you see all its features.
So the chair is with a footrest and its design is similar to what you have seen in the Alps Mountaineering chair above. But this is also a recliner chair with the backrest which you can set in three different positions.
The chair comes with zippered storage pockets, a cooler, and a cup holder in its armrests. But probably the most prominent detail here is its umbrella which is fully adjustable and removable, and you can rotate it any position as it suits you. The chair is also very affordable, but this holds for all the chairs here in the list.
The capacity is 250 lb (113 kg), the weight is 13.5 lb (6.12 kg), and the packed size is 39 x 8 x 8 inches (99 x 20 x 20 cm).

---
7. SwimWays Kelsyus Original Canopy Chair with Ottoman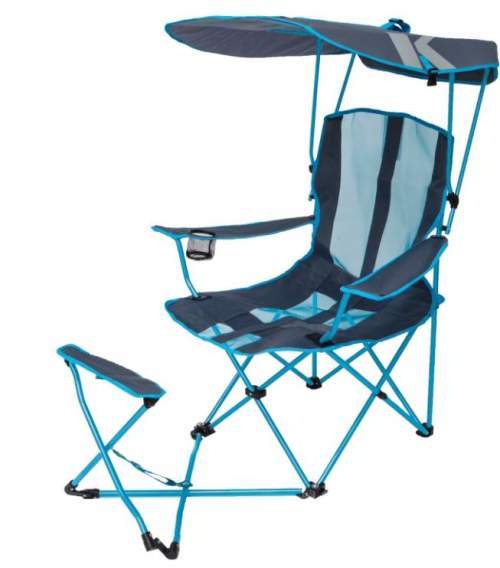 The most important feature of this Kelsyus Canopy Chair is in its name, at least this is what the manufacturer thinks about it because this is the chair's official name. So indeed you have a sunshade here which is a clever design – it transforms into the carry system when you close the chair. So you have straps with buckles and a carry strap to attach it to the shoulder.
But it has also what they describe as ottoman, a footrest which is again a clever design with the bars connecting it to the chairs completely on the ground. So you have unobstructed access to the seat. The chair also has a cup holder and two armrests.
The weight is 14.85 lb (6.7 kg), the capacity is 250 lb (113 kg), and the packed size is 36 x 6 x 6 inches (91 x 15 x 15 cm). Please follow the link for more.

---
8. VINGLI Folding Fishing Chair Plus Foot Rest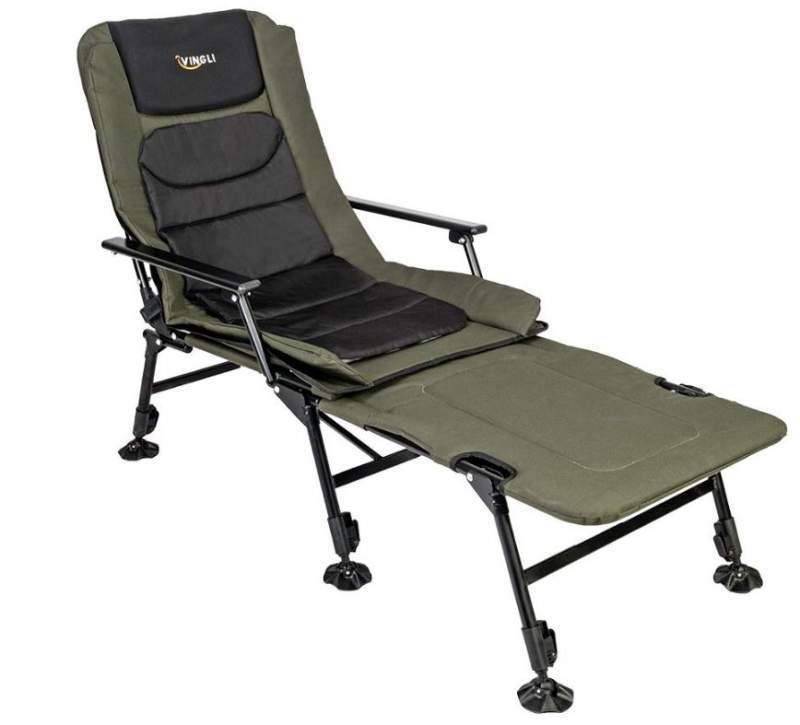 As you realize from the picture, this chair has an enormous footrest and this is the reason for adding it to the list here. But it is hard to find a chair with so many features, so its nicely padded footrest is only one of them.
The chair is fully padded, and it offers a great headrest. You also have solid armrests. Observe also that all the legs are adjustable in length and this is convenient to have when you use it on an uneven ground. The feet are also rotating and adjustable.
But this is also a reclining chair and I have added it to my list with best recliners chairs. It comes with a carry bag so you can attach it to the shoulder and carry short distances. Please read more in my full review.

---
How to choose & Editor's Choice chair
Obviously, this is a matter of preference. All the chairs here combine a variety of features and you will know what your priority is.
Regarding the price, all of them are very affordable, and by this I mean typically in the range around $40 – 50. But the prices change all the time so please follow the links for updates.
One detail which I know is important for many users is the access to the seat. The footrest in front of it may be a bit annoying when you get in and out, so choose the design which suits you best. So for example, the Kelsyus Canopy Chair offers an easy access, but the footrest is a very small platform, and perhaps you would rather have a big one like in the case of the Kamp-Rite chair.
Also, the seat height may be an important feature. For example, if the seat is too low, and in addition combined with a large footrest in front of it, such a chair might not be the best choice for elderly users.
Editor's Choice
ALPS Mountaineering Escape Chair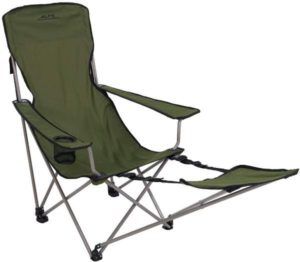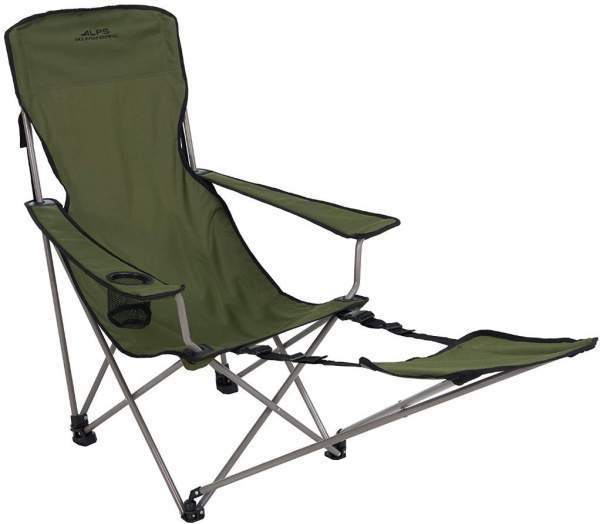 Product Name: ALPS Mountaineering Escape Chair
Product Description: This ALPS Mountaineering Escape Chair review is about a very comfortable folding camping chair with armrests, headrest, and footrest.
Brand: ALPS Mountaineering
Weight -

6.5/10

Dimensions -

9.2/10

Packed size -

4.5/10

Capacity -

7/10

Comfort -

9.7/10

Craftsmanship -

9.3/10

Price -

9.6/10
Summary
My overall rating is – Very Good:
Pros
Great comfort.
Easy to use
Very good price.
Carry bag.
Thank you for reading. This list will be updated regularly as I find some good chairs on the market. So do bookmark this text and visit it from time to time. I wish you a nice day.
---