---
ALPS Mountaineering Steel Leisure Chair is a very stable folding camping chair with solid armrests and an instant setup. This is a very affordable and reliable item.
---
Key features & benefits
Very stable and sturdy.
Steel frame.
Folding chair.
Instant setup.
Great price.

---
What type of chair is this
The ALPS Mountaineering Leisure is a folding camping chair which you setup or close in seconds. So there is no assembly and it is very easy to use.
One particular feature which makes it different from many other chairs presented here in the site is its solid armrests design which you can see in the pictures. This makes it very comfortable and it is easy to get up and to sit down when you have such elements to put your hands on. So this is something very useful for elderly people, but those in the picture below are surely not in that age group, this is a chair for everybody.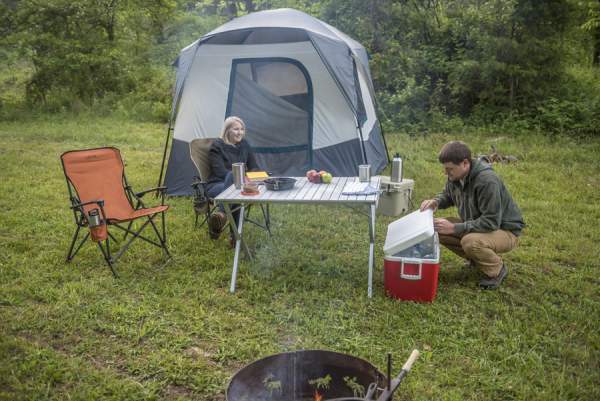 ---
Who is it for
The comment made above already touches the issue of the best use and users. Note also that the chair is definitely not low, the seat height is 20 inches (51 cm) on the front. This makes it suitable for taller people, and also for elderly people who find it difficult to get up and to sit down if the chair is too low.
The weight is not its best feature, it is almost 6 kg. This is due to its strong steel structure. So elderly users should bear this in mind.
The packed size is also far from perfect, you have a stuff cack and the dimensions are 45 x 7 inches (114 x 18 cm). So this chair is only for a car camping.
But you can also use it in the garden, at a beach, or anywhere assuming that you do not have to carry it.
---
Materials and construction
The frame is a powder-coated steel and the fabric is 600D polyester. So these are quite typical materials for such a chair type. Note that the capacity is 300 lb (136 kg).
Frankly, I would expect much more from such a structure. You can compare it with some backpack portable chairs like this LEKI Sub 1 chair which weighs less than one kilogram and it has a bigger capacity.
The feet are with plastic caps and they are most suitable for a hard surface. You also have one cup holder visible in the picture.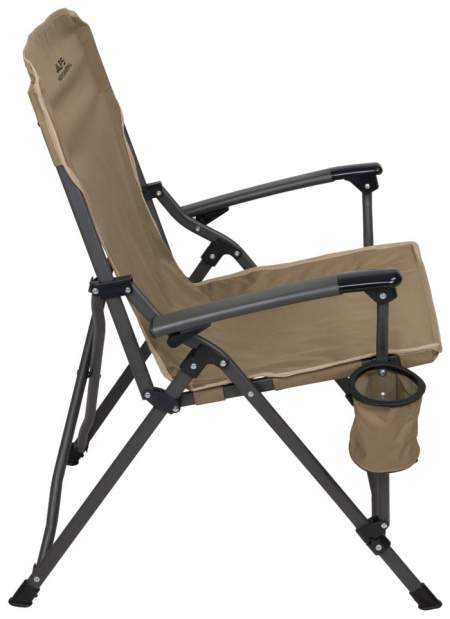 ---
Good and less good features
Here is my short summary:

Very comfortable.
Great quality.
Great armrest design.
Very easy to use.

The price & rating
The Amazon price for the two colors is different, the more affordable option is only $50. The rating by Amazon customers is exceptionally high and the average value is 4.5/5 based on more than 200 reports. Well, my rating is a bit different but I use several different criteria which affect the mean value, see the result:
My rating breakdown of the ALPS Mountaineering Steel Leisure Chair
Weight -

5/10

Dimensions -

7.6/10

Packed size -

5/10

Capacity -

7.5/10

Comfort -

9.5/10

Craftsmanship -

9.2/10

Price -

9.4/10
---
Specifications
Type: foldable camping chair.
Weight: 13 lb (5.9 kg).
Capacity: 300 lb (136 kg).
Dimensions (W x D x H): 27 x 16 x 38 in (69 x 41 x 97 cm).
Packed size (L x D): 45 x 7 in (114 x 18 cm).
Seat height (front/back): 20/16 in (51/41 cm).
Seat size (W x D): 22 x 16 in (56 x 41 cm).
---
The ALPS Mountaineering Leisure Chair vs Competitors
See how this Leisure chair compares with some other folding camping chairs from the same price range. The other two have no solid armrests of the type you have in the Leisure chair. Please follow the links to see more:
Dimensions
(W x D x H), in (cm)

ALPS Mountaineering Leisure
27 x 16 x 38
(69 x 41 x 97)

45 x 7 x 7
(114 x 18 x 18)

ALPS Mountaineering King Kong
38 x 20 x 38
(96 x 51 x 96)

41 x 7 x 7
(104 x 18 x 18)

21.5 x 20 x 29 (55 x 51 x 74)

32.5 x 8 x 8
(83 x 20 x 20)

---
Final thoughts
In the summary of this ALPS Mountaineering Steel Leisure Chair review, there is not much one could object to this chair. The weight is a part of this design, this is a camping tool.
My rating is consistent with all the chairs here in the site because I use the same rules and formulas for all of them. This is why the mean value for the rating is a bit low.  So yes, it is heavy and it is not nicely packable, but if these two features are not so important, here you have a very good and affordable camping item.
I have included it in my list of the best folding camping chairs. If you want something similar but with rocking features, please check this ALPS Mountaineering Rocking Chair from the same brand.

Thank you for reading. Please check in the category Camping Chairs if you need something different. Compare this chair with the ALPS Mountaineering Camp Chair which is also with a solid armrest design. Check also this GCI Outdoor Freestyle Rocker Chair with a solid armrest and some patented features. Yet another chair built in the same style is this CORE Equipment Folding chair so have a look.
Use the comment box below if you have any question or comment. Have a nice day.


---