---
Here you have my list with the best camping chairs for heavy people, all very strong folding chairs with 400 – 800 lb (181 – 363 kg) capacity.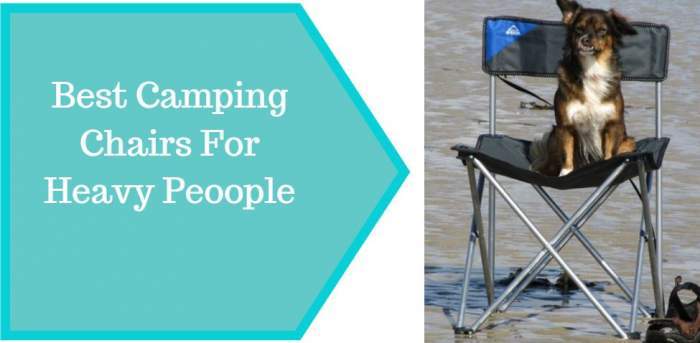 ---
Folding camping chairs currently on the market are typically with the weight capacity of around 300 lb (136 kg) or so. This may be good enough for most of the users but clearly this cannot be strong enough for some heavy and large people. This is why I have decided to present this list with extra strong chairs with the capacity range mentioned above.
So why the upper limit of 800 lb? This is simply because this is the upper limit available. I have not seen any chair on the market with a bigger capacity.
How about the lover 400 lb limit? Well, there is no particular reason except that I wanted to show a very exclusive group so this is well above the typical capacity mentioned above. If you need something with a lower capacity, please check my list with folding camping chairs.
---
Heavy duty camping chairs for heavy people – my list
So here is my list of chairs ordered by the capacity, from lower to higher:
---
1. Kijaro XXL Dual Lock Oversized Chair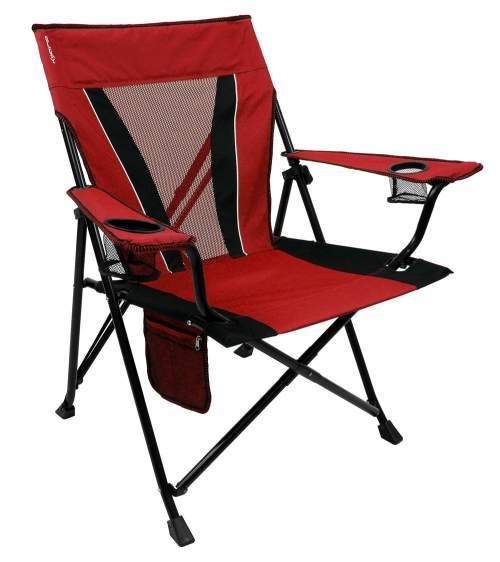 The capacity of this Kijaro XXL chair is 400 lb (181 kg) so it is on the opening position here in the list. As for the weight, it is quite typical for such a type, it weighs 12.4 lb (5.62 kg).
This is a very popular chair and with all good reasons. The design is so elegant and with mesh sections, there is no padding here. The letters XXL in the name tell you this is a large and comfortable chair. It has an efficient locking mechanism, just a press-button, hence the words Dual Lock in the name. With this, it remains locked both when it is unfolded and when it is folded.
Note that it has an extra strap on the back to carry it attached to the shoulder even without its carry bag. You also have a storage pouch and two cup holders. This is an incredibly popular chair with more than 660 reports on Amazon alone.

---
2. Prime Time Outdoor Giant Kingpin Folding Chair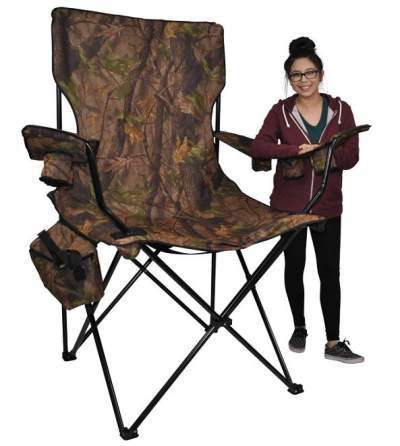 I guess I should first stress that the picture above is not photoshopped. This is the real size of the chair.
So it is here because of its capacity which is 400 lb (181 kg). This should be good enough to support two people, and the dimensions are such that this is possible. The chair measures 67 x 37.5 x 58 inches (170 x 95 x 147 cm).
This is a steel construction with a cooler, 6 cup holder, and a stuff sack included. It is a bit heavy, it weighs 21 lb (9.5 kg) but this should not be surprising in view of its dimensions. Please follow the link for more.

---
3. ALPS Mountaineering Camp Chair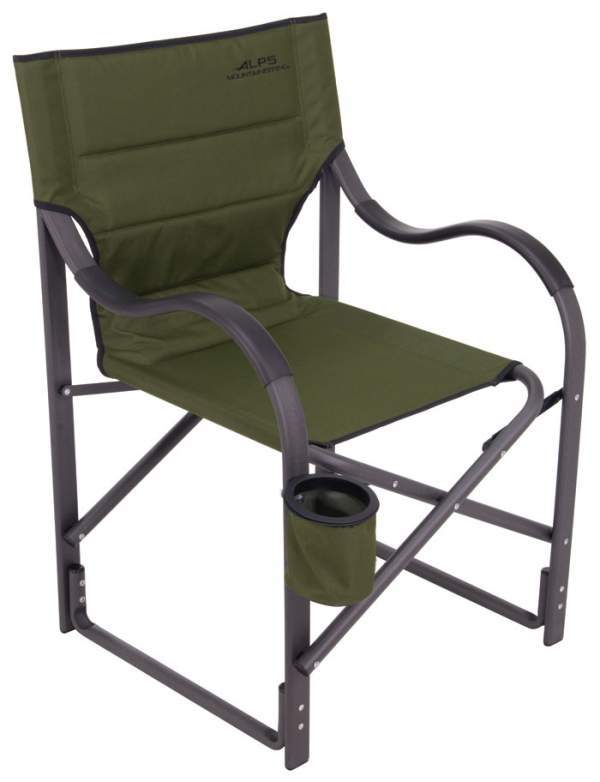 The capacity of this Alps Mountaineering Camp Chair is impressive 425 lb (193 kg) and the weight is quite good 10.5 lb (4.76 kg).
Note that this is a rare example here in the list with solid armrests. This may be helpful and useful for elderly people. But because of this, it remains quite large when you fold it like a book.
It may be low if you are a particularly tall person, the seat is at 17 inches (43 cm) above the ground. This is why having such solid armrests is good because getting in and out of the chair is easy. Observe that you have a padding on the seat and on the back.
The chair comes with a bonus cup holder shown in the picture. Please follow the link for more.

---
4. Coleman Big-N-Tall Quad Chair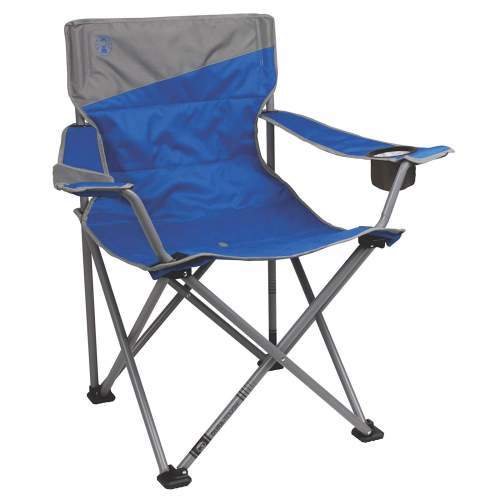 With its capacity of 600 lb (272 kg), this Coleman Big-N-Tall Quad Chair is remarkable even within this extraordinary group of chairs. The weight is typical for the chairs here, it weighs 9.9 lb (4.5 kg).
This is one of those that fold like an umbrella so the packed size is relatively small, and this is possible because of the soft armrests. The seat size is (W x D) 24 x 19 inches (61 x 48 cm), and its height is moderate, it is at 19 inches (48 cm) above the ground.
Such a capacity goes with a strong steel frame, and the fabric is with some padding. There are several bonuses that include a cup holder, a media pocket, and a smartphone sleeve.

---
5. Guide Gear Oversized Rocking Camp Chair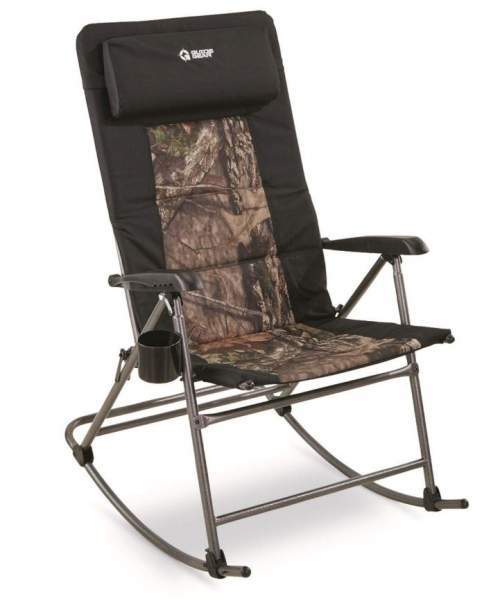 This chair is in the list because of its impressive 500 lb (227 kg) capacity, so it is strong enough even for the heaviest users.
But it comes with quite a number of some other features. This is a rocking chair as well and I have included it in my list of best rocking chairs. This is not all of course, the back section is very tall so you have a great headrest and yes I have included it also in my list of chairs with headrest.
You have solid armrests as well and a bonus cup holder. The chair is quite heavy, it weighs 17.5 lb (7.9 kg). Note also that this is a folding design so it remains quite large in two dimensions when you fold it for storage.

---
6. ALPS Mountaineering King Kong Camping Chair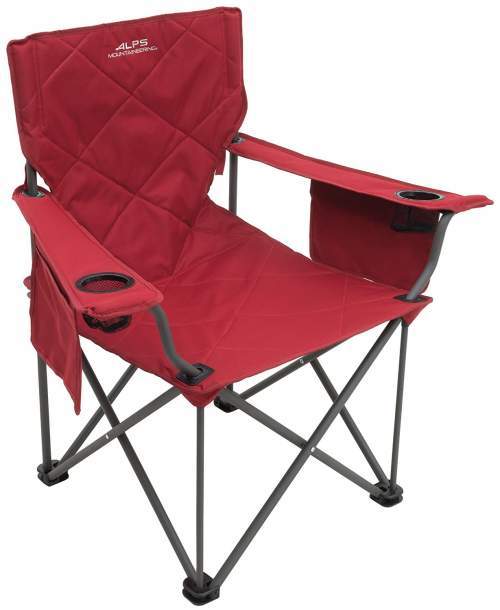 Here is one of the chairs that represent the top of the top, one of the strongest chairs currently on the market with its 800 pounds (363 kg) capacity. Note that its dimensions are appropriate for such a capacity so if you are looking for camping chairs for large people this is one of them.
The chair is not lightweight, it weighs 12.5 lb (5.7 kg), but this is a strong steel structure so the weight is expected. You need a car for transportation in any case. From the picture you can see it is also completely padded.
The chair comes with several bonuses. So you have two cup holders and pouches on both sides, and it comes with a storage pocket on the back. Note that this popular chair has been on the market for a number of years already, and it has received more than 1100 reports by Amazon customers, so all is known about it, it has been tried and tested by users.

---
7. ALPS OutdoorZ King Kong Chair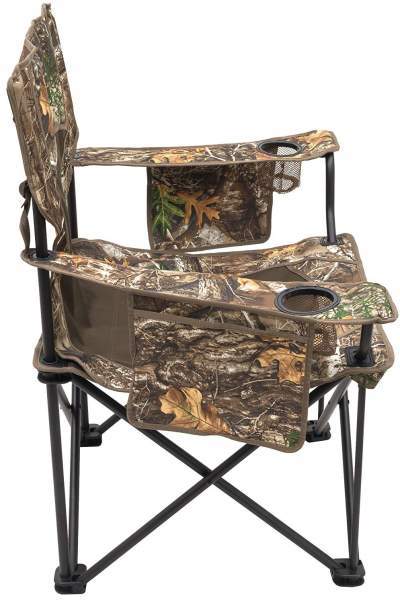 This Alps Outdoors King Kong chair is with a similar name as the previous chair and also with the same features. So you have again 800 lb (363 kg) capacity and the weight is almost the same 13 lb (5.9 kg).
When packed it remains a bit long only in one dimension, its carry bag is of the size (L x D) 41 x 7 inches (104 x 18 cm). The armrests are soft and adjustable, you have straps on the back to regulate their position.
The chair comes with bonuses that include dual cup holders, dual storage pockets on the side, and a large pocket on the back.

---
8. Browning Camping Kodiak Chair
Perhaps you do not know but Browning Camping, Alps OutdoorZ, and Alps Mountaineering brands have the same owner. This is why you have very similar items here in the list. What they build is usually very reliable and the chair presented here is a great example.
So the capacity of this chair is also 800 lb (363 kg), and as I said above this is the maximum I have seen so far on the market.
This chair is built in the same style as the two chairs above, so it is a very durable folding type, and it comes with bonuses. You have an insulated cooler on one side, dual cup holders are available, a storage pouch is on the back, and it comes with a carry bag.
You probably want to see some numbers, so the weight is 13 lb (5.9 kg) and the dimensions (W x L x H) are 38 x 20 x 38 inches (97 x 51 x 97 cm).

---
How to choose
So this was my current list with best camping chairs for heavy people. Many of them are with a similar structure, folding and with soft armrests. This type remains relatively large in one dimension only. The other type is with solid armrests and such chairs remain large in two dimensions when packed, but they become thin and you can store them in narrow spaces at home or in your trailer.
Other than that, this is just a matter of features and bonuses. So you might want to consider:
Padding: Not all of them are padded but if this is about summer camping perhaps you do not need this.
Storage pouches: This is always useful to have, the more the better.
Cup holders: This is surely a bonus.
Locking mechanisms. This extra bonus is rare, but it may be very useful to have.
Carry bag: This is good to store the chair and keep it clean from dust at home, and also to carry short distances.
Seat size: All of them are big, but there are differences so check the links in the text.
Seat height: This is important if you are particularly tall or particularly short.
Then there is the price as well, but all of these chairs are quite affordable and with reasonable prices for what they offer. In any case, just follow the links to see more and to check for the updated prices.
This list will be updated regularly and new models will be added, so bookmark this page and visit it from time to time.
Since you are looking for chairs for heavy people, perhaps you also need a cot with similar features? If so, please check my list of camping cots for heavy people.
Thank you for reading. Please use the comment box below in the case of questions. Did I miss to add a good chair? If so, please let me know.
---