---
GCI Outdoor Freestyle Rocker Portable Folding Rocking Chair is a unique design with a hydraulic rocking system and padded solid armrests. The chair is designed to work well on any surface.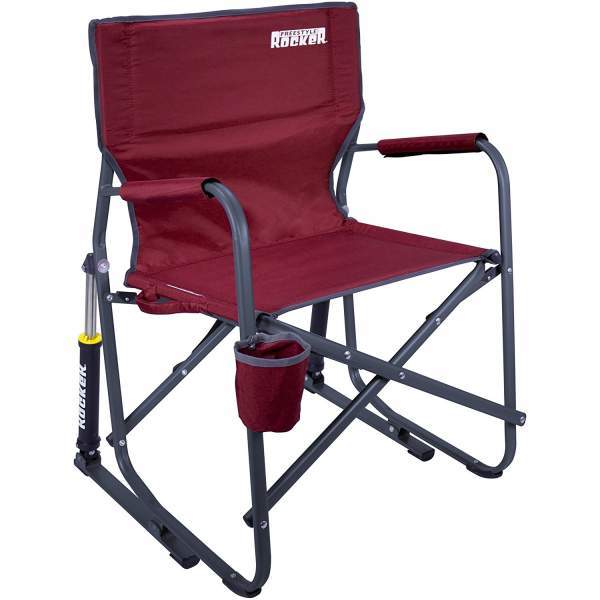 ---
Key features & benefits
Rocking chair.
Folding chair.
Padded.
Solid & padded armrests.
Bars instead of feet.
Cup holder included.
---
What type of chair is this
You see already from the title several remarkable features of this chair. This is a rocker but of a very specific type, you will see how it works in the short video below, there are two pistons on the back side. So this is a hydraulic rocking system. I have included it in my list of best camping rocking chairs.
Its design is such that this rocking feature will work even on a soft surface; you have bars on the ground and not just narrow feet, so this is a large contact area. In fact, the chair itself is raised above the ground, it rests on the two bars on the ground, this is why it can still rock even if the ground bars sink a bit. So it is unlike any other chair on the market in several ways. And do not worry, dirt will not get into the pistons.
This is also a folding chair, one of those that fold like a book. So this is both good and bad. The good is that it is ready in a second, and you also close it equally quickly. The bad is that it remains large in two dimensions, unlike those folding chairs that close like an umbrella.
But there is more, here you also have solid (and padded) armrests so getting in and out of the chair is easy.
Did you know what the letters GCI in the name mean? This is the brand name of course, and it means Great Chair Innovators. How appropriate.
---
Who is it for
Capacity-wise, the chair is not so impressive. They write it supports the weight of up to 250 lb (113 kg). I would expect more from such a structure.
Size-wise, there are two aspects here. The unfolded size is reasonable, though not impressive, 24 x 25 x 34.8 inches (61 x 64 x 88 cm). But the packed size is far from great, 34.8 x 25 x 4.9 in (88 x 64 x 12 cm). So my rating for this feature is very low; I use the same formula for all chairs presented in the site.
Weight-wise, obviously this is a heavy tool, with 12.1 lb (5.5 kg) it is very close to the King Kong chair which has a 3 times bigger capacity. But this chair has some technology built in, see those massive pistons on the back.
So you need a car to transport this chair, but then you can use it for many activities.
---
Materials
The frame is a powder-coated steel and the same material is in the armrests. The rocking system is a patented technology.
They do not provide information about the fabric, but you have a padded seat and the back section.
---
The price & rating
The daily updated price on Amazon is given in the link, so you realize this is a true bargain.

There are many reports by customers on Amazon, and the average rating is incredibly high 4.7/5. Well, my rating is considerably lower, but I use several criteria and I use them the same way for all chairs, so it is best to check relative to other chairs. See how I rate it:
My rating breakdown of the GCI Outdoor Freestyle Rocker Chair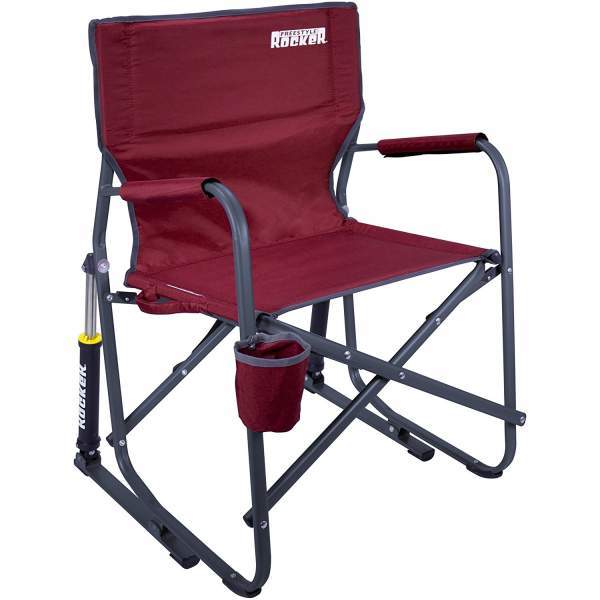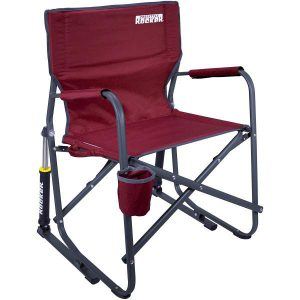 Product Name: GCI Outdoor Freestyle Rocker Portable Folding Rocking Chair
Product Description: GCI Outdoor Freestyle Rocker Portable Folding Rocking Chair is a unique design with a hydraulic rocking system and padded solid armrests. The chair is designed to work well on any surface.
Brand: GCI Outdoor
Weight -

5.5/10

Dimensions -

8/10

Packed size -

3/10

Capacity -

7/10

Comfort -

9.5/10

Craftsmanship -

9.8/10
Overall
The packed size is not so great but this is a top-quality item. My overall rating is Very Good:
Pros
Rocking chair.
Very stable.
Great armrest.
Very easy to use.
Carry handle.
Cons
Heavy.
Big packed size.
Not so great back support.
No carry bag.
No locking mechanism for the rocker.
---
Specifications
Type: folding camping chair.
Weight: 12.1 lb (5.5 kg).
Capacity: 250 lb (113 kg).
Dimensions (W x D x H): 24 x 25 x 34.8 in (61 x 64 x 88 cm).
Packed size: 34.8 x 25 x 4.9 in (88 x 64 x 12 cm).
Seat height: 19.7 in (50 cm).
Steel frame.
Two colors.
---
GCI Outdoor Freestyle Folding Rocking Chair vs Competitors
In the table below I give the GCI chair side by side with two chairs from the other brand. Those have some common features; both are with solid armrests and the Camp Chair folds the same way as the GCI Freestyle chair and it is with bars on the ground, but the Leisure is the other type that folds like an umbrella.
With this you can have an idea of what to expect from various types and also to better understand the features of the chair presented in the text here. Please follow the links for more.
Dimensions
(W x D x H), in (cm)

GCI Outdoors Freestyle Rocker
24 x 25 x 34.8
(61 x 64 x 88)

34.8 x 25 x 4.9
(88 x 64 x 12)

ALPS Mountaineering Leisure
27 x 16 x 38
(69 x 41 x 97)

45 x 7 x 7
(114 x 18 x 18)

ALPS Mountaineering Camp Chair
24 x 18 x 36
(61 x 46 x 91)

31 x 23 x 7
(79 x 58 x 18)

---
Final thoughts
I would conclude this GCI Outdoor Freestyle Rocker Portable Folding Rocking Chair review by stressing again that this is a quality item and a unique design. The chair will work as a rocker on almost any surface. The price is appropriate for what you have here.
If you need something lower, check their FirePit Rocker Chair. For taller people, check this GCI Outdoor RoadTrip Rocker Chair from the same brand. You might also want to compare it with this Kamp-Rite Folding Rocking Chair.
Please check in the category Camping Chairs if you still need to see some more options. See this Kamp-Rite Director's Chair with Side Table. Check also my list of best folding chairs where this chair is also included. But if you need something lighter check these collapsible camping chairs or these backpacking chairs. Thank you for reading and have a nice day.
---