---
In this Kijaro Rock-it Chair review you can read about a unique and very affordable folding camping chair with rocking features.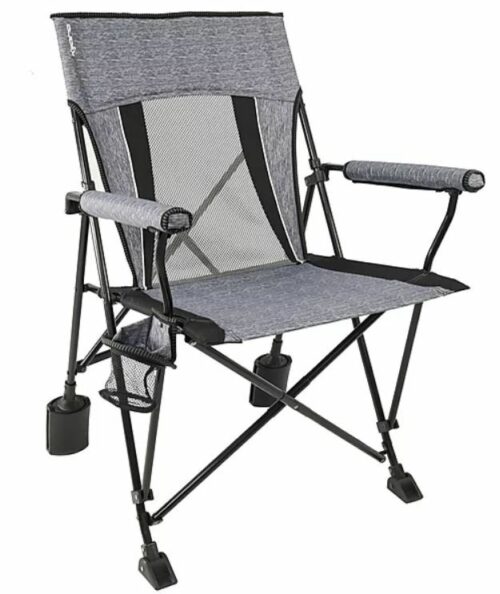 ---
Key features & benefits
Rocking chair of a particular type.
Solid armrests.
Cup holder.
Folding design.
Great price.
---
What this is about
As the name suggests, you have a unique design here with the back legs supported by a mechanism that allows the chair to rock. It is such that this rocking feature will work on any surface, and this is not so with the classic rocking chairs with rails.
But this same mechanism makes it a bit hard to rock, you need to add weight on the back area. So kids will probably not experience lots of rocking in this chair. Nevertheless, I have included it in my list of best rocking camping chairs.
This is a folding design, so there is no assembly and it is incredibly easy to use, you simply open the chair in second. There is a locking bar on the back that you press with the foot, it is visible in the picture below. It is added to my list of best folding camping chairs.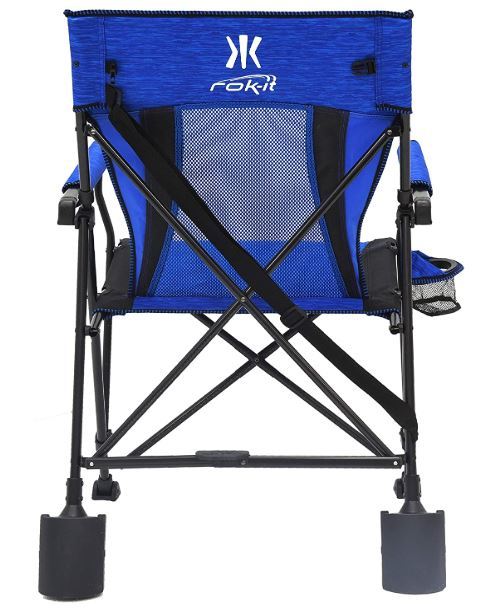 The chair is with solid and padded armrests so this makes it easy to get in and out. You also have a bonus cup holder on one side.
The frame is a durable steel, and the fabric is polyester. As you realize from the picture above, a big area on the backrest is mesh, so this is a ventilated chair suitable for summer camping.
It comes with a strap so you can carry it attached to the shoulder. Please see a bit more in this short video:
---
Who is it for
Capacity-wise, this Kijaro Rock-it Chair is quite typical with its declared 250 lb (113 kg) capacity. But it really looks strong and stable with all those X-bars and the horizontal locking bar.
Size-wise, the chair is quite big, it measures (W x L x H) 26.25 x 27 x 38.75 inches (67 x 69 x 98 cm). The seat is at around 53 cm above the ground so the chair is high, and this with the solid armrests makes it suitable for tall people, and for elderly users too because it is so easy to get in and out.
Weight-wise, the chair is on the heavy side. This should not be a big deal because this is a car camping chair in any case and you are not supposed to carry it long distances. The packed size is also such that you need a car for transportation.
The feet are huge and this is a floor-friendly design, it can be used even in a floored tent. But you can always add something underneath the feet for extra protection.
In this video you can see how to rock in this chair and how to fold it easily:
---
Specifications
Weight: 14.5 lb (6.6 kg).
Capacity: 250 lb (113 kg).
Dimensions (W x L x H): 26.25 x 27 x 38.75 in (67 x 69 x 98 cm).
Built-in carry strap.
Frame: steel.
Colors: 2.
---
Rating, pros & cons
The chair is heavy and long when packed, and this negatively affects my overall rating. See how I rate it against my standard set of criteria used for all the chairs here in the site, so you can easily compare:
Unique rocking design that works on any type of ground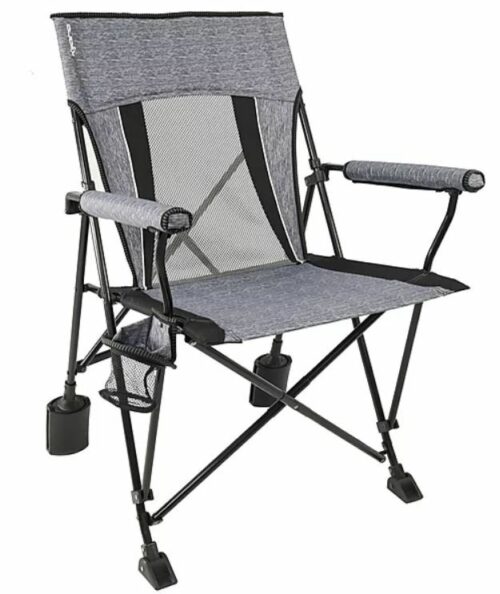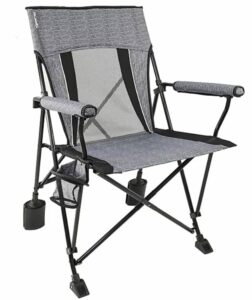 Product Name: Kijaro Rock-it Chair
Product Description: This Kijaro Rock-it Chair is Unique and Very Affordable Folding Camping Chair with Solid Padded Arm Rests & Rocking Design.
Brand: Kijaro
SKU: B07S85KMD2
MPN: 99012
Weight -

4/10

Dimensions -

8.5/10

Packed size -

5.5/10

Capacity -

7/10

Comfort -

9.6/10

Craftsmanship -

9.7/10
Summary
This chair is quite heavy but stable and reliable. My overall rating is Good.
Pros
Great quality.
Solid armrests.
Rocking design.
Great price.
---
Final thoughts
In the summary of this Kijaro Rock-it Chair review, I wish to stress that here you have a chair from a renown brand that is best known for its quality chairs. It comes with a great price/value combination and some unique features. Fully recommended.
There are many chairs presented here in the site, so if you need more options just check under the category Camping Chairs.
We add texts here regularly, so bookmark this site and stay informed. Thank you for reading and have a nice day.