---
This Cliq Camping Chair review is about a unique folding, lightweight, incredibly packable, backpack-portable, easy to use, and reliable chair.
---
Key features & benefits
Folding chair.
Backpack portable.
Aluminum frame.
Extremely easy to use.
Patented design.
---
What this is about
Here you have a folding chair with a very specific patented design (patent #US 10,010,179) and currently, there is nothing similar to this on the market.
It opens and closes like an umbrella so when packed it is small in all dimensions. It measures (L x D) 13 x 3.4 inches (33 x 8.9 cm). They describe it as bottle-sized, so below you can see it next to a bottle to realize this is almost true.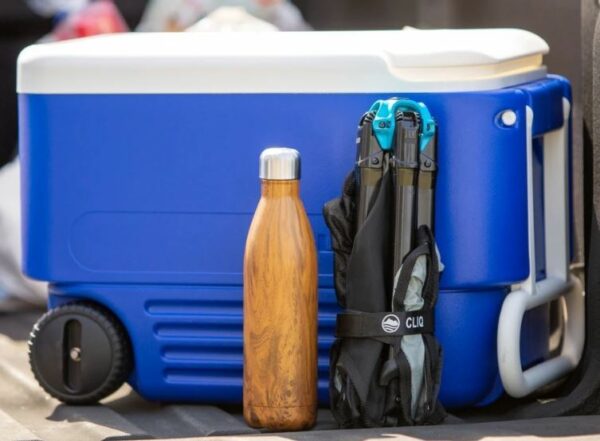 The chair comes ready to use, so just open its Velcro strap and then push the release button on the bottom, this allows the legs to spread. Then extend its telescopic upper tubes. They write about 5-seconds setup, well, make it 15, this is still fast enough and you can call it an instant chair.
To close, do the opposite, there are small pop-up buttons on each of the upper tubes, so press and collapse the tubes. After that press the main bottom button to fold the legs.
Below you can see how it looks from the side, the backrest is quite short and the frame looks strong.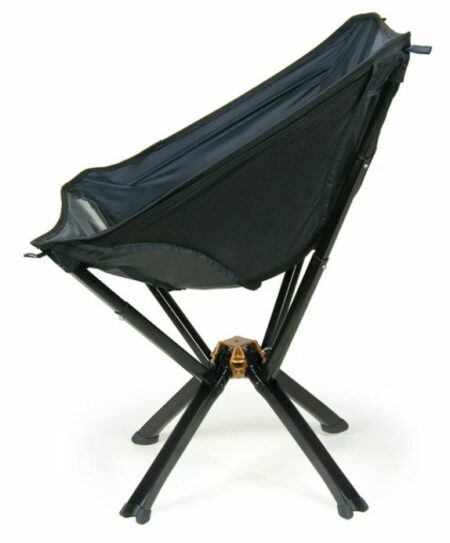 They have already had a chair with similar features a few years ago, it was under the name Go Chair and it was slightly lighter mainly due to a bit thinner fabric. So if you still have this chair, no need to buy this new version, they are almost the same.
The materials
The frame is aircraft-grade anodized aluminum, and it includes 4 legs and 4 top poles where the seat is attached. The hub element is the most important part here, and this is also aluminum, you can see it in the pictures below as that yellowish part.

The feet are a non-skid hard rubber. The fabric is a ripstop ballistic nylon. You have double stitching for durability. So this is all a high-level craftsmanship and durable material are used in the construction.
---
Who is it for
Regarding the weight, this is  a very light chair with its 3.65 lb (1.66 kg). The packed size is excellent, you have seen it already. So it is indeed backpack-portable as you see from the picture below.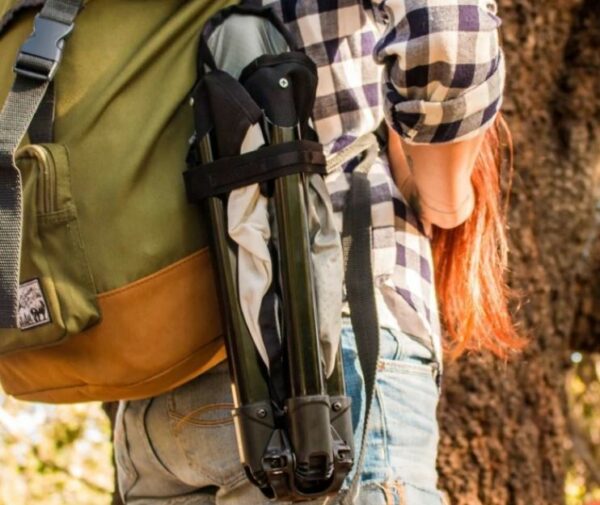 But this is not a backpacking ultralight chair, check this list to see how light those chairs can be. I have included it in my list of folding chairs.
Regarding the dimensions, the picture below reveals what you have. So the chair is with a very low seat, it is at around 12 inches (30 cm) above ground, and the overall dimensions are (W x L x H) 24 x 24 x 26 inches (61 x 61 x 66 cm). So there is no high backrest here and there are no armrests. It will keep you off the ground but comfort is a bit limited.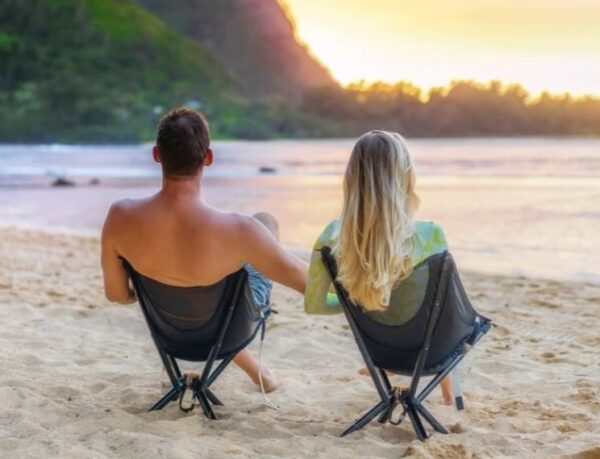 Regarding the capacity, with the official 300 lb (136 kg) capacity this chair is quite typical, but when you see its size and its packed size, this looks impressive. In any case, this capacity is good enough for most of the users.
Regarding the price, the chair may look a bit expensive but this is indeed a unique construction, there is nothing similar on the market. So this is a reasonable price for the value.

Please see a bit more in this short video:
---
Specifications
Weight: 3.65 lb (1.66 kg).
Capacity: 300 lb (136 kg).
Dimensions (W x L x H): 24 x 24 x 26 in (61 x 61 x 66 cm).
Packed size (L x D): 13 x 3.4 in (33 x 8.9 cm).
Seat height: 12 in (30 cm).
---
Rating, pros & cons
I have a set of rating criteria that I apply to all the chairs, and this Cliq Camping Chair scores very high in most of them so the average rating is high, have a look: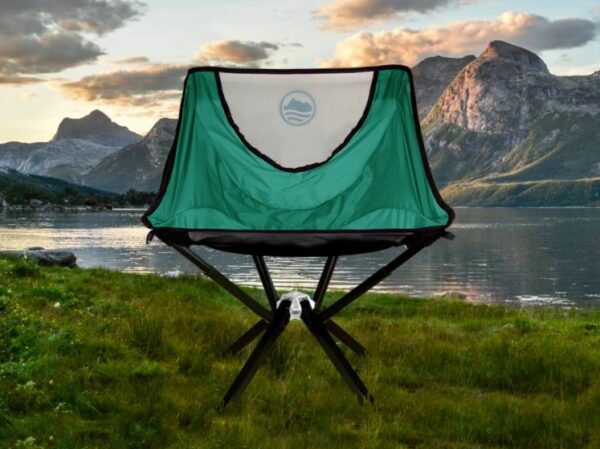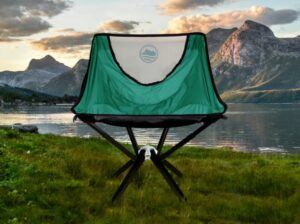 Product Name: Cliq Camping Chair
Product Description: This Cliq Camping Chair Review is About a Unique Folding Lightweight and Incredibly Packable Backpack-Portable Chair, Easy to Use, and Reliable.
Brand: Cliq
SKU: B07V6MR1R5
Weight -

8.4/10

Dimensions -

7.5/10

Packed size -

10/10

Capacity -

7.5/10

Comfort -

8.5/10

Craftsmanship -

9.7/10
Summary
The size of this chair is not so impressive but the overall rating is Excellent.
Pros
Unique design.
Very easy to use.
Excellent packed size.
Cons
No carry bag.
A bit expensive.
---
Final thoughts
To summarize this Cliq Camping Chair review, if you want something totally unique, this is it. The patented design is behind the incredible packed size of this chair. This is what makes it so versatile, suitable for camping, for the beach, sporting events, open-air festivals, and you name it. Fully recommended.

Check under the category Camping Chairs if you are still undecided and need more options. You might want to compare it with this Coleman Kickback Breeze Chair. But see also this ultralight MOON LENCE Backpacking Chair if you need a chair for the trail.
Bookmark this site and visit again, we add texts here regularly so this will keep you informed. Thank you for reading and have a nice day.