---
The CORE Equipment Tension Chair with Carry Bag is a folding and collapsible steel camping chair with armrests and with a bonus cup holder and a phone holder.
---
Key features & benefits
Carry bag included.
Cup holder.
Phone holder.
Large chair.
Light padding on the back and the seat.
Superior support.

---
What is in the name
With the word tension, they want to say that this is not a saggy camp chair. On the contrary, the chair offers a great support and breathability due to its mesh area on the back. But you also have a right amount of padding in the seat and in the shoulder area for comfort without much bulk.
This is one of those chairs that fold like an umbrella from all four directions and it remains a bit long in one dimension only. Setting it up is easy and this is done in seconds. There is no assembly here, this is all one piece which you open in one move.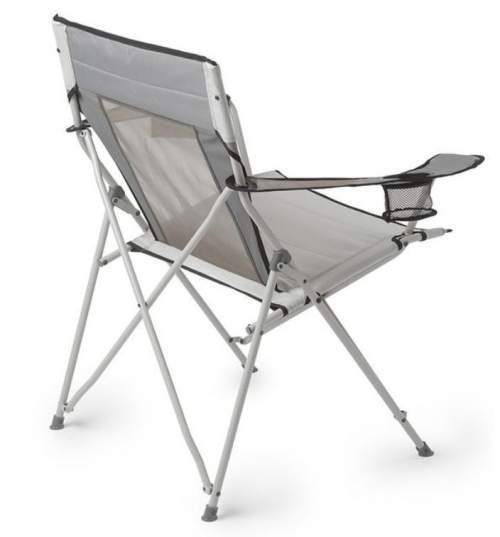 ---
Who is it for
Capacity-wise, the chair supports the weight of up to 300 lb (136 kg), so this should be good enough for most of the users.
Weight-wise, you will realize from the comparison table below that with 9.6 lb (4.35 kg) this is a reasonably lightweight chair for such a type.
Size-wise, the dimensions of this chair are great (W x D x H) 37 x 25 x 37 inches (94 x 64 x 94 cm), and the seat size is (W x D) 22.5 x 16.5 inches (57 x 42 cm). So the back is quite high and you have a good back support, but this is not a chair with a headrest; if you need one of those, please check my text about the chairs with headrests.
Note that the seat here is at 19 inches (48 cm) above the ground, so it is moderately high and you have the armrests to help you get in and out of the chair.
The packed size is also quite typical, it fits easily into its carry bag which is of the dimensions (L x D) 39 x 6.1 inches (99 x 15.5 cm). So you need a car for transportation. As you see from the picture, you have a strap to carry it short distances over the shoulder.

---
Materials & construction
This is a steel construction so the mentioned weight is quite normal. You have tubes with 14.5 mm, 16 mm, and 19 mm in the diameter. The feet are such that the chair is best suited for a hard surface, it will sink if you use it on a soft terrain or on a sand. The sling is 600D polyester with a light padding, and a nylon mesh.
The chair comes with several bonuses and those include the carry bag, the oversized cup holder, the unique phone holder, and the armrests, you can see them in the pictures below.
---
Good and less good features
Here is my short summary:

Very easy to use.
Very good price.
Carry bag included.
Great size.
Quality construction.

The price & rating
As of the moment of writing this text, the Amazon price for this chair is roughly $45. I find this a fair price for what you get here.
There is a limited number of customers' reports on Amazon and so far the chair has scored an incredible 5.0/5 average rate. Now, my rate is a bit different, but I use several criteria and I use them consistently for all the chairs in the site. So it is best to compare chairs side by side (you will see some below) rather than focusing on the absolute value of the rating.
My rating breakdown of the CORE Equipment Tension Chair:
Weight -

6.5/10

Dimensions -

9.1/10

Packed size -

6.5/10

Capacity -

7.5/10

Comfort -

9.5/10

Craftsmanship -

9.3/10

Price -

9.5/10
---
Specifications
Type: folding & collapsible chair.
Weight: 9.6 lb (4.35 kg).
Capacity: 300 lb (136 kg).
Dimensions (W x D x H): 37 x 25 x 37 in (94 x 64 x 94 cm).
Seat size (W x D): 22.5 x 16.5 in (57 x 42 cm).
Seat height: 19 in (48 cm).
Packed size (L x D): 39 x 6.1 in (99 x 15.5 cm).
Frame: steel.
---
CORE Equipment Tension Chair vs Competitors
As mentioned above, it may be useful to compare this chair with some other models built in the same style. So I give two of them from the top brands. As you see, it is in between the two regarding the weight, dimensions, and the packed size, but the capacity is a bit lower. Please follow the links in the table to check the updated prices.
Dimensions
(W x D x H), in (cm)

37 x 25 x 37
(94 x 64 x 94)

39 x 6.1 x 6.1
(99 x 16 x 16)

35 x 22 x 38
(89 x 56 x 96)

ALPS Mountaineering King Kong
38 x 20 x 38
(96 x 51 x 96)

41 x 7 x 7
(104 x 18 x 18)

---
Final thoughts

If you need more options, just search in the category Camping Chairs here in the site, there are all possible models reviewed in detail, so you will find something for you. Thank you for reading and please use the comment box below if you have any question or comment. 

---