---
This YETI Trailhead Collapsible Camp Chair review is about a top-quality heavy-duty and easy-to-use chair with a huge capacity.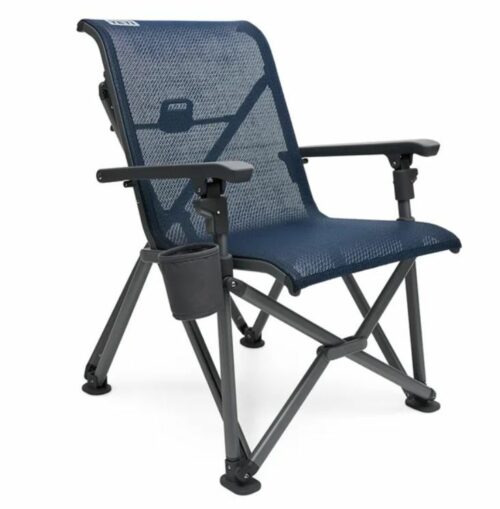 ---
Key features & benefits
Folding chair.
Huge capacity.
Solid armrests.
Wide feet.
Rock-solid chair.
Carry bag.
---
Overview
YETI as a brand is not well-known for its chairs, in fact, this Trailhead Camping Chair is their second chair so far. But this is a high-quality product as you would expect from such a brand.
So this is a chair from the group of folding chairs, and this means it needs no assembly. You unfold it in seconds. They use the word 'collapsible' in the name, and this might be a bit misleading. This term usually applies to chairs that need assembly which is not the case here.
My guess is they wanted to say that it collapses/folds to a relatively small size so it becomes thin (but a bit long) when packed, see the pictures below. Its official packed size is 43 x 11.75 x 9 inches (109 x 30 x 23 cm). The carry bag is shown below, and I can tell you it is quite longer and wider than the folded chair shown on the left.
As you realize from the picture above, the carry bag is backpack-style, you have quite comfortable and adjustable shoulder straps, so you can carry it short distances. There is a long zipper on the side, so getting the chair in and out is easy. You know that this is not always so with outdoor equipment.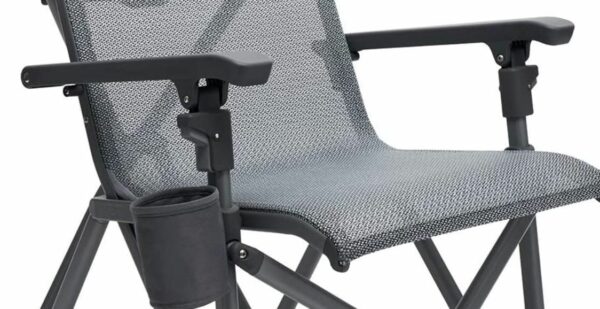 You can take the chair out of the carry bag, and have it ready in up to 20 seconds. It has 2 locks under its solid armrests (one is visible in the picture above) that secure the chair automatically when you press the armrests down. This also adds tension to the seat's fabric. Yet another handle is on the back, you can see it in the picture below.
When you want to fold the chair and pack it in the bag, unlock the side mechanisms, pull the back handle and it will fold. Then place it easily in the bag. Note that you have instructions on the armrests, on one side you have pictures showing how to unfold the chair, and on the other side how to fold it.
The cup holder visible in the picture above can be removed, and it can be attached also on the other side, this is easily done. Note that the cup holder is a thick fabric and it has a small hole on the bottom. When you pack the chair, the holder packs nicely, it is a soft material of course.
One minor detail that I dislike here is that the cup holder is a bit close to the locking button, so a bottle or a cup can hit it when you want to pull it out. Also, I wonder why they do not sell the cup holder as an accessory, no doubt some people would love to have it on the other side as well.
Materials
This chair looks rock solid so the frame is great, but its fabric is something unique, it looks like a trampoline style mesh but it is soft and pleasant. They call it Flexgrid fabric, and it is designed to conform to your body.
The side picture below shows how nicely it is curved on the top and also on the front, so you have no pressure points anywhere. This is all the mentioned mesh, there are no bars anywhere close to the fabric.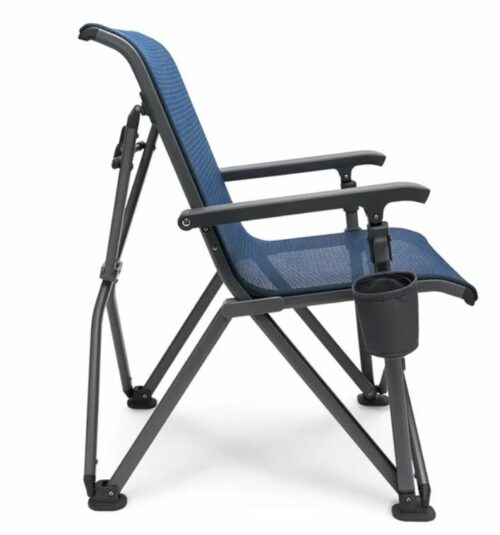 They have a separate name for the frame as well, so they call it Packaway frame. Essentially it is folding, and you can see more of it in the picture below that shows the chair from the back. I have all the good reasons to include this chair in my list of best folding camping chairs.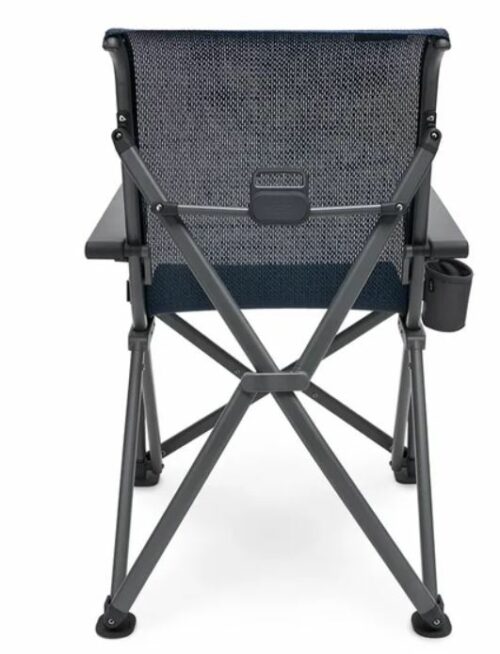 The feet are very wide so the chair will not easily sink in the ground, and you can use it in a floored tent. And yes, they have the name here too, so these are Groundgrip Feet. There is some texture on the feet for a perfect grip.
They also claim that the chair is UV rated, but I did not see a rating, just a statement that it will not break down. I think everything breaks down due to UV rays. From what I have seen, they build it in two colors shown in the pictures.
A bit more in this very short video, please have a look:
---
Who is it for
Capacity-wise, this chair is officially for users of up to 500 lb (227 kg). It is hard to imagine you will even need more. So I have included this chair in my list of best camping chairs for heavy people.
Size-wise, the dimensions of the chair are great and you can see them all in the picture below. The backrest is high but you do not have a headrest here.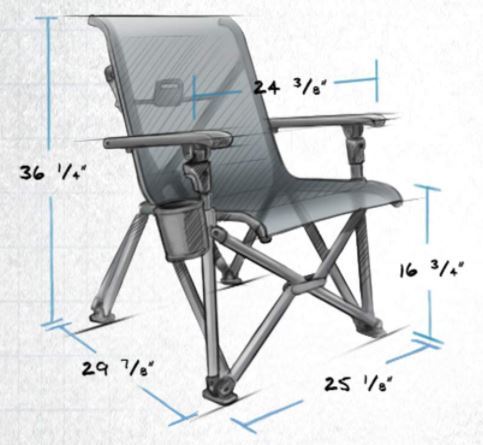 Note that the seat is not very high, but you have solid armrests that help to get in and out of the chair.
Weight-wise, the chair is moderately heavy with its 13.3 lb (6 kg). You have already seen its packed size, so it is portable, and you have shoulder straps but this is not really something to carry long distances from the car.
Regarding the price, this brand is not known for low prices, but it is known for quality. So the price is steep and if you are on a budget better check under the category Camping Chairs here in the site.

---
Specifications
Weight: 13.3 lb (6 kg).
Capacity: 500 lb (227 kg).
Dimensions (H x D x W): 36.25 x 29.87 x 25.12 in (92 x 76 x 63.8 cm).
Seat height: 16.75 in (42.5 cm).
Packed size: 43 x 11.75 x 9 in (109 x 30 x 23 cm).
---
Rating, pros & cons
In the table below you have the summary of my rating, and pros & cons. Obviously, the chair does not score well in some criteria, but perhaps those are of no importance to you so focus on those that are.
High quality chair & huge capacity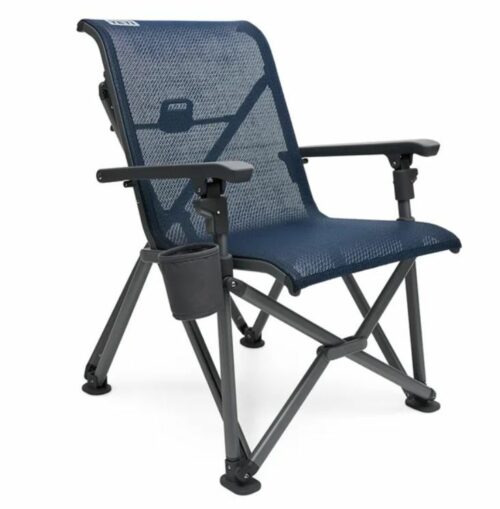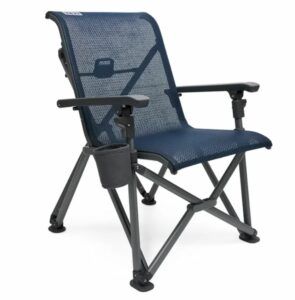 Product Name: YETI Trailhead Collapsible Camp Chair
Product Description: This YETI Trailhead Collapsible Camp Chair review is about a top-quality heavy-duty and easy-to-use chair with a huge capacity.
Brand: YETI
SKU: B0842C2BWB
Weight -

5/10

Dimensions -

8.5/10

Packed size -

2.5/10

Capacity -

9.8/10

Comfort -

9.7/10

Craftsmanship -

9.8/10
---
Final thoughts
In the summary of this YETI Trailhead Collapsible Camp Chair review, I can say that there are no many chairs on the market that can match the quality and craftsmanship of this chair. But this comes at a price. In any case, fully recommended if you can afford it.
There are many chairs of various types presented here in the site, so just search under the category Camping Chairs if you need more options. See this Timber Ridge Fraser Deluxe Bungee Chair if you want a padded camping chair.
Let me know if you have questions or comments, there is a comment box below. Have a nice day.