---
Kamp-Rite Director's Chair with Side Table is a folding padded chair with solid armrests, easy to use, and very affordable.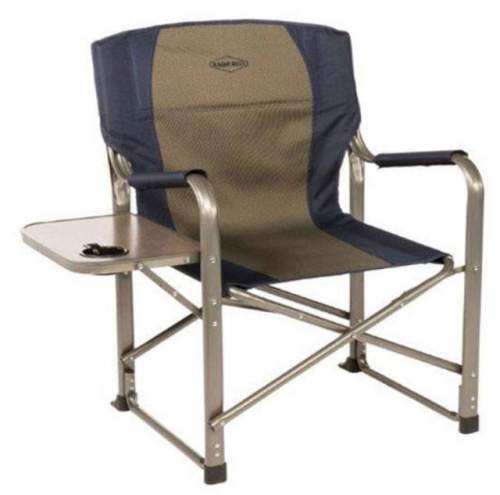 ---
Key features & benefits
Side table included.
Solid armrests.
Easy to use folding design.
Cup holder.
Reasonable price.
---
What type of camping chair is this
This is one of those chairs that fold from the two sides like a book, so it remains relatively large in the packed state, see the picture below. Here you have the packed size of 37 x 22 x 7 inches (94 x 56 x 18 cm), so bear this in mind when you plan your camping, this chair does take some space in the car trunk.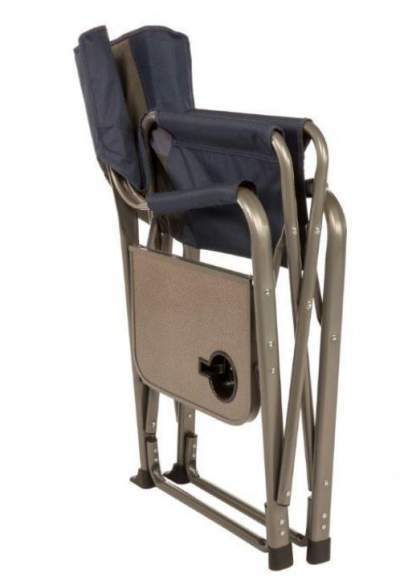 But this is also an item which needs no assembly, you make it ready in a second or two, and equally fast you take it down. It is best that you see this short video by Kamp-Rite, otherwise you might not believe how easy to use this chair is:
Bonuses
I mentioned them above, so you have a side table which is foldable and you have seen in the video how it is used.
There is also a cup holder integrated into the side table, so a cup or a can will not slide down when you put it on the table.
Yet another bonus is its solid armrests that help a lot when you get in and out of the chair. In this sense, it is similar to the Alps Mountaineering Camp Chair which you will see in the comparison table below. This feature may be particularly useful to elderly people.
The table and the armrests are the reason for its relatively large packed size, so as you see you get something but you lose something at the same time.
---
Who is it for
Capacity-wise, the chair is with a very good weight capacity, it can support up to 350 lb (159 kg).
Size-wise, the dimensions are quite typical, 34 x 20 x 38 inches (86 x 51 x 96 in) except for the width which is due to the side table, this is not the actual width of the seat of course. The seat is 21 inches (53 cm) wide, and it is at 18 inches (46 cm) above the ground.
Note that the back section is not high enough for a headrest, it is around 25 inches (64 cm) above the seat level. If you need a chair with a headrest, please check some of these.
Weight-wise, with 14 lb (6.35 kg) this is one of the heavier tools, and you will realize this from the comparison table below.
I already mentioned its packed size which is not so great, so you need a car for such a bulky and heavy item.
---
Materials & construction
The frame is a reinforced aluminum and it is easy to fold. Note that the chair is with 4 feet with some hard plastic caps, but there are also two bars. Such a construction is floor friendly, and it will not sink on a soft ground.
The armrests are with a foam padding, and the seat and the back are also with some padding. The fabric is a heavy-duty 600D polyester.
---
My rating, pros & cons
The rating by Amazon customers is very positive, the chair has been on the market for a few years already and it has received 86 reports as of the moment of writing this text. The average rating is very high 4.4/5.
See how I rate it for several parameters, note that I use the same criteria for all the chairs, so the rating is consistent:
My rating breakdown of the Kamp Rite Director's Chair with Side Table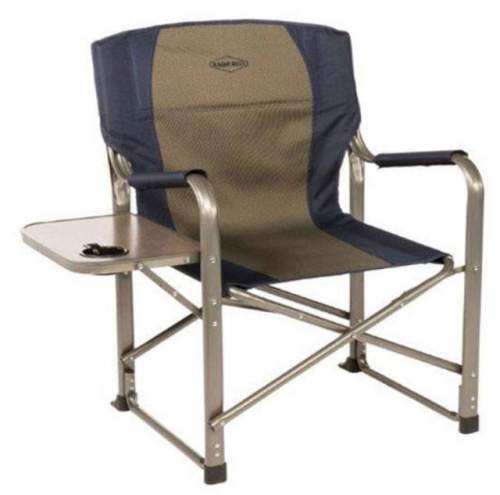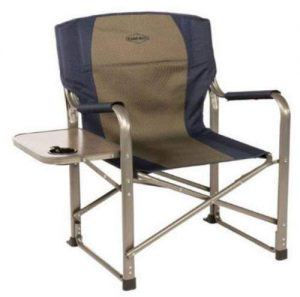 Product Name: Kamp-Rite Director's Chair with Side Table
Product Description: Kamp-Rite Director's Chair with Side Table is a folding padded chair with solid armrests, easy to use, and very affordable.
Brand: Kamp-Rite
SKU: B00KH03UDW
MPN: CC105
Weight -

4.5/10

Dimensions -

7.7/10

Packed size -

1.5/10

Capacity -

8/10

Comfort -

9.5/10

Craftsmanship -

9.4/10
Summary
My overall rating is affected by the packed size, but it is still Good:
Pros
Very stable on any terrain.
Padded solid armrests.
Very easy to use.
Bonuses.
Great price.
Cons
Not great packed size.
Heavy.
---
Specifications
Type: folding camping chair.
Weight: 14 lb (6.35 kg).
Capacity: 350 lb (159 kg).
Dimensions (W x D x H): 34 x 20 x 38 in (86 x 51 x 96 in) – this is with the table. The chair alone is around 24 inches (61 cm) wide.
Packed size: 37 x 22 x 7 in (94 x 56 x 18 cm).
Seat height: 18 in (46 cm).
Seat width: 21 in (53 cm).
---
Kamp-Rite Director's Chair vs Competitors
In the table below I give this Kamp-Rite chair side by side with two other chairs built in the same style, i.e., with solid armrest and purely folding chairs. As you see, it is heavier but it is also bigger, and its packed size is really not impressive. Please follow the links to read more.
Dimensions
(W x D x H), in (cm)

Kamp Rite Director's Chair
24 x 20 x 38
(61 x 51 x 96)

37 x 22 x 7
(94 x 56 x 18)

GCI Outdoors Freestyle Rocker
24 x 25 x 34.8
(61 x 64 x 88)

34.8 x 25 x 4.9
(88 x 64 x 12)

ALPS Mountaineering Camp Chair
24 x 18 x 36
(61 x 46 x 91)

31 x 23 x 7
(79 x 58 x 18)

---
Final thoughts
Kamp-Rite Director's Chair with Side Table is a reliable item from a well-known brand. It has been on the market for some time already and everything is known about it, there can be no unpleasant surprises. I can fully recommend it. This is a right value for the money. I have included it in my list of best folding camping chairs with a side table.
Check on Amazon
Check at Walmart
If you need to see some more options, please check in the category Camping Chairs, there are many of them presented in detail. This Timber Ridge Director's Chair with side table is built in the same style and the same holds for this Stylish Camping Full Back Folding Director's Chair so have a look and compare.
You might want to check also this Kamp-Rite Folding Rocking Chair which is as the name says, a rocker-type chair. Yet another rocking chair is this Browning Camping Cabin Chair with a better packed size.
Thank you for reading and please use the comment box below in the case of questions or comments. Have a nice day.

---