---
ALPS Mountaineering Camp Chair is a very sturdy and padded folding chair with a great design and solid armrests, a tool built to last.
---
Key features & benefits
Great capacity.
Aluminum & steel frame.
Folding chair.
Solid armrests.
Padded seat and armrests.
---
What type is this
The Camp Chair is one of those purely folding chairs, and by this I mean the chairs that fold from the sides to the middle, like a book. So it remains relatively large in two dimensions, its packed size is 31 x 23 x 7 inches (79 x 58 x 18 cm). See the picture below to realize what this means:
From the picture you realize that the anatomic armrests remain unfolded, they are rigid and they determine one of the dimensions of the folded chair.
The chair comes with the bonus cup holder. I have seen people asking if it can be moved to the other side. The answer is perhaps, but with some work. It is riveted to the chair with a screw, and you would have to drill a hole on the other side, so better forget.
Note also that the chair comes with some modest padding, quite typical for such a type.
---
Who is it for
Capacity-wise, the chair is impressive. It can accommodate people of up to 425 lb (193 kg).
Size-wise, it is not the largest on the market. The seat size is 19 x 18 inches (48 x 46 cm). This is a quite good size, you can compare it to the other chair from the same brand, the Leisure chair which is with the seat of 22 x 16 inches (56 x 41 cm). But if you need something bigger, compare this with the chair size of the King Kong (again the same brand) where it is 24.5 x 20 inches (62 x 51 cm). So now you might have a clear feeling of where this chair fits regarding the size and comfort.
Note also that the seat is at 17 inches (43 cm) above the ground. So this may be a bit low for very tall people, or for elderly people as well. But those rigid armrests do help to get in and out easily.
Weight-wise, this is again quite a moderate chair for this type, it weighs 10.5 lb (4.76 kg). So it is heavier than Kelty Lowdown which is 7.37 (3.4 kg), but it is lighter than the King Kong which weighs 12.5 (5.7 kg).
So all in all, this is a camping chair that can be used at places with a car access.
---
Materials & construction
The frame is aluminum and it is supported by steel tubes, this explains the weight. So this is a very strong and stable structure.
Note that you have two horizontal bars between the front and back legs. This not only increases the strength but it also helps when you use it on a soft terrain. This chair will not sink so easily, and I find this a great feature which compensates for the fact that it is relatively large when packed. These two bars have the same effect on the packed size as the solid armrests above them. So this design allows for using it even on the sand and on other soft surfaces.
The armrests are very anatomical and they are also padded so you have no direct contact with metal, you have a soft surface instead.
The fabric is quite standard, 600D polyester, you will find the same material in many chairs of that type. But there is padding as I mentioned above.
Please see more in this short video:
---
My rating, pros & cons
I take into account several parameters and use the same criteria for all the chairs in the site. So do not focus on the absolute value of the rating, rather compare different chairs and different parameters to get some idea:
My rating breakdown of the ALPS Mountaineering Camp Chair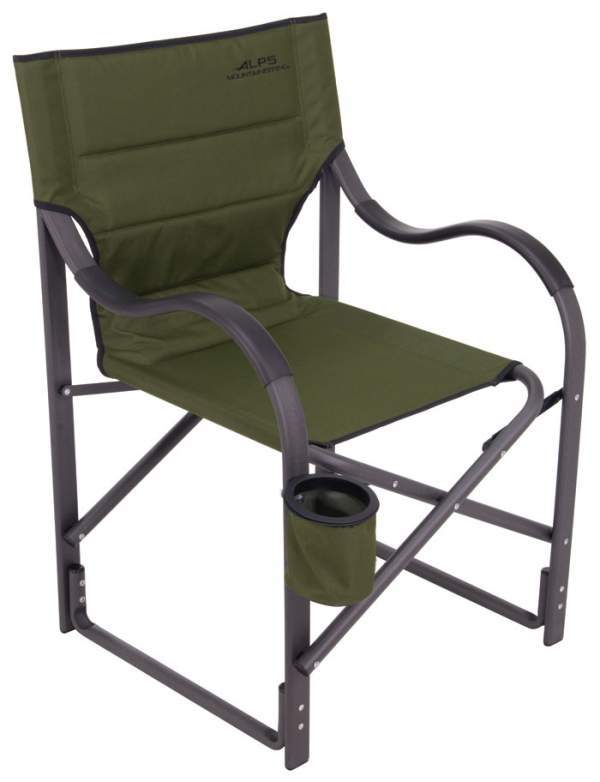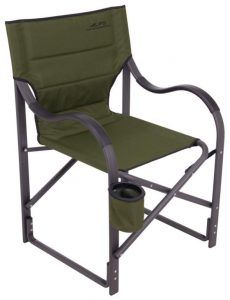 Product Name: ALPS Mountaineering Camp Chair
Product Description: ALPS Mountaineering Camp Chair is a very sturdy and padded folding chair with a great design and solid armrests, a tool built to last.
Brand: ALPS Mountaineering
Weight -

6/10

Dimensions -

7.5/10

Packed size -

2/10

Capacity -

9/10

Comfort -

9.4/10

Craftsmanship -

9.8/10
Overall
My final rating for this chair is Very Good:
Pros
Very comfortable.
Very stable.
Great armrest design.
Very easy to use.
It looks cool.
3 colors to choose from.
Cons
A bit expensive, but worth it.
Not great packed size.
---
Specifications
Type: folding camping chair.
Weight: 10.5 lb (4.76 kg).
Capacity: 425 lb (193 kg).
Dimensions (W x D x H): 24 x 18 x 36 in (61 x 46 x 91 cm).
Seat height: 17 in (43 cm).
Seat size (W x D): 19 x 18 in (48 x 46 cm).
Packed size: 31 x 23 x 7 in (79 x 58 x 18 cm).
Frame: aluminum & steel.
---
ALPS Mountaineering Camp Chair vs Competitors
Here I give this Camp Chair side by side with two other top-notch items, all of them are included in my list of best folding camping chairs. I include the Leisure chair on purpose because of its solid armrests design similar to the Camp Chair.
There are big differences in their weight but this is not essential, none of them is designed to be carried long distances. I would rather focus on comfort, packed size, and perhaps the price as well. Please follow the links to read more.
Dimensions
(W x D x H), in (cm)

ALPS Mountaineering Camp Chair
24 x 18 x 36
(61 x 46 x 91)

31 x 23 x 7
(79 x 58 x 18)

ALPS Mountaineering Leisure
27 x 16 x 38
(69 x 41 x 97)

45 x 7 x 7
(114 x 18 x 18)

21.5 x 20 x 29 (55 x 51 x 74)

32.5 x 8 x 8
(83 x 20 x 20)

---
Final thoughts
In the summary of this ALPS Mountaineering Camp Chair review, I would stress again that this is a really nicely built chair. This is a very strong item, the craftsmanship is at a very high level, it is built to last. So even if it looks a bit pricey, it is worth the investment if you can afford it.
If you still feel you need to see more, please check in the category Camping Chairs, there are many of them reviewed in detail. You might want to compare it with this Kamp-Rite Director's Chair with Side Table and also this Timber Ridge Director's Chair with side table built in the same style. Check also this GCI Outdoor Freestyle Rocker Chair with some patented features. But if you want something with a huge capacity, check this ALPS OutdoorZ King Kong Chair which supports 800 lb (363 kg) of weight.
Please use the comment box below in case of questions or comments. Have a nice day.

---