---
The Snow Peak Red Folding Chair is very easy to use, versatile and elegant, with solid armrests and aluminum frame, suitable for home and outdoor use.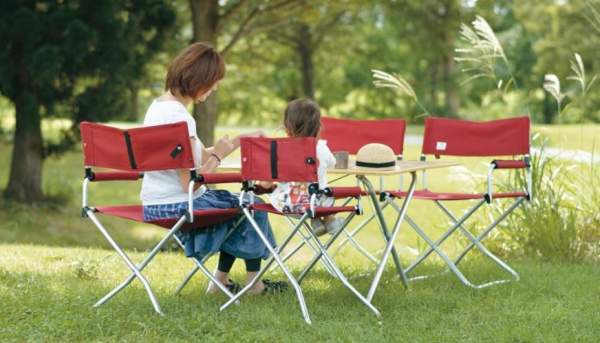 ---
Key features & benefits
Easy to use.
Packs very thin.
Versatile.
Quality craftsmanship.
Great warranty.
---
What this is about
This Snow Peak Red Folding Chair has been around for a number of years, and this is one of their best-known products. You have a very elegant and easy to use construction. The series of pictures below show how you fold it.

As you realize, you first fold the backrest. This is possible because of its tilting design, see below the detail related to this feature.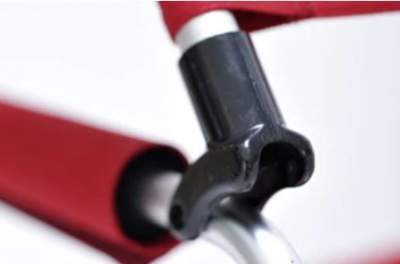 So there is no assembly here, you simply open it or close in seconds. This is what makes it so easy to use.
Solid armrests
The chair has a frame that includes solid armrests. A cool feature here is that the fabric covering the armrests padding is removable and you can wash it.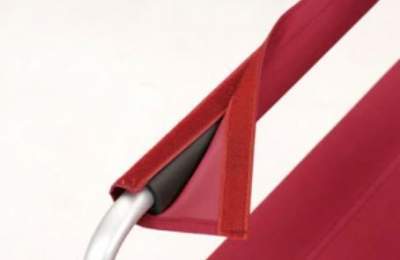 Below you have a back view showing its low backrest. There is a snap button which you use to fix the chair when folded.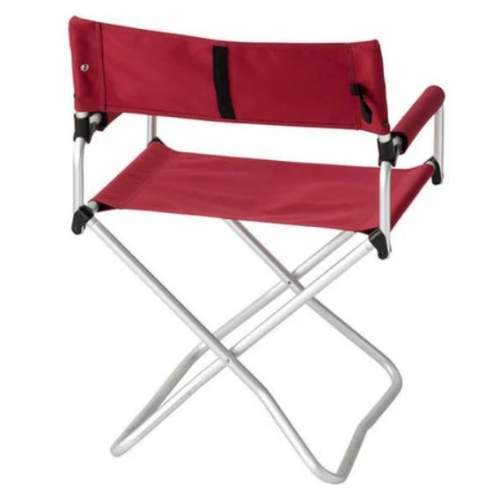 The backrest is properly angled so this chair can be used for sitting and as a dining chair in the camp or at home, and it should fit any standard dining table. You have seen this in the top picture above.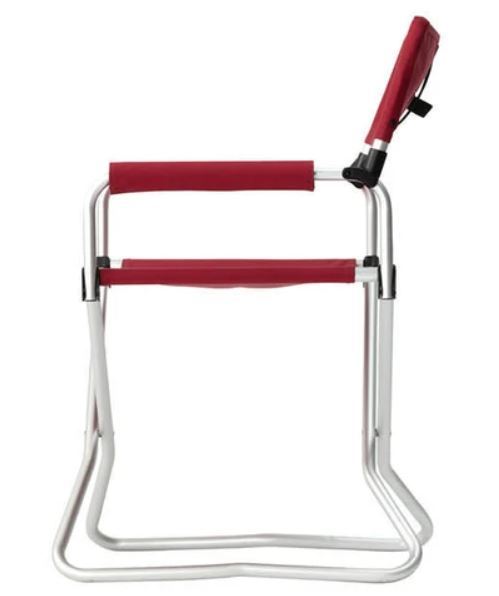 Materials and construction
The frame is a durable aluminum with cast zinc joints. The red fabric is polyester, so it dries quickly if it gets wet. The padding on the solid armrests is a urethane foam. This is a very elegant and simplistic design.
---
Who is it for
Regarding the capacity, the chair is quite modest in view of its 250 lb (113 kg) official capacity. This should still be good enough for most of potential users.
On the other hand, note that it comes with an excellent warranty, so you know what you are buying.
Regarding the dimensions, it is of a moderate size, but the seat is quite wide, the overall dimensions are (L x W x H) 23.4 x 22.8 x 33 inches (59 x 58 x 84 cm).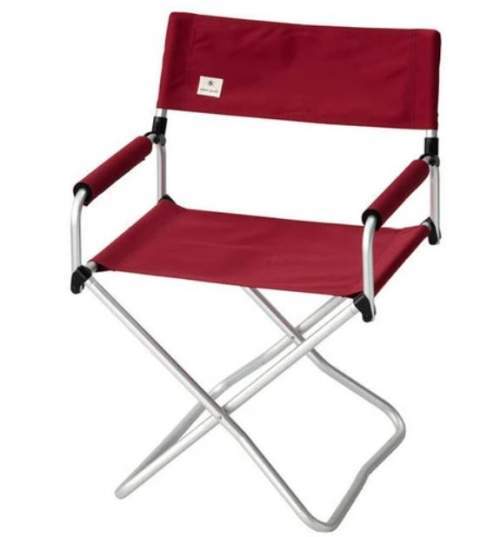 The seat is 18 inches (46 cm) high, and with its solid armrests this is suitable for elderly users, getting in and out is easy.
On the other hand, it looks so elegant that you can use it at home as well, the picture below shows this. Instead of legs, here are two bars on the ground so this is a floor friendly design and it can be used even in floored family camping tents.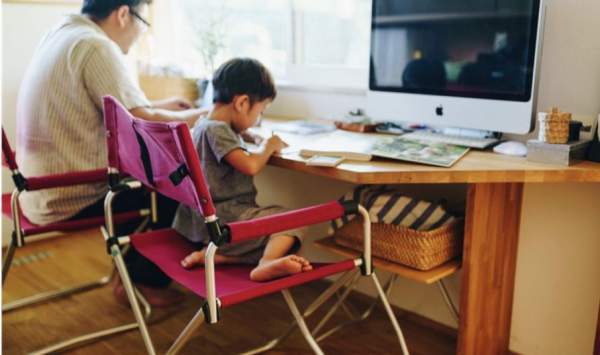 Regarding the weight, it is moderate for such a type, it weighs 7.7 lb (3.5 kg). But the packed size is not its best feature, though it folds very thin so it fits in narrow spaces.
Regarding the price, this brand is not best known for low prices of its products, but it is well-known for the quality and warranty. This has a price.

Warranty
On their site they write that they submit all products to the highest standards of engineering and testing for a long-lasting durability. Their products are guaranteed for life, read more here.
They claim if you find that any of their products doesn't function properly, contact them and they will repair it or exchange it free of charge.
---
Specifications
Weight: 7.7 lb (3.5 kg).
Capacity: 250 lb (113 kg).
Dimensions (L x W x H): 23.4 x 22.8 x 33 in (59 x 58 x 84 cm).
Folded dimensions: 27.2 x 22.9 x 4.25 in (69 x 58 x 11 cm).
Seat height: 18 in (46 cm).
Frame: aluminum.
---
Rating, pros & cons
I use the same criteria for all the chairs, and below you can see how this chair stands. You can rate if from your side, there is a rating bar for this purpose.
Great quality and warranty conditions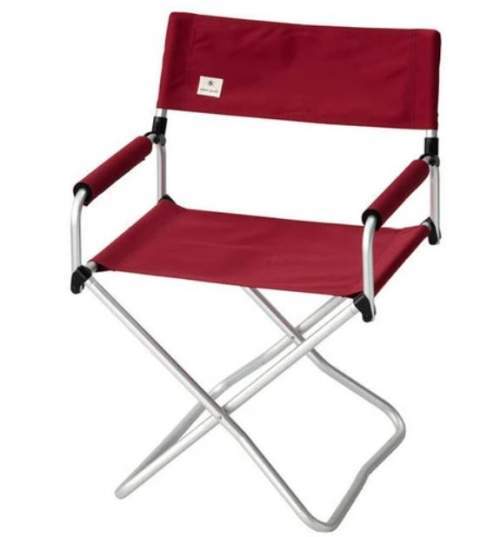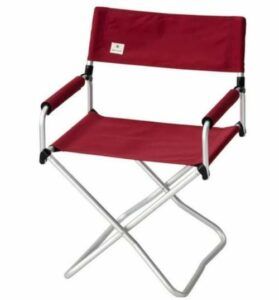 Product Name: Snow Peak Red Folding Chair
Product Description: The Snow Peak Red Folding Chair Is Very Easy to Use, Versatile and Elegant, with Solid Armrests and Aluminum Frame, Suitable for Home & Outdoor Use.
Brand: Snow Peak
SKU: LV-077RD
Weight -

7.5/10

Dimensions -

7.7/10

Packed size -

4.5/10

Capacity -

7/10

Comfort -

9.1/10

Craftsmanship -

9.6/10
Summary
When folded, the chair remains large in two dimensions and this affects the overall rating which is still Good.
Pros
Easy to use.
Great warranty.
Reliable brand and product.
---
Final thoughts
So this Snow Peak Red Folding Chair is their iconic product, simple, elegant, and reliable. It can be used at home or outdoors. It is functional and it will perform and look great no matter where you use it. It is backed with their lifetime warranty. Fully recommended.
Best places to buy:
For more options, please check in my list of Snow Peak camping chairs. You will find them many here in the site, and in all sizes and shapes. Note that they also have their Red Folding Kid's Chair built in the same style.
There are many products of this brand presented here in the site so follow this link to see them all.
Bookmark this site and visit it when you find time, this will keep you informed because I add new texts here on a regular basis. Let me know if you have questions, there is a comment box below. Thank you for reading and have a nice day.