---
Timber Ridge Catalpa Relax & Rock Chair is a folding padded chair with a very easy setup, solid armrests, a good packed size, and an incredible price.
---
Key features & benefits
Rocking design.
Folding chair.
Padded chair.
Solid armrests.
Very easy setup.
Good packed size.
Carry bag included.
Storage pouch underneath the seat.

---
What type of chair is this
The Catalpa is a fully folding chair which remains relatively large only in one dimension when it is packed. In such a state you have in the carry bag shown below, with the dimensions 32.75 x 9.75 x 6.9 inches (83 x 25 x 18 cm). This is so convenient when you transport it in the car trunk and also to store at home.
But this is also a chair with solid armrests, see the picture below, and you realize that its packed size is far better than in some other chairs with such armrests, see for example the Kamp-Rite Director's Chair or the GCI Outdoor Freestyle Rocker Chair.  They have managed this due to a clever design which is similar to what you have in the Browning Camping Cabin Chair. But the main difference between them is the padding which you have in the Catalpa chair.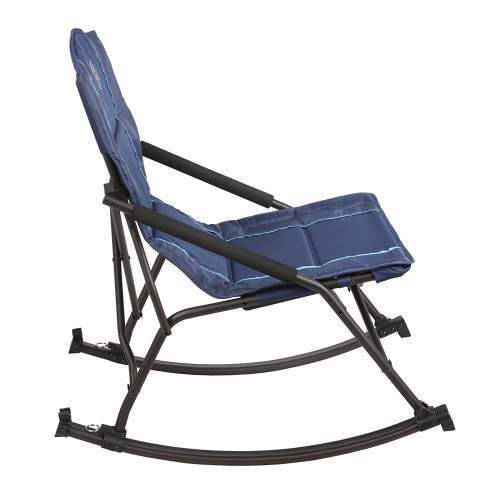 There is a downside to this design- it needs a simple assembly. There are two pins on the rockers visible in the picture below, so you pull them to release the legs, and then you can fold it from back to front, or vice versa. In the process, it also folds from the two sides towards the center. This is why it remains relatively large in one dimension only. Yiu will see this in the video below.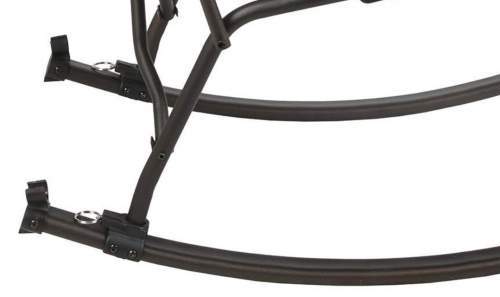 Note that this construction is the same what you have in the ALPS Mountaineering Low Rocker Chair which is with mesh, just to know if you need something more breathable for summer camping.
---
Who is it for
Capacity-wise, this chair supports the weight of up to 250 lb (113 kg). This is quite a modest value but still good enough for most people. The picture below shows the rocking rails which are oval in the cross-section. So when you use it on the hard surface it will work fine, and this is a very stable design. On a soft surface, such rails will prevent sinking.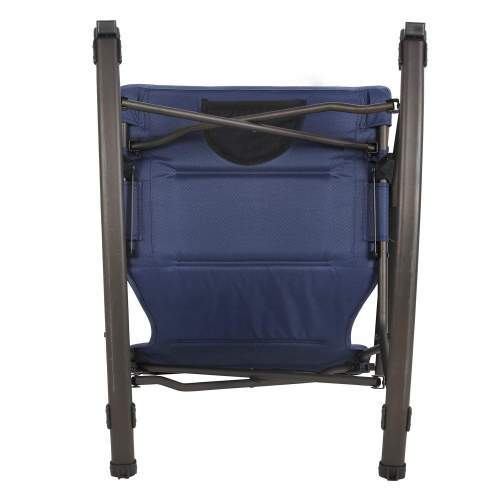 Size-wise, the dimensions are quite typical, 22.8 x 17.1 x 34.5 inches (58 x 43 x 88 cm), and the seat height is 19.3 inches (49 cm) at the front. Note that you do not have a head support here, it is not designed for this. If you need something of this type, please check the Timber Ridge Rocking Chair from the same brand, and also the ALPS Mountaineering Rocking Chair.
Weight-wise, when compared with other chairs of this type, the Catalpa is moderate or perhaps even in the group of light ones. But this is not a backpack-portable item; if you need a rocking chair to carry attached to the pack, check this Helinox Chair Two Rocker.
So all in all, this chair is nicely packable for such a type, and it is moderate regarding the weight, but this is a camping tool and you need a car for transportation. Please see more in this video:
---
Good and less good features
Here is my short summary:

Pleasant fabric & padding.
Very stable.
Padded solid armrests.
Very easy to use.
Incredible price.

The price & rating
The Amazon price at the moment of writing this text is only around $40, and it is totally worth the money. The chair is very new on the market, there are just a few reports and reviews around, but if you check on Amazon you will realize it has scored a perfect 5.0/5 rating so far.
See how I rate it; note that I use the same criteria for all chairs. So as I said above, its packed size is really good for such a chair but my rating is relatively low because I use the same formula for all chairs. Therefore to realize the true meaning of the rating, it is best to compare with how I rate other chairs of this type, you will see some of them in yet another comparison table below:
My rating breakdown of the Timber Ridge Catalpa Chair
Weight -

5.5/10

Dimensions -

7.3/10

Packed size -

5/10

Capacity -

7/10

Comfort -

9.4/10

Craftsmanship -

9.4/10

Price -

9.8/10
---
Specifications
Weight: 11.4 lb (5.17 kg).
Capacity: 250 lb (113 kg).
Dimensions (W x D x H): 22.8 x 17.1 x 34.5 in (58 x 43 x 88 cm).
Seat height front: 19.3 in (49 cm).
Packed size: 32.75 x 9.75 x 6.9 in (83 x 25 x 18 cm).
---
Timber Ridge Catalpa Chair vs Competitors
In the table below you see the Catalpa chair side by side with two others, all of them are rocking chairs. This might help in making a right choice and in understanding its features. It is very similar to the Browning Camping Cabin Chair. Please follow the links for more details and for updated prices.
Dimensions
(W x D x H), in (cm)

Timber Ridge Catalpa Chair
22.8 x 17.1 x 34.5
(58 x 43 x 88)

32.8 x 10 x 7
(83 x 25 x 18)

Browning Camping Cabin Chair
22 x 17 x 31
(56 x 43 x 79)

34 x 10 x 10
(86 x 25 x 25)

Kamp-Rite Folding Rocking Chair
31 x 25 x 39
(79 x 64 x 99)

37 x 28 x 7
(94 x 71 x 18)

---
Final thoughts
So this Timber Ridge Catalpa Relax & Rock Chair is a very new item on the market, and my feeling is it will become a very popular camping tool. It really looks great and I love the color, though it is a pity they did not offer more color options. Although it requires a simple setting procedure, this is all easily done and such a design changes the packed size a lot.

Do you have any experience with this chair or any other rocking camping chair? If so, please share your thoughts here, there is a comment box below. If you need more options to see, please check in the category Camping Chairs here in the site. For rocking camping chairs, check this list. Thank you for reading and have a nice day.


---