---
Coleman Oversized Quad Chair With Cooler is the most popular item of this kind on the market. When you see the price and features you realize why this is so.
---
Key features & benefits
Huge dimensions.
Built-in cooler.
Incredible price.
Folding chair.

---
What this is about
This is a folding chair with bonuses that look similar to what you have in the KingCamp chair. You have a cooler on the left side, and a cup holder plus storage pockets on the right, so they have reversed the sides for these extra features.
As a folding chair, it is ready to use in seconds and you pack it down equally fast. To make it ready you just pull it apart in the opposite directions. Note that the armrests are adjustable.
The cooler is a cool feature, see the picture below; you have a dual zipper on the top of it so the entry is wide, and you can store up to 4 cans inside. Three can go vertical and one horizontal on top of the other three.
The storage pouch on the right side (see the picture above) is large enough to store things like books or any small item needed in the camp or on the beach (sunscreen phone, etc.). Its size is around 13 x 10 inches (33 x 25 cm) so this gives you some idea of what you can put in it.
This is a heavy-duty powder-coated steel construction and the fabric is polyester. The chair is padded, the same thickness of the padding is on the seat and on the back. The padding is not particularly thick but I think this is quite OK, two layers of fabric and a thin layer of padding in between.
You have a carry bag included, with a side strap on the side to carry it attached to the shoulder. The bag's fabric is thin, but this is fine. When you want to pack the chair in the bag, make sure that you push the pouch and the cooler inside the frame, otherwise it may be tricky to fit this all in the bag. I have seen people complaining, but do as described and you will have no problems.
The feet are with plastic caps, see the picture below. They look wide enough and give a good stability. This is a floor-friendly design. But they will surely sink on a soft grand.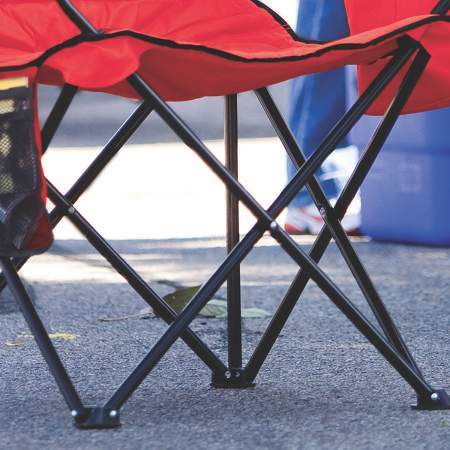 ---
Who is it for
Weight-wise, this is for places with a car access. You would not want to carry such a 9.94 lb (4.5 kg) item long distances.
Capacity-wise, this budget chair is strong enough to support the weight of up to 325 lb (147 kg). I am almost half of this so this sounds huge, but in any case this should be good enough for many people. You might want to compare this with the Coleman Big-N-Tall Quad Chair which has 600 lb capacity.
Note that the seat is not too high, it is quite moderate at 18.1 inches (46 cm) above the ground. Compare this with the Kijaro XXL where the seat is 21 inches (53 cm high), but it is practically the same as the seat height in the ALPS Mountaineering King Kong chair.
Size-wise, you will see from the comparison table below that it is larger than the ALPS Mountaineering King Kong chair, I guess you might be surprised with this. But you will see also that it packs better. So this is a large chair, if you are a big person and need lots of space this is it.
Please see a bit more in this video:
---
Good and less good features
Here is my short summary:

Very comfortable.
Very stable.
Great armrest design.
Very easy to use.

A bit heavy.
Not great packed size.
The price & rating
As of the moment of writing this text, this chair is available on Amazon for $22. So now you realize why I mentioned its incredible price.
Note also that there are more than 4700 customers' reports for this chair on Amazon alone, and you can find them many on other sites as well. The average rating on Amazon based on so many reports is simply impressive 4.5/5.
I guess you would not need more, but still see how I rate it; I use the same criteria and formula for all chairs in the site:
My rating breakdown of the Coleman Oversized Quad Chair With Cooler
Weight -

6.0/10

Dimensions -

9.2/10

Packed size -

6.5/10

Capacity -

8.0/10

Comfort -

9.7/10

Craftsmanship -

8.8/10

Price -

10.0/10
---
Specifications
Weight: 9.94 lb (4.5 kg).
Capacity: 325 lb (147 kg).
Dimensions (W x D x H): 37 x 24 x 40.5 in (94 x 61 x 103 cm).
Packed size: 36 x 7 x 6 in (91 x 18 x 15 cm).
Seat height: 18.1 in (46 cm).
They build the chair in 4 different colors.
---
Coleman Oversized Quad Chair With Cooler vs Competitors
I have decided to compare it with some of the largest chairs on the market, so see how it stands. I think it is impressive in many ways. Note that you would have to pay 2 – 3 times more for the King Kong and the Kijaro XXL is also twice expensive.
Dimensions
(W x D x H), in (cm)

37 x 24 x 40.5
(94 x 61 x 103)

36 x 7 x 6
(91 x 18 x 15)

ALPS Mountaineering King Kong
38 x 20 x 38
(96 x 51 x 96)

41 x 7 x 7
(104 x 18 x 18)

37.7 x 28.3 x 40
(96 x 72 x 102)

46 x 7 x 4.7
(117 x 18 x 12)

---
Final thoughts
In the conclusion, I would stress that this Coleman Oversized Quad Chair With Cooler is ridiculously affordable and inexpensive. With all its features, I would not complain about it in any way. They have built it properly and it will last for many seasons. If you need something for occasional use and do not want to spend much, this is an awesome option for you.

If you still need to see more, please check in the category Camping Chairs. You will find many chairs described in detail, and some of them are ultra lightweight backpacking chairs.
Note also that there are many cots from Coleman described in the site, so just search around, they are available in several categories. See for example this Queen size sleeping system, and also this Coleman Comfortsmart Deluxe cot. But there are many more. Compare it also with the ALPS Mountaineering Camp Chair which is with a solid armrest design.
Thank you for reading. Please use the comment box below in the case of questions or comments. Have a nice day. 

---