---
Need a rocking camping chair that will keep rocking regardless of where you put it? You will see one in this GCI Outdoor FirePit Rocker Chair review.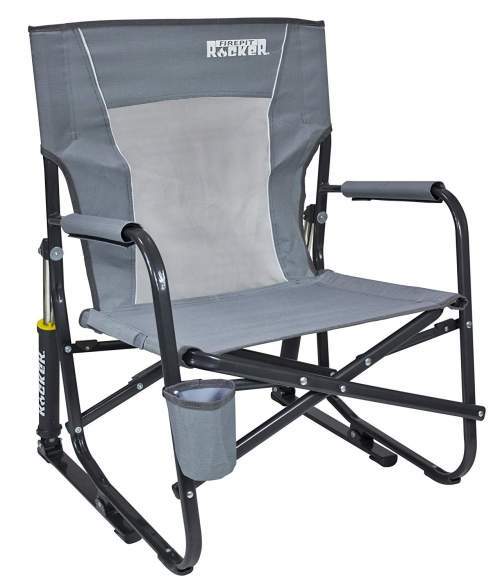 ---
Key features & benefits
Rocking chair.
Spring Action Rocking Technology.
Keeps rocking on any surface.
Solid armrests.
Cup holder.
Very reasonable price.
---
What type of chair is this – what is in the name
Here you have a rocking camping chair but of a very specific type. This brand is currently the only one that builds such rocking chairs with a patented Spring-Action Rocking Technology. This includes two pistons which you see on the back of the chair, one is visible in the picture: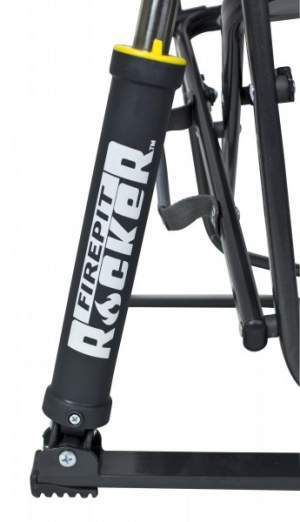 This is a design where the chair is sitting on the bars that are on the ground. So it does not sink regardless of where you use it or it sinks less than any other type. But even if/when it sinks in the ground (like a sand) it still preserves its rocking feature, and this is unlike any other brand on the market. Naturally, I have included it in my list of rocking camping chairs.
This is also a folding chair and of the type that folds from the sides to the center, but you will notice that it remains quite large in two dimensions. This is because of the solid armrests design, those are not sliding or folding like what you have in some other folding chairs on the market.
Note that the letters GCI in the name of the brand and the chair mean 'Great Chair Innovators'. So indeed they build unique chairs and this is one of them.
---
Who is it for
Capacity-wise, the chair is quite modest, it supports the weight of up to 250 lb (113.6 kg). This is a bit surprising when you compare it with those ultra-lightweight collapsible and backpack-portable chairs that have a greater capacity.
Weight-wise, it is quite typical for such a type and you will realize this also from the comparison table below. It weighs 11.9 lb (5.4 kg).
But as I said above, this is a construction that remains large when packed, 33.1 x 25.6 x 5.5 inches (84 x 65 x 14 cm). So you need quite some space in the car or in your trailer. Though in spite of such two packed dimensions, it is rather flat when packed so you can squeeze it in a rather narrow space.
You can use this chair at any place with a car access, and on any surface, so it is quite versatile. But bear in mind that it is rather low, the seat is 14.8 inches (37.5 cm) above the ground.
---
Materials & construction
The construction is partly described mentioned above, when you fold it, it remains rectangular and bulky. The frame is a powder-coated steel, and the fabric is partly a mesh on the back and partly 300D ripstop polyester.
There is no stuff sack but you have a carry handle on the side, see the picture: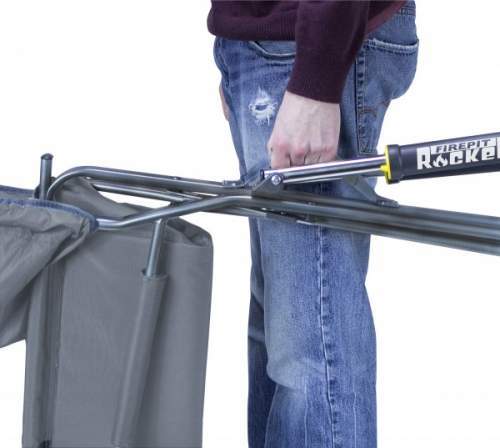 The solid armrests are padded, and it also comes with a bonus beverage holder to keep your drink at hand.
See how the chair works in this short video:
---
My rating, pros & cons
The daily updated Amazon's price is shown in the link below. So this is a very affordable item and the price is more than fair for such a chair.

There are many reports by customers on Amazon, and the average rating is very high. My rating is different, but I use several criteria and I use them consistently for all chairs:
My rating breakdown of the GCI Outdoor FirePit Rocker Chair
Weight -

5.5/10

Dimensions -

7.9/10

Packed size -

2.5/10

Capacity -

7/10

Comfort -

9.7/10

Craftsmanship -

9.8/10
Summary
My overall rating for this great chair is Good:
Pros
Great rocking design.
Very stable.
Great armrest.
Very easy to use.
Carry handle.
Suitable for any surface.
Cons
No stuff sack.
Big packed size.
Not so great back support.
No locking mechanism for the rocker.
---
Specifications
Type: folding rocking camping chair.
Capacity: 250 lb (113.6 kg).
Weight: 11.9 lb (5.4 kg).
Dimensions: 24.4 x 25.6 x 33.1 in (62 x 65 x 84 cm).
Packed size: 33.1 x 25.6 x 5.5 in (84 x 65 x 14 cm).
Seat height: 14.8 in (37.5 cm).
Limited lifetime warranty.
---
GCI Outdoor FirePit Rocker Chair vs Competitors
I have seen people asking how this FirePit chair differs from the Freestyle chair from the same brand. So here I give them both side by side with a few basic parameters. The most important difference is the seat height. I also give the Alps Mountaineering Camp chair which is not a rocker but it has the same folding design. Please follow the links in the table for more.
Dimensions
(W x D x H), in (cm)

GCI Outdoors FirePit Rocker
24.4 x 25.6 x 33.1
(62 x 65 x 84)

33.1 x 25.6 x 5.5
(84 x 65 x 14)

GCI Outdoors Freestyle Rocker
24 x 25 x 34.8
(61 x 64 x 88)

34.8 x 25 x 4.9
(88 x 64 x 12)

ALPS Mountaineering Camp Chair
24 x 18 x 36
(61 x 46 x 91)

31 x 23 x 7
(79 x 58 x 18)

---
Final thoughts
So the GCI Outdoor FirePit Rocker Chair is with a rocking system unique to this brand. The design is such that it can be used anywhere, but it is bulky when packed. In any case, this is a great value for the money.
If it is too low for you, check its cousin the Freestyle Rocker which is with the same system. Check also this GCI Outdoor RoadTrip Rocker Chair from the same brand. Otherwise, check in the category Camping Chairs here in the site. Need something on the trail? Then check my list with ultra-lightweight chairs all below 1 kg of weight.
You might want to compare this chair with this unique rocking folding camping chair from yet another famous brand, the Kijaro Rock-it Chair.
Thank you for reading. Do you have any experience with this chair? If so please use the comment box below. Let me know if you have any questions or comments.