---
ALPS Mountaineering Rocking Chair is a folding padded steel chair with a very good back support and headrest, and with solid armrests.
---
Key features & benefits
Rocking chair.
Very high back.
Good headrest.
Padded.
Solid armrests.

---
What type of chair is this
This is a folding camping chair and I have included it in my list with best folding chairs. But note that this is one of those that remain large in two dimensions when packed. This is both good and bad; the good is that the setup is easy, and the bad is that it is large when packed, roughly 47 x 26 inches (119 x 66 cm), see the picture below. So you need quite some space in the car or in your motorhome. But it is narrow in such a packed state, some 6 inches (15 cm) or so.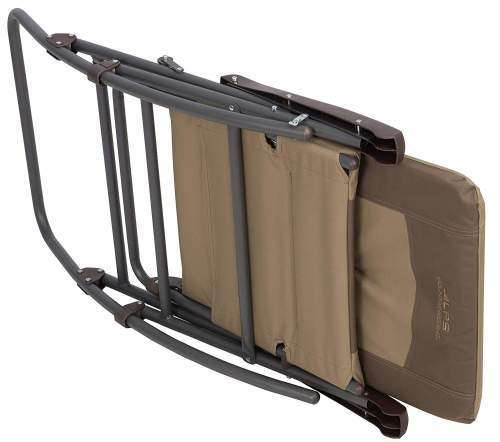 But the main feature here is the rocking design. As you realize from the picture, this is a single U-shaped bar upon which the whole chair rests. On a solid surface, it works great as a rocker. On a soft terrain, it will not rock but the bars will prevent sinking, so this is a really versatile item. I have included it in my list of best camping rocking chairs.
Headrest
This is a chair with a very high back section so you have a great headrest; from the seat to the top you have 29 inches (74 cm), and the total height from the ground is 41 inch (104 cm), so this is one of the highest chairs here in the site. This is why I have included it in my list of chairs with headrest.
Armrests
You have very good armrests here, the material is plastic. With such a solid support it is much easier to get in and out of the chair.
Materials & construction
The fabric is a brown/khaki 600D polyester, so this is quite a typical denier for such chairs. The frame is a Pro-Tec powder coated steel, and here you have a lock on the side; this is a pin located on the right side of the chair, visible in the picture below.
In their site, they call it a "compact design", but see below its packed size. But this is indeed a very stable and reliable construction.
---
Who is it for
Capacity-wise, the chair supports the weight of up to 300 lb (136 kg). This is a moderate value but it is good enough for most of the users.
Size-wise, this chair is very suitable for taller people, note that the seat is quite high, you have (front/back) 21/16 inches (53/41 cm). If you need something smaller and lower from the same brand, check the ALPS Mountaineering Low Rocker Chair.
Weight-wise, this is one of the heaviest items among the chairs presented in the site. The extra U-shaped bar on the ground and the steel frame make it very heavy, no less than 17.5 lb (7.9 kg). So bear this in mind and do not plan to carry it anywhere.
It is also very bulky when packed, you have seen the picture above, so all in all, this is not an item to carry around.
---
Good and less good features
Here is my short summary:

Rocking chair.
Very stable.
Great armrest.
Great back support.
Very easy to use.

Very heavy.
Very big packed size.
Expensive.
The price & rating
As of the moment of writing this text, the price on Amazon for this chair is around $100 or more. So the chair is quite expensive and there are more affordable options, you will see some in the comparison table below.
The reports by Amazon customers have been very positive and the average rating is no less than 4.6/5. So this is really remarkable. See how I rate it for several parameters; note that I use the same criteria for all chairs presented here in the site and my rating is quite different for some parameters:
My rating of the ALPS Mountaineering Rocking Chair
Weight -

3/10

Dimensions -

7.6/10

Packed size -

1/10

Capacity -

7.5/10

Comfort -

9.8/10

Craftsmanship -

9.5/10

Price -

7/10
---
Specifications
Type: folding rocking chair.
Weight: 17.5 lb (7.9 kg).
Capacity: 300 lb (136 kg).
Dimensions (W x D x H): 24 x 17.5 x 41 in (61 x 44 x 104 cm)
Seat width: 20 in (51 cm).
Seat height (front/back): 21/16 in (53/41 cm).
Packed size: 47 x 26 x 6 in (119 x 66 x 15 cm).
---
ALPS Mountaineering Rocking Chair vs Competitors
In the table below, you can see this chair side by side with two other rocking chairs from renown brands. This might help in making an informed choice. As you realize, it is much heavier, and it is also more expensive; the prices at the moment of writing this text are, respectively, $97, 77, 57. Clearly, there are good reasons to read more, so please follow the links in the table.
Dimensions
(W x D x H), in (cm)

ALPS Mountaineering Rocking Chair
24 x 17.5 x 41
(61 x 44 x 104)

47 x 26 x 6
(119 x 66 x 15)

GCI Outdoors Freestyle Rocker
24 x 25 x 34.8
(61 x 64 x 88)

34.8 x 25 x 4.9
(88 x 64 x 12)

Kamp-Rite Folding Rocking Chair
31 x 25 x 39
(79 x 64 x 99)

37 x 28 x 7
(94 x 71 x 18)

---
Final thoughts
In the summary of this ALPS Mountaineering Rocking Chair review, I would stress again its essential and best features: rocking design, great headrest, and solid armrests. On the other hand, the packed size, the weight, and the price tag are not its best features.
But this is a reliable and strong chair that has been on the market for several years already, and the brand behind this item is known globally. In fact, the ALPS Mountaineering was established in 1993, and this brand owns also ALPS OutdoorZ, Browning Camping, and Cedar Ridge.

Do you have any experience with this chair? If so, please share it here, there is a comment box below. This chair is very similar to the Timber Ridge Rocking Chair, you might want to compare them.
Note that there are more chairs from this brand here, check this King Kong with 800 lb (363 kg) capacity, and also the Camp Chair.
If you need more options to consider, please search in the category Camping Chairs here in the site. Thank you for reading and have a nice day. 

---