---
STRONGBACK Guru Folding Camp Chair with Lumbar Support is an ergonomic patented design with armrests and an excellent back support.
---
Key features & benefits
Great lumbar support.
Ergonomic design.
Express setup.
Carry bag included.
Armrests.
Cup holders.
Rather low seat.

---
What this is about
On the site of the STRONGBACK brand, they describe this Guru camping chair as a smaller version of their Elite chair. But it is not only about the size; for example, the armrests which you have in the Guru chair are not solid. Their design is different so the cup holders are integrated within them.
But this is again a folding chair which you make ready in seconds and equally fast you close it. There is a nice carry bag included, you have two straps so you can carry it in the hand or attached to the shoulder, but you can also put it on the back and carry as a backpack, see the picture.

Here too you have the best possible lumbar support, this feature is integrated into the back design. This helps in having the most ergonomic posture when sitting in the chair, the structure allows muscles to relax and you will be sitting without back pain.
The lumbar area is curved and lightly padded and the back section is high enough to offer support up to the shoulders level. This works in combination with the seat which is tilted back for extra comfort, you can see these features in the picture.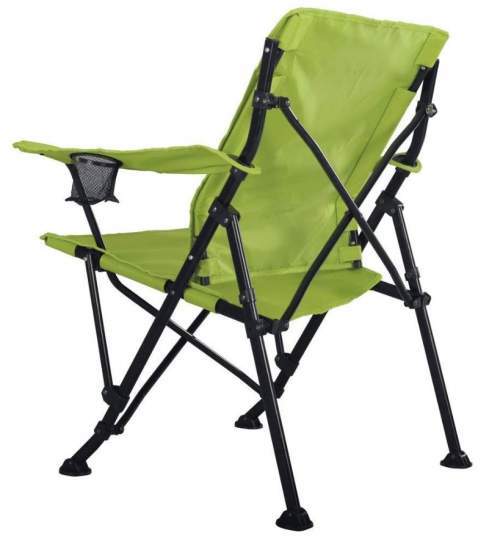 ---
Who is it for
Capacity-wise, the chair supports the weight of up to 300 lb (136 kg), so this is quite typical, nothing spectacular here, good enough for most of the users.
Size-wise, they describe it as a chair for smaller body sizes but this is mainly because of the seat height which is 16 in (41 cm) above the ground. The other dimensions are quite good 32 x 27 x 34 inches (81 x 69 x 86 cm) and you will be able to compare it with some other chairs of the same type.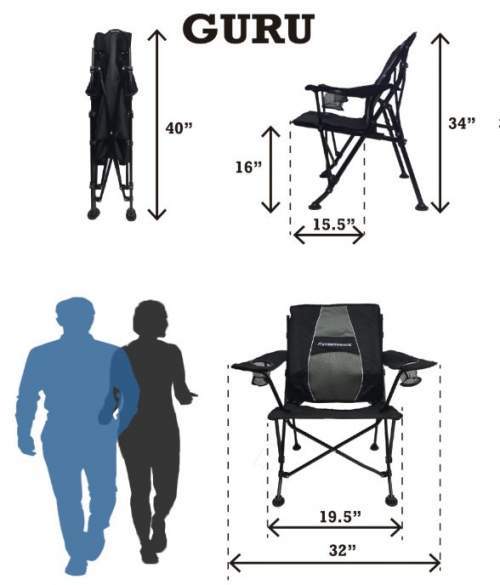 Weight-wise, again something quite typical, the chair weighs 10.5 lb (4.8 kg). This is a steel structure so the weight is reasonable.
The packed size is not so great but this is again similar to other chairs of this type, 40 x 6.5 x 6 inches (102 x 17 x 15 cm).
From all this you realize that you need a car for transportation. The chair can be used for a variety of outdoor activities and anywhere where you expect to spend much time sitting and where the chairs are not comfortable enough, then just bring your own chair and enjoy the event.
---
Materials & construction
The frame is a black powder-coated durable steel and the feet are with very wide caps so this should work well in most situations without sinking, see them in the picture above. This design is floor-friendly and the chair can be used even in a large family camping tent. This is much better than what you have in the Elite chair from this brand.
The fabric is a heavy-duty polyester 600D, tear and wear-resistant. The cup holders are a mesh, you do not need anything stronger here, so this is a good design.
The back is 34 inches (86 cm) high, which means around 19 inches (48 cm) from the seat, so you do not have a headrest here. If you need this, check my list of chairs with headrest.
---
How about warranty
This chair comes with a full 100% 2-year warranty which covers all replacements due to defective materials or if the chair breaks for any reason within normal use. In the case of such issues you can choose a new chair or a full refund, they write that they cover return shipping on validated claims.
If you just dislike the chair and want to return, they give 30 days from the date of purchase, but in this case you will need to pay for the return shipping.
---
My rating, pros & cons
The chair is highly rated by users, on Amazon it has received 4.3/5 average score as of the moment of writing this text. See how I rate it for several parameters by using the same criteria applied to all the other chairs here in the site:
My rating breakdown of the STRONGBACK Guru Folding Camp Chair: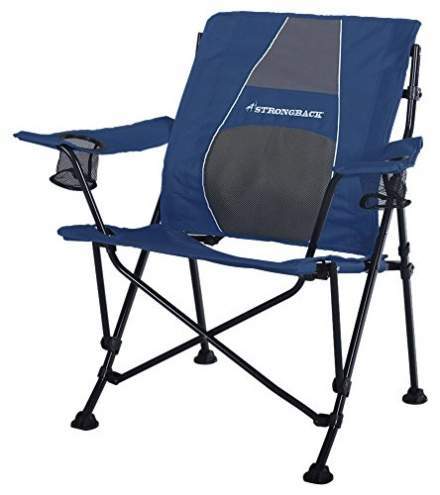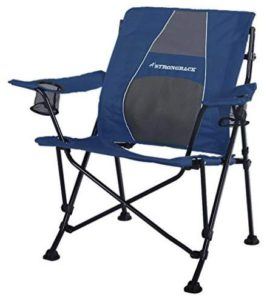 Product Name: STRONGBACK Guru Folding Camp Chair with Lumbar Support
Product Description: STRONGBACK Guru Folding Camp Chair with Lumbar Support is an ergonomic patented design with armrests and an excellent back support.
Brand: STRONGBACK Guru
Weight -

6/10

Dimensions -

8.6/10

Packed size -

6/10

Capacity -

7.5/10

Comfort -

9.5/10

Craftsmanship -

9.6/10
Summary
My overall rating for this chair is Very Good:
Pros
Ergonomic design.
Great back support.
Very easy to use.
Carry bag included.
Quality workmanship.
Cons
Long when packed.
A bit expensive.
---
Specifications
Type: folding camping chair.
Weight: 10.5 lb (4.8 kg).
Capacity: 300 lb (136 kg).
Dimensions (W x D x H): 32 x 27 x 34 in (81 x 69 x 86 cm).
Seat height: 16 in (41 cm).
Seat size (W x D): 19.5 x 15.5 in (50 x 39 cm).
Packed size: 40 x 6.5 x 6 in (102 x 17 x 15 cm).
Steal frame.
---
STRONGBACK Guru Folding Camp Chair vs Competitors
The table shows two other chairs built in the same style and you see that the Guru's weight is in between the two, but it is a bit smaller in some dimensions, and its packed size is bigger. But its lumbar support is without a match. Please follow the links for more.
Dimensions
(W x D x H), in (cm)

32 x 27 x 34
(81 x 69 x 86)

40 x 6.5 x 6
(102 x 17 x 15)

35 x 22 x 38
(89 x 56 x 96)

38.2 x 23.5 x 41.3
(97 x 60 x 105)

---
Final thoughts

If you need more options please check in the category Camping Chairs. Check also my long list with folding camping chairs. But if you need something backpack-portable, check my list of ultra-lightweight backpacking chairs.
Thank you for reading, please use the comment box below in the case of comments and questions. Have a nice day.

---