---
KingCamp Heavy Duty Steel Folding Chair/Director's Chair with Cooler Bag and Side Table is a sturdy camping steel construction which deploys and folds in seconds.
---
Key features & benefits
Bonus cooler & side table.
Cup holder.
Padded solid armrests.
Folding design.
Easy setup, no assembly.

---
What type of chair is this
This is a folding chair which you close from the two sides like a book, but it also remains like a book in the packed state, i.e., quite large in two dimensions although rather thin. So the packed size is not so great, 36.6 x 22 x 7.1 inches (93 x 56 x 18 cm) but this is similar to other chairs of this type as you will realize from the comparison table below. Nevertheless, if this packed size is not good enough for you, check this Compact Chair from the same brand, which folds twice.
You have solid armrests here and they are also padded and angled backward as you realize from the picture above. You will need them because of the seat height which is rather low, only 17.3 inches (44 cm).
The chair is with bonuses – it includes a cooler on one side, and a side table with a cup holder on the other side, see the picture: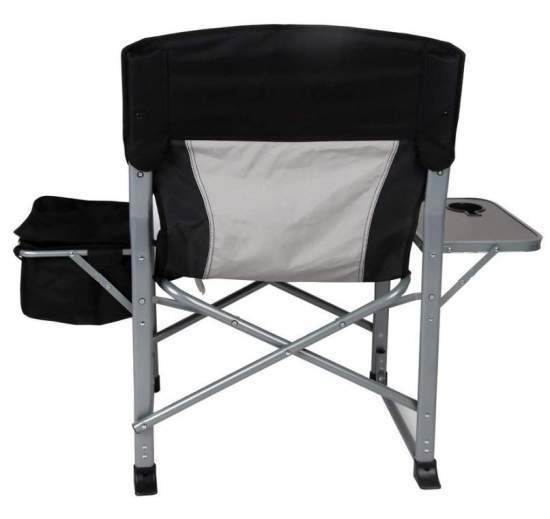 The important difference between this chair and the mentioned Compact Chair from this brand is that here the side table folds separately from the chair. The same holds for the cooler. So you can make it narrow and use as an ordinary chair at your camping table. When these two elements are folded down, it is 22.8 inches (58 cm) wide.
Otherwise, with the cooler and the side table deployed, this is a very wide structure which needs 43.3 inches (110 cm) in the width. I have included it in my list of best folding chairs.
---
Who is it for
Capacity-wise, although they describe it as heavy-duty, the capacity is quite typical 330 lb (150 kg). But my guess is they want to stress that this is a reliable steel construction which will not break easily, designed to serve you for years.
Size-wise, the proportions of this chair are good. The seat size is (W x D) 20.8 x 22.8 in (53 x 58 cm) and the total dimensions (without the side table and the cooler) are (W x D x H) 22.8 x 22.8 x 37.4 inches (58 x 58 x 95 cm).  From this, you also realize that the length (or the depth) is the same as the seat length, and this means that the back is quite straight.
The back side is around 20 inches (51 cm) from the seat to the top, so you have a decent back support and the chair is also with a full back design. But this is not a chair with a headrest; if this is what you need please check this list.
Weight-wise, well, this chair is rather heavy, it weighs 14.8 lb (6.7 kg). So this is not something to carry long distances. In view of its packed size and the weight, you will need a car for transportation.
---
Materials & construction
The frame is steel and you have several of those support X-shaped bars so the structure is heavy. The chair is with classic feet with protection cups but there are also bars between the front and back legs. So when you use the chair on a soft ground, the feet will surely sink but the bars will stop any further sinking and they will make the chair stable. This is a good design in general.
The fabric is a breathable and moisture-wicking strong synthetic, probably nylon.
Warranty: Note that they give 30 days free return if you notice anything wrong with the chair.
The cooler folds completely when not in use, but its full dimensions are 14.2 x 9.8 x 5.5 inches (36 x 25 x 14 cm). So this is a large volume of 765 cubic inches (12.5 liters). I have seen people asking if it can be removed, the answer is no, it is riveted. But as I said, if you do not need it, just fold it down.
The side table
This is a composite material with an integrated cup holder which is notched to accommodate the handle of the cup. The size is around 15.7 x 10.5 inches (40 x 27 cm). When not in use or for transportation, you simply fold it down. Note that it is not removable without a really hard intervention.
---
Good and less good features
Here is my short summary:

Easy to use.
Stable on any terrain.
Padded solid armrests.
Bonuses – side table & cooler.

Not great packed size.
A bit expensive.
The packed size is quite typical for such a type and you will realize this from the comparison table below. But it is indeed a bit bulky.
The price & rating
As of the moment of writing this text, the price for this chair is around $75. There are more affordable options you will see some below, but this chair comes with the bonus cooler as well.
The rating of this chair by Amazon customers is incredibly high, the average is 4.6/5 based on more than 170 customers' reports. Now, my rating is quite different, but I use the same criteria and formulas for all chairs presented here in the site so you can easily compare. See how I rate it:
My rating of the KingCamp Heavy Duty Steel Folding Chair:
Weight -

4/10

Dimensions -

7.9/10

Packed size -

1.5/10

Capacity -

8/10

Comfort -

9.4/10

Craftsmanship -

9.5/10

Price -

8.5/10
---
Specifications
Weight: 14.8 lb (6.7 kg).
Capacity: 330 lb (150 kg).
Dimensions (W x D x H): 22.8 x 22.8 x 37.4 in (58 x 58 x 95 cm).
Packed size: 

36.6 x 22 x 7.1 in (93 x 56 x 18 cm).

Seat height: 17.3 in (44 cm).
Seat size (W x D): 20.8 x 22.8 in (53 x 58 cm).
Total width with cooler and side table: 43.3 in (110 cm).
---
KingCamp Heavy Duty Steel Folding Chair vs Competitors
The table below might help to better understand the features of this chair. When you see its parameters side by side with other similar items, you can make an informed decision. So here it is with two chairs built in the same style, but as you see those are without the cooler. Please follow the links to check the updated prices.
Dimensions
(W x D x H), in (cm)

KingCamp Heavy Duty Chair

22.8 x 22.8 x 37.4
(58 x 58 x 95)

36.6 x 22 x 7.1
(93 x 56 x 18)

25 x 25 x 35
(64 x 64 x 89)

33 x 22 x 5
(85 x 56 x 13)

Stylish Camping Director's Chair
23.6 x 15.7 x 32.7
(60 x 40 x 83)

32.6 x 18.5 x 6
(83 x 47 x 15)

---
Final thoughts
KingCamp Heavy Duty Steel Folding Chair is well-built, though it is very similar to other chairs of this type that are currently on the market. But as you see, it comes with useful bonuses which more or less justify the price.
I already gave some alternative options in the comparison table above, but if you need more please check my list of best folding chairs. You might want to check also this Timber Ridge Laurel Director's Chair which is with a cooler and a side table. If you need lots of storage elements, check this unique ONIVA Picnic Time chair.

Thank you for reading. If you have some experience with this chair, please share it here, there is a comment box below. I wish you a nice day. 

---