---
Kamp-Rite Folding Rocking Chair is a high-back type with a headrest and armrests, and with a design that prevents sinking on any type of ground.
---
Key features & benefits
Very stable and supportive aluminum frame.
High back.
Rocking chair.
Solid armrests.
Padded seat, back & armrests.
---
What this is about
As the name suggests, this is a rocker camping chair. It is also a folding chair, one of those that you fold like a book, but it remains quite large when packed, 37 x 28 x 7 inches (94 x 71 x 18 cm). So the chair takes some space in the car when you transport it, see the picture below, yet it is very easy to use and you make it ready in seconds.

There is no assembly here, the curved rocking bars are permanently attached to the chair, see the pictures, and this makes it quite different from the Helinox Chair Two Rocker chair where those rocking rails are removable.
The back section is quite high and you have a good back support and headrest. This is why I have included it in my list of best high back camping chairs.
This is also a chair with a solid (but padded) armrests and this is a good feature here which makes it easier to get in and out of the chair.
As you realize from the pictures, the bars on the ground are such that the chair will not sink on any terrain. But clearly, it will be a rocking chair only on a hard surface.
The materials
The fabric is a durable 600D polyester, so this is quite typical for such camping chairs. The frame is aluminum, yet there are many support bars as you see, so the chair is not so lightweight.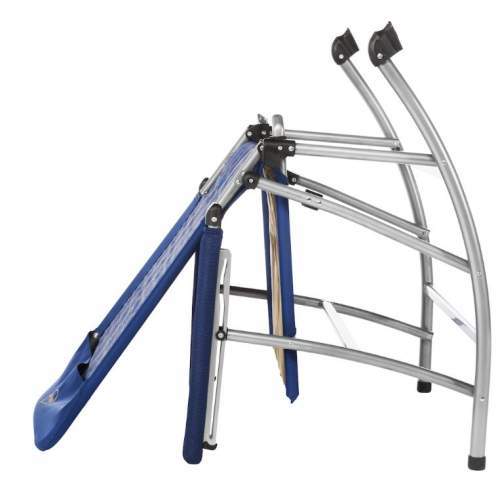 ---
Who is it for
Capacity-wise, the chair supports the weight of up to 300 lb (136 kg). So this sounds reasonable and enough for most users. But if you need more, please check this list where the folding chairs are ranked by the capacity.
Size-wise, the dimensions are very good. You have the seat width of 22 inches (56 cm). Overal dimensions are (W x D x H) 31 x 25 x 39 inches (79 x 64 x 99 cm). The seat height (front/back) is 18/14 inches (46/36 cm), so clearly it is a bit low, yet you have a high back with a headrest.
Weight-wise, with 12 lb (5.44 kg) this is a heavy item so don't plan to carry it around. If you need something for such a purpose, a backpack-portable chair, check this Helinox Chair Two Rocker. Note that much lighter chairs are in this list, but those are not rocking chairs.
---
Good and less good features
Here is my short summary:

Rocking chair.
Very stable.
Great armrest.
Very easy to use.

Heavy.
Very big packed size.
No carry bag.
I have seen some people complaining that it does not rock well and that it may be hard to get up because of the low armrests. I guess the former will depend a lot on the ground, and the latter on your body size.
The price & rating
As of the moment of writing this text, the Amazon price for this chair is around $77. So this looks a bit more than some of its competitors, you will see some in the comparison table below and also at the bottom of the page. But this is almost a reasonable price for such a chair.
The rating by Amazon customers is very good and the average value is 4.1/5. See how I rate it; as you realize, my lowest rate is for the packed size and this affects the average rating. If you are concerned about this and other rates, note that I use the same criteria and the same formulas for all chairs so just look around and compare.
My rating of the Kamp-Rite Folding Rocking Chair
Weight -

5.5/10

Dimensions -

8.8/10

Packed size -

1/10

Capacity -

7.5/10

Comfort -

9.8/10

Craftsmanship -

9.2/10

Price -

8.2/10
---
Specifications
Type: folding & rocking camping chair.
Weight: 12 lb (5.44 kg).
Capacity: 300 lb (136 kg).
Dimensions (W x D x H): 31 x 25 x 39 in (79 x 64 x 99 cm).
Packed size: 37 x 28 x 7 in (94 x 71 x 18 cm).
Seat width: 22 in (56 cm).
Seat height (front/back): 18/14 in (46/36 cm).
Frame: aluminum.
---
Kamp-Rite Folding Rocking Chair vs Competitors
In the table below, I give a couple of options to compare. All of them are rocking chairs but the design is very different. The Helinox Chair is a collapsible chair and backpack-portable, while the other two are not. On the other hand, the GCI Chair is a low-back type but with a hydraulic rocking design. So please check the links for more, those are great chairs and worth checking for sure.
Dimensions
(W x D x H), in (cm)

Kamp-Rite Folding Rocking Chair
31 x 25 x 39
(79 x 64 x 99)

37 x 28 x 7
(94 x 71 x 18)

GCI Outdoors Freestyle Rocker
24 x 25 x 34.8
(61 x 64 x 88)

34.8 x 25 x 4.9
(88 x 64 x 12)

21.7 x 25.6 x 34.3
(55 x 65 x 87)

24.4 x 6.5 x 6.5
(62 x 16.5 x 16.5)

---
Final thoughts
The Kamp-Rite Folding Rocking Chair has several great features which you have seen above, but the packed size is far from great so bear this in mind if you have a limited space in your car. Other than that, this is a nicely built item from a renown brand. You might want to compare it with yet another model from this brand, the Kamp-Rite Director's Chair.
If you need more options, please check in the category Camping Chairs here in the site. You might want to compare it with yet another rocking item, the ALPS Mountaineering Rocking Chair, but see also this Timber Ridge Rocking Chair built in the same style. If you want something with soft armrests, check this Ozark Trail Rocking Chair.
Note also that there are many tent-cots from this brand presented here in the site, so check this Kamp-Rite Double Tent Cot, or the Kamp-Rite Compact Collapsible Tent Cot. But there are also cots from this brand described in this site, see for example these Kamp-Rite EZ Fold Cot, Kamp-Rite Oversize Kwik Cot, or the Kamp-Rite Economy Cot.
Thank you for reading, please use the comment box below in the case of questions or comments. Have a nice day.


---