---
The Kijaro XXL Dual Lock Oversized Chair is what its name says, a huge and comfortable folding camping chair with a great 400 lb capacity and a nice design that includes a locking mechanism.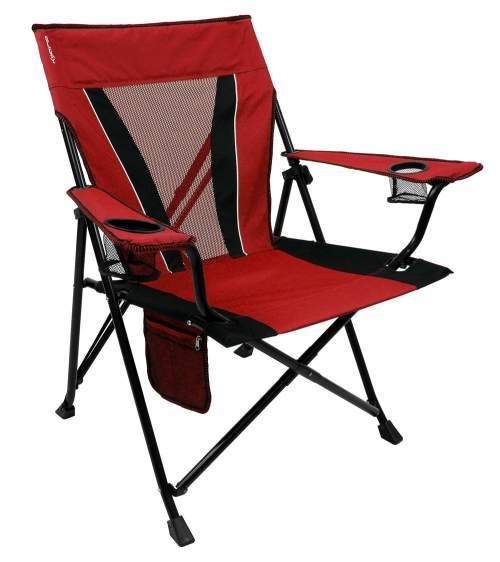 ---
Key features & benefits
Huge capacity.
Very large chair.
Very comfortable.
Instant setup.
Locking mechanism.
Cup holders.
Storage pouch.
Very good price.
It simply looks great.
---
What is in the name
This is the larger of the two chairs with practically the same features, hence the letters XXL in the name. You can see the smaller model here. In the specifications below you will see the dimensions, so this is a huge chair.
The Kijaro XXL is a folding chair, and this means no assembly, just spread it in one simple move. The setup cannot be faster than what you have here.
The words dual lock describe the fact that you have a push-button on the side, and you use it when you unfold the chair as well as when you close it up. So it is locked in both states. The reason for being locked when folded is simple – the chair has a nice feature, a strap on the back so you can carry it folded even without putting it in its carry bag. And for such a use, it is necessary to have it locked of course.
Please see a bit more about this mechanism in the video by Kijaro:
---
Who is it for
Capacity-wise, the chair is able to support a lot of weight, no less than 400 lb (181 kg). Note that its dimensions are appropriate, so if you are a big and heavy person, this is the chair to consider. But there are even stronger options, you will see one in the comparison table below.
Weight-wise, well, with its 12.4 lb (5.62 kg) of weight this chair is surely portable but this is not something to carry attached to the backpack. The packed size is also not its best feature, it is 46 x 7 x 4.7 in (117 x 18 x 12 cm), so it remains long when packed.
But the carry bag is with a strap so you can carry it on the shoulder or on the back, and you can carry it the same way even without the carry bag. But if you need something for the trail, check some of these chairs.
So this is a chair for camping, to use in the garden, on a beach, at open-air festivals and concerts, and anywhere where you do not have to carry it long distances.
Note that the chair is quite high in every sense, and the seat at the front is at 21 inches (53 cm) above the ground. So if you are a short person, you might not feel comfortable. I have seen some people complaining and when you check what this is about, it is just the inappropriate height of the chair. This is for taller people.
---
Materials & construction
The frame is steel and you have diagonal support bars so the weight should not be a surprise, this is a very strong construction. The seat width is around 22 – 23 inches (56 – 58 cm), depending on where and how you measure it.
So, in any case, this is a large space and the chair is incredibly stable and with a great back support. The fabric is taut and it is comfortable for sitting in long periods of time. Note that you have very supportive armrests too.
The fabric is a durable 600 x 300D ripstop polyester and you have at least 7 nice colors to choose, with some slight differences in the price. Note that you have no padding here like in the King Kong chair, so this is all mesh, very breathable and great to have in a warm environment. If it gets wet, it will dry quickly. They claim that there is no sagging, and this is indeed so. This chair keeps its shape and the back support.
Other features
The XXL chair features two mesh cup holders, one for a larger 32-ounce drink and the other for a standard cup size. Note that this is an improvement when you compare it with the Kijaro standard size chair where the holders are smaller and I have seen some complaints about this.
You also have an organizer pouch on the right side to store small items like glasses or a phone.
The feet are with quite wide caps so it will not sink so easily in a soft ground, but it is still better suited for a hard surface. It can be used in a large family camping tent if the ground is not too soft.
---
The price & rating
The daily updated Amazon price is available in the link, so you realize how affordable this chair is.
There are hundreds of reports by customers on Amazon, and as of the moment of writing these lines, the chair has scored a very respectable 4.2/5 average rating. See how I rate it:
My rating breakdown of the Kijaro Dual Lock XXL chair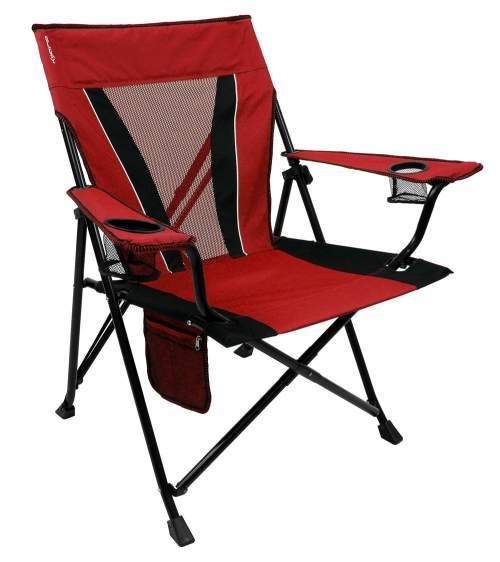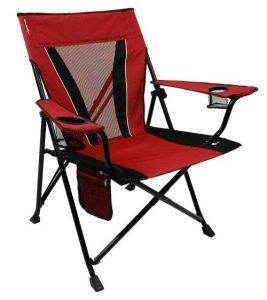 Product Name: Kijaro XXL Dual Lock Oversized Chair
Product Description: The Kijaro XXL Dual Lock Oversized Chair is what its name says, a huge and comfortable folding camping chair with a great 400 lb capacity and a nice design that includes a locking mechanism.
Brand: Kijaro
Weight -

5/10

Dimensions -

9.8/10

Packed size -

6/10

Capacity -

9/10

Comfort -

9.7/10

Craftsmanship -

9.8/10
Summary
My overall rating for this great chair is Very Good:
Pros
Very comfortable.
Very stable.
Durable.
Great quality.
Great armrest design.
Very easy to use.
---
Specifications
Type: folding camping chair.
Weight: 12.4 lb (5.62 kg).
Capacity: 400 lb (181 kg).
Dimensions (W x D x H): 37.7 x 28.3 x 40 in (96 x 72 x 102 cm).
Seat height: 21 in (53 cm).
Packed size: 46 x 7 x 4.7 in (117 x 18 x 12 cm).
Frame: steel.
Fabric: polyester.
Carry bag included.
---
Kijaro XXL Dual Lock Oversized Chair vs Competitors
I thought you might want to see how this beautiful chair compares with these two top-notch chairs built in a similar style. This is the best way to understand its features. As you realize it stands really good. Please follow the links to see more.
Dimensions
(W x D x H), in (cm)

37.7 x 28.3 x 40
(96 x 72 x 102)

46 x 7 x 4.7
(117 x 18 x 12)

ALPS Mountaineering King Kong
38 x 20 x 38
(96 x 51 x 96)

41 x 7 x 7
(104 x 18 x 18)

21.5 x 20 x 29 (55 x 51 x 74)

32.5 x 8 x 8
(83 x 20 x 20)

---
Final thoughts
In the summary of this Kijaro XXL Dual Lock Oversized Chair review, I would say that it is hard to find any true objection to this chair. If you accept its weight as a feature behind its great comfort and stability, then you realize that this is a high-value item suitable for many activities.
Best places to buy:
Note that they also have a similar chair with solid armrests, under the name Kijaro Dual Lock Hard Arm Portable Camping and Sports Chair.
Thank you for reading. If you still need something different, please check in the category Camping Chairs here in the site, you will find something for you. Check this ALPS OutdoorZ King Kong Chair with its camo fabric and huge 800 lb (363 kg) capacity.
If you need a chair with padding, check this KingCamp Folding Quad Chair with lumbar support. You might want to check also this ALPS Mountaineering Steel Leisure Chair with a very different design and solid armrests.