---
CORE Equipment Folding Padded Hard Arm Chair with Carry Bag is a very reliable steel construction with bonus storage pockets and a cup holder, and with a great price tag.
---
Key features & benefits
Padded seat and back.
Solid & padded armrests.
Very reliable chair & renown brand.
Very good price.
Storage pockets.
Collapsible cup holder.
---
What this is about
This CORE Equipment Folding Chair is one of those that you open and close like an umbrella. They use the term folding but I would rather describe it as collapsible & folding chair without assembly.
This is a chair with solid and padded armrests, their length is around 13 inches (33 cm) so they give a good arm support. You have a padding throughout its surface, so this is not a mesh structure. The seat stays pretty firm when you sit so you have a really good support in every segment of this chair. Note that the seat is not reclining, have seen people asking about it.
This is a standard back size with the back height from the seat around 20.5 inches (52 cm), see the picture below, so this is not one of those chairs with a headrest. If you need one of those, please check my separate text with chairs with headrests.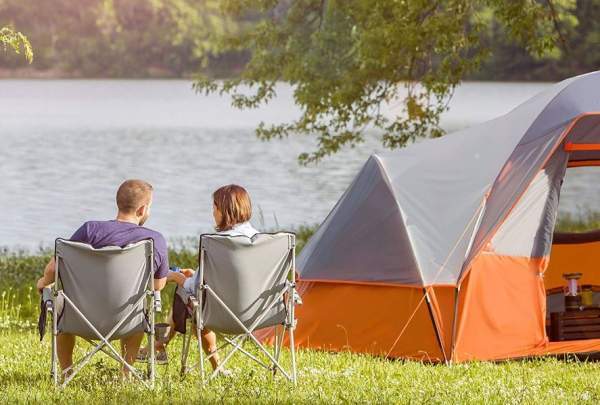 ---
Who is it for
Capacity-wise, the chair supports the weight of up to 300 lb (136 kg). This is a typical number for such a type. If you would need something for much heavier users, please check my list with folding chairs, you will see that some of them have 800 lb (363 kg) capacity.
Size-wise, the dimensions of this chair are quite good (W x D x H) 25.5 x 25 x 37.5 inches (65 x 64 x 95 cm), and the seat size between the two side armrests is (W x D) 20.5 x 18 inches (52 x 46 cm).
Note that the seat height is 20.5 inches (52 cm), so this is very suitable for taller users. The armrests are solid and sturdy and you will easily get in and out of the chair. So I would say this is a great chair for elderly people as well.
Weight-wise, this is a very strong steel structure and the weight is quite appropriate, 10 lb (4.5 kg). The packed size is such that it remains a bit long in one dimension only, when you put it in its carry bag the dimensions are roughly 36 x 9 x 7 inches (91 x 23 x 18 cm). So you need a car for transportation. But you realize that when you put it in the car trunk it will not take much space.
---
Materials & construction
The frame is all steel and the design is such that its support bars slide when you close the chair so it becomes thin and fits easily into its carry bag. Even the joints are metal, but the sliding elements are plastic and this is not so great, have seen somebody complaining that they get broken.
Several different steel tubes are used so you have 14.5 mm, 16 mm, and 19 mm in the diameter. The legs are with plastic caps and they are more suitable for a hard surface.
The fabric is 600D brushed polyester, soft-to-the-touch and very pleasant. You have 2 storage pouches on one side and this is a mesh. The cup holder is on the right side and it is collapsible; this is a durable plastic material, see the picture.
The carry bag is with a strap, see the picture, so you can carry it short distance attached to your shoulder. Note that the bag is not flimsy, it looks rather strong like everything else with this chair.

---
Good and less good features
Here is my short summary:

Very comfortable.
Great price/value combination.
Great armrest design.
Very easy to use.

The price & rating
As of the moment of writing this text, the Amazon price for this chair is around $50. I find this a really good price for such a quality item. The Core brand has a great reputation with their outdoor equipment so you know what you buy with such an item.
The chair has been on the market for several years already and there are many reviews available. Only on Amazon, you will find them more than 170 and the average rating is a very respectable 4.3/5. See how I rate this chair for several different parameters:
My rating of the CORE Equipment Folding Padded Hard Arm Chair with Carry Bag:
Weight -

6/10

Dimensions -

8.2/10

Packed size -

5/10

Capacity -

7.5/10

Comfort -

9.7/10

Craftsmanship -

9.3/10

Price -

9.4/10
---
Specifications
Type: collapsible chair.
Weight: 10 lb (4.5 kg).
Capacity: 300 lb (136 kg).
Dimensions (W x D x H): 25.5 x 25 x 37.5 in (65 x 64 x 95 cm).
Seat height: 20.5 in (52 cm).
Seat size: 20.5 x 18 in (52 x 46 cm).
Back height from the seat: 20.5 in (52 cm).
Packed size: 36 x 9 x 7 in (91 x 23 x 18 cm).
---
CORE Equipment Folding Padded Chair vs Competitors
I guess you might want to see how this Core Chair stands when compared with some other models built in the same style, so I give two of them in the table below. As you see, its dimensions are better than in the other two chairs and the weight is quite reasonable for its size. Please follow the links to check for the prices and for more details.
Dimensions
(W x D x H), in (cm)

25.5 x 25 x 37.5
(65 x 64 x 95)

36 x 9 x 7
(91 x 23 x 18)

ALPS Mountaineering Leisure
27 x 16 x 38
(69 x 41 x 97)

45 x 7 x 7
(114 x 18 x 18)

22.8 x 23.2 x 26.4
 (58 x 59 x 67)

30.7 x 7.9 x 5.1
(78 x 20 x 13)

---
Final thoughts
In the summary of this CORE Equipment Folding Chair review, I would stress again that this is a very reliable chair tested and tried by users for several years already, a product from a well-known brand and I can fully recommend it.
Note that I have no relation to the Core brand and I am only expressing my unbiased opinion about this chair.
If you need more options to consider, please check in the category Camping Chairs here in the site, you will find them many in all possible shapes and from the top brands. For example, check this CORE Equipment Tension Chair from the same brand.
Thank you for reading, please use the comment box below if you have any question or comment. I wish you a nice day.


---