---
Timber Ridge Rocking Chair is built in two different versions, this is a padded folding chair with storage elements, solid armrests, and a steel frame.
---
Key features & benefits
Rocking chair.
Headrest.
Solid armrests.
Folding design.
Padded.
Storage bags.

---
What type of chair is this
This Timber Ridge Rocking Chair is a folding type which remains large in two dimensions when packed, so you have 46 x 24 x 5.5 inches (117 x 61 x 14 cm). This is not so great, there is never enough space in the car, see how it looks when folded.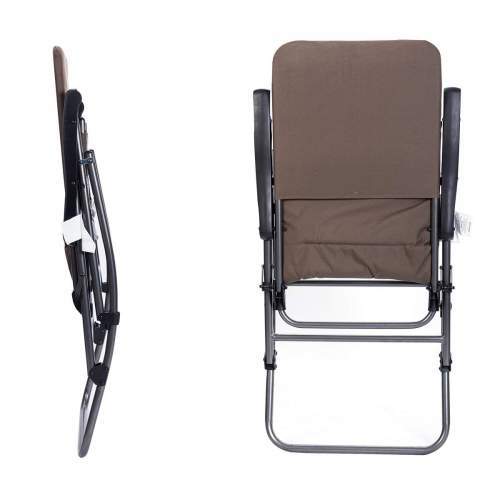 The chair needs some simple assembly. There is a knob at the front of the rocker on the right side, see the picture below, you just lift it up when you want to fix the chair or when you want to collapse it. So this is hardly an assembly, but it is necessary that you know about it.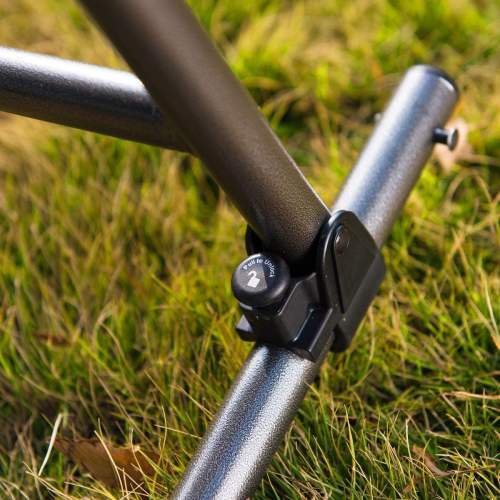 So when you release this lock you follow the procedure shown on the picture below: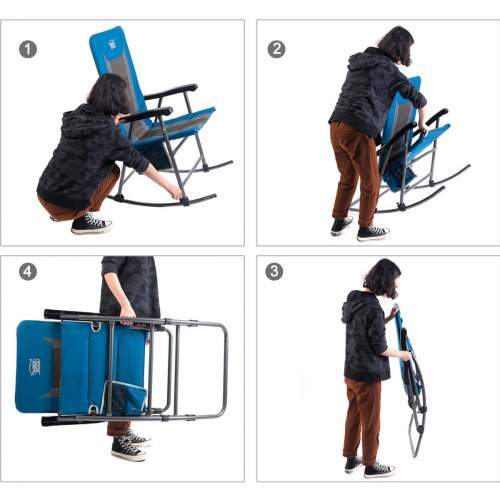 This is also a rocking chair as you realize from its name; you have a U-shaped rocking bar on the ground and the chair simply sits on it. It will not rock on a soft ground, but in such a case the ground bar will prevent any sinking. It is included in my list of best camping rocking chairs.
Note also that there is a small locking mechanism when the chair is folded, so that it does not open when you carry it around or when it is transported, see it in the picture here: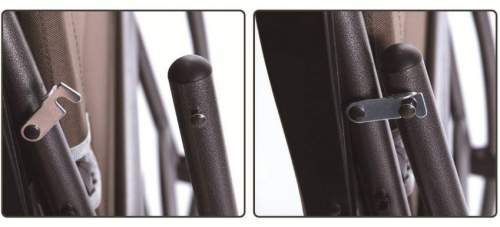 There is no adjustment to the recline, but the chair is very comfortable, and if you are curious, no, it does not make any noise.
Head support
One thing I want to stress here is its high back section, you have 29 inches (74 cm) from the seat to the top. So you have a good back support and a headrest. This is why I have included it in my list of high back chairs with headrest.
Padded or not?
Now, they sell two different chairs under the same name on Amazon and you will see them when you follow the link. I have seen some confusion about this. So here is the situation:
i) One of the chairs has an extra thick padding for the head while it has no padding on the seat (see the picture below). ii) The other model (shown above) is without head padding but with a decent padding on the seat. iii) There is a $10 price difference between the two versions.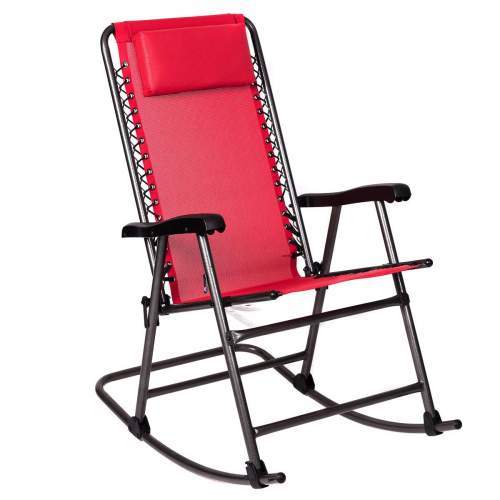 The padding in any of the two cases is a 100% polyurethane foam.
Storage pouches or not?
Here the same issue. It seems that some models come with the storage pouches on the right side and the others are without it. So they have made a bit of a mess.
Armrests
At least this is certain – all models come with ergonomic solid armrests. This is a sort of a hard plastic.
Materials
The frame is a sturdy steel construction and the fabric is a durable 600D polyester. These are quite common materials for such chairs.
---
Who is it for
Capacity-wise, the chair supports the weight of up to 300 lb (136 kg). This is quite typical and you can see this also in the ALPS Mountaineering Rocking Chair which is very similar in the design.
Size-wise, the chair is rather tall, so the seat is at height (front/back) of 21/14 inches (53/36 cm). The seat width is 19.5 inches (51 cm), so quite reasonable but not very wide. In general, the chair is very suitable for tall people.
Weight-wise, it is not so impressive. With its 16.53 lb (7.5 kg) it is only slightly lighter than the mentioned ALPS Mountaineering Rocking Chair. They describe it as "lightweight for easy transportation" but you have seen the numbers.
All in all, this is a chair for car camping, bulky and heavy, so do not plan to carry it long distances. See some dimensions below: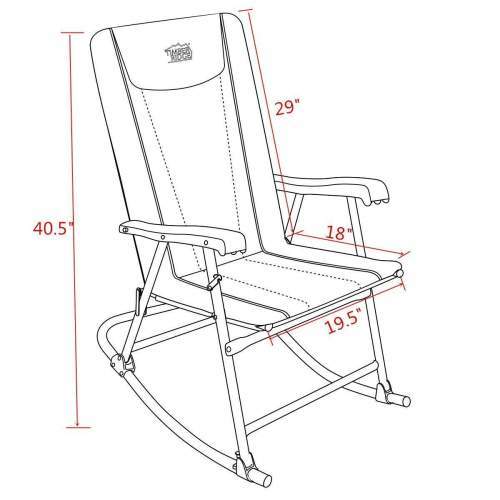 ---
Good and less good features
Here is my short summary:

Rocking chair.
Very stable.
Great armrest.
Great back support.

Very heavy.
Very big packed size.
Expensive.
The price & rating
The Amazon price for this chair is $90 or $100, dependent on the model. If this is too steep for you, there are some alternatives in the comparison table below.
The reports by customers are very positive, on Amazon alone you have them 136 (as of the moment of writing this text) and the average rating is incredibly high 4.7/5. Now, my rating is a bit different, but I use several different criteria and they are the same for all the chairs presented in the site, have a look:
My rating breakdown of the Timber Ridge Rocking Chair
Weight -

3.5/10

Dimensions -

7.6/10

Packed size -

1.5/10

Capacity -

7.5/10

Comfort -

9.7/10

Craftsmanship -

9.4/10

Price -

7.0/10
---
Specifications
Type: folding rocking camping chair with headrest.
Weight: 16.53 lb (7.5 kg).
Capacity: 300 lb (136 kg).
Dimensions (W x D x H): 23.5 x 18 x 40.5 in (60 x 46 x 103 cm).
Packed size: 46 x 24 x 5.5 in (117 x 61 x 14 cm).
Seat size (W x D): 19.5 x 18 in (50 x 46 cm).
Seat height (front/back): 21/14 in (53/36 cm).
Note that the depth of 18 inches in dimensions is basically just the seat depth; the chair reclines and the U-shaped ground bar is much longer. So the actual depth and space needed for this chair is much bigger. It is around 36 inches (91 cm) from front to the back when it is in its normal reclined position.
Timber Ridge Rocking Chair vs Competitors
Here I give this Timber Ridge Rocker chair side by side with two others built in the same style, this might help you in making a right decision. The current prices are $90, 97, 57. Please follow the links to check for updates.
Dimensions
(W x D x H), in (cm)

Timber Ridge Rocking Chair
23.5 x 18 x 40.5
(60 x 46 x 103)

46 x 24 x 5.5
(117 x 61 x 14)

ALPS Mountaineering Rocking Chair
24 x 17.5 x 41
(61 x 44 x 104)

47 x 26 x 6
(119 x 66 x 15)

Kamp-Rite Folding Rocking Chair
31 x 25 x 39
(79 x 64 x 99)

37 x 28 x 7
(94 x 71 x 18)

---
Final thoughts
In the summary of this Timber Ridge Rocking Chair review, this is a well-built and reliable rocking camping chair. It has been on the market for several years already so there should be no unpleasant surprises if you order it.
There are many chairs of this type described here in the site, so if you need some more options check under the category Camping Chairs. If you need something smaller, please check this Browning Camping Cabin Chair.

The Timber Ridge is a well-known outdoor brand and this chair is not the only item from them presented here in the site; you can see this extraordinary nicely built Deluxe XL Camp Cot with great dimensions and design. You might need this in your camp.
If you have any experience with this chair, please share it here, there is a comment box below. Thank you for reading and have a nice day.

---