---
This GCI Outdoor RoadTrip Rocker Chair review is about a unique rocking chair with a spring action rocking, solid armrests, and a collapsible design.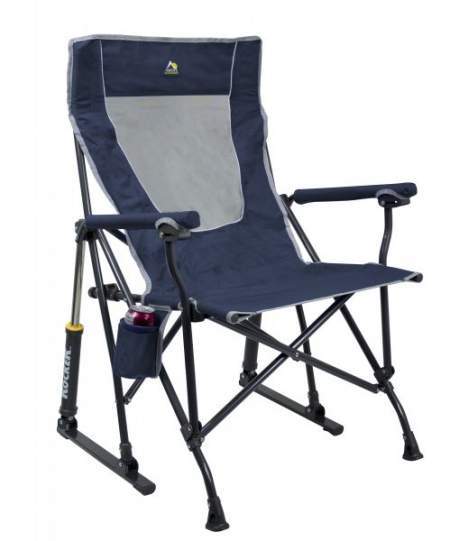 ---
Key features & benefits
Unique collapsible design.
Patented Spring Action Rocking Technology.
Carry bag included.
Solid & padded armrests.
Headrest & great back support.
Cup holder.
---
What this is about
Here you have one of those folding chairs that remain large only in one dimension when packed. This is also a rocking chair of a particular type with a unique patented Spring Action Rocking Technology developed by this GCI brand and used in several of their chairs.
The chair is with solid armrests and here you have a padding with Velcro tabs so it is removable if you want to wash it.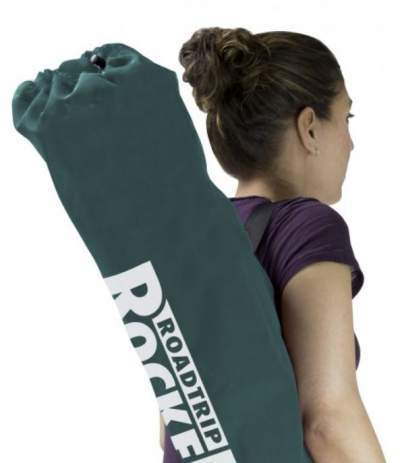 A good thing here is that the chair comes with a carry bag which has a strap so you can carry it attached to your shoulder. Also, storing it that way at home will keep the chair clean from dust.
---
Who is it for
Capacity-wise, the chair is quite modest, the capacity is 250 lb (113.6 kg); this is the same as with other chairs of this brand, you will see them in the comparison table below. So if you need something with a much bigger capacity, check this long list with folding chairs.
Size-wise, the chair is quite big and tall. The dimensions are (W x D x H) 26 x 24.8 x 39.8 inches (66 x 63 x 101 cm). Note that the seat is 19.7 inches (50 cm) above the ground, and the height is 39.8 inches (101 cm), so it provides a bit of a headrest as well if you are not particularly tall. You have more than 20 inches (51 cm) on the back from the seat to the top.
Weight-wise, the chair is a bit heavy, it weighs 13.2 lb (6 kg), and this is due to its materials and the design. You have those pistons on the back, then the bars on the ground, plus two extra legs on the front. This is quite a unique design even when compared with the other chairs of the GCI brand, you will see some in the comparison table below.
---
Materials & construction
The metal parts here are built from a powder-coated steel, so this explains the weight of the chair. Note that similar to all chairs of the GCI brand with the pistons system, the chair is sitting on the ground bars.
This means that the rocking system will work regardless of where you use it. It will keep rocking even on a soft surface because the bars will prevent the chair from sinking considerably, and as I said, the char's rocking system is not affected. This is completely different from the rocking chairs of other brands.
The extra front legs
Yet another unique feature here is the extra pair of front legs. Obviously, this increases the stability but it also adds a bit of functionality – when you lean forward, the chair rests on these two front legs and on the end sections of the bars. Now, these bars' end sections have plastic caps for that purpose, so that they do not damage the floor when you lean forward.
See a bit more how it works in this short video:
What I dislike here is that you cannot block the rocking. There may be situations when you do not want to use it, like when sitting at the table in the camp and eating.
Note that they build the chair in 6 different colors, all currently available on Amazon. Yet another useful feature is a cup holder which you have on one side.
Squeaking issue
I have received a comment below from Barbara about squeaking, so I contacted the GCI brand and they sent me a pdf dealing with this issue. It is not the same chair, but they use the same rocking mechanism so have a look here.
---
My rating, pros & cons
This is a new item on the market and as of the moment of writing this text there are no many reports and ratings around. Please see how I rate it:
My rating breakdown of the GCI Outdoor RoadTrip Rocker Chair:
Weight -

5/10

Dimensions -

8.3/10

Packed size -

4/10

Capacity -

7/10

Comfort -

9.8/10

Craftsmanship -

9.8/10
Overall rating
My overall rating for this chair is – Very Good:
Pros
Unique design.
Very stable.
Great armrest.
Very easy to use.
Carry bag.
Suitable for any surface.
Beverage holder.
Great back support.
Cons
Long when packed.
No locking mechanism for the rocker.
---
Specifications
Weight: 13.2 lb (6 kg).
Capacity: 250 lb (113.6 kg).
Dimensions (W x D x H): 26 x 24.8 x 39.8 in (66 x 63 x 101 cm).
Packed size: 43.5 x 8.7 x 8.1 in (110.5 x 22 x 20.5 cm).
Seat height: 19.7 in (50 cm).
Warranty: limited lifetime warranty.
---
GCI Outdoor RoadTrip Rocker Chair vs Competitors
In fact, this system has no competitors because it is unique to this brand. So in the table below I show this chair side by side with two other chairs of the same brand. This will give you some idea of what you can expect and to compare the basic parameters.
You see that it is bigger but also a bit heavier than the other two. Please follow the links to read more about the other two chairs.
Dimensions
(W x D x H), in (cm)

GCI Outdoors RoadTrip
Rocker
26 x 24.8 x 39.8
(66 x 63 x 101)

43.5 x 8.7 x 8.1
(110.5 x 22 x 20.5)

GCI Outdoors Freestyle Rocker
24 x 25 x 34.8
(61 x 64 x 88)

34.8 x 25 x 4.9
(88 x 64 x 12)

GCI Outdoors FirePit Rocker
24.4 x 25.6 x 33.1
(62 x 65 x 84)

33.1 x 25.6 x 5.5
(84 x 65 x 14)

---
Final thoughts
In the summary of this GCI Outdoor RoadTrip Rocker Chair review, I wish to stress again that here you have a rocking system completely unique to this brand. But they have added some extra features which make it different from the other chairs of the GCI brand. Because of its high backrest, I have included it in my list of chairs with headrest.
The chair also comes with a carry bag which you do not have in the other chairs shown in the table above. Yet another difference is that it folds so that only one dimension remains large, as compared to two large dimensions in the other mentioned GCI chairs.
Thank you for reading. If you need something different from rocking chairs, please check this list with rocking chairs. For fully collapsible lightweight camping chairs check this list, but if you want something backpack-portable, check these ultralight backpacking chairs.
Please use the comment box below in the case of questions and comments. I wish you a nice day.
---