PORTAL Oversized Padded Zero Gravity Chair is an extra-large folding and easy to use recliner, with a great headrest, solid armrests, and a side table.
---
Key features & benefits
Folding chair.
Reclining.
Footrest.
Adjustable padded headrest.
Solid armrests.
Side table.
Steel frame.
Padded chair.
---
What this is about
Here you have one of the chairs that are commonly described as 'gravity' or 'zero gravity' chairs. While this has nothing to do with gravity, it indicates that it offers great comfort and you can completely relax.
The word Oversized in the name will become clear below when you check its dimensions. This is a large folding chair that requires no assembly, and although it is huge it packs thin, so I have included it in my list of best folding camping chairs.
Recliner & footrest
The chair is a recliner of a particular type as usual with these zero gravity chairs. So when you unlock it, you will have the backrest sliding back while the footrest will slide forward. The largest angle to which it expands is around 170 degrees. I have added it to my lists of best reclining chairs and chairs with footrest.
Headrest
This is a chair with a long backrest, in total 29 inches (74 cm) from the seat, and you have a large padded pillow that can be moved up and down. It is 17.5 x 8 inches (44 x 20 cm) large and very comfortable. In view of these features, I have added it to my list of camping chairs with headrest.

Solid armrests
You have solid armrests, very ergonomically profiled and with a material that looks like wood, but this is a sort of plastic, see the picture. Having such arm support is useful and it makes it easier to get in and out of this chair. The picture shows also the locking handles underneath the armrests.

Side table
The side table is permanently attached to the chair and it is equipped with a cup holder. The dimensions are 11.5 x 9.5 inches (29 x 24 cm). In view of this feature, I have added it to my list of chairs with side table.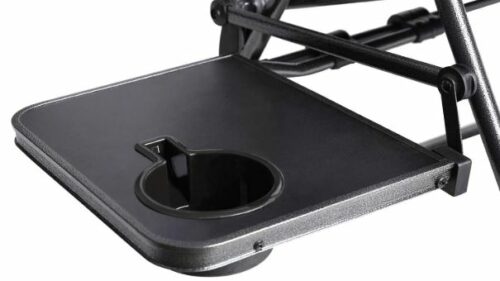 ---
Materials
You have already seen a bit of its materials in the picture above. Here to stress that the fabric is a high-density polyester, and there is padding inside. This all is attached to the frame with a really cool bungee suspension.
The frame is powder-coated steel, it looks sturdy, and they have added antislip elements on the bars that are on the ground instead of feet. With such bars the chair will not sink in the ground, and you can use it also inside a larger floored family camping tent.
The side table is a plastic, they do not provide information about it. Note that they build it in two colors, hence the word Chairs in the title.
---
Who is it for
Regarding the dimensions, this is a huge chair with a tall backrest and the seat width 21 inches (53 cm). Note also that the seat is 22 inches (56 cm) above ground. So this is a chair for tall users.
Note also that when fully reclined, the chair will take lots of space, around 72 inches (183 cm) in total.
Regarding the capacity, according to the statement from the manufacturer, this chair supports users of up to 350 lb (159 kg). So this should be good enough for most of potential users.
Regarding the weight, with its 24 lb (10.9 kg) of weight, this is a really heavy item so you would not want to carry it long distances.
But there are good reasons for such a weight. You have seen those massive but comfortable armrests, then the extra bars for the footrest, the padding added for comfort, the large pillow, the large side table, and the extra-long backrest.
Regarding the packed size, the chair is large in two dimensions when packed, the numbers are in the specifications below. But note that it is quite thin when packed so you can transport it in the car to your camping space, it makes sense doing this in view of all its features and comfort.
---
Specifications
Weight: 24 lb (10.9 kg).
Weight capacity: 350 lb (159 kg).
Dimensions (L x W x H): 30 x 29 x 44 in (76 x 74 x 112 cm).
Backrest length: 29 in (74 cm).
Folded size: 37 x 29 x 7.5 in (94 x 74 x 19 cm).
Seat height: 22 in (56 cm).
Seat width: 21 in (53 cm).
Frame: steel.
---
Rating, pros & cons
Please see how I rate this chair, it does not score great in some criteria, but I use the same formulas for all the chairs here in the site so you can easily compare. Note that this is a rating with respect to using this chair as an outdoor item in the camp. For home use you would not care much about its packed size and weight.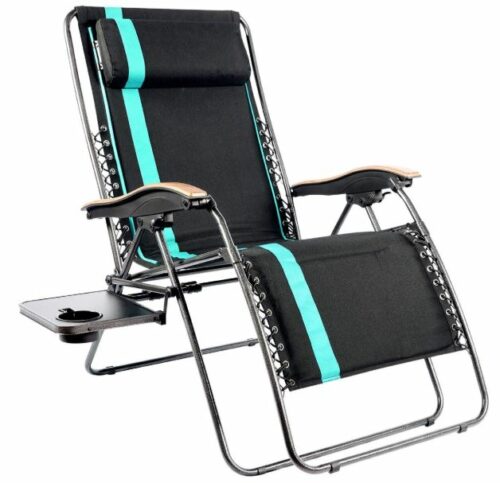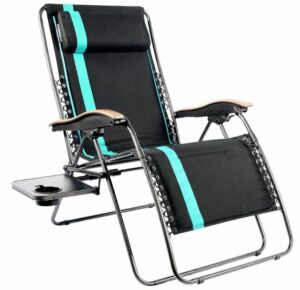 Product Name: PORTAL Oversized Padded Zero Gravity Chair
Product Description: PORTAL Oversized Padded Zero Gravity Chair is an Extra-Large Folding Recliner, with a Great Headrest, Footrest, Solid Armrests, and a Side Table.
Brand: Portal
SKU: B07W4T89SW
Weight -

1.5/10

Dimensions -

9.4/10

Packed size -

0.5/10

Capacity -

8/10

Comfort -

9.9/10

Craftsmanship -

9.5/10
Summary
The overall rating is very badly affected by the packed size and weight, but it is still Good.
Pros
Incredibly comfortable.
So many great features.
Large chair.
Easy to use.
Cons
Bulky when packed.
Heavy.
Expensive.
---
Final thoughts
To summarize this PORTAL Oversized Padded Zero Gravity Chair review, as you realize this is a feature-rich chair built for comfort, with plenty of features added for such a purpose. The downside of this is its packed size and weight.
This is a great chair for camping, and you can use it also at a beach or in your house and garden. Fully recommended. I have included it in my list of best quality zero gravity chairs for camping.

Please check under the category Camping Chairs if you need more options. Check this Quik Shade MAX Shade Chair if you want something totally different and with a canopy.
Thank you for reading. We add texts here regularly so bookmark this site and stay informed. Have a nice day.