---
In this text you can read about 5 best folding cots for camping available on the market in 2018. I have made a list of very different cots so that you have a variety of different choices, so this is not a ranking list.
What is a folding cot
The terminology related to folding and collapsible cots is frequently inaccurate and I have mentioned this in my earlier text about collapsible cots.
So here a few words about folding or foldable cots – these are cots that fold like a book, and in the packed state remain relatively large in two dimensions. This is what makes them less suitable for transport than collapsible cots, but at the same time, this is what makes them easier to set up than many other cots (but this is not always so, some collapsible cots open like an umbrella, in seconds).
But in general, folding cots do not need any assembly. The examples shown here in the text can be used both outdoor and at home.
What types of folding camping cots exist
I can see the following main groups:
Folding cots with mattresses included.
Folding cots without mattresses.
Folding tent-cots.
The essential difference between the first two is obvious, the mattress. Typically, both of these types fold only once (but there are exceptions), so the packed length becomes roughly half of the bed length.
The third group is a very specific one – with a tent attached to the cot. Here you have both single and double cots, and you will see their best examples below.
Yet another distinction is that the tent-cots fold twice; the two segments from the sides fold over the central section. You can see this in the video presenting the Kamp-Rite Oversize Cot:
Best 5 folding cots side by side
Here are all cots given in no particular order, they belong to different groups and for this reason, they cannot be directly compared and ranked with respect to each other.
All cots are presented in my separate reviews, so to see more please follow the links. Below I give only their pictures and a few basic features.
---
Magshion Cot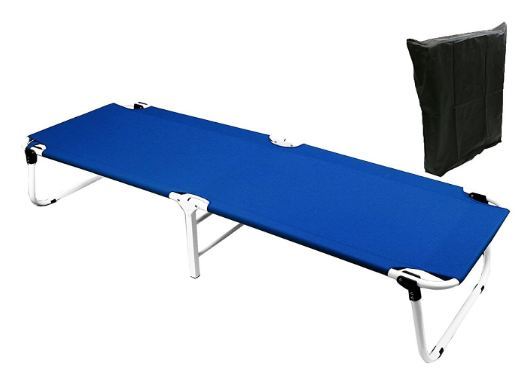 This is the lightest cot in the list. The reason for having it in the list are an incredibly affordable price, great choice of colors, its weight, and the easiest possible setup.
This cot comes without a mattress. Please see more in my full review.
---
Coleman ComfortSmart Cot Deluxe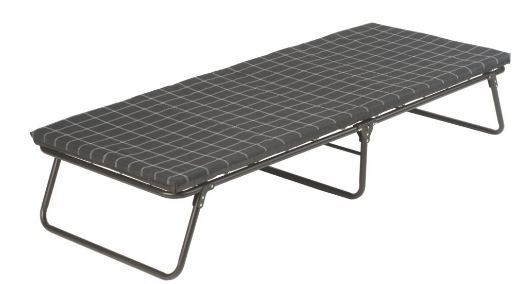 This cot is in the list with all good reasons. It is very long, the longest of those with mattresses available on the market in 2018. It price is also truly great, only around $67 at the moment of writing this text.
This cot is equally suitable for outdoor use and for home use for sudden guests and sleepovers. For more please see here.
---
Simmons BeautySleep Foldaway Guest Bed Twin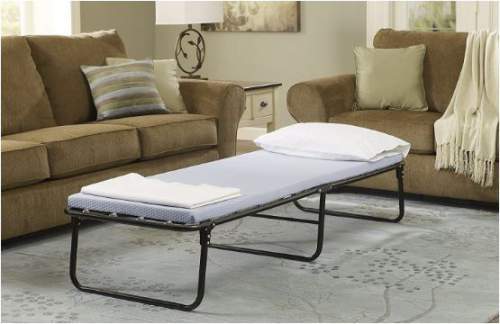 This cot is in the list for several good reasons. Its dimensions are good although not spectacular, but it comes with a memory-foam mattress, and observe that this mattress is 3 inches (7.6 cm) thick. So this is a tool which offers a true comfort.
You also get a removable and washable cover. Note that it has a locking mechanism for legs. Please see my detailed review for more.
---
Tangkula Tent-Cot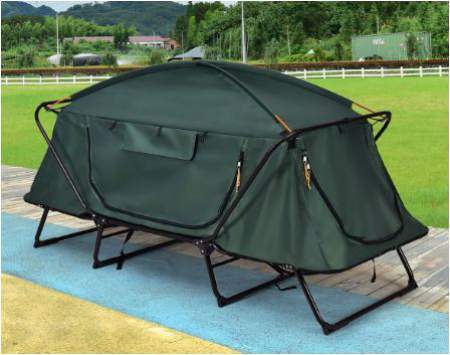 This is a very new tool on the market, it appeared in 2017. On the first look, it is very similar to the Oversize Tent-Cot from Kamp-Rite, but there are some differences. It has an awning feature, and its price is extraordinary. Please check my full review for more.
---
Kamp Rite Double Tent-Cot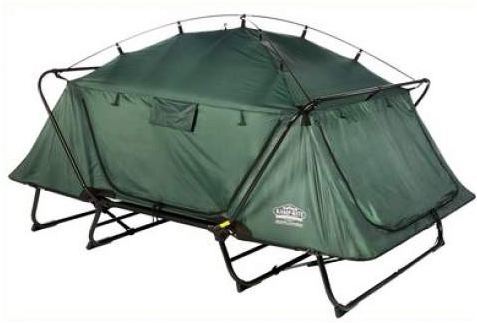 This is the only double cot in the list. It is in the list because of its enormous size, functionality, reliability, and good price. This is a sleeping system which you can use anywhere, literally putting it in the snow.
You have seen its length in the table. So this is a tool that can accommodate really tall people. This is also a multifunctional tool that can be used as a lounge chair, as an ordinary cot, and as a tent-cot as its name suggests. Please check here for a full review.
---
How to choose
So how to choose your best folding cots for camping? I think this depends on what you need and what you already have. For example, if you already have some good sleeping pad, then the Magshion cot may be all you need for a comfortable off-ground sleeping; you have seen its price, it is less than $37.
Those two models with mattresses are the best options you have if you need versatile tools to use at home or in the tent.
But if you do not have a tent and need something for a full protection for solo use or for couples, then you might want to consider those two tent-cots. You will be fully protected from bugs and from elements.
Thank you for reading. In the case of comments and questions, please use the comment box below. Have a nice day.

---