---
In this text you can read about 8 best folding cots for camping available on the market in 2019. I have made a list of very different cots so that you have a variety of choices, so this is not a ranking list.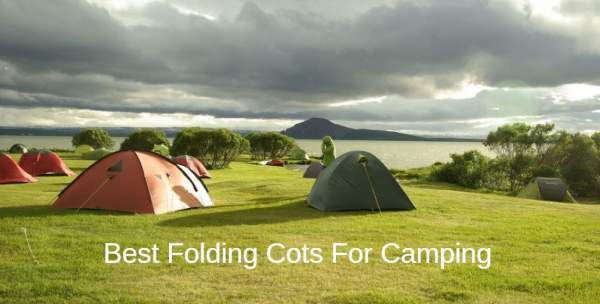 ---
So what is a folding cot
The terminology related to folding and collapsible cots is frequently inaccurate and I have mentioned this in my earlier text about collapsible cots.
So here a few words about folding or foldable cots – these are cots that fold like a book, and in the packed state remain relatively large in two dimensions. This is what makes them less suitable for transport than collapsible cots. But at the same time, this is what makes them easier to set up than many other cots (though some collapsible cots also open like an umbrella, in seconds).
But in general, folding cots do not need any assembly. All the examples shown here in the text can be used both outdoor and at home.
---
What types of folding camping cots exist
I can see the following main groups:
Folding cots with mattresses (or mats) included.
Folding cots without mattresses.
Padded folding cots.
The essential difference between the first two is obvious, the mattress. Typically, both of these types fold only once so the packed length becomes roughly half of the bed length.
The third group includes padded cots so you have enough stuff underneath you for cushioning and for some insulation. In my view, this is enough for 2-season camping. Some of them fold twice; the two segments from the sides fold over the central section.
---
My list with best folding cots
Here are all the cots given in alphabetical order, so the numbers are only for navigation, not for ranking.
All the cots are presented in my separate reviews, so to see more please follow the links. Below I give only their pictures and a few basic features.
---
1. Byer of Maine Cottage Cot Bed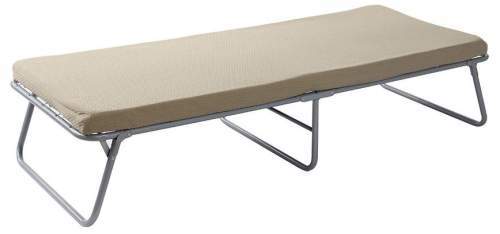 This Byer of Maine Cottage Cot is a very comfortable item, one of those that come with a mattress included. So what you get here is a 3 inches (7.6 cm) thick laminate that includes a memory foam and a conventional foam. The cover is removable and washable.
This is a cot from a renown brand that has been around from the 19th century. The bed size is 75 x 31 inches (190 x 79 cm) and this is supported with a very strong steel frame. The legs which you see in the picture are with locking mechanisms.
Note that you do not have a stuff sack here, pity. This is a quality cot but it comes at a price, please check in the link for the latest updates.

---
2. Bushtec Adventure Camping Cot Sierra 440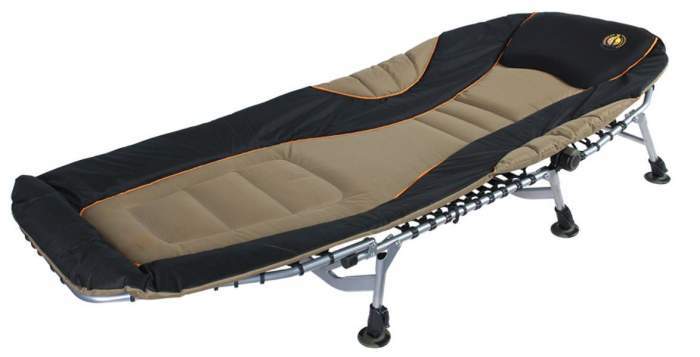 You remember the group of padded folding cots I mentioned above? So here is a great representative, this Sierra 440 cot is impressive in every sense. Note that the number 440 in the name describes its huge capacity of 440 lb (200 kg).
This is also one of those that fold twice and it becomes relatively thin in one dimension. The cot is huge, very wide and long with the dimensions  82 x 34 inches (208 x 86 cm) and if you are a tall person this is the cot to consider. I have included it in my list of extra wide cots.
But it has more remarkable features. You have an adjustable head incline so you can use it as a lounger. This is not all, the legs are also fully adjustable and if you use it on uneven ground, you can still make it completely horizontal. Please follow the link to read more.

---
3. Coleman ComfortSmart Cot Deluxe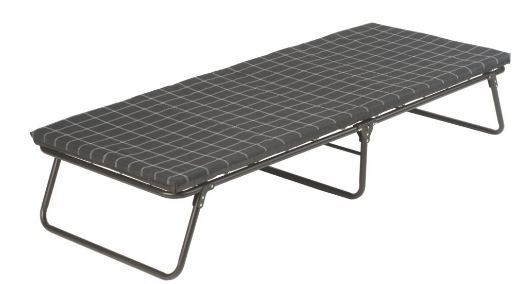 This is one of the cot with mattresses and as the name suggests this is a deluxe option. It is very long, so the bed dimensions are 80 x 30 inches (203 x 76 cm). It fits people up to 6 ft 6 in (198 cm).
The mattress is foam and its thickness is 1.75 inches (4.5 cm). This is an incredibly popular cot that has been on the market for a long time already. This is not surprising when you see its price which is around $80 together with the mattress. For more please follow the link.

---
4. Eltow Portable Folding Camping Cot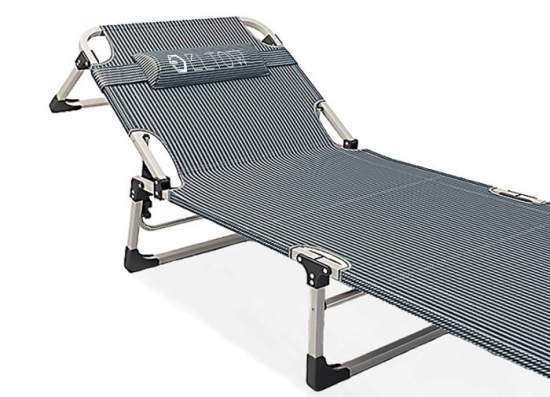 Obviously, this Eltow cot is here because of its folding design, so in this regard, it is the same as all other cots in the list. But this is also a reclining design. You can use it with 5 different backrest positions as a chair in the camp or as a lounger. So this is a very versatile option.
You have a carry bag included to carry it short distances and also to keep it clean when stored at home. There is also a pillow included. The frame is steel, very nicely built and elegant.
The weight is 17 lb (7.7 kg), the capacity is 350 lb (159 kg), and the dimensions are 75 x 27.5 x 12 in (190 x 70 x 30 cm). Please follow the link for more.

---
5. Magshion Folding Cot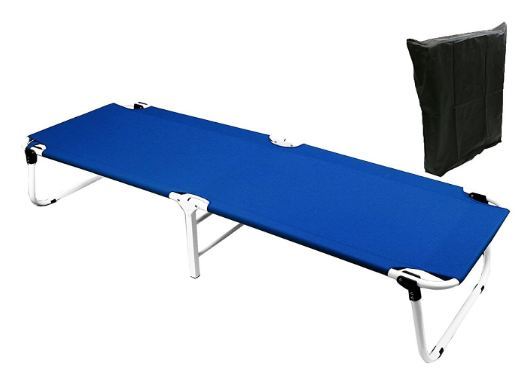 Although this Magshion cot comes with a steel frame, it is among the lightest here in the list. It weighs only 8 lb (3.63 kg) which is really remarkable for such a type.
The picture above tells you a lot about its structure. So you realize this is one of those that come without a mat. But you have a carry bag included, I would say it is also very useful when you store it at home because you can keep it clean from dust and store it anywhere.
The bed size is 72 x 24.5 inches (183 x 62 cm), so it is not so big, bear this in mind if you are a tall person. The capacity is very good 300 lb (136 kg). You might want to know that they build it in many different colors so you can really choose your favorite.  Please see more in my full review.

---
6. Purenity Comfort Folding Military Bed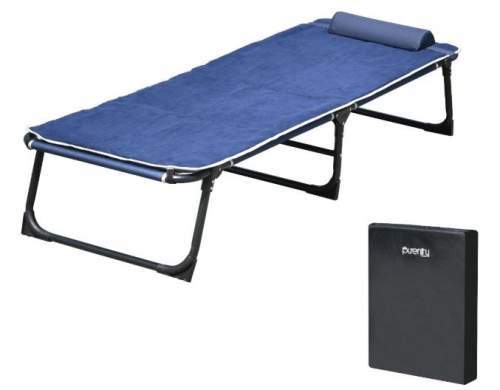 This Purenity Cot is one from the first group mentioned above. So you have a mat included, it is not particularly thick but it still gives some cushioning and it completely separates you from the metal frame. It also gives a bit of insulation.
The picture above shows its carry bag, so this is yet another bonus. It is equipped with a zipper, and you also have a strap to carry it short distances. There is one more bonus visible in the picture, this is a pillow equipped with a strap that keeps it attached to the bed.
I guess you would want to see some numbers, so the weight is 11 lb (5 kg) and the bed dimensions are (L x W ) 72 x 24 inches (183 x 61 cm). Please follow the link for more.

---
7. Timber Ridge Camping Cot XL

I would start with the letters XL in the name of this Timber Ridge XL Cot. They indicate its big size. So indeed, the bed is with the dimensions 81 x 29 inches (206 x 74 cm), and surely this is a cot suitable for very tall people.
This is one from the group of padded camping cots mentioned above. It also folds twice, but being so long in general, it still remains quite large in two dimensions when packed.
Here you have a bonus bottle holder on the side and also storage pouches. But this is not all. The backrest here is fully adjustable and reclining, and the legs are also fully adjustable. Please follow the link for more.

---
8. Westfield Outdoor Quick-Set adjustable camp cot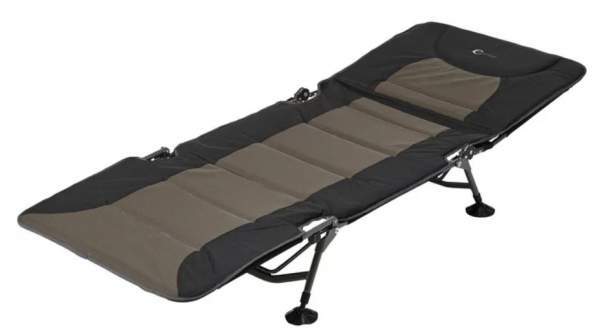 This Westfield cot folds from the two ends so you have a packed size of around 31 x 30 x 5 in (79 x 76 x 13 cm). This is a padded cot and with a reclining design, so the head section can be angled as you want. With this you can use it as a chair or as a lounger.
This is also a  long cot, the dimensions are 78.7 x 29.5 inches (200 x 75 cm). I see it as a great emergency bed at home and a bed for sudden guests, or you can use as a camping cot, with such a padding you will not need any extra pad underneath you for summer or 2-season camping. Please follow the link for more.

---
How to choose
No,  how to choose your best folding cots for camping? I think this depends on what you need and what you already have. For example, if you already have some good sleeping pad, then you might go for a cot without padding or without a mattress.
On the other hand, the models with mattresses are the best options you have if you need versatile tools to use both at home and in the tent.
There is a size issue as well. You have seen that the bed size can be very different. Those padded cots are huge, but some other cots in the list are quite modest in size, so keep an eye on the dimensions if you are a tall person.
The same holds for the weight capacity, not all of them are strong enough to support exceptionally heavy users.
I shall be updating this text regularly as I notice some good models on the market, so please bookmark this text and visit it from time to time.
Thank you for reading. In the case of comments and questions, please use the comment box below. Have a nice day.
---