---
This Coastrail Outdoor Camping Cot for Adults is a folding cot that needs no assembly, easy to use, with a great capacity, and several bonuses.
---
Key features & benefits
Folding cot.
No assembly.
Storage pouches.
Pillow.
Great capacity.
Great price.
---
Overview
This Coastrail Outdoor Camping Cot for Adults belongs to the group of folding cots. More precisely it folds nicely in an elongated tube that measures 40.2 x 8.7 x 5.5 inches (102 x 22 x 14 cm) when stored in its included carry bag.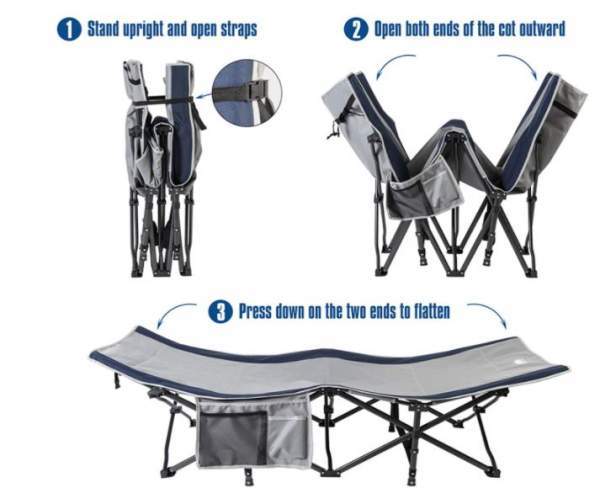 This means that there is no particular assembly, you can have it ready in seconds, and equally fast you can pack it. The picture above shows some steps in the process.
The cot comes with an integrated head incline, below you see how it looks. This makes it similar to this Alpcour Folding Camping Cot.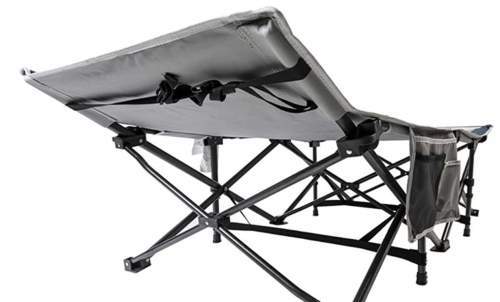 Bonuses
There are several of them, below you see the removable pillow and the straps that are included to keep your sleeping pad in place. When you do not use a pad, you simply pass the straps under the bed, this is shown in the picture above.
This is not all, you also have a sizeable storage set on the side. It is shown below and you realize there are several separate pouches for small items. You can keep here your books, a phone, glasses, keys, and similar stuff.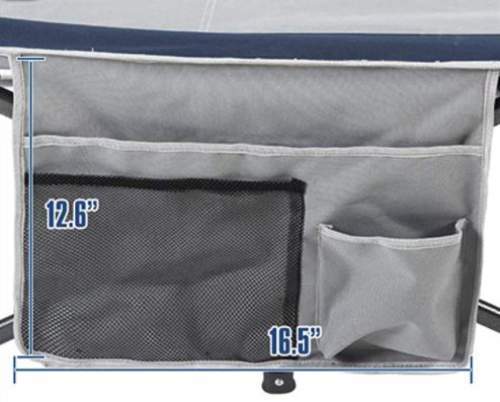 Materials
You have a steel frame with oval tubing that makes it very strong. Numerous support bars stabilize the bed against lateral movement. There are a couple of straps also added to stabilize the frame.
Some of the legs are riveted and the rest of the cot folds around them, see below how this looks.
The legs are with plastic caps (the picture above) so they will not damage the floor, and you can use the cot even in a floored family camping tent.
The bed fabric is polyester with a denier value of 600D so this is a strong but quite typical fabric for such cots.
---
Who is it for
Capacity-wise, the cot officially supports the weight of up to 450 lb (204 kg). This qualifies it to be included in my list of cots for heavy people. No doubt this capacity should be good enough for almost everybody.
Size-wise, the cot's dimensions are very good. It is not particularly long but it is wide. The bed size is 75 x 28.15 inches (191 x 71 cm). Note that it is not very tall, you have 14.5 inches (37 cm) of clearance. But as usual with such cots, you can store lots of your camping stuff underneath the bed and it will be out of your way.
Weight-wise, the cot is not very light, it weighs 16.1 lb (7.3 kg). This, together with the packed size which you have already seen, tells you that you would not want to carry it anywhere, and the cot is for places with a car access.
But the carry bag is included and it is with a shoulder strap so you can carry it short distances, or at least store the cot in it and keep it clean from the dust.
Price-wise, this is a true bargain, excellent value for the money.

---
Specifications
Weight: 16.1 lb (7.3 kg).
Capacity: 450 lb (204 kg).
Dimensions: 75 x 28.15 in (191 x 71 cm).
Height (headrest/cot): 19.3/14.5 in (49/37 cm).
Packed size: 40.2 x 8.7 x 5.5 in (102 x 22 x 14 cm).
---
Rating, pros & cons
Below is summarized my rating and some pros and cons. Note that I use the same criteria for all the cots here in the site so you can easily compare.
Easy to use cot with bonuses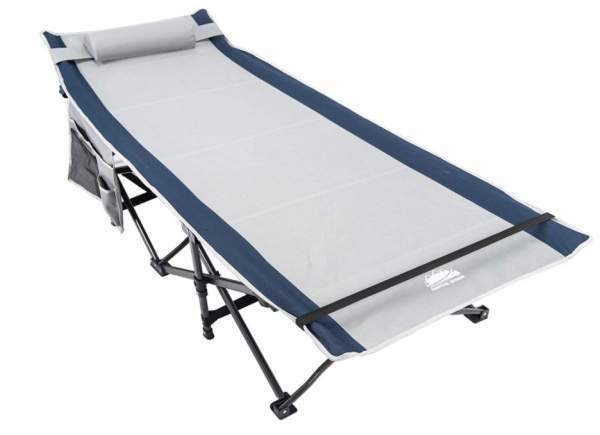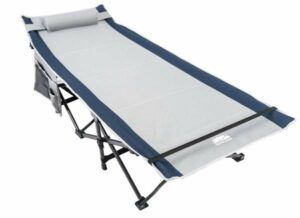 Product Name: Coastrail Outdoor Camping Cot for Adults
Product Description: This Coastrail Outdoor Camping Cot for Adults is a Folding Cot That Needs No Assembly, Easy to Use, with a Great Capacity and Several Bonuses.
Brand: Coastrail Outdoor
SKU: B08C7D8LG4
Weight -

7.6/10

Size -

8.5/10

Capacity -

9.5/10

Packed size -

8.2/10

Ease of use & features -

9.8/10
Summary
The cot is a bit heavy, but the overall rating is still very good.
Pros
Great capacity.
Wide cot.
Several bonuses.
Carry bag.
Excellent price.
---
Final thoughts
To summarize this Coastrail Outdoor Camping Cot for Adults review, here you have a camping cot with excellent features and bonuses. Its capacity is impressive, but the weight is not so great. The price is amazing. Fully recommended. I have included it in my list of best folding cots for camping.

For more options please check under the category Camping Cots. You will find them in all types and sizes. You might want to compare this cot with yet another folding cot but of a different type, the KingCamp Portable Folding Camping Cot Adjustable 4-Position.
Subscribe to my weekly newsletter and stay informed. I add here texts on regular basis. Thank you for reading and have a nice day.